Looking for the best kitchen faucets? Find one that fits your budget and needs with our detailed kitchen faucet reviews and comparison charts.
Best Luxury Kitchen Faucets for Home
Delta Faucet 9192: If you need the absolute best, one that brings you great looks, long-term durability and every single utility you could wish for then Delta 9192 is our go-to kitchen faucet.

Moen 7594ESRS Arbor with Motionsense  – The best touchless kitchen faucet in the market, the Moen Arbor is bound to leave your guests in awe. It features a beautiful sleek design, high-end touchless technology that leaves no stone unturned when it comes to a premium utility experience.
Best Industrial Kitchen Faucets
Kraus KPF-1602 – Looking for the toughest kitchen faucet that can handle anything and everything you can throw at it? Kraus KPF-1602 is the perfect kitchen faucet for all heavy-duty purposes, be it a restaurant or an industrial setting.
Quick Navigation:
There are so many faucets available today that it is often difficult to choose the right one for you. We have made recommendations for the best-rated kitchen faucets in different categories and taken into account all kinds of kitchen settings.
Best Kitchen Faucet Reviews 2018
---
In-Depth Kitchen Faucet Reviews
A touchless Kitchen Faucet with a sleek design, this is by far the most convenient faucet on our list. With the best motion sensor in the faucet industry, if "ease of use" is what majorly concerns you then this will be your best bet.
Functionality
Moen uses actual user inputs on their faucets and this is shown in the spray wand, which is flexible and lightweight. The range is more than 10 inches and it should work for most homes. 
However, the best feature this faucet has to offer is the motion sensor technology, which allows you to use the faucet without touching anything. There are two ways in which you can do that.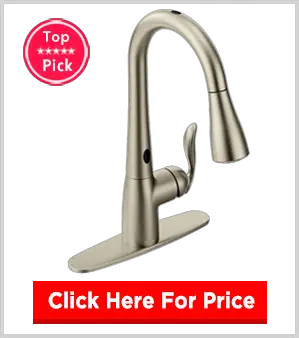 First, you simply need to move your hand over the faucet and the flow of water begins. Simply move your hand again to stop the flow.
Second, it has a ready sensor, so when you place a cup or pan below the spout, the water automatically comes out, and once you remove the utensil it stops.
Also, a handle is provided to change the temperature and flow of water. Overall, the Moen 7594ESRS provides a completely hands-free experience to the user.
Build
Like other Moen Kitchen faucets, this one is built like a complete beast. A spot resistant coating resists any fingerprints and makes cleaning a 1-minute job. As we said earlier, the sensors used are best in the industry and will continue to work flawlessly for years. No complaints here.
Cons
This faucet is not meant for heavy use. If you have a large family where you are required to use your faucet frequently, then an Industrial grade faucet would be recommended. Regular use on daily bases can reduce the life of faucet significantly.
So if you need it something for moderate use and convince, then the 7594ESRS has all the bells and whistles to be the showstopper of your kitchen
---
It is easily the most feature-rich faucet you can buy combining mechanical brilliance with innovative electric features to give you a stunning package that stands out in any kitchen setting.
Functionality
You simply need to touch anywhere on the spout or handle and you can even alter the flow of water, with the dual-mode pull-down sprayer. The long range of the faucet (more than 10 inches) will make cleaning painless when you are loaded during holidays. Delta offers a 5-year warranty for the operation, but such faucets easily last for more than 10-15 years.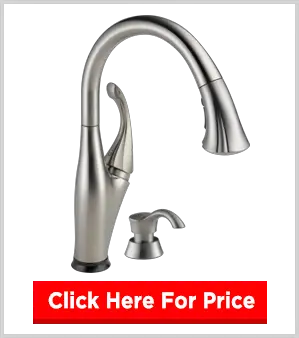 The high-end model (9192T-SSSD-DST) is equipped with LED lights which change their color according to the temperature.
Also, soap dispenser comes integrated with faucet and the included baseplate makes it possible to use it, irrespective of the holes on your faucet.
 With all these features, the Delta 9192T offers the best functionality any faucet available in the market.
Tough Built
Delta 9192T combines premium functionality with sturdy built. The stainless steel coated is exterior built to last and the valve comes with diamond seal technology which will flawlessly for years. Most faucets need valve replacements due to leakage, but DELTA frees you with that hassle. To sum up, once you install this in your kitchen, it will work tirelessly for many years to come.
One Small Gripe
The only gripe we have with this faucet is the electrical setup. It needs maintenance and some customers had to replace the electrical circuit.
It, however, depends on how heavy your use is, but you would have to get replacement batteries frequently. Because of this minor issue, this faucet fails to achieve the perfect score. 
Also, we recommend you to take some expert help before installing this faucet, as putting electrical components can prove to be exhausting.
Overall, this faucet will catch the attention of anyone who visits your house and you will easily get some bragging rights among your friends.
---
An upmarket pull-down faucet, with top end functionality, the Delta 9178-AR-DST is a stylish option for your kitchen. Here is more about it.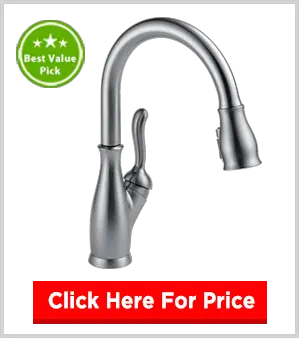 Functionality
The 360-degree swivel movement makes it easy to clean and the pull-down spout has a reach beyond 10 inches. The spray wand is also secure thanks to the MangnaTite Docking technology.
Talking about water flow, you can easily switch from spray to stream using the toggle switch on the back.  With the single lever, you can switch between hot and cold streams.
In terms of functionality is currently only second to Delta 9192T (which costs a $100 more).
Build
This model also comes with the patented Delta coated valve that almost nullifies the risk of leaks. The exterior is also sturdy and the finish comes with a lifetime warranty.
What's not great?
The only small issue with the faucet is the installment. You would need the help of a professional plumber.
Overall, this has everything going for it and the classic blend of style and performance makes it a bestseller on Amazon.
---
#4: Kraus KPF-2110 (Best Pull-Out Kitchen Faucet)
Currently the best-selling pull out faucet, this one's an absolute beast. Kraus with its all-metal construction puts premium brands like Kohler which rely a lot on plastic, to shame.
Functionality
Its use is quite simple. The lever can be used to switch between hot and cold water while shifting from spray to regular flow, is done through a rubber button. You can pull out the hose of the spout and once you are down, it can be retracted back.
The spout has a swivel range of 120 degrees and should cover most kitchen sinks.
Build
It is built like an absolute tank. The Kraus KPF-2110 uses brass construction while the exterior is made of stainless steel.
Even the pullout spout is quite heavy which reflects the quality. If you handle it well, it can easily last for over 10 years.
Few Issues
There can be a delay when you switch between steam to spray. It gets better with use, but some customers complain that this issue can persist. Although the gap is minimal, if you were using a dual flow faucet before, you will notice the difference.
Overall, this faucet is recommended for anyone who is looking for a durable faucet which stands the test of time.
---
If you have a large family or if you do a lot of cooking, a commercial kitchen styled faucet is usually the No. 1 Preference.
The Kraus KPF-1602 is an undisputed leader among such faucets, which is feature rich and has a sturdy construction. Here is more.
Functionality
First up, it has two spouts i.e. there are two separate places from where water can come up. The pull-down spray head has a separate high-quality stand. It has a sturdy handle and the reach is more than sufficient.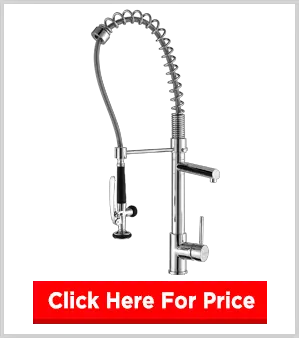 There is another fixed spout, which uses a simple lever for inlet of water. Two switches between hot & cold you have a lever at the center. Finally, it can swivel for full 360 degrees, which should cover your entire sink.
And yes, you can have the inflow of water from both the spouts simultaneously (the pressure would obviously be comparatively less). 
Build
Kraus brings industry construction aesthetics for home users, with the KPF-1602. It has an all-metal build, with no traces of plastic.
With rust-resistant coating and majorly brass construction, it is built to last for decades. The spring at the top is of top-quality and overall we have nothing to complain about the durability of this faucet. 
Cons
There are occasional splash issues with the Kraus KPF-1602. The spray head pressure can sometimes be a little too much and can create a mess. Also, it is a big faucet and even though it can withstand punishment, it needs proper handling from the user. 
Overall, if your kitchen demands heavy use, then this is one of the best kitchen faucets you can get.
---
Kohler brings a premium option for a touch less Kitchen Faucet, with the beautiful Kohler Sensate. In our list, it has by far the cleanest finish and is a stunning example of Kohler's design 
Functionality
With a response of 20 milliseconds, you can operate the faucet by moving your hand or pan near the sensor (which is located behind the spout, at the U bend).
This the only way to operate the faucet, which is a shame because Moen provides more convenient ways to operate the faucet at a lesser price.
There is also a pull-down spray which has a magnetic docking mechanism that pushes it back to place easily. The Senate uses an AC Power instead of batteries, so maintenance becomes fairly easy.
Build
The finish, as we said earlier, is top notch and premium metal was used for the construction of the exterior.
However, there is some problem in the interior which decreases the pressure after a few months. The solenoid which is used inside for powering up the sensors has also given issues to many users.
Cons
Apart from the build, this faucet is quite expensive. With a price tag of over $400, Kohler could have easily provided more sensors, and the internal build quality could have been better. Also even if you have a moderate use, then don't expect this faucet to last for a long time.
Overall, we would recommend this only to users who want to buy the best looking faucet and have minimal use.
---
A premium styled faucet, this is currently the best Kohler has to offer. It is currently available at a 50% discount and it makes it a complete steal. Here is everything about Kohler K-596-CP.
Functionality
Kohler's design and mechanical brilliance are clearly on display with this faucet. The swivel can rotate to full 360 degrees, and the pull-down spray head has a reach of over 10 inches.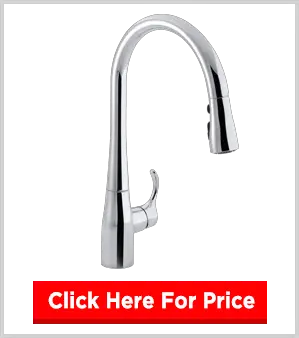 You can switch from a steam to spray, by a simple touch of a button (located conveniently at the back of the spray head).
Cleaning is hassle free and you can wash dishes fairly quickly. This faucet also offers one innovative feature of 'pause'.
This allows you to pause the spray flow, without touching the lever. This makes filling pots a lot quicker. Although gimmicky, some owners might find its utility.
Build
The Kohler K-596-CP has an awe-inspiring design, but some of the materials used for construction are downright cheap. The spray head, for example, has plastic inside and might need part-replacement after 1-2 years. Other than that, the metal used for internal construction is not that thick, and a clear compromise has been made to keep the faucet lightweight.
Cleary the build is the biggest drawback of this faucet. You shouldn't expect it to last for more than 5 years.
Overall, if the discount continues, we still recommend this to anyone who is on a tight budget.
---
#8: Delta 21966LF-SS Dennison Two-Handle Kitchen Faucet
If you wish to install a traditional faucet, with a tough build, then the Delta Dennison would be our top recommendation.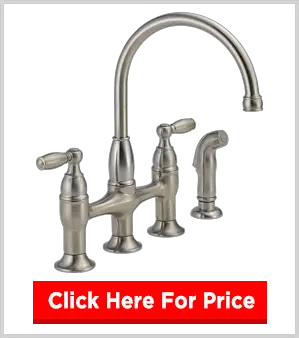 Functionality
It has a simple two handle operation, which means separate handles for hot and cold water. It also has a separate spray and the height of the spout is sufficient even if you have to fill large pans. The swivel rotates and should cover most sinks but the spout is fixed.
Build
With a combination of traditional design and brass construction, this faucet is meant to last. It is quite heavy and uses metal for interior construction also. Moreover, it needs negligible maintenance from the user and will work effortlessly for years.
Cons
It is not a good looking faucet and will go only with traditional kitchen settings.  Secondly, the sprayer used is not of the highest quality and with plastic internals you might need a replacement after some years.  If you are interested in old-school design and looks don't really concern you then you can go for this.
---
If you are looking for an affordable pull out faucet, with lasting durability, then the Premier 120161LF will be your best bet.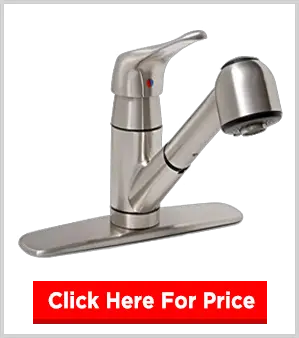 Functionality
There is nothing much this faucet has to offer in terms of functionality. It has a simple lever to switch between hot and cold water.
The pullout head is robust and you can easily switch between spray and steam. Overall it is fairly restrictive in terms of functionality.
Build
The build of this faucet is impressive, especially for the price point. It uses a ceramic disc instead of rubber valves and gives the spout remarkable durability. The external built also has a nice brushed finish. Overall, for below 100$, this is easily most durable faucet you can buy.
Cons
This faucet clearly has functionality restrictions. Other than the appearance also seems average.
---
If you have a large family but you are on a tight budget, then this option from Comllen might do the trick.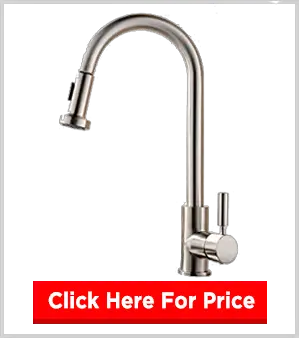 Functionality
It has pulled down spray head which is held by a handle. You can switch to steam, by a press of located spout.
The reach is sufficient and there is a single for moving from hot to cold water. The faucet is quite tall and with 360-degree movement, it can cover a large area.
Build
Currently, you get the spring with chrome and the brushed nickel version. Without that the build is average. It has a nice finish but the material choice is not that good.
Obvious compromises were made to reduce the price and you will have to "handle with care" if you need to extend the life of this faucet.  To sum up, if you have a large sink and need a cheap faucet, then you can for this model. 
---
If you don't want to compromise on looks and want a two handle operation, then this Faucet by Premier, with an affordable price tag, would be the best option.
Functionality
There are two separate handles for hot and cold water and there is a separate spray too. The spout isn't that high, which restricts this faucet for small sinks only. Other than this, it doesn't offer anything else.
Build
It is a good looking faucet, but in reality, it has a stainless steel coating over plastic. There is nothing much to say other than that. Don't expect this faucet to last for a long time.
Overall, if you are living in a small apartment, then you can go for this. Other than that we won't recommend it for regular use.
---
Types of Kitchen Sink Faucets
Before we come to the top features you need to look in a kitchen faucet, we will first tell you about the different kinds of kitchen faucets available. Each kind of faucet has its own feature and this can help you to decide which faucet will work best according to your needs.
Touch-Less Kitchen Faucets – If you are looking for a convenient to use faucet then touch kitchen faucets can come in handy. They come with sensors which enable the flow of water once you wave your hand near them. They are also good looking but on the flip side are quite expensive.
Pull-Down Faucets – The most popular faucets are of pull-down kind. They have a spray wand which pulls downs to the sink and has an extensive reach. They especially come in handy when you are washing veggies or utensils.
Pull-Out Faucets – They have a spray wand which can be pulled out straight to you. They come in handy while filling pans.
Commercial Kitchen Faucets – If you have a large family then you need a faucet with a strong build. Commercial styled faucets or industrial faucets are best for this purpose. They have a spring mechanism which extends their life and the height is sufficiently high.
Two Handle Kitchen Faucets – Finally if you are looking for something traditional, then the good old two handle faucets will do the trick. They have separate handles for hot and cold water and are generally durable.
For more details check out our detailed post on Types of Kitchen Faucets to help you make a better purchase.
---
Kitchen Faucet Buying Guide
Now that we have discussed different kinds of faucets and you have read the kitchen faucet reviews above, here are the top features you need to look for a kitchen faucet:-
Functionality – Faucets today offer a lot of functionality. Spray wand has quickly become an industry standard. Some faucets offer some electrical features like LED lights. The extension of the spray wand is something you need to look at.
Finally, the movement of the swivel is often a full 360 degrees and is necessary for large sinks. Touch fewer faucets have sensors too embedded in the faucets itself. All of these features in tandem mean even faucets help save water.
Build – If you buy an expensive faucet you want it to last. The construction of the faucet plays a major role in the durability of the faucet. Most faucets come with metal housing, however, companies like Kohler compromise in the internals by using plastic. Leakages are also an issue so you need to make sure that the spout is of good quality.
Looks – Finally, the looks of the faucets matter to most customers. A good looking faucet draws the attention of friends and family, and also gives a pleasing appearance to your kitchen. However, some faucets cover plastic construction with a metal finish to give the shine, which compromises the durability.
And if you still think you need help, this video by JKeats should definitely put to rest any lingering doubts.
Best Kitchen Faucets
Moen 7594ESRS Arbor Motionsense Kitchen Faucet

Delta Faucet 9192T-SSSD-DST Pull-Down Kitchen Faucet

Delta 9178-AR-DST Pull-Down Kitchen Faucet

Kraus KPF-2110 Pull-Out Kitchen Faucet

Kraus KPF-1602 Pull-Down Kitchen Faucet

Kohler K-72218-CP Sensate Touchless Kitchen Faucet

Kohler K-596-CP Pull-Down Kitchen Faucet

Delta 21966LF-SS Dennison Two Handle Kitchen Faucet

Premier 120161LF Pull-Out Kitchen Faucet

Comllen Modern Pull Out Kitchen Faucet

Premier Faucet 126967 Two Handle Kitchen Faucet
Summary
With faucets, easy installation, durability, and utility are of utmost priority and that's what Delta Faucet 9192 is all about. The ideal faucet for your new home and worth every penny.
Nothing shouts fancy like a touchless kitchen faucet and the Moen 7594ESRS Arbor is more than just a crowd pleaser. It's durable, easy to use and comes with a design to die for.
Last update on 2018-12-18 / Affiliate links / Images from Amazon Product Advertising API