Looking for the best kitchen faucets? Find one that fits your budget and needs with our detailed kitchen faucet reviews and comparison charts.
Quick Overview: The Top 3 Best Kitchen Faucets
Moen 7594ESRS Arbor with Motionsense  – Easily the best touchless kitchen faucet on the market, the Moen Arbor will leave you awestruck. It boasts a beautiful, sleek design, as well as high-end touchless technology that offers an unbeatable experience.
Delta Faucet 9192: If you need a kitchen faucet that boasts long-term durability and every utility you could wish for, then Delta 9192 should be your go-to.
Kraus KPF-1602 – Looking for the toughest kitchen faucet that can handle anything and everything you can throw at it? Kraus KPF-1602 is the perfect kitchen faucet for all heavy-duty purposes, be it a restaurant or an industrial setting.
A Guide To Finding The Best Kitchen Faucet
So you've finished researching the best kitchen sink and now it's time for the faucet. Nobody wants to spend hundreds of dollars on a kitchen faucet that will break within a year or two. Investing in well-made, long-lasting kitchen faucets is a must. After all, you're going to use it every day to wash your hands, prepare food, and clean the dishes. That's a lot of use!
Yet, buying an expensive model doesn't guarantee you're getting a high-quality and reliable kitchen faucet. Some single handle kitchen faucets contain cheap plastic components that cause leaks after a few years. This is more common than you think: the US Environmental Protection Agency (EPA) estimates that 10% of homes have kitchen faucets that leak, wasting 90 gallons of water (or more) per day!
To avoid finding yourself in the same situation, you need to buy the best kitchen faucet available. Thankfully, this guide and our in-depth kitchen faucet reviews will teach you how to do just that! We've compiled all the information and tips you need to know to compare various models. We've also made recommendations for the best kitchen faucets rated across different categories, taking into account all kitchen settings.
So, roll up your sleeves and get ready. Let's look for the best new faucet for your home!
Navigation:
There are so many faucets available today that it is often difficult to choose the best kitchen faucets for you. We have made recommendations for the best rated kitchen faucets in different categories. We've also taken into account all kinds of kitchen settings.
The Best Kitchen Faucets of 2020
11 In-Depth Kitchen Faucet Reviews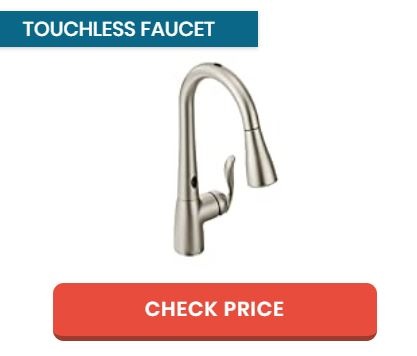 A touchless, single handle kitchen faucet with a high arc sleek design, the Moen 7594ESRS Arbor is by far the most technically advanced faucet on our list. With the best motion sensor in the industry, chose this if "ease of use" is your primary concern. It's really no surprise it's so high on our kitchen faucet reviews. 
The Functionality – The Moen Arbor comes with the brand's signature Reflex system, which gives the pull-out hose superior flexibility. The range is more than 10 inches, giving you excellent maneuverability. It also offers various spray modes.
The hose also returns to its original position, so it's easy to pack up after you're done cleaning. It's 50% more potent than a spray head that doesn't come with its proprietary Power Clean technology.
However, one of the best features that this faucet has to offer is the motion sensor technology. Moen Arbor 'Motionsense' allows you to use the tap without touching anything. There are two ways in which you can do that.
First, you simply need to move your hand over the faucet, and water flow begins. Simply move your hand again to stop the flow.
Second, it has a ready sensor, so when you place a cup or pan below the spout, the water automatically comes out. Once you remove the utensil, it stops.
Overall, the Moen Arbor 'Motionsense' offers entirely hands-free faucets and an exceptional experience to the user.
The Build – Like other Moen kitchen faucets, this one is built like a complete beast. Sporting 'spot resist' stainless steel technology, this spot-resistant coating makes cleanup a 1-minute job way easier. As we said earlier, the sensors used are best in the industry and will continue to work flawlessly for years. No complaints here.
Moen takes pride in creating the kitchen faucets for DIY enthusiasts and professionals, so it's no surprise that this touchless kitchen faucet is an easy installation. You don't need any professional tools. It has a locking system that securely connects to your waterline/supply lines in one simple step.
Note that the product will require internal maintenance. The cartridge nut may need to be tightened, and the hose will need to be inspected for leaks.
The Design – The Moen Arbor has a single handle, single lever, and a curved spout that works well with any kitchen design. It might become the focal point of your kitchen! It measures 15.75 inches high when mounted. This makes it possible for you to clean those huge soup pots without the fixture getting in the way. Pair it with a touchless soap dispenser and you're really in for a treat.
Some might remark that it's too big and distracting, but if you have a huge island or high ceilings, it should be fine.
The Warranty – This kitchen faucet comes with a lifetime limited warranty.
Pros
The hands-free operation, single handle faucet functionality makes it possible to wash dirty hands without creating a mess.

The pull-out kitchen sprayer head has a long reach.

Its tall spout allows you to clean large pots easily.

The unit is easy to install.
Cons
You will need to carefully read and follow instructions on the manual for the sensor to function as it should.

This kitchen faucet is not meant for heavy use. If you have a large family and use your tap frequently, then an industrial-grade fixture would be recommended. Regular use can reduce the life of the kitchen faucets significantly.
Easily the most feature-rich faucet you can buy, the Delta 9192T-SSD-DST combines mechanical brilliance with innovative electric features to give you a stunning package that stands out in any kitchen setting.
The Functionality – This single handle, pull-down kitchen faucet can do practically anything that modern kitchen faucets are designed to do. Here's a quick rundown of all this model can do.
If you have messy hands, tap anywhere on the spout or handle with your forearm and wrist, and you can get a good rinse without getting your faucet dirty. The sensor can even tell the difference between a touch and a grab! You don't have to worry about accidentally activating the unit if you're cleaning it or turning the spout sideways.
You can change the water flow from the spray head from a stream, a regular spray, and the brand's signature ShieldSpray. The ShieldSpray can easily wash away food and oil stains without splattering and causing a mess. The same feature can be used to spray wine glasses and goblets without getting worried that your glasses will break.
The hose's extensive range (more than 10 inches) will make cleaning painless, even when you have piles of dishes to clean during holidays. It's for these reasons that we think of this as our top pull-out faucet.
The spout can be rotated 360 degrees, making it easy for you to wipe or clean the back. If you have a double-bowl sink, you'll have no trouble getting this to wash utensils from either side. There's also a touch-sensitive electronic soap dispenser that you can conveniently load from the top.
Finally, the high-end model (9192T-SSSD-DST) is equipped with LED lights that change their color to indicate the temperature of the water. Note that adjusting the single handle to "warm" also requires a sensitive touch. It may switch from extremes too quickly.
With all these features, the Delta 9192T offers the best functionality any of the kitchen faucets available in the market.
Tough Build – Delta 9192T combines premium functionality with a sturdy build.
The steel-coated exterior is built to last, and the valve is designed with a diamond seal technology that prevents leaks. The MagnaTite Docking system also allows your spray head to stay in place.
The Design – The single handle faucet has a solid brass body with a stainless steel finish. The spout has a high arc that measures 15 inches tall, making it easy for filling up pots. It has a premium look and feel, which brings a touch of class and elegance to any kitchen.
The Warranty – Delta customer service offers a five-year warranty for the electronic parts, but such faucets easily last for more than 10-15 years. Most kitchen faucets need valve replacements due to leakage, but Delta frees you of that hassle. To sum up, once you install this in your kitchen, it will work tirelessly for many years to come.
Pros
The touch functionality makes it easy to start or stop the water flow.

The ShieldSpray feature allows you to remove food stains from pots and dishes quickly.

It comes with an LED water temperature indicator that lets you take control of how hot or cold you want your water to be.

Overall, this faucet will grab the attention of anyone who visits your house and will easily earn you some bragging rights among your friends.
Cons
One gripe we have with this faucet is the electrical setup. It needs maintenance, and some customers had to replace the electrical circuit.

Depending on how much you use the unit, you would have to buy replacement batteries frequently. Because of this issue, this faucet fails to achieve the perfect score.

We recommend you to seek some expert help before installing this faucet, as putting electrical components can prove to be exhausting. Try to look for a plumber who has experience working with Delta products, in particular.
An affordable pull-down, single lever faucet with top-end functionality, the Delta 9178-AR-DST is a stylish option for your kitchen. Here's more about it.
The Functionality – Like the Delta 9192T, the spray head has magnetic docking thanks to the MagnaTite Docking technology. The pull-down spout has a reach beyond 10 inches, making it easy to control. Note that you might have to apply silicone lubricant to the hose every few years to keep the movement smooth.
The 360-degree swivel movement makes the neck easy to clean. This model fits one- or three-hole sinks, and a deck plate is included.
Speaking of water flow, you can easily switch from spray to stream using the toggle switch on the back. With the single lever operation, you can switch between warm and cold streams.
Note that the Delta 9178 does not have any electronic parts, so you don't have to worry about installing or replacing batteries. Not having a touch functionality or a water temperature indicator may be a downer for some people. But, taking away the hassle of having to manage electronics, could be a savior for some.
Overall, this has everything going for it. The classic blend of style and performance makes it one of the best sellers on Amazon.
The Build – Similar to the Delta 9192T, this model comes with the patented diamond seal technology. This means that its valves have a diamond-embedded ceramic disc, which minimizes the risk of getting leaks. If you've ever had your counter flooded before, having a ceramic disc and diamond seal technology is the solution.
If ever you have issues with any of the product's parts, feel free to contact the manufacturer. They have a good reputation for helping customers with troubleshooting. They also don't hesitate to send replacement parts when necessary.
The Design – The Delta 9178 is a contemporary single handle, pull-down kitchen faucet with a high arc. You can choose from four finishes: chrome, Arctic stainless, Venetian bronze, matte black, and SpotShield Stainless finishes.
Those who have a smaller kitchen don't have to worry too much about clearance from the backsplash. You only need 2.5 inches to turn the lever and the pull-down faucets spray head is a huge space saver too. 
The Warranty – Both the faucet and finish come with a limited lifetime warranty.
Pros
It's a relatively affordable faucet with high-end features.

It's made from premium materials, plus a valve technology that prevents leaks.

The ShieldSpray feature prevents water from splashing and making a mess in the kitchen.

There's no need to install or replace batteries.
What's Not Great
One small issue with the faucet is the installment. You would need the help of a professional plumber.

The plastic retainer that connects the sprayer hose can snap off if not installed correctly. Try to ask for help getting it installed if you don't have much experience doing anything similar.
#4: Kraus KPF-2110 (Best Pull-Out Kitchen Faucet)
Currently the best-selling of the pull-out faucets, this one's an absolute beast. With its all-metal construction, it puts premium brands like Kohler, which rely a lot on plastic, to shame.
The Functionality – This single lever model has all the basic functionalities you can expect from manual kitchen faucets. Pull the lever to change the temperature of the water. Press the rubber button to alternate between spray and the aerated stream. It also has a pull-out sprayer that retracts once you're done.
The faucet's water pressure is quite strong in both the spray and stream modes. That makes it easy to flush away stubborn food stains. That said, it makes it a bit difficult to wash goblets or wine glasses.
Some customers have complained about the water pressure, but this can be fixed by checking if the valve and the flow restrictor are properly connected. Make sure to keep the user manual, so you can inspect the tap yourself without calling a plumber.
The spout has a swivel range of 120 degrees and should cover most kitchen sinks. If you have double sinks, you might find it hard to extend the neck enough to cover both sides.
The Build – The Kraus KPF-2110 is built like a tank. Despite being mostly made of brass, the faucet is completely lead-free and uses very little plastic. Additionally, this model comes with a ceramic cartridge that prevents drips.
Note that the pullout spout is quite heavy. This can either be a positive or a negative aspect, depending on your preference.
Some people like feeling the spray's considerable weight on their hand because it reflects the product's all-metal build and quality. Others would rather have a lighter, easy-to-handle spray. Regardless of what you think of the sprayer's weight, be careful with the hose. We've heard it may leak after a couple of years of regular use.
The Design – This model's smaller than your usual pull-down faucet, making it ideal for homes with smaller kitchens. It still has a beautiful modern high arc that we all love in our modern kitchen. It also has a single lever operation which adds to the minimalist look.
The exterior is made of 100% stainless steel, so you never have to worry about rust, discoloration, or corrosion. Even if you have high amounts of mineral in your water, you don't have to worry about getting water spots.
The Warranty – The faucet comes with a limited lifetime warranty. Finding replacement parts may be more difficult compared to larger, well-known brands with established customer service.
Pros
Despite having multiple features, this faucet is more affordable than the biggest names in the industry.

Its intense water pressure lets you remove food stains and dirt with ease.

Almost all parts are made with steel and brass, which creates a solid, premium feel.

The stylish pull-out design makes it an aesthetic addition to your kitchen.
Few Issues
There can be a delay when you switch between stream to spray. It gets better with use, but some customers complain that this issue can persist.

The instructions that come with the faucet can be difficult to understand. You might have to consult the website or other reviews to get the tap to function correctly.

Overall, this faucet is recommended for anyone who is looking for a durable faucet that stands the test of time.
If you have a large family or do a lot of cooking, you should look at one of the best commercial-style kitchen faucet available. The Kraus KPF-1602 is an undisputed leader among kitchen faucets. It's a feature-rich model that has a sturdy construction.
The Functionality – First up, there are two separate places where water can flow: the pull-down sprayer and the fixed spout. Before you can turn either of them on, you need toggle the main lever at the center of the fixture. You can use the same lever to change the temperature, as well.
The pull-down sprayer head has a separate stand where you can hang the single handle. The water pressure is enough to pre-rinse dishes, but not enough to eliminate tough food stains. Think of it as a "soft rain" and not a pressure washer. It does have good reach, which gives you excellent maneuverability.
The fixed spout has a simple lever that starts the flow of water. Be careful when turning it on, since it can make water splash everywhere if you're not paying attention. The spout can swivel for full 360 degrees, which should cover your entire sink.
And yes, you can have water flow from both the spouts simultaneously, though the pressure would be comparatively less.
The Build – Kraus brings one of the best commercial-grade fixtures for home users with the KPF-1602. It has an all-metal build, with no traces of plastic.
With rust-resistant coating and majorly brass construction, it is built to adhere seamlessly to the kitchen sink and last for decades. The spring is also of top-quality.
Its high-end build extends even to the smallest parts. The faucet has a ceramic cartridge that prevents drips, plus an aerator that reduces water waste. For a model that hardly uses plastic, you'll get much more for your money with this faucet. Especially compared to similar kitchen faucets from big-name brands.
Note that it's only compatible with single-hole sinks, and there's no plate included. The metal parts also conduct heat, which means that they heat up if you're spraying hot water.
If possible, hire a professional to get this model installed. The instructions are not straightforward, so it's better to have someone help you when getting this faucet set up.
Overall, we have nothing to complain about when it comes to the durability of this faucet.
The Design – This commercial-style heavy-duty faucet is larger than your usual pull-down kitchen faucet. It has a 32-inch tall flexible hose spring that holds the sprayer. If your sink is not perpendicular to the backsplash, it might look a little awkward. If you're not a fan of seeing an open-coil spout, this might not be your favorite fixture, either.
Still, the lead-free brass body and high arc looks high-end and will work with most contemporary kitchens. You can choose between a stainless steel or chrome finish. Don't worry about water spots or stains. The fixture stays clean even when you touch it with messy or greasy hands.
Overall, it's a large, attention-grabbing fixture that easily becomes the showpiece of any kitchen.
The Warranty – This model comes with a limited lifetime warranty.
Pros
It's a sturdy commercial-style faucet that's made from premium materials.

You can use the sprayer or the spout separately, which means you can multitask if you have somebody else to help you do the dishes.

Relatively easy to use for a faucet with multiple features.

Quality components prevent leaks and drips.
Cons
There are occasional splash issues with the Kraus KPF-1602. The spray head pressure can sometimes be a little too much and can create a mess.

Even though it can withstand frequent use, it needs proper handling from the user.
Kohler brings a premium option with the beautiful Kohler Sensate. In our list, it has by far the cleanest finish and is a stunning example of Kohler's design prowess.
The Functionality – This high-end touchless faucet has a few impressive features.
You can make everyday cleaning a more hygienic operation by using hands-free faucets. Just wave your hand behind the arc to turn it on. It responds within 20 milliseconds, so you never have to worry about any delays when getting the water to flow. The faucet turns off automatically after a few minutes.
While we find this touchless feature handy, we've found that the sensor tends to activate from steam (like when you're draining pasta), which can get a bit inconvenient after a while. Still, that's a small price to pay for making sure you don't cross-contaminate your faucet when you have messy hands.
To change the water temperature, adjust the lever handle while the faucet is turned on. It has a temperature memory! Meaning you won't have to wait for the correct temperature each time you turn it on.
There's also a pull-down sprayer with a magnetic locking mechanism, which pushes the spray head back in place. It has a braided nylon hose that's specially designed to prevent tangling. Making it easy to complete everyday cleaning tasks without much effort. We like how the spray doesn't splatter too much when used. An issue you've likely encountered with other high-pressure products.
The Sensate runs on AC power instead of batteries, so maintenance becomes easy. Make sure you have a dedicated outlet under your sink, you will need this for the sensor. 
In case of a power outage, the faucet can be operated manually. An LED light near the base tells the user if the faucet is operational.
The Build – As we said earlier, the finish is top-notch. Premium metal was used for the construction.
However, there's a problem with the interior, which causes it to lose pressure after a few months. The solenoid, which is controlled by the sensors, has also been an issue for many users.
Note that the electronic parts might be intimidating out of the box, but the instructions are easy to follow, making installation easy. 
The Design – The Kohler Sensate has a simple high arc that's typical for a pull-down faucet. Its key feature is the polished chrome finish with matte black accents. We'll say the design is quite nondescript, which is unusual for a high-end faucet. Fixtures within a similar price range tend to be stunning showpieces, but this Kohler likes to keep it low key.
The Warranty – A manufacturer's warranty can be requested from customer service.
Pros
The faucet has a clean and sleek design that's perfect for a minimalist kitchen.

The motion sensor is in a convenient location, making the faucet easy to turn on or off.

The spray head has a magnetic locking mechanism, preventing it from falling off or drooping.

It's a simple quick connect installation system. This allows you to have a new faucet without needing to hire a plumber.

Offers a matte black color choice
Cons
This faucet is quite expensive. With a price tag of over $400, Kohler could have easily provided more sensors. Also, the internal build quality could have been better. Even if you use it moderately, don't expect this faucet to last for a long time.

Overall, we would recommend this only to users who want to buy one of the best looking kitchen faucets and have minimal use.
If you want a well-priced Kohler faucet, this should be on your list of products to consider. It's currently available at a $50 discount, making it a complete steal. Here is everything about Kohler K-596-CP.
The Functionality – Kohler's design and mechanical brilliance are clearly on display with this faucet. The swivel can rotate to full 360 degrees, and the pull-down spray head has a reach of over 10 inches. It also has a magnetic system that secures the spray head back to the main faucet after every use.
While most kitchen faucets can't switch between the aerated stream or the usual stream modes, this one can. Choose the former option to save water while rinsing dishes or choose the latter to fill up large pots quickly. You can switch from stream to spray mode by a simple touch of a button. The button is conveniently located on the back of the spray head.
One of the reasons to love this model is the spray pattern. It has intense pressure but spreads evenly, making it useful when rinsing off hardened food remnants from dishes or cookware.
We also like how the lever handle works. It turns on and off smoothly and responds well if you place the lever somewhere in between. You don't have to worry much about the pressure going out of control.
Note that some product descriptions may state that this faucet also has a pause function, which allows you to suspend the spray flow without touching the lever. This has been replaced with a "boost" button. It increases the flow rate by 30% instead of stopping the flow of water.
The Build – The Kohler K-596-CP has an impressive look, but some of the materials used for construction are quite cheap. The spray head, for example, has plastic inside and might need part-replacement after 1-2 years. The metal used for internal construction is thin and a clear compromise has been made to keep the faucet lightweight.
On the plus side, we like that the hose and the spray head come preinstalled with the unit. You only need to hook it up with your waterline/supply lines for the product to start working. Be sure to read the quick connect manual before installation, as the hose may have issues if not fitted correctly.
The Design – Like most pull-down faucets, this model has an arched body with a beautiful polished chrome finish. It's only 10 inches high. This makes it the perfect fixture if you want a pull-down faucet for a smaller kitchen.
The Warranty – This model comes with Kohler's limited lifetime warranty. The company's customer service team is courteous and helpful, so don't worry about getting replacement parts if anything malfunctions.
Pros
In terms of features, it beats most products within its discounted price range.

It

has an attractive polished chrome finish that makes it an excellent fixture you can proudly display in the middle of an island sink.

The magnetic locking system securely keeps the spray head in place.

The faucet installation is super easy, which helps save money compared to others that require the assistance of a professional.
Some Drawbacks
The build is the biggest drawback of this faucet. You shouldn't expect it to last for more than a few years.

Some plastic components might make it seem less premium than you might like.
#8: Delta 21966LF-SS Dennison Two-Handle Kitchen Faucet
If you wish to install a traditional style faucet with a tough build, then the Delta Dennison would be our top recommendation.
The Functionality – The Delta bridge kitchen faucet is pretty straightforward in terms of features. It has a two handle faucets style, so you get separate handles for hot and cold water. It also has a separate side spray attachment, which is nice. But the range is a little too short for a double kitchen sink.
The height of the spout is sufficient, even if you have to fill large pans. The neck rotates and should cover most kitchen sinks.
The Build – With a solid brass construction, this faucet is meant to last. It's quite heavy and uses metal for interior components.
For its price, it can stand toe-to-toe more expensive faucets in terms of build quality. It also doesn't contain lead.
Moreover, it needs negligible maintenance from the user and will work effortlessly for years.
The Design – It's not the most good-looking faucet and will go only with traditional kitchen settings. Still, its sleek stainless steel finish is an upgrade from other traditional style faucets.
The Warranty – The faucet is covered by a limited lifetime warranty and Delta is known for great customer service.
Pros
The overall build and quality are superior to most products within its price range.

You can expect the fixture to last a long time.

The faucet has an easy installation process.

When fitted correctly, the faucet is ADA-compliant.
Cons
The sprayer is not of the highest quality. With plastic internals, you might need a replacement after some years.  
If you are looking for an affordable pull-out model with lasting durability, then the Premier 120161LF will be your best bet. It's made from quality materials, better than what you'd expect from products in its price range.
The Functionality – There's nothing much this faucet has to offer in terms of functionality. It has a single lever to switch between warm or cold water. Compared to most kitchen faucets, though, this one has a more powerful water flow rate, which measures at 2.2 gallons per minute (GPM). It also has an aerated stream.
The pullout spray head is robust and can easily be switched from spray to stream. While it doesn't have a magnetic locking system, the spray head pulls out and slides back in smoothly. Its retractable hose measures 48 inches, which gives you excellent reach.
Overall, it is fairly restrictive in terms of functionality, but as they say: sometimes, less is more. This model only concerns itself with controlling water flow and temperature. But, you can expect it to do its job well.
The Build – The build of this traditional-style faucet is impressive, especially for the price point. It uses a ceramic disc instead of rubber valves to prevent leaks. The all-brass construction gives the body remarkable durability, and its lead-free waterways ensure your safety.
One small issue, however, is that the base of the faucet isn't solid as those on other big-name brands. For that reason, we find it a little wobbly.
You can mount this on a single-hole or three-hole kitchen sink, so you don't have to worry too much about compatibility. Installation is also simple. If you have no qualms about crawling under a drain, you can do this yourself. You should have no issues getting this hooked up to your waterline.
For its price, this is easily the most durable faucet you can buy at its price range. Expect it to last several years with minimal maintenance.
The Design – The design is quite unique but simple. It has a rounded srpay head at the end of a straight spout. This makes it look distinct from other kitchen faucets with one handle. The lever handle at the back has the standard blue and red indicator to show the temperature.
Note that this faucet comes with a brushed nickel finish, which generally doesn't perform as well as stainless steel when it comes to resisting water spots or corrosion.
The Warranty – This kitchen faucet comes with a premier limited lifetime warranty.
Pros
The all-brass construction makes it a quality product, especially for its price.

It's a lead-free, ADA-compliant faucet.

Installation is generally easy as it does not come with several complicated parts.

It comes with a pull-out sprayer head, making it more versatile than your usual kitchen faucet.
Cons
This faucet clearly has functionality restrictions.

The design is average and doesn't have what it takes to be a showpiece in your kitchen.
If you need a heavy-duty faucet but are on a tight budget, then this one handle option from Comllen might do the trick. It's a commercial-style fixture that has all the features you can want in an affordable pull-out faucet.
The Functionality – Unlike most kitchen faucets, this one does not have a fixed spout. It has a pull-down spray head that's hung in place when not in use. You can switch the spray mode and stream by pressing a button located at the spray head.
The reach is sufficient, and the single handle can be used to adjust from hot to cold water. The faucet is quite tall and swivels 360-degrees, allowing it to cover a large area.
The Build – The spray mostly has steel components, plus a ceramic valve. The main body is made of brass, and the handle is made from zinc alloy. While these components are tough and sturdy, the aerator and the coil around the spray are made of plastic. This gives the faucet a less premium feel.
Still, for a product that's a fraction of the price of what you can buy from big-box stores, you get good value. You get the modern kitchen look, even if compromises were made to reduce the cost. You will have to "handle with care" if you need to extend the life of this faucet.  
To sum up, if you have a large kitchen sink and need a cheap faucet, then you can go for this model. Installation is easy so you don't have to bother hiring a professional.
The Design – Comllen's commercial-style kitchen spray has a basic utilitarian design. The dark rubbed bronze finish works well with composite granite and natural stone kitchen sinks. Though, it might look awkward if you have steel fixtures and appliances throughout your kitchen.
The Warranty – This product comes with a 10-year warranty.
Pros
It's an affordable faucet that can withstand heavy use.

The rubbed bronze finish resists corrosion.

The faucet is quite intuitive and easy to use.

Ideal for large families or people who cook and wash dishes often.
Cons
It has several plastic components, which make it feel cheap.

The finish will not match kitchens that are mostly fitted with steel appliances and fixtures.
If you don't want to compromise on looks but want a two handle operation, then the two handle faucets by Premier would be the best option. Even if it comes at an affordable price, it has all the basic features needed for a traditional-style faucet.
The Functionality – Use the two separate handles for hot and cold water. The water flow rate goes up to 2.2 GPM, while most kitchen faucets would usually only reach up to 1.8 GPM. It also has a separate side sprayer.
The faucet isn't that tall, which restricts this faucet for small kitchen sinks only.
The Build – This faucet has a chrome coating over plastic. There's nothing much to say other than that – don't expect this faucet to last for a long time.
Overall, if you are living in a small apartment, then you can go for this. Other than that, we won't recommend it for regular use.
The Design – Design is really where this product shines. The double-handle faucet works well in rustic homes because of its traditional style. The steel spout looks perfect in any remodeled kitchen.
The faucet has a separate side sprayer that's made with the same materials as the spout. Because of this product's tulip design, though, you'll need a three-hole sink to get it installed.
The Warranty – This product comes with a 10-year warranty.
Pros
It's an attractive fixture that's coated with the same premium chrome finish as higher-end models.

It has a higher flow rate than most kitchen faucets.

It's an affordable option for customers who want a two handle kitchen faucet.

T

here's a separate sprayer you can use simultaneously with the main faucet.
Few Issues
Its size is not appropriate for larger kitchen sinks.

Some components are not as sturdy as the ones in more expensive faucets.
The Most Popular & Best Kitchen Faucet Brands
If you're looking for the best kitchen faucet within your price range, narrow down your search to products from these brands. They've become the industry standard because of the quality of the products they provide.
Moen – The Best Brand For High-End Faucets
Moen is one of the most trusted kitchen faucet brands. The company has a diverse product line. Including inexpensive faucets for starter homes to luxury kitchen spouts for high-end kitchens.
The company is especially notable for offering innovative products like sip beverage faucets that dispense cold filtered water on tap. Moen's modern touchless products also come with some of the best sensors on the market.
Delta – A Top Kitchen Faucet Brand For Hands-Free Systems
Delta is a cutting-edge innovator in the industry. The company's sensor-activated taps have made hands-free faucets the norm. Delta kitchen faucets also come with the MagnaTite docking system. This makes it easy to snap your spray hose back in place without a sweat.
Kraus – The Best Affordable Faucets
Kraus is a company that's committed to providing high-quality plumbing fixtures for the mid-range market.
It may be one of the lesser-known kitchen faucet brands, but that doesn't mean you have to compromise on quality if you choose Kraus products. The company provides affordable pull-out and pull-down models. They can stand toe-to-toe with luxury models in terms of functionality and durability.
If you're looking for a cheaper alternative to designer plumbing fixtures, Kraus products are the way to go. 
Kohler – A Highly Rated Luxury Brand
Kohler is a luxury brand that specializes in kitchen and bathroom faucets and accessories. The company has an extensive product line that includes faucets, lighting fixtures, water filtration systems, and more. A lot of the home accessories Kohler provides can be powered electronically. This is great if you're looking to create a smart home.
If you want a Kohler faucet, you're likely to be looking at products within the highest end of the spectrum in terms of price. Still, you get your money's worth. The company's products are made from high-quality materials and include awesome features, including magnetic docking.
Types of Kitchen Sink Faucets
Before we come to the top features you need to look in a kitchen faucet, we will first tell you about the different kinds of kitchen faucets available. Each kind of faucet has its own features. This guide can help you to decide which faucet will work best according to your needs.
Touch-Less Kitchen Faucets – If you are looking for a convenient to use faucet then touch kitchen faucets can come in handy. They come with sensors that enable the flow of water once you wave your hand near them. They are also good looking but on the flip side, they are quite expensive.
Pull-Down Faucets – The most popular faucets are of pull-down kind. They have a spray wand that pulls downs to the sink and has an extensive reach. They especially come in handy when you are washing veggies or utensils.
Pull-Out Faucets – They have a spray wand that can be pulled out straight to you. They come in handy while filling pots.
Commercial Kitchen Faucets – If you have a large family then you need a faucet with a strong build. Commercial styled faucets or industrial faucets are best for this purpose. They have a spring mechanism that extends their life and the height is sufficiently high.
Two Handle Kitchen Faucets – Finally if you are looking for something traditional, then the good old two handle faucets will do the trick. They have separate handles for hot and cold water and are generally durable.
For more details check out our detailed post on Types of Kitchen Faucets to help you make a better purchase.
Kitchen Faucet Buying Guide: How To Find The Top Kitchen Faucet For Sale
Now that we've discussed the different kinds of faucets and you've read the kitchen faucet reviews above, here are some aspects you need to look for when buying a new kitchen faucet.
Study The Components
Before you start shopping, familiarize yourself with the usual kitchen faucet parts, so you know what to look for when checking product specifications.
You should also check if the internal parts are replaceable. It's a shame to buy a completely new faucet just because one irreplaceable valve was broken. While well-known brands are more expensive, it's usually easier to find replacement parts for their products.
Compatibility
This might sound a little technical, but these are aspects of every faucet you need to know if you want it to work as it should. Before browsing kitchen faucets on sale, find out if they're compatible with the kitchen setup that you have.
Mount Type
First, check which mount-type you'll need or want. For this, you have three options: sink deck, countertop, or wall. Here are the pros and cons of each.
Wall Mount Faucet – If you're big on design, you shouldn't dismiss the option of mounting a new kitchen faucet on the kitchen wall. The faucet will look even more stunning if you match it with the design of your backsplash!
Another advantage is that cleaning the sink deck or countertop will be easier since there's no faucet obstructing this area from getting a good wipe.
A downside is that you have to hire a plumber to set up water lines behind the wall. Getting a leak can also cause extensive damage to your house.
Sink-Mounted Kitchen Faucets – This is the most common mount type. Faucets are attached directly to the holes in the basin. 
For those who are looking for sink-mount faucets, check if the faucet you like is a top-or bottom-mount faucet. You screw the unit from under the counter in top-mount models. Meanwhile, bottom-mount faucets can be connected from the countertop. If attaching screws from under your sink feels like back-breaking work to you, choose a bottom-mount unit.
One downside of this mount type that it makes your sink area more difficult to clean, as the faucet makes the section behind it harder to reach.
Countertop or Deck-Mounted Faucets – Faucets can also be mounted directly on the countertop. This is ideal for larger faucets with platforms that take up a huge amount of space.
One aspect you should keep in mind when mounting a faucet directly on the countertop is the clearance. You should have enough space behind your sink so that you can adjust the lever.
Also, note that drilling a countertop isn't a DIY job.  You should hire a contractor who has the equipment necessary to drill clean, perfectly-sized kitchen sink faucet holes. You wouldn't want to break your granite or quartz countertop.
Mounting Holes
Once you've determined the mount type, learn how many mounting holes you'll need for your kitchen sink faucet. Some faucets can require up to four mounting holes. A kitchen sink faucet that only requires one hole is unlikely to be compatible with a double lever faucet.
If your kitchen sink faucet needs three holes, but you plan on installing single-handle faucets, check if the product you're looking at comes with an escutcheon (or deck plate) to cover unused openings. You can also buy this accessory at home improvement stores if the faucet you want doesn't come with it.
Valves
Look for a kitchen faucet with a ceramic disc, a cartridge that stops water when the faucet is turned off. It's the most reliable type of water control mechanism, helping ensure that your faucet lasts a long time without leaking.
Other types of valves include the ball valve and the cartridge valve. These are more common with older kitchen faucets and are rarely used nowadays.
Also, check if the faucet valves match with the size of the waterline. Check under your sink to see the size of your waterlines and shutoff valves. The size should be etched into the valve itself.
In older homes, you may find that you have shutoff valves that are 1/2-inch in size. You may need to replace these to 3/8-inch valves, which is typical for newer faucets.
Shape And Size
Finally, consider the faucet's shape and size. This is especially important for those with double sinks. Make sure it's long enough to cover each side. But, not so long that it obstructs objects such as large soup pots.
It's for that reason that most spouts these days have an arched shape. They offer more clearance, but can also make a splash if the water pressure is too strong. Most manufacturers come up with a way to minimize splashing by designing different spray modes.
Functionality
Modern faucets have a lot of impressive features. For example, having a spray wand has quickly become an industry standard. When shopping faucets with a detachable component, always check the range. Is long enough to help you reach every corner of your sink? You should also look for those with a reliable locking mechanism. This will help ensure that the detachable spray head won't droop over time.
Some kitchen faucets also come with impressive electrical components, including touch sensors and LED lights. While these are convenient to have, make sure to look for products that can run on AC power. Running out of batteries in the middle of food preparation is extremely inconvenient.
Touch-on faucets have sensors, too, embedded in the faucets themselves. You can use your wrist or forearm to activate the unit. This is great for people who don't want to get their faucet dirty when they have messy hands.
Finally, a few modern kitchen faucets come with advanced water filtration systems. They allow you to have clean, drinking water running on tap.
Build
Everybody wants a long-lasting faucet. How can you tell if the model you're looking at will last? One way to tell is by checking the materials used. The construction of the faucet plays a major role in determining its durability.
Body Material
There are several materials manufacturers use to create faucet bodies. Below is a description of some of them:
Brass – Brass bodies are the most durable and leak-free of all. Most home remodeling professionals would recommend this material over others. For your safety, look for those that are labeled or certified "lead-free."
Stainless Steel – A lot of mid-range faucets are made with stainless steel. It's not as sturdy as brass but it's a good material to choose if you're on a budget. Look for 304 stainless steel, which has greater amounts of chromium and nickel for better durability.
Zinc – If you're against using plastic, try looking for a model made from zinc or zinc alloys. They're not as durable as other metals, but they cost significantly less.
Plastic – This is the least expensive of all materials, but it's also the least durable. Most companies use it for internals to save on costs.
If your water supply contains plenty of minerals, avoid plastic. Minerals will wear out plastic components easily.
Materials For Finishes
A faucet's finish will determine how well it will fit the overall look and design of your kitchen. Here are your options.
Chrome –

This is currently the most popular kitchen faucet finishing material. It's especially prized for its reflective and attractive surface. Wipe it down regularly to remove water spots.

Options are Polished, Brushed, Matte

Nickel –

Nickel has a warm, especially brushed nickel, golden tone that's perfect for creating a spa-like atmosphere. It's durable, easy-to-clean, and versatile. However, it's prone to getting scratches and may also tarnish.

Options are Satin, Brushed, Polished

Bronze –

Mid-range faucets are often finished with oil-rubbed and polished bronze. Look for those that are coated with clear epoxy, which prevents corrosion. Bronze is often sought out when renovating vintage bathroom faucets since it evokes luxury and tradition.

Options are Polished, Brushed, Oil-Rubbed, and Venetian Bronze

Brass –

Brass has a beautiful gold tone that makes any fixture look more premium. They're ideal for retro kitchens because brass fixtures tend to look like antiques. However, they require regular polishing to prevent them from tarnishing.

Options are Gloss, Satin, and Antique
Best Kitchen Faucet Designs
Aesthetics matter to most customers when it comes to their home. A good-looking faucet draws the attention of friends and family, and also gives a pleasing appearance to your kitchen.
To check which faucet looks best for your space, consider its style. Styles are usually divided into three categories, such as the following:
Modern
This type of faucets often features curved spouts. They also tend to have sharper, angular corners than their traditional counterparts. Very few modern faucets feature two handles.
Traditional
Traditional faucets have a vintage appeal. Think of the double-handle faucets you can usually find in historic homes.
Transitional
This style incorporates elements from both modern and traditional faucets.
To keep your kitchen design cohesive, choose a finish that matches your cabinet hardware, sink accessories, and sink-hole covers. Try to match your faucets with the color or appearance of your appliances, as well.
Other Considerations For The Best Kitchen Faucets
Here are other important aspects you should look at when purchasing a kitchen faucet style.
Ease of Use
Some faucets are also labeled as ADA-compliant. These follow the Americans with Disabilities (ADA) specifications on ease of use and range.
To be considered ADA-compliant, you should be able to turn the water on with one hand. You should also be able to turn the water on without the need to twist the fixture. Preference is given to single-handle versus two handles.
Flow Rate
Some manufacturers create faucets with eco-friendly qualities that help save water. Examples include faucets that have an aerated stream.
You can usually find out each faucet's water flow rate by checking the specifications. Federal standards limit the flow rate of faucets to 2.2 GPM (gallons per minute) at 60 psi. If you're looking for a model with a high flow rate, this is likely the highest you can go.
Faucets that save water are called 'water-conserving faucets' and are usually labeled with the WaterSense logo. This indicates that it meets the standards set by the EPA.
Bonding Method
Finally, some faucet finishes are applied using Physical Vapor Deposition (PVD), a process that uses vacuum pressure and electric charge. This creates a strong bond between the finishing material and the body, lessening the chances of the finish peeling off.
Finishes that were bonded using this method resists scratching and corrosion. They also tend to look "good as new" for a longer time.
Note that having a PVD finish can increase the price of a faucet style by a hundred dollars or more. While this is an expensive feature, it's very important if you want a fixture that will last you years.
Kitchen Faucets For Sale: Tips On Finding The Best Pull-Down Kitchen Faucets
The best kitchen faucet style isn't easy to find. Here are some tips to help you shop for the perfect fixture.
TIP#1: Save Money On Kitchen Faucet Sales
You're likely to find a sale on kitchen faucets at big box stores, but getting discounts from online stores like Amazon is also common.
When purchasing a kitchen faucet that's on sale, be sure you're also getting one with a warranty. Some manufacturers don't honor the warranty from products that have been returned and sold at a lower price. Be sure to ask the seller about this before shelling out cash.
TIP#2: Look Beyond The Price
Ordering the most expensive faucet you can find doesn't mean you're getting the best one available. The same is true for the cheapest faucet.
Inspect the materials and features first before purchasing a specific model. There are several high-quality faucets that are available at an affordable price.
TIP#3: Measure Clearance
There's no point in buying a kitchen faucet style that doesn't fit. So, what exactly do you need to measure before purchasing one? Check the following:
Overall Height – If your faucet is under a cabinet or window, ensure that the highest point of the faucet style will not hit objects above it.
Spout Height – This refers to the distance from the spout to the sink or the counter it's mounted on.
Spout Reach – This is the distance from the neck of the spout to the aerator.
Surrounding Space – Most modern faucets swivel at a full 360 degrees, which is necessary for large sinks. Be sure you have enough clearance for your faucet to turn.
It's also important to keep the size of the faucet style proportionate. Choose a larger faucet style for a huge sink in a spacious kitchen. The same is true for smaller sinks in a compact kitchen.
TIP#4: Check The Hose Material And Length
Look for a pull out kitchen faucet with a braided nylon or stainless steel sheathing on the hose. These are durable materials that help the pull-out sprayers last a long time.
You should also check the hose length. If it's too short, you might not be able to use it to your advantage.
TIP#5: Consider Accessories
Accessories shouldn't be your primary concern when choosing kitchen faucets, but if you have the extra budget, check which accessories you can buy. Some faucets come with a separate soap dispenser, which is a stylish and convenient addition.
TIP#6: Check Plumbing Regulations
Some plumbing regulations are standardized throughout the US, but some states have tighter restrictions than others. For example, California has tighter water-efficiency standards for faucets. Make sure the model you're looking at complies with the regulations in your locality.
TIP#7: Go For The Industry Leaders
It's tempting to purchase a faucet from an unknown brand because of the potential cost savings you could make. But there's also a great advantage to purchasing something from bigger, well-known kitchen faucet brands.
Companies like Moen and Delta have a large customer and technical support staff that can help you whenever you have questions regarding your plumbing fixture. You can also find replacement parts for their products easily.
TIP #8: Buy Products That Can Withstand Hard Water
If you live in an area where your water supply contains a lot of minerals, you should buy a faucet that won't get damaged by those sediments. Mineral buildup can clog and damage your faucet, so this is a matter that requires serious consideration.
Look for faucet models with corrosion-proof brass and built-in filtration systems. The aerators should also be easy to clean and detach in case there's mineral buildup. For exterior aesthetics, look for products that offer 'spot resist' stainless steel.
TIP#9: Choose Your Faucet First
If you're only replacing your faucet, you're always going to be limited by the configuration of your existing countertop or sink. But the same isn't true if you're building or renovating a kitchen from scratch.
Those who plan on getting a new sink or countertop should choose a faucet first. That way, they can buy whichever will best suit their needs. You don't have to worry much about compatibility. You can match whichever sink you want with the faucet style you find ideal.
TIP#10: Break The Rules
In general, it's best if you buy a faucet with a finish that matches other fixtures in your kitchen. But some kitchen decorating styles are not as strict. For example, if you want a Bohemian-style home, mixing and matching different metals is no issue.
TIP#11: Try A Bar Faucet
Your main kitchen faucet should be able to do all the heavy lifting, but that doesn't mean you can't consider installing a supplementary faucet that can help.
If you entertain a lot at your home, consider getting a bar faucet. This provides a place where guests can wash their hands away from the main faucet.
Buy The Best Kitchen Faucet Below
Nothing shouts fancy like a touchless kitchen faucet! If this sounds like what you're looking for, then the Moen 7594ESRS Arbor should be your top choice. It's more than just a crowd-pleaser. It's durable, easy installation, offers 'spot resist' stainless steel, and comes in a gorgeous modern design!