Disclosure: Some of the links below are affiliate links. This means that, at zero cost to you, I will earn an affiliate commission if you click through the link and finalize a purchase.
Healthy dessert for breakfast? Yep, that's essentially what you'll get with this incredibly delicious stovetop apple oatmeal.
Though it may resemble the look and taste of apple crisp, it has considerably less unhealthy fats and sugars than apple crisp. Made with simple, healthy ingredients, it's something that you can come back to often feeling guilt-free.
In my family, this has become a staple weekend breakfast. My son will often request it and he absolutely loves it. And what makes it even better? It is very simple and quick to make.
Apple Oatmeal Ingredients
Let's take a look at what's inside this delicious dish, shall we?
For only 7 ingredients, you'll be surprised by this recipe's big flavors. The base of the recipe starts with fresh apples. Then oats, cinnamon, vanilla, coconut oil and maple sugar get added to cooked apples. After all of those ingredients are combined, the coconut cream is added to give a creamy, "coco-nutty" finish.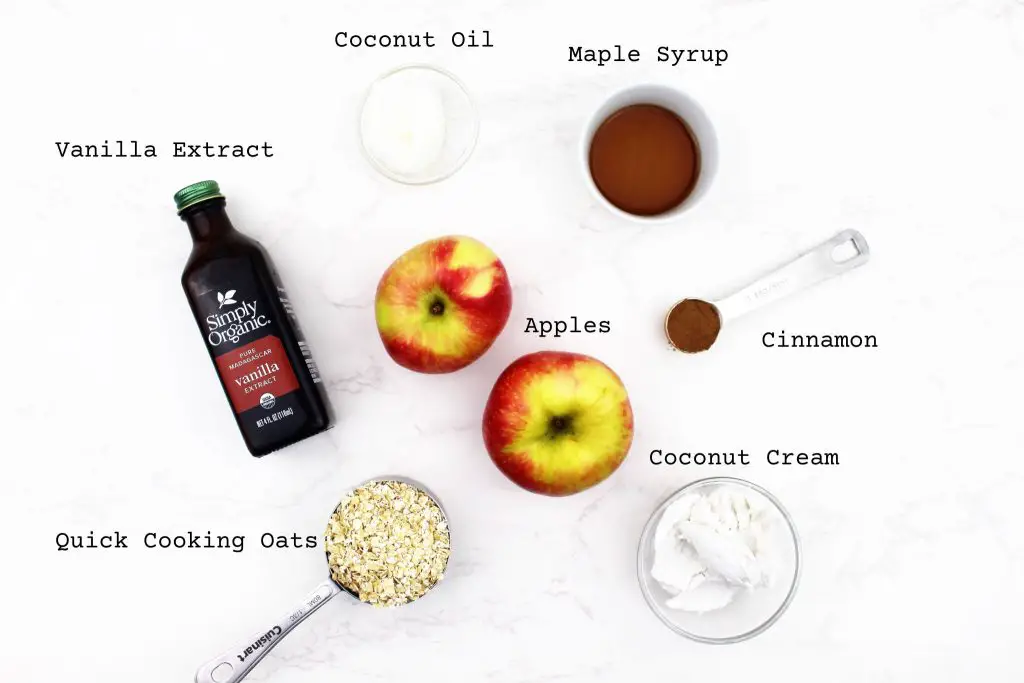 What I find fascinating is the subtle coconut flavor of the coconut cream as it melts into the warm oatmeal. The flavor combinations of coconut, vanilla, cinnamon and maple really meld well together. And then with the fresh pop of cooked apples, it makes for a really delightful dish.
How To Make Stovetop Apple Oatmeal
Apple Prep
Begin by washing and peeling the fresh apples.
Then, cut the apples into small 1/2 to 3/4 inch chunks. As you can see below, the apple pieces do not need to be exactly uniform in size. Just get them as similarly sized as you can so they cook evenly.
Once you have cut the apple, place the cubes into a small or medium saucepan. Pour in 1 to 2 Tablespoons of water just to cover the bottom of the pan. The point of the water is to provide a little steam and moisture as the apples cook on the stove.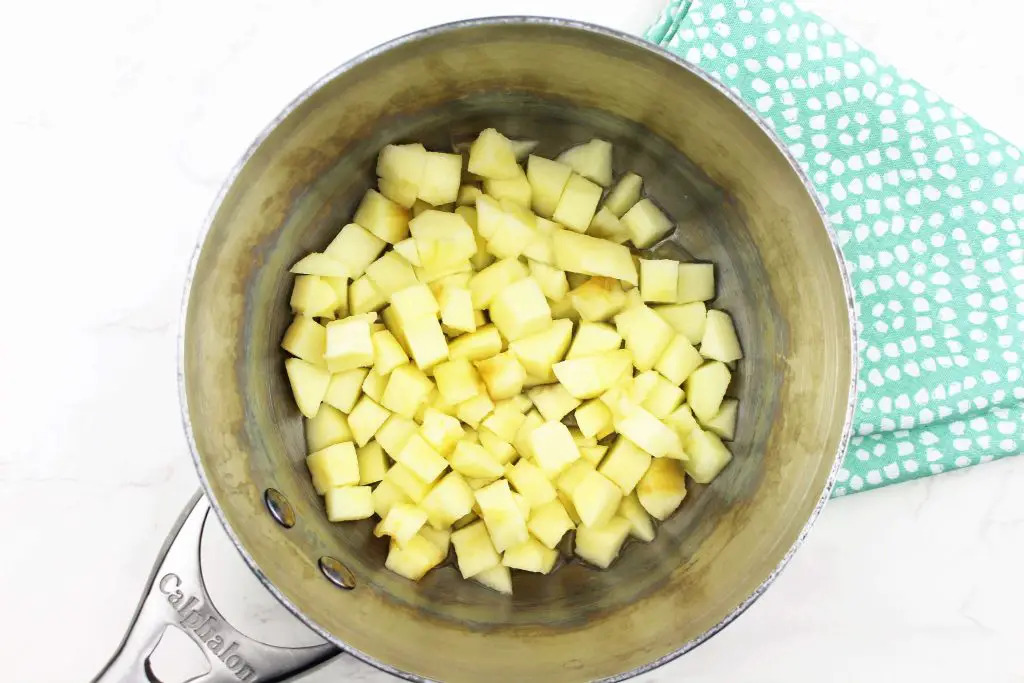 Once ready, place on stove and bring to a simmer. Cover and let cook on low/medium heat for 10 minutes. After 10 minutes, you'll want to check the apples with a fork to ensure the apples are cooked to perfection. The ideal texture allows a fork to easily pierce the apple with little resistance. You don't want the apples to be crunchy, but you also do not want them to turn to mush.
Looking To Speed Up Apple Prep?
If you are making a single serving, you should have no problem using a knife to cut up and peel the apple. But what if you have a family to cook for? Peeling and cutting several apples can take a lot of time. That's why we recently picked up an Apple Peeler Corer from Amazon.
These little things are truly amazing to work with! My mom used to have a product like this when I was growing up and I remember LOVING to use it. And now, my kids feel the same. In fact, I hardly get to use it because they like it so much.
So, if you're looking to up your apple prep game, check out this tool. One thing to note is that even with all that it does, you still would need to do a small amount of cutting to get the apple slices cut down to bite size pieces. But that only takes a few seconds per apple.
Add Most Ingredients
After you have steamed your apples to perfection (not crunchy and not mushy), it is time to start putting it all together.
At this point you will add everything into the saucepan except for the coconut cream. Keep the coconut cream set aside for when your are ready to serve.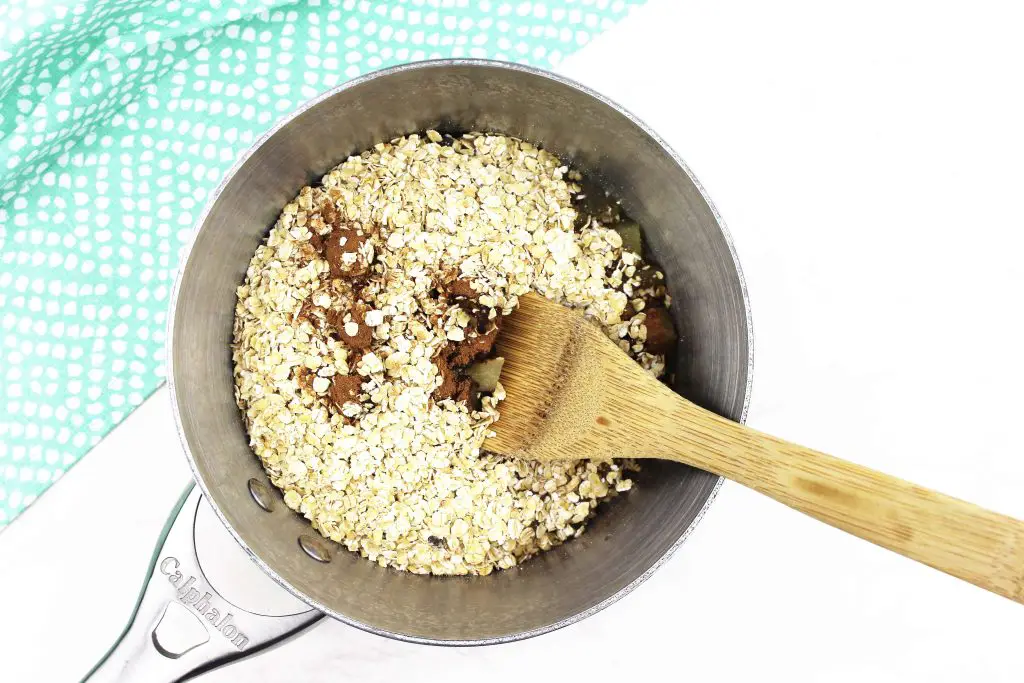 Give the mixture a good stir. At this point, try to get the cinnamon and all ingredients well-combined.
Place on low heat and cover for 3 minutes. This will cook the quick oats and allow the flavors to come together nicely.
Add Coconut Cream
Once the 3 minutes on the stove is complete, it's time for that coconut cream! This adds amazing texture and flavor.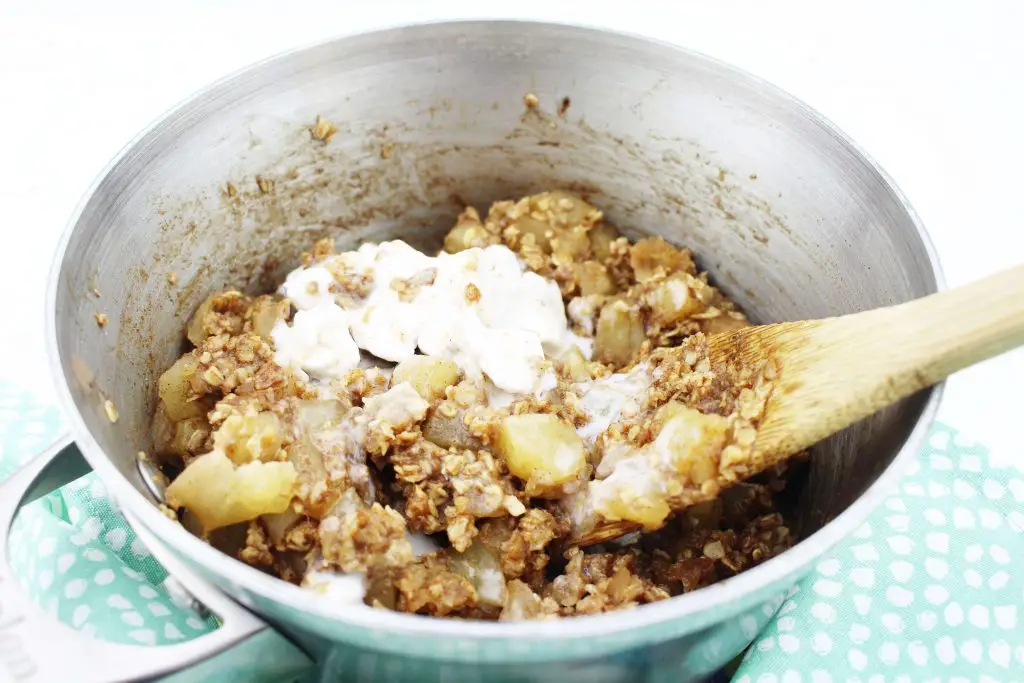 One thing to note is that it works best to use a can of coconut cream. Although scraping the cream off of a can of coconut milk can work, it is not a guarantee that you'll be able to get just the cream, depending on the ambient temperature and other factors.
Once you scoop some coconut cream in the pot, give it a nice stir to get that creaminess mixed in well.
Serving Apple Oatmeal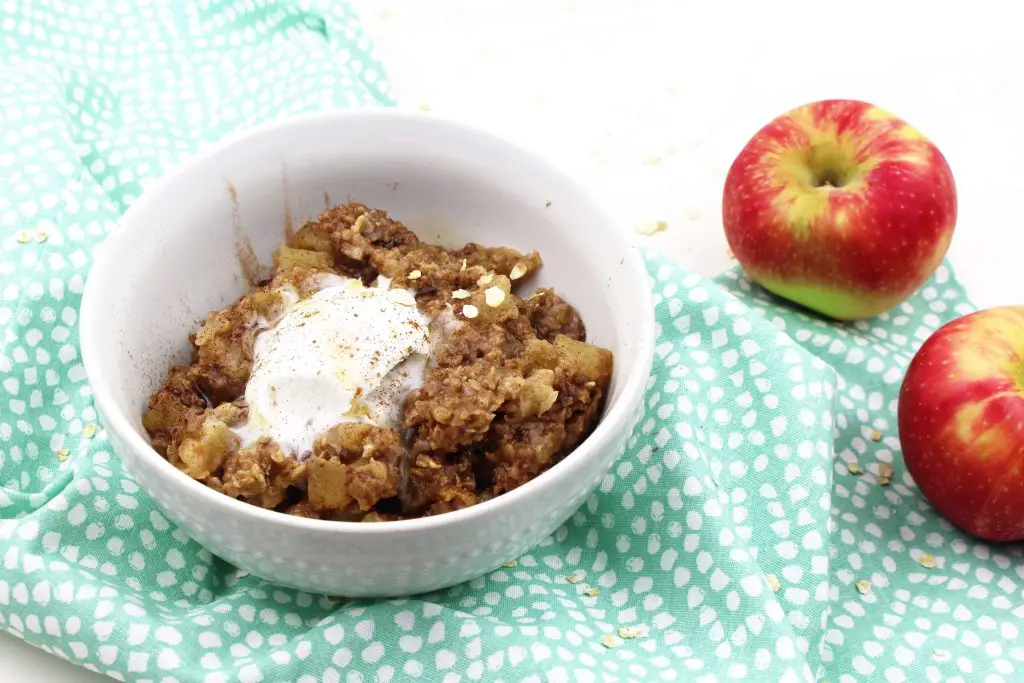 Immediately after mixing in the coconut cream, transfer to a bowl and top with another scoop of coconut cream and a drizzle of maple syrup. Feel free to add an extra sprinkle of cinnamon, like you see in the picture.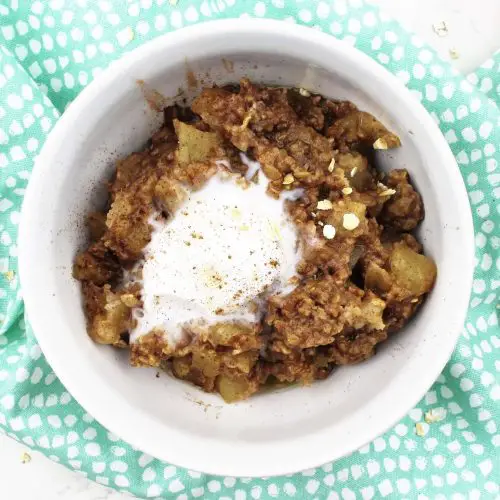 Apple Oatmeal
A warm and healthy apple oatmeal recipe with maple, cinnamon and coconut. Resembling apple crisp in aroma and flavor, what's not to love!?
Ingredients  
2

Apples

Medium Size

1

T

Coconut Oil

1½

T

Maple Syrup

1

t

Cinnamon

¾

t

Vanilla Extract

⅓

C

Quick Cooking Oats

2

T

Canned Coconut Cream

+ a scoop for serving
Instructions 
Peel and cut 2 apples into small chunks.

In medium saucepan, pour a small amount of water into the apples (about 2 Tablespoons) to cover the bottom. Simmer for 10 minutes. Test with a fork to ensure apples are tender but not mushy.

Add all ingredients (except for the coconut cream) to the saucepan.

1 T Coconut Oil,

1½ T Maple Syrup,

1 t Cinnamon,

¾ t Vanilla Extract,

⅓ C Quick Cooking Oats

Cover and cook on medium/low for 3 minutes.

After 3 minutes, remove the lid. Add the coconut cream to the saucepan. Give it a stir.

Serve in a bowl topped with coconut cream and a drizzle of maple syrup, if desired.