Disclosure: Some of the links below are affiliate links. This means that, at zero cost to you, I will earn an affiliate commission if you click through the link and finalize a purchase.
Ranked by us as one of the best kitchen faucets, the Kohler K-596 CP is a high arch, pull down faucet that will enhance the aesthetics of any contemporary kitchen theme. It's sleek, elegant body simplifies maintenance as well as usage.
Design
Starting with the design, the Kohler brand is quite famous for its convenient and no-nonsense faucet designs. K-596-CP Simplice faucet has one of the most appealing designs in Kohler's entire faucet collection which not only offers impressive features but longevity too. This model includes a single handle lever on the side of the spout and is more of transitional styling.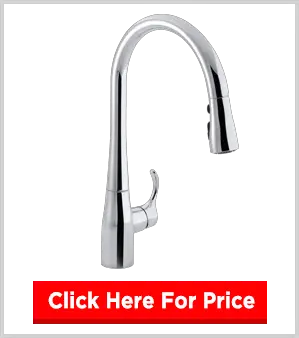 It displays sleek and simple lines while the gooseneck spout gives off elegance and grace. Apart from the high arching spout, this helps in covering a lot of sink area, it has a deck plate mount which is good for both 1-hole and 3-hole sinks.
The finish on this faucet isn't tacky at all and certainly gives a modern classy look to your kitchen. The polished chrome finish absorbs the light and then reflects its surrounding which is why it tends to go with all kinds of kitchen interiors.
The design on this model not only ensures visual appeal but also improves user-experience and makes this faucet more ergonomically sound. So, in terms of design, this faucet can kick ass any day, both in functionality and looks.
Performance
Kohler Simplice K-596-CP performs brilliantly with its high arc spout and 360-degrees rotating gooseneck. It gives off a maximum flow rate of 1.8 GPM which can also be reduced or increased with the help of flow kit. Since this faucet is designed using ceramic disc valve, the faucet tends to be quite durable and gives you more control over the water flow rate and temperature.
Due to its pull-down spray head and 360-degrees rotating spout, you don't have to worry about drenching your entire kitchen. In fact, this faucet makes it simpler for you to perform a variety of kitchen tasks like filling a big pot with water, rinsing delicate kitchenware, and so on. The touchpad placed on the top of the spray head allows you to control water flow when you are using it.
And, the faucet remembers the last water setting so you don't have to set your faucet every time you turn it on. This makes it easier and convenient for users to use this faucet in the kitchen.

Quality
Kohler Simplice K-596-CP faucet is built to last so, you don't have to worry about any failures or damages. It is constructed out of a durable metal which ensures longevity while the ceramic disc valves keep your faucet protected from leaks and drips.
While the metal construction might worry about possible rust or corrosion, the chrome finishing takes care of it all. As long as you don't damage the faucet while installing, there is no chance that you would need to replace it or get it repaired any time soon.
Kohler is well-known for its durability which is why they also offer a lifetime limited warranty on this faucet model.
More from Kohler: Kohler K072218-CP Sensate Review
Features
This amazing faucet comes with several useful features and functionalities which makes it a hit among the customers.
First of all, the water flow rate of this faucet is 1.8 GPM which means that it is efficient in its work while operating this faucet is super easy as well. The high arc spout can be rotated 360 degrees to cover the entire sink which makes it really comfortable to use in the kitchen.
Since it is pull-down faucet, you can pull the spray head directly into the sink and don't have to worry about any splashes too. And, the touchpad on the spray head makes it easier to control the water flow when you are using it. You can simply press it to pause the water flow or restart it. You can also change the spray option from stream to sweep mode with this button which makes it easier and convenient to perform the kitchen tasks.
The stream function is great for filling the pots and pans while the sweep option can be used for rinsing the utensils or cleaning the sink area. Apart from these features, Kohler also introduced a few evolved functionalities which takes this model one step ahead than other kitchen faucets in the market.
Kohler's ProMotion technology used in this faucet ensures smooth handling of the hose and ensures that you can use your spray head around the kitchen, without making any sound. The MasterClean spray face ensures that there is no mineral buildup on your faucet and that it is always easy to clean it with a simple wipe down. And, the DockNetik technology, magnetic docking system, keeps the spray head in place and retracts it back into position when not in use.
Finally, you can also use a low flow kit or a high flow kit to change the water flow which makes this faucet extremely handy in the kitchen.

Pros
Easy to install and can be installed on both one-hole and the three-hole kitchen sink
High arc spout which can swivel 360 degrees
Ergonomically designed and a sleek chrome finish
Offers dual functionality: stream and spray
The touchpad on the spray head can be used to pause the water flow
ProMotion technology ensures noiseless operation
MasterClean spray face prevents any mineral buildup
Cons
Occasional leaks
Limited option in faucet finish
Conclusion
Kohler K-596-CPC is definitely a great faucet for anyone who is looking for a convenient and effortless way to keep their kitchen clean. It is user-friendly and offers you a lot of great functionalities which make it really easy to operate. While it is not an expensive model, it cannot be termed as a budget-friendly one too so, you have to be careful while making your decision.
Overall, this is a good pull-down kitchen faucet for anyone who wants to avoid too much of a mess and wants an effective faucet to use in their kitchen sink.