Disclosure: Some of the links below are affiliate links. This means that, at zero cost to you, I will earn an affiliate commission if you click through the link and finalize a purchase.
Kraus KPF 1602 is one of the most talked about kitchen faucets mainly because of its utility in a commercial kitchen. So if you're looking to set up a cafe or a restaurant, its the faucet your kitchen needs and deserves. Here's more in detail about it.
Design
Although this is not the most stylish kitchen faucet in the market, KPF 1602 has a good and convenient design which makes it easy to use. With its lite touch single lever, you can easily control the water flow settings without expending too much pressure. You can control the flow and the temperature with a light touch but that doesn't mean that you won't remember the setting each time you use it.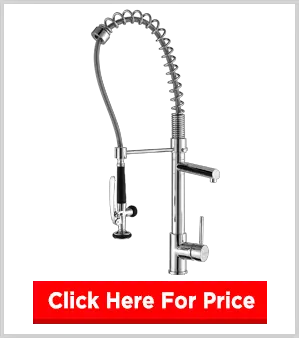 It introduces a commercial style spring design to the customers, making your kitchen as efficient as an upscale restaurant kitchen.
Due to the brass construction, you don't have to worry about rusting too much and you can be sure that this product is going to last a long time in your kitchen.
One thing to remember is that since it is an industrial-style faucet, not everyone is going to be impressed by it. It might not look attractive but if you like a professional touch to your kitchen then this is certainly a great fit for your kitchen.
It is large, double-headed, and spring loaded which makes it highly functional in design while the chrome triple plate finishing makes it look modern and sleeky. But, there are only 2 finishes available in this product so if you are choosy about your kitchen's look then this might not be an ideal option for you.
Performance
In terms of performance, this product is certainly a hit as it is not only user-friendly but easy to maintain as well. It has a two-way diverter which ensures smooth water flow while the pre-rinse spray makes it easier to get a powerful yet manageable flow of water. Everything in this faucet is made out of brass so, you don't have to worry about its build really. Also, both the spout and the spray head utilize the drip-free seal cartridges so there are fewer chances of leaks as well.
You can dispense water from the spout with the help of the single lever side mixing handle and control the temperature quite easily. It also includes a Neoperl aerator which ensures you get good water flow and its 180-degree swiveling feature ensures that you can cover the entire kitchen with great ease.
The high arc of this faucet provides you enough room to not only clean the dishes but fill tall pots and pans too. As mentioned earlier, this is a commercial styled faucet so you will get all the high-functionality of the restaurants' faucets in the sanctity of your home. This is why this high-performing faucet is one of the most popular faucets in the market right now.

Quality
Kraus is famous for its high-quality, durable products and KPF 1602 is no exception. Kraus packs efficiency, functionality, and convenience in this one product and makes your kitchen an easier place to manage. With its full brass construction, you can be sure that this faucet is not likely to get damaged anytime soon as it is strong and rust-resistant.
This product is one of the best in terms of durability and longevity due to its high-rise design and heavy duty construction. While you might need to keep a check on the base mount and the cartridges, as they are made out of plastic, you are least likely to face any issue with this kitchen faucet.
In fact, Kraus is so sure of their quality that they have offered a limited warranty on this faucet, covering any damage that didn't occur due to user negligence. So, if you ever face any issue with your faucet, you can simply get it repaired or replaced by the Kraus, free of charge.
Other Top Kraus Kitchen Faucets:
Features
It is one of the most feature-rich faucets which offers an industrial grade construction, including a high rise spray head, a separate locking lever, and a temperature control lever. This makes this faucet highly convenient to use and the low faucet head comes with a swiveling neck which allows you to access a greater kitchen area.
A single water lever controls both the outlets and you have an option to operate either one or both the heads together. Also, the brass spray heads ensure a smooth water flow at 2.2 GPM flow rate. The side pot filler which comes with this faucet is extremely handy and will make your work infinitely easier. And, even though this faucet is large in size, its swiveling feature and high arc neck make it highly convenient to use.
It also features rubber nozzles which help in the prevention of hard water buildup and further prolong the life of your faucet.
As we discussed above, KPF 1602 comes with two spray heads, one of which is mounted on spring tension. As a result, it retracts back automatically when not in use. Also, since it uses a different storing platform, you can be sure that your faucet won't look odd or saggy after a few months of use.

Pros
Includes two spray heads for increased efficiency.
Built out of durable brass material
High arc and swiveling neck allows you to cover a larger area
Spring spray head automatically retracts when not in use
Rubber nozzle ensures no hard water build up
User-friendly
Easy installation
Little or no maintenance required
Cons
Slightly Expensive
Ideal only for commercial use
Limited finishing options
Conclusion
However, despite the high price and limited styling, this is a great faucet with amazing functionality. The two spray heads feature is extremely helpful as it allows you to efficiently manage your kitchen.
This commercial faucet is specially designed for the large kitchens, more so if you have a lot of dishes to wash in your sink regularly. Although it lacks a bit in the style department, the functionalities of this faucet will put to shame any residential faucet.