Disclosure: Some of the links below are affiliate links. This means that, at zero cost to you, I will earn an affiliate commission if you click through the link and finalize a purchase.
Moen is a leading brand in Europe and the Moen 7594SRS is one of the best Moen kitchen faucets in the market. Every single feature of the faucet has been designed keeping the user's convenience in mind. Here's more about it below.
Design
With Moen 7594ESRS, you get both style and elegance which makes this faucet blend with all kinds of kitchen décor. The design of this faucet ensures convenience, high-functionality and amazing performance which is one of the reasons why this is one of the best touchless faucets in the market.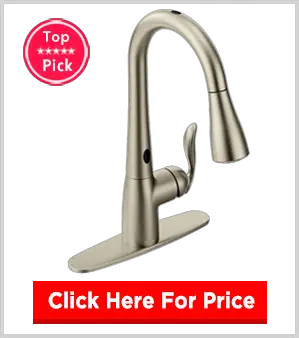 This kitchen faucet is perfect for users who would like to use both hands while cooking and washing, without having to struggle with the faucet too much.
Since it is built out of stainless steel, it is spot resistant and protects the faucet from being coated by fingerprints. This makes cleaning this kitchen faucet a 1-minute job and extremely easy, to begin with.
This pull-down model includes a high arched spout so reaching difficult spots in your sink is much easier with this faucet. The height of the spout is 15.9 inches which makes it simple to fill tall pots and pans and the 68-inches long braided hose makes cleaning quite easy.
With its sleek design and multiple finishes like chrome, matte black, oil rubbed bronze, etc., you can make your faucet the focal point of your kitchen. As a result, this faucet will provide your kitchen with a nice, modern look and you can match it with any kind of décor with great ease.
Also check out: Kohler K-72218-CP Sensate Touchless Kitchen Faucet Review
Performance
Excelling in construction, features, and design, Moen 7594ESRS delivers a high level of performance to its consumers. With the help of some built-in safeguards, it prevents accidental activation of the faucet or any unnecessary dispensing of water.
All you have to do is move your hand over the sensors and faucet turns on/off in an instant. This ensures water conservation and also ensures that you don't have to touch the faucet once to actually use it.
Quality
Moen is one of the most trusted brands in the plumbing industry and is well-known to manufacture flawlessly designed products out of premium grade materials. This is yet another model which follows the Moen standards and is built out of materials which are safe and resistant, so you can be sure to use your faucet for a long time.
The best-quality sensors ensure that your faucet works flawlessly for years. You also don't have to worry about any damage because this model comes with a 5-year warranty which includes guarantees against materials, finish, and the construction.

Features
What makes this Arbor faucet so popular with the consumers? Well, it offers a list of features and benefits which sets it apart from the other kitchen faucets in the market.
Its MotionSense technology allows the users to start and stop the faucet without actually touching it. So, if your hands are otherwise preoccupied with washing or cooking or if you are worried about catching germs and bacteria, then this faucet is the perfect choice for you.
With Moen 7594ESRS, you also get a spray wand which is highly flexible, lightweight and convenient to use. And, an efficient docking system makes it super easy for the users to attach or detach the spray wand when using it. The range of the spray hose is more than 10 inches which makes it effective to use in most households.
You can also use this faucet is to fill a pan or cup of water by simply placing the utensil under the faucet spout and the faucet will do the rest of the work. You don't even need to move your hands to start the faucet, it will sense the utensil itself and fill it with water and once you remove the filled pan, the faucet will stop the water flow again. Now, isn't that an extremely handy kitchen faucet?
This faucet model also includes a single lever handle which can be moved by the users in any direction to both, change the flow of water and the water temperature. This level also features a pause button which ensures that no water is wasted when you are attaching or detaching the lever from its position. You can always toggle between the two spray modes available: spray and stream to suit your kitchen activities.
Apart from the usual features, it also sports long-lasting batteries and allows you to disable independently the sensors on the faucet if need be. And, you don't have to worry about its installation either. It includes an escutcheon that can be easily installed with both 1 and 3-hole sink system. Plus, with its Hydrolock install system, you can handle the installation yourself.

Pros
Hydrolock Install System makes installation easy, allowing users to use this faucet quickly after purchasing it.
Touchless technology allows you to multi-task while using the faucet.
Easy cleaning of the faucet
The high-arc spout makes it easy to cover more area around the sink
Toggling between spray and stream mode allows you to cover different kitchen activities
Pause button on the faucet spout allows water conservation
Single lever hand to switch between the water flow and water temperature
Cons
Premium product means a premium price tag
Conclusion
Its touchless technology is superior to all the other faucet manufacturing companies in the market which is why this is such a popular model among the consumers.
This is definitely a great choice for users who are looking for a completely hands-free experience for daily washing and cooking.