Disclosure: Some of the links below are affiliate links. This means that, at zero cost to you, I will earn an affiliate commission if you click through the link and finalize a purchase.
If you're anything like me, getting dinner ready quickly is a must. And figuring out a side dish to go with breaded chicken or whatever is for dinner can be a challenge. If you have some white potatoes or sweet potatoes on hand, this quick and easy roasted potatoes recipe will get your family eating in no time.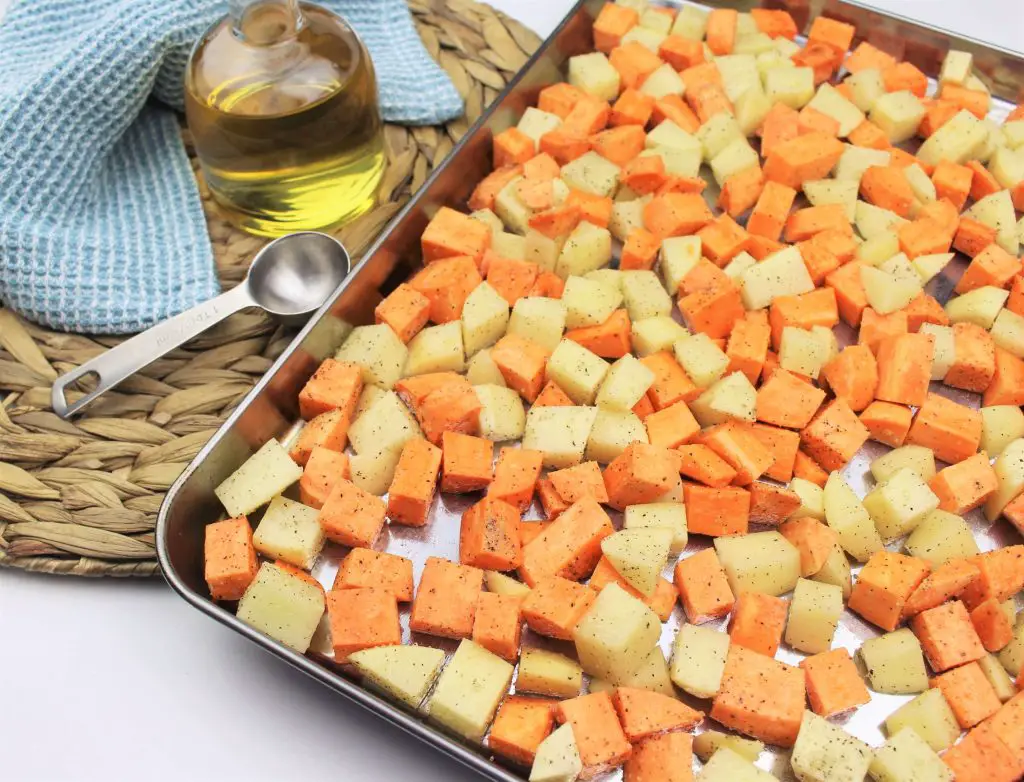 What You Need For Roasted Potatoes
The beautiful thing about roasted potatoes is that they are versatile. My daughter prefers russet potatoes and my son prefers sweet potatoes. So when we have both types on hand we like to toss them together in a pan so we can please both pallets.
At a minimum, you'll need potatoes, oil, salt and pepper. That's it!
But we also love to shake things up a bit when we roast potatoes. We like to add a small handful of minced garlic to add some interest. And if you feel extra adventurous, you can add spices that compliment your meal, like italian seasoning.
What makes roasted potatoes so easy to come back to as a side dish is that they are very simple. But you can also kick up the flavor with spices, herbs, and garlic if time allows.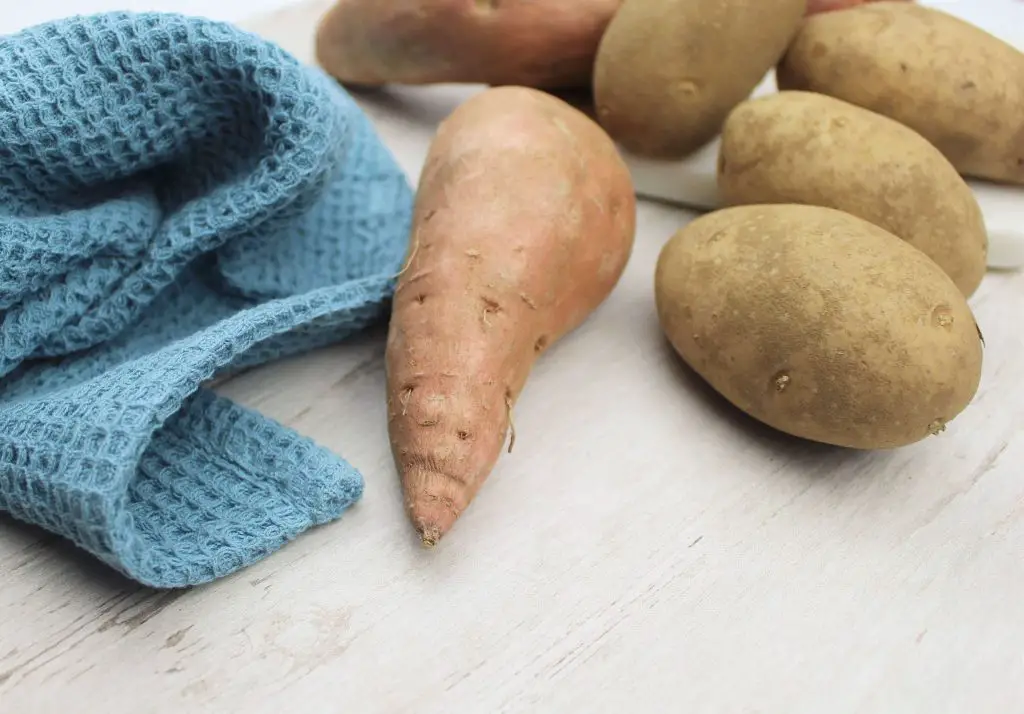 Steps To Make Roasted Potatoes
Despite this being a super simple recipe, there are a few steps you need to take to get prepared.
First, fire up your oven to 450 degrees. Though it may seem a little high, it is helpful to get a little crispness on the potatoes. The last thing I want with roasted potatoes is for them to be mushy or soft.
Secondly, get your potatoes prepped in a way that your family likes. After scrubbing the potatoes under running water, the preferred way to eat potatoes in my home (children-preferred way) is to peel the skins off. However, I'm hoping that sometime my kids will come around to liking the skins on because they contain a good amount of fiber.
Third, you can get those potatoes cut up. We've experimented with different ways of cutting roasted potatoes through the years. You can cut thickly sliced potato wedges, smaller fry-style, or anything you want to try. But our tried and true method is cutting into small chunks. It is easy to cut and easy to eat with a fork.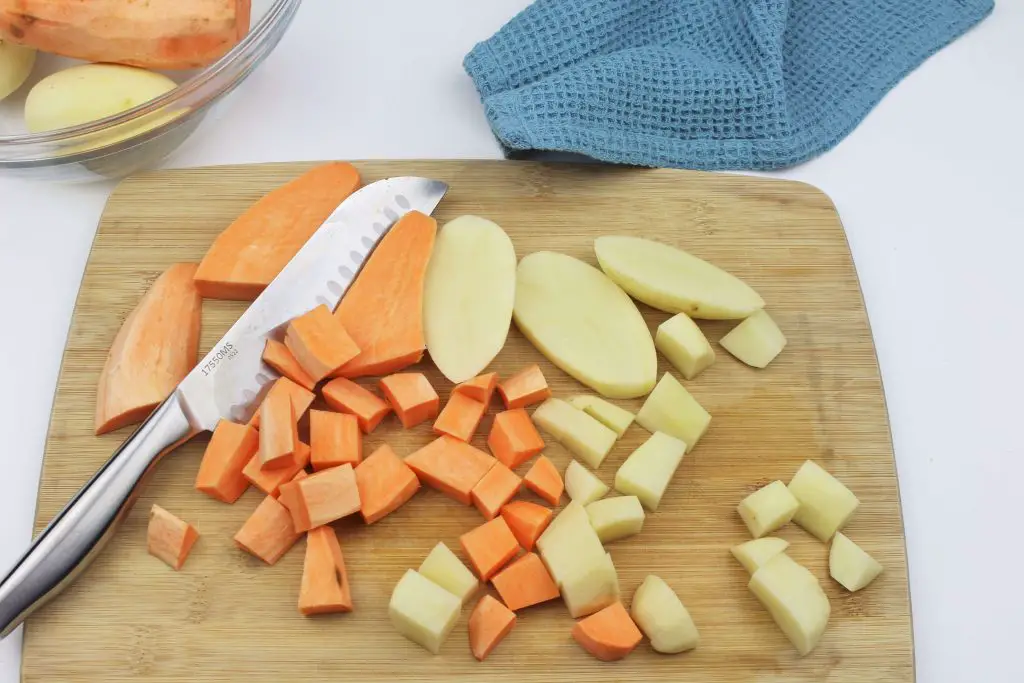 Gather & Mix Together The Ingredients
Once you have your potatoes cut to perfection, it's time to gather the other ingredients. We typically throw the cut potatoes into a large mixing bowl. Then drizzle avocado oil over the potatoes and sprinkle salt & pepper. Finally, shake it around or stir with a spoon to get the ingredients well-dispersed.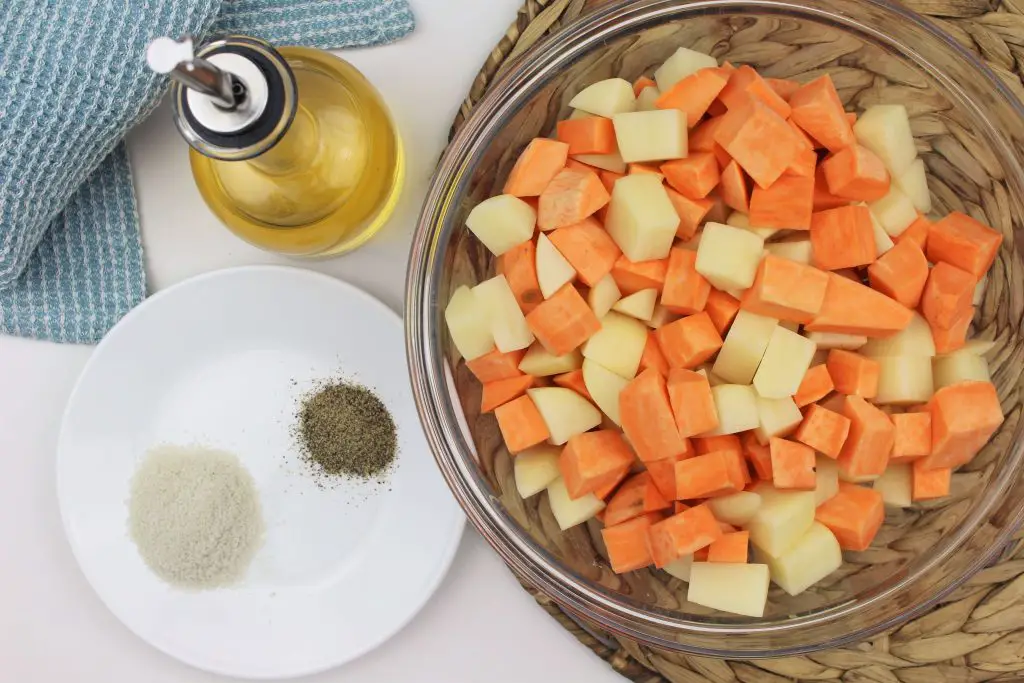 Place In The Oven
Once you have mixed the potatoes with the oil and seasoning, transfer to a large baking sheet. No need to pre-oil the pan, since your potatoes are already oiled. Just spread out the potatoes so you have a single layer. You ideally will not have pieces of potatoes on top of one another. This helps ensure a nice crispness.
After 30 minutes, remove the pan from the oven. If the potatoes do not seem done enough, feel free to place back in the oven until it reaches the desired level of doneness.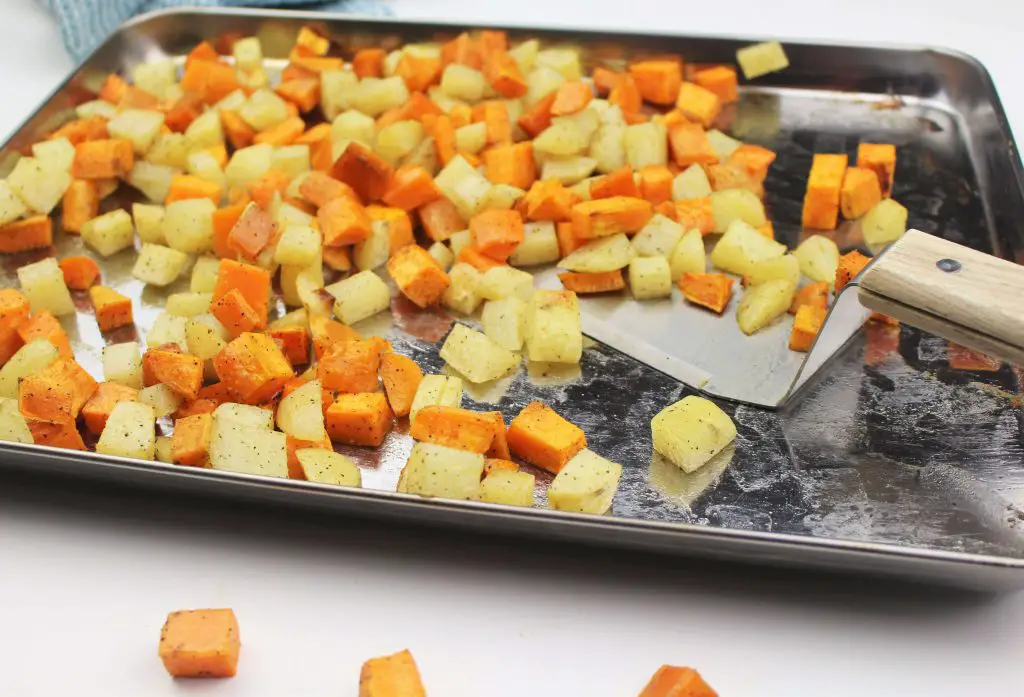 Voila! All Done.
With less than 45 total minutes, you can end up with a delicious side dish. It is one that everyone in the family can get on board with.
Basically french fries in a pan, these potatoes have a slight crunch, a satisfying saltiness and can accompany just about anything. Try them with burgers, sandwiches, or anything that needs a little potato goodness.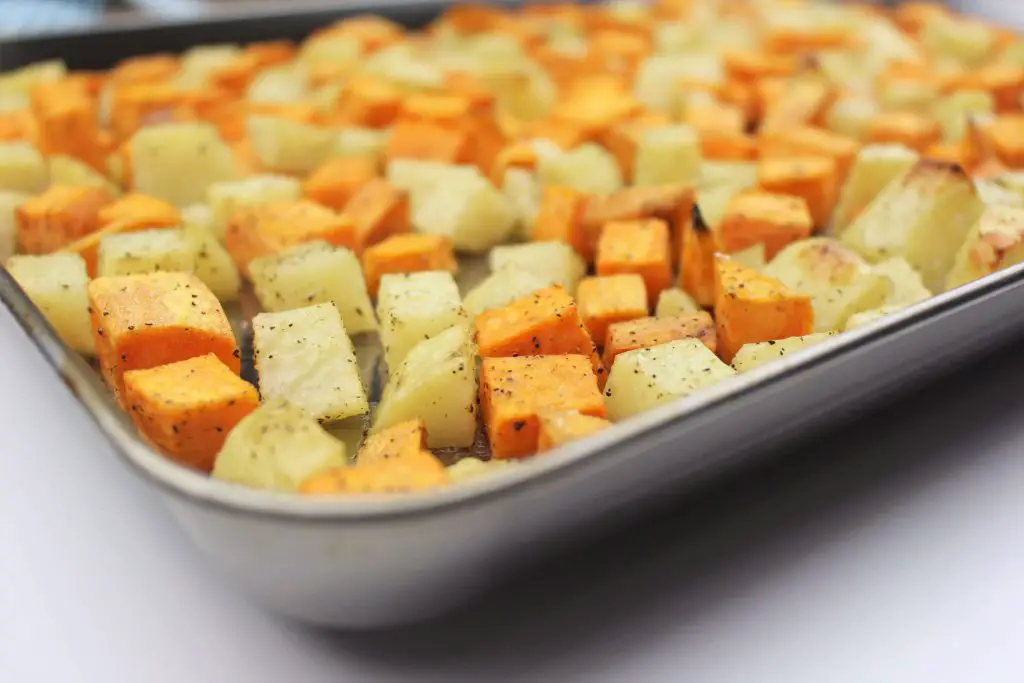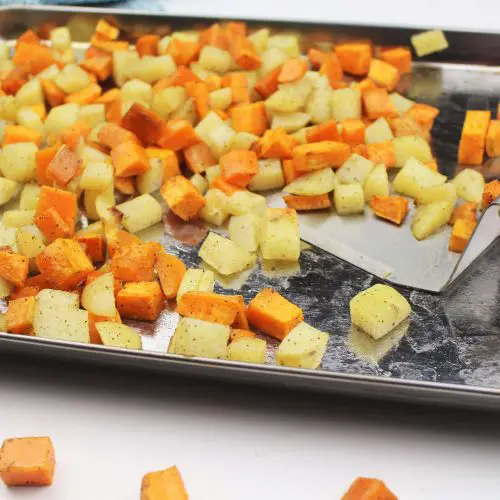 Quick & Easy Roasted Potatoes
A super fast side dish that is sure to please. With just a few ingredients and 30 minutes of roasting, you'll have a delicious potato dish.
Equipment
1 Medium Mixing Bowl

1 Large Baking Sheet

1 Cutting Board

1 Knife

1 Vegetable peeler

optional
Ingredients  
1

T

Avocado Oil

Olive oil also works well

1

t

Salt

Add more after cooked as needed

¼

t

Pepper

4

Medium or large russet potatoes

2

Medium sweet potatoes
Instructions 
Gather your cutting board, knife and mixing bowl

Scrub potatoes to remove dirt

If desired, peel the potato skins. But leave them on if you'd like.

Cut potatoes into chunks or wedges.

Place cut potatoes into mixing bowl

Add oil, salt and pepper to the bowl. Mix with a large spoon or shake the contents around in the bowl to disperse the oil and spices.

Place the prepared potatoes onto the baking sheet. Transfer to oven and set a timer for 30 minutes.

After 30 minutes check to make sure the potatoes are done all the way through (no longer crunchy).

Add more salt if needed. Otherwise, grab a spatula and serve!