Disclosure: Some of the links below are affiliate links. This means that, at zero cost to you, I will earn an affiliate commission if you click through the link and finalize a purchase.
Check out this allergy-friendly chocolate protein shake recipe that is perfect for kids and adults alike. It is super simple to make, yet loaded with flavor. I know there are a lot of protein shake options on the market to choose from. But the problem is a vast majority of them have dairy. And if there are some that are dairy-free, they usually contain other types of allergens.
My son has multiple food allergies. He is also a bit picky about food, which really challenges our creativity when it comes to meal ideas. Over the last year or so, we have begun to realize that our whole family has been lacking a bit in getting an optimal amount of protein. Though you find various opinions about how much protein is enough, we just knew that we weren't quite hitting the mark.
Getting Enough Protein Ain't So Easy
It's pretty easy for those of us without multiple food allergies to increase protein intake. I can eat Greek yogurt, nuts, legumes, eggs, etc. But an increasing number of individuals experience anaphylactic allergic reactions when eating these foods. My son is one of those individuals. And yes, we do eat meat, which is very necessary for him to get enough protein. But he's not always in the mood for meat that we have available.
When my wife found this protein powder brand called Naked Rice (Amazon Affiliate Link), it helped us out immensely. It is made with just sprouted brown rice protein and it is organic, which is important to us. This checked all our boxes for what we were looking for to supplement our son's diet. Literally every other protein powder we have found contains "natural flavors" or is produced in a facility that processes his allergens. But Naked Rice is a nice, safe supplement that we can use. However, there was one problem – the kind we like to get is unflavored. Read on to learn how we like to make it taste great.
How We Make Allergy-Friendly Chocolate Protein Shakes
When it comes to adding flavor to protein shakes, a ton of options come to mind. Bananas, strawberries, blueberries, chocolate, the list goes on and on… But the flavor that our whole family can always agree on is chocolate.
Generally speaking, I would start most shake or smoothie recipes off with a base of banana for sweetness and texture. But for some reason that I can't quite understand yet, my son doesn't like banana in his shakes or smoothies. So, without a base of banana, we have managed to come up with a shake that has just the right amount of sweetness, without being overpowering. And I'll add one thought on having no need to blend with banana – NOT HAVING TO DIRTY A BLENDER! (yay).
Making a protein shake without a blender and without a bunch of ingredients still allows for delicious results and a large amount of protein which is what we're after here.
Step One – Gather Your Ingredients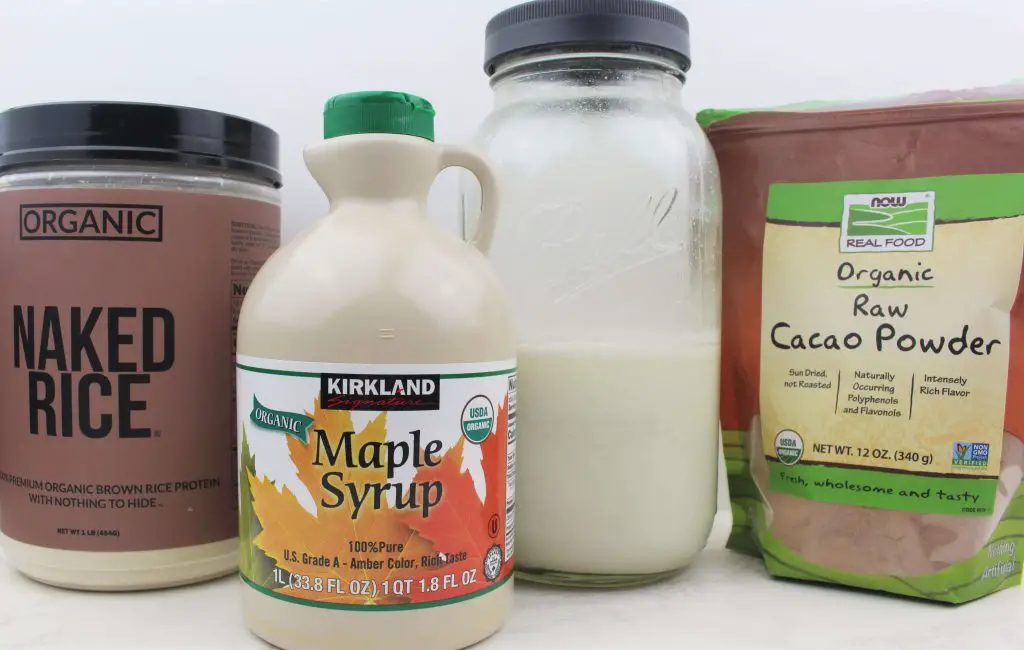 It doesn't get much easier than this. Four ingredients is all it takes to make a delicious protein shake that your kids will love.
First, grab a pint-sized ball jar with a lid. The pour in 8 ounces of vegan milk. Pictured below is our homemade coconut oat milk. As a side note, if you're interested in making your own vegan milk, you should check out the Almond Cow Milk Maker. We really like ours.
After pouring in your vegan milk, add in the rest of the ingredients directly to the jar. We like to use 2.5 tsp maple syrup, but you can easily adjust this to taste. Also add 1 scoop of Organic Naked Rice Protein Powder. This will provide a little over 12 grams of protein per scoop. Lastly, sprinkle in 1 tsp of cacao powder to provide a delicious chocolate flavor.
Step Two – Mix It Up
Ready to bring it all together? It doesn't take much with this version of the recipe. Just make sure that you screw on a lid that provides a tight fit so you don't have protein shake spilling out of the jar.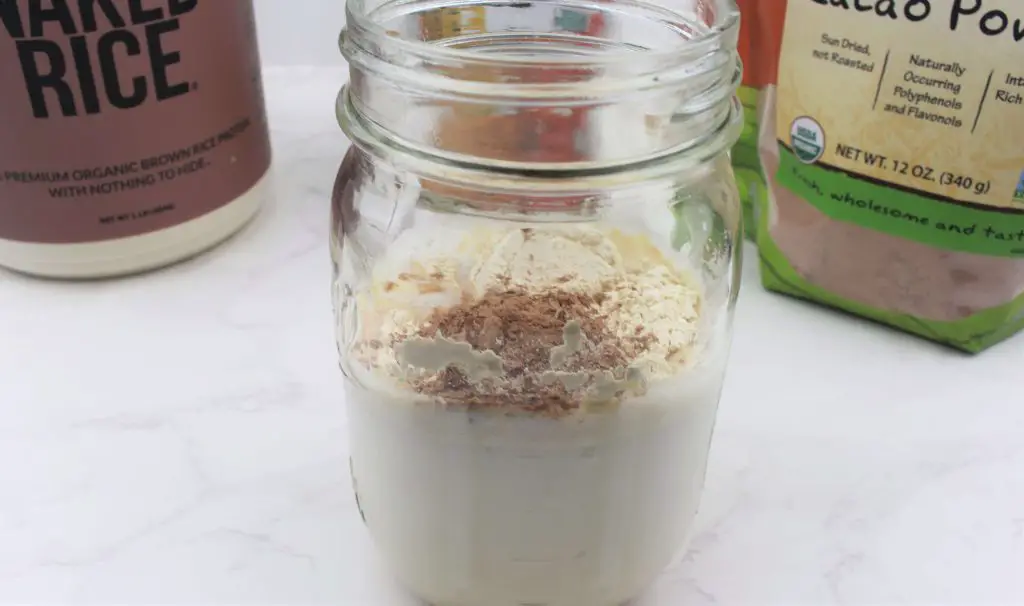 Give the jar a good shake for about 30-60 seconds. Don't be surprised to see a few pieces here and there in the jar that didn't fully get mixed in. All you need to do is take a small spoon and break up any bits that need better mixing. Then you are all set to serve a delicious shake!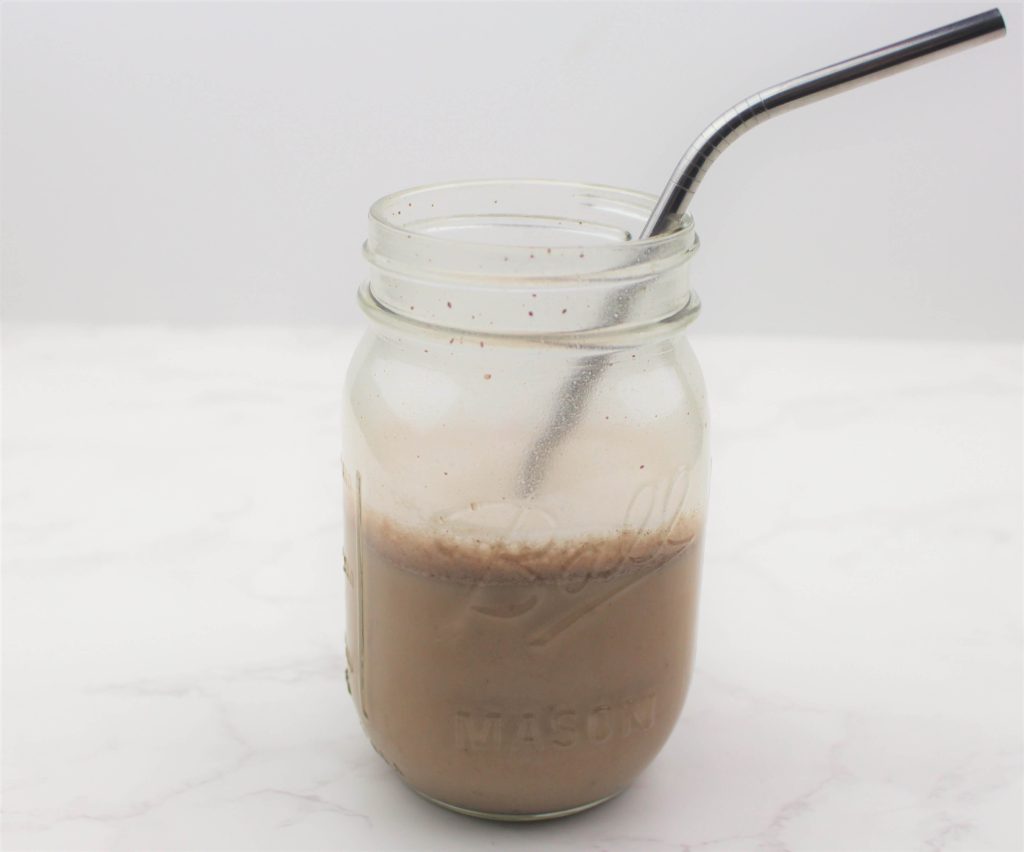 Now some of you may be more inclined to use a blender and incorporate banana or other fruits. I've got to say that one of my favorite protein shake flavor combinations is banana, strawberry and chocolate. And for those without nut allergies, it's delicious to throw in a little nut butter as well. The point? You can get creative and try new things. And using a blender can enable you to achieve a lot of different flavor combinations.
But if you are like our family, you've probably got enough dishes to do and have already hand-made a few too many meals today already. So why not go the easy route and just make the protein shake all in one jar!? I have to also mention it makes cleanup super easy, because it can all be thrown in the dishwasher after a quick rinse. Easy-peasy!
When To Have A Protein Shake
Though allergy-friendly chocolate protein shakes can be consumed any time of day, our family tends to use this recipe as a supplement to a few breakfasts each week for our kids. It is a nice protein boost to get the day rolling.
But just because we prefer morning doesn't mean that's the only time to have it. It might be a perfect mid-morning snack. Or it could even supplement dinner if you feel your kids are a little low on their protein quota for the day.
Morning, midday, evening… This shake is a delicious protein-boosting option any time of day.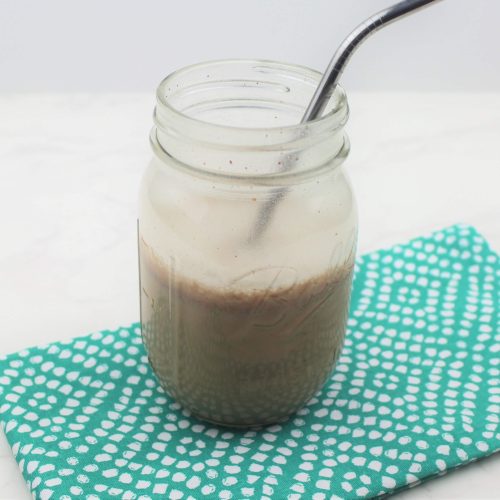 Allergy-Friendly Kids Protein Shake
If your child cannot eat eggs, milk, or other common non-meat protein sources, you may be afraid they are a little low on their protein consumption. With this super-tasty allergy-friendly protein shake, you can supplement your child's protein intake to help ensure they're getting enough protein throughout the day.
Equipment
1 pint-sized ball jar with a lid

1 spoon
Ingredients  
1

cup

vegan milk

2½

tsp

maple syrup

1

scoop

organic naked rice protein powder

or unflavored protein powder of choice

1

tsp

cacao powder
Instructions 
In one pint-sized ball jar, put all ingredients in, starting with the vegan milk.
Shaking Method
Firmly place lid on jar and shake vigorously.

After getting everything incorporated, there may be some small parts of the shake not fully dissolved. Take a spoon and push any small pieces against the side of the jar to help mix together. Then give it one more shake before enjoying
Blender Method
If you prefer using a blender, just place all ingredients in the blender and blend away! With this option, you can get a little more creative and add bananas or other fruit to add more nutrition and flavor.