Disclosure: Some of the links below are affiliate links. This means that, at zero cost to you, I will earn an affiliate commission if you click through the link and finalize a purchase.
What's better than a delicious slice of banana bread? A few years ago, I would have said, "Nothing!". But then we started making this 6-Ingredient Vegan Banana Bread French Toast… And now it's hard to think of having any other form of french toast. With fresh flavors of coconut and vanilla melded with banana, cinnamon and maple, the combination will knock you off your feet!
French toast was a regular breakfast staple in my home when I was growing up. But in those times, food allergies were rare and almost no one was vegan. Fast forward to today and I'll admit my family isn't vegan, but we don't cook with eggs or dairy due to my son having food allergies. So, we are often looking for new ways to make old family favorites.
Not only is this a uniquely vegan recipe but by using homemade banana bread instead of white bread, it really makes this recipe a special experience. So if you have some extra banana bread that needs to be eaten this is a perfect recipe to use up what you have and make a delightful morning treat.
What's In This Recipe?
Ready to get to it? Trust me, this one will take very little time and will leave you wondering why this hasn't always been in your culinary repertoire.
In our home, we make an amazing allergy-friendly banana bread recipe (that can easily be made gluten free). For this recipe, we start with that banana bread as the base. All you'll need is 5 ingredients for the batter and some banana bread to bring the recipe to life.
Just pick up some coconut milk, vanilla extract, a banana, maple syrup and ceylon cinnamon. Though it doesn't matter the brand, we typically stick with organic or at least non-GMO ingredients. Below we'll dive into the process to make this flavorful vegan french toast.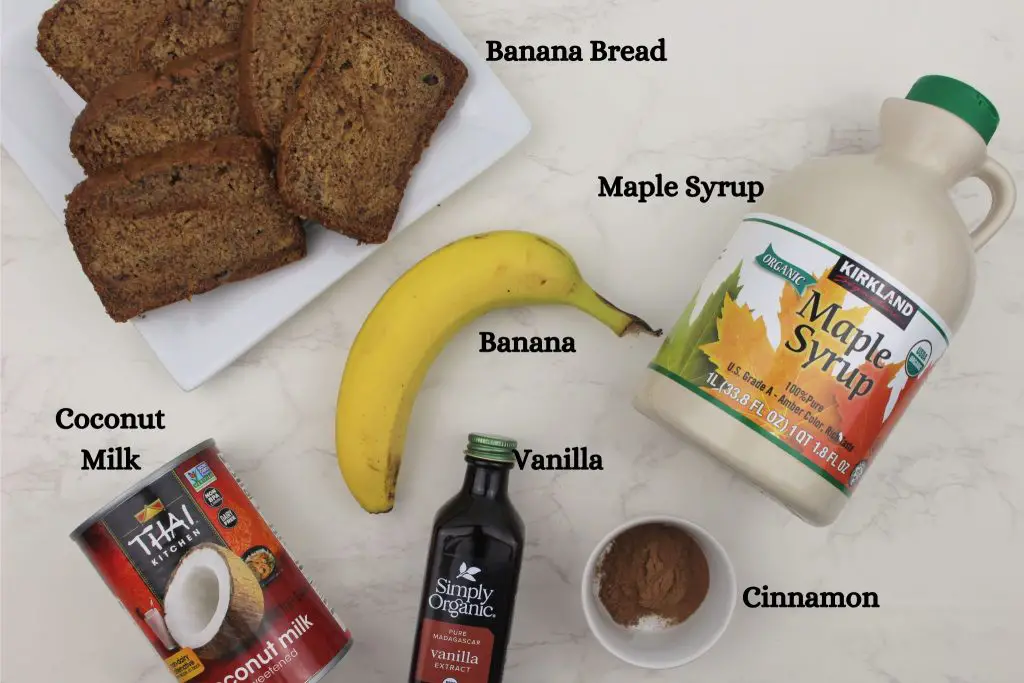 Blend The Batter
The great thing about this recipe is that it doesn't create a mess. Simply take the coconut milk, banana, vanilla, cinnamon and syrup and blend it until it forms a puree. No eggs to crack, no whisking, and very few dishes!
Prep For Dipping The Bread
Once you have blended the batter into a puree, transfer it over to a wide bowl or pie plate. This will make it easier to dip the slices of bread.
Coat The Banana Bread In Batter
Once ready to get the batter on the bread, place one piece in the bowl and move it around a bit to get the sides coated. Ensure that there is good coverage on that side.
Then flip it over and do the same to the other side of the slice. I like to transfer the battered slice directly to a hot griddle or pan and repeat the battering process as I go.
Get That Griddle Started
Ideally, before you start battering the bread, get the griddle or pan heated on the stove by turning to medium heat. By the way, if you are looking for a good griddle pan, we love this Lodge reversible grill/griddle. Hardly a day goes by where we don't use it!
Okay, back to the recipe. Just before you place your first slice of bread on the griddle, melt enough vegan butter or heat avocado oil to lightly cover the bottom of the pan. This will help relieve some of the sticking that may occur.
Oh No! Is It Burning!?
Keep in mind that since the batter contains banana and maple syrup, there is a decent amount of sugar content. This means that you will notice some blackening of the bread as it heats on the griddle. Don't panic. This will happen and it actually turns out delicious as long as you don't overcook/burn them. What you want is to develop a little crisp on the outside which will happen with the natural sugar content.
Once you've placed the banana bread and have waited a couple minutes, use a nice rigid/thin spatula to gently scrape up the bread from the bottom and check for doneness on the side. If ready, flip over for another 2 minutes and check.
Again, since there is sugar in the batter, it does tend to want to stick sometimes. So using a metal spatula can really come in handy if you need to give the bread a little encouragement to not stick. In other words, you might have to gently scrape from one side of a slice to the other to ensure you don't leave behind a part of the bread.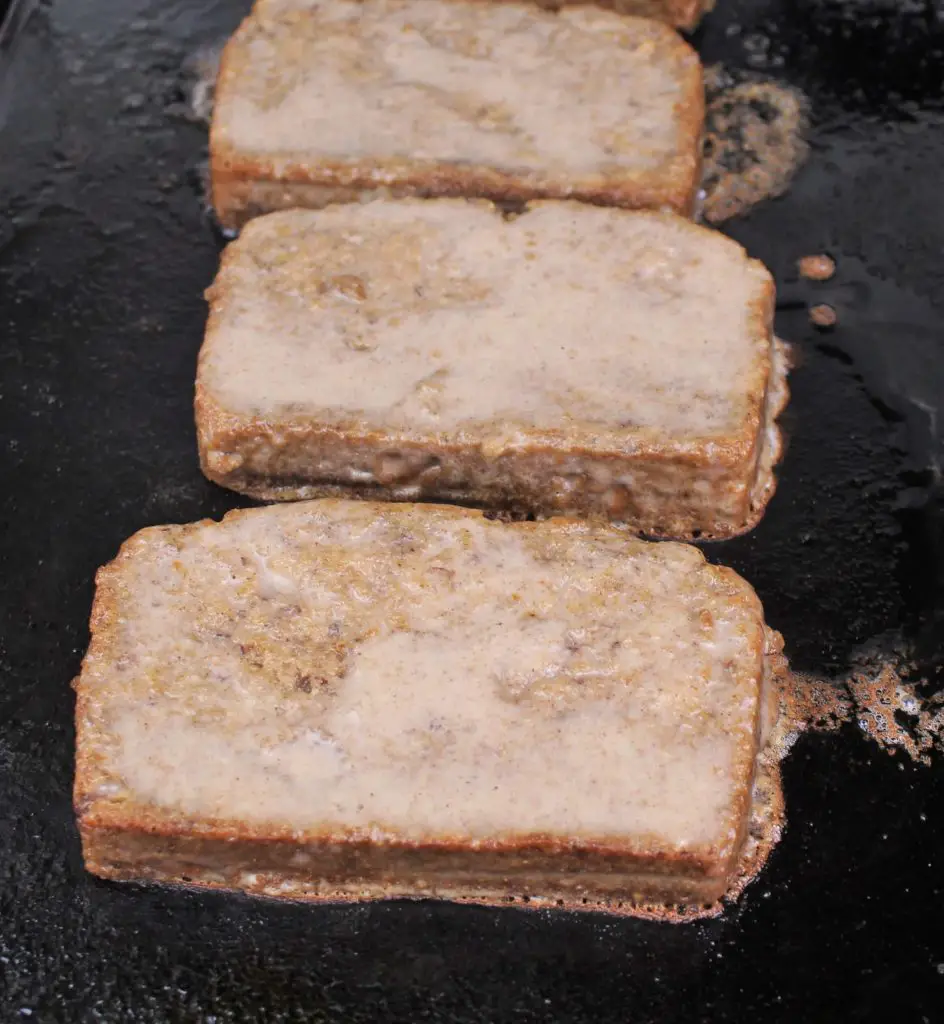 Serving Vegan Banana Bread French Toast
Once you've removed the french toast from the griddle, it's time to enjoy. Though it is delicious enough to eat on it's own, it is also really good with some vegan butter and a drizzle of syrup. You might want to serve with some fresh berries or sliced banana as well!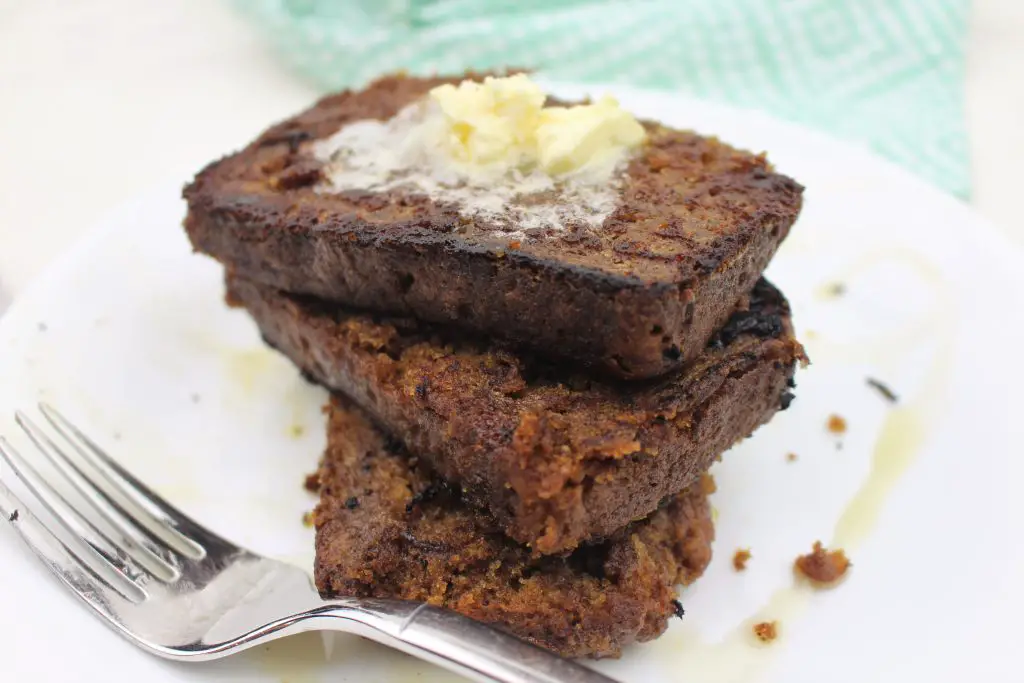 Do You Have To Use Banana Bread?
You may not always have time to make banana bread ahead of time. I get it, life it busy. So keep in mind that you can use regular bread instead of banana bread. However, you won't get the same deep flavor and texture that you get with banana bread.
This recipe was adapted from It Doesn't Taste Like Chicken. In that recipe, it calls for regular (day old) bread, which works great as well.
Ready to get baking? Here's the recipe. Be sure to leave a comment to let us know how it went!
6-Ingredient Vegan Banana Bread French Toast
A fun, allergy-friendly take on traditional french toast. This recipe uses coconut milk and banana as the base for the batter. It's brought to life with vanilla, maple and cinnamon. The whole family will love it.
Equipment
1 Blender

1 Wide bowl or pie plate

1 Griddle pan or large frying pan

1 Rigid spatula
Ingredients  
1

Loaf

Banana bread

3/4

C

Canned coconut milk

1

Small to medium ripe banana

1

T

Maple syrup

1½

t

Vanilla extract

1

t

Ceylon Cinnamon

Or cinnamon of your choice
Instructions 
Prepare a loaf of banana bread by slicing into roughly 1 in wide pieces. With a standard 9×11 pan, you should end up with10-12 slices for this recipe.

Place a griddle pan or large frying pan on the stove and turn up to medium-low to get the pan heated up.

Meanwhile, place all ingredients for the batter into a blender. Blend until it forms a smooth puree.

3/4 C Canned coconut milk,

1 Small to medium ripe banana,

1 T Maple syrup,

1½ t Vanilla extract,

1 t Ceylon Cinnamon

Empty the batter into a pie plate to prepare to smother that bread in the puree.

Now, head over to your pan on the stove. Place enough vegan butter or oil into the pan to form a thin layer to prevent excessive sticking.

Carefully take one piece of banana bread at a time and drop the bread into the batter, turning once to fully coat each piece of bread. Transfer to the oiled pan until the pan is filled with french toast pieces.

The cooking time for each side will differ depending on your pan and heat of the stove. But generally, each side should take around 2 minute per side. When you go to flip the pieces, be careful of the delicate bread as it can sometimes break apart. I find that a metal spatula on cast iron works best.

Once done, remove from pan and place on a plate. Repeat the process of smothering the bread in batter and cooking in pan until all pieces are cooked.

Serve with vegan butter and syrup.