Disclosure: Some of the links below are affiliate links. This means that, at zero cost to you, I will earn an affiliate commission if you click through the link and finalize a purchase.
Renovating your kitchen? Building your dream home? Or just looking for a new faucet?
A kitchen faucet is the cornerstone of the kitchen, so it makes sense to find one that is just right for you. You're probably realizing just how many faucet styles you can choose from… The question is, does it really matter, or is it just aesthetics?
Trust us, it matters! Buying the right faucet type is essential for a smooth operating kitchen.
The thing is, there's an incredible number of styles and designs for kitchen faucets available in the market today. We know it can become overwhelming trying to choose the right product for your lifestyle.
Before you dig into our kitchen faucets reviews, you need to first understand which style of kitchen faucet will meet your needs.
We're here to help! We've prepared a list of 12 different types of kitchen faucets available on the market. In addition, we've created tables that highlight the advantages and drawbacks of each type.
Let's get to it!
Here Are The 12 Most Popular Types of Kitchen Faucets
1. Basic Single-Handle Kitchen Faucets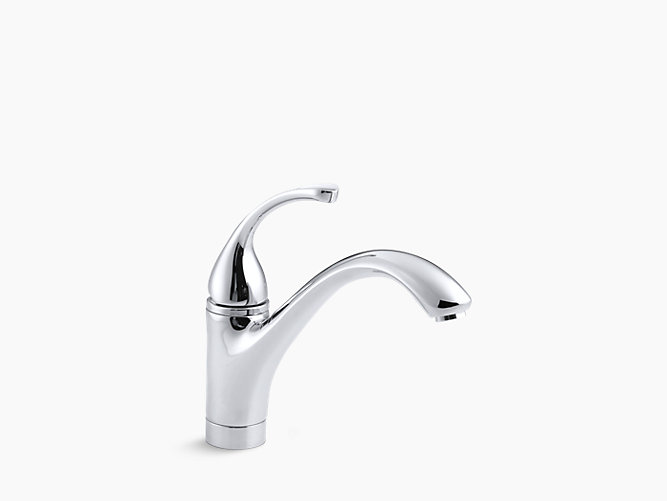 One of the most commonly used kitchen faucets is the single handle kitchen faucet. Sometimes referred to as single hole faucets, these kitchen faucets require only one-hole in the countertop.
These deck mounted single handle faucets tend to have fairly simple designs.
They have a handle to use setting the water flow and temperature. You can also upgrade these faucets by placing an aerator on the faucet spout. An aerator will maintain water pressure while decreasing the rate of flow. They are also great for reducing water splashing in your sink or onto the countertop.
The exact designs of this type of faucet vary. You will find designs that range from elegant to ultra-modern, and everything in between. Stainless steel or bronze are common and popular choices, but other options are gaining traction such as brass and brushed nickel. You will typically see hot and cold water controlled by a handle. All in all, these kitchen faucets grant both functionality and personality for your kitchen.
Pros
Simple and straightforward to operate.
It needs only a single hole for installation.
Easily found in shops and markets.
Cons
It has simple, basic features with no modern kitchen add-ons.
Doesn't have a separate or moveable head for spraying the sink and dishes.
Search Single Hole Kitchen Faucets Here
2. Kitchen Faucet With a Side Sprayer
Nowadays, detachable heads and sprayers are very popular types of faucets in modern kitchens. That said, many people still opt for a standard faucet for their home one reason or another. It really depends on your needs. The downside of this is the loss of flexibility granted by the moveable sprayer. A moveable sprayer offers an easy way to clean those hard to reach spots, including the kitchen sink or awkwardly sized dishes.
The advantage of this option is simple, you get the best of both worlds – a faucet and a sprayer! Both the faucet and the side sprayer will utilize the same water supply pipe. That means no extra waterlines feeding to the counter and an easier install. That said, you will need to use two or more holes in the countertop instead of one.
Pros
The sprayer is installed individually from the faucet and comes with various stream options.
Easier to clean than combination faucets and therefore often more hygienic.
The side sprayer is usually longer than detachable head sprayers, making it easy to clean the sink.
Cons
There is a higher chance of water splashing on the countertop.
It requires several holes for installation, meaning you may also need a professional install.
3. Double-Hole Kitchen Faucet
This faucet category is also called a double-handle faucet or a center set faucet. A single metal plate connects all the waterlines and the faucet spout together.
As the names suggest, it features two separate faucet handles for controlling hot and cold water. Due to the separate waterlines, it means that these kitchen faucets require multiple holes for use. But it won't be noticeable due to the plate that covers the holes and the water lines will be under or behind the sink.
While the installation process is a bit more involved, it is ideal for those with kids at home. Hot and cold water handles are clearly marked for use so there will be less worry about kids using water than is hotter than they expected.
Pros
It offers different handles for managing hot and cold water, great for kids.
It has a traditional design but comes in many varieties.
Cons
It needs 2 or more holes for installation, likely requiring professional assistance.
4. Pull Out Kitchen Faucet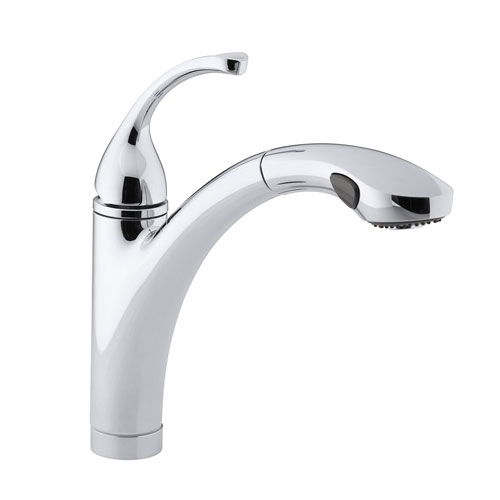 Pull out faucets have detachable spray heads that can pull out towards you. The head includes a long flexible hose. This makes cleaning pots and pans easy. It also makes cleanup and spraying down the sink a little easier.
The pull out kitchen faucet is easily the most versatile of the faucets on the market. If you are looking for a solid option that still looks great, you should consider a pull out kitchen faucet.
Due to their popularity, you'll find these faucets come in all kinds of styles. This is especially useful if your kitchen design is going for a specific look. They typically have a single-handle faucet which adds to minimalist styles.
These are also known to be very durable when used and maintained correctly.
Pros
It offers greater flexibility in the kitchen.
It is available in a large number of different materials and styles including stainless steel and brushed copper.
It is great for both cleaning and cooking purposes.
Easy to install with only one-hole needed.
Cons
Care must be taken to return the spray head back to its locked position. If not, drooping can occur over time.
A Single-handle faucet needs to be replaced entirely if there are issues since it's all one piece.
There are increased chances of splashes on the counter since the hose can be moved 360 degrees.
5. Pull-Down Kitchen Faucets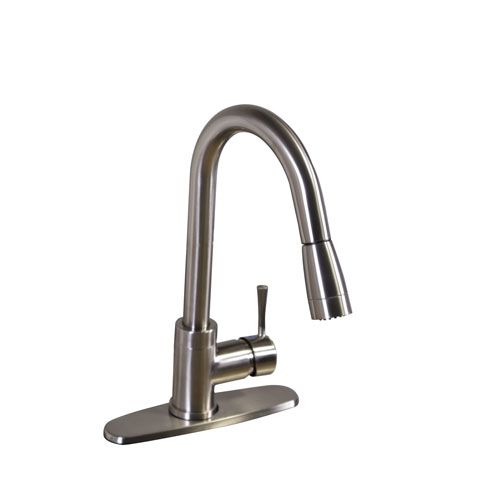 Both the pull out and pull-down faucet have similar features. But the pull-down faucet is less versatile and flexible.
Unlike a pull out sprayer, the spray head of the pull-down faucet can be used only in a downward direction. They don't have a separate hose and cannot move 360 degrees. They simply extend downward and are essentially an extension of the faucet itself.
With pull-down faucets, you can't spray above the sink rim. That said, it's still very effective for keeping your sink basin and faucet handles clean. The upside to this faucet type is that there are fewer chances of splashing or accidental spraying.
Pros
Less likely to produce excessive or accidental spraying.
It can still clean the sink area very effectively.
Cons
It cannot be stretched very far or above the sink line.
It is not ideal for use with small sinks as they are typically quite large.
7. Commercial Kitchen Faucet
If you are looking for a highly efficient, professional-level kitchen faucet, then a commercial kitchen faucet is something you should consider.
This kitchen faucet is ideal for restaurant chefs or home cooks looking for superior functionality. They aim to provide 100% efficiency and 0% error. They include the most advanced designs, features, and functions. These faucets do, however, have a strong flow of water. So watch out for unwanted water while spraying down dishes or the sink.
You'll also find that they come in bigger sizes in comparison to traditional home faucets. You'll find a mix of both flashy and standard features. These faucets have a very distinctly industrial look to them. Which is actually quite popular in both commercial and residential designs today.
Pros
It can handle high water volume and is very durable.
These faucets are designed to use advanced technologies.
Available in many design-friendly styles.
Cons
It is more expensive in comparison to other kitchen faucet styles, so consider your needs.
Typically large and will require a bigger kitchen sink area in order to accommodate.
These faucets may have a stronger flow of water than you prefer (depending on the water pressure in your home).
8. Widespread Kitchen Faucet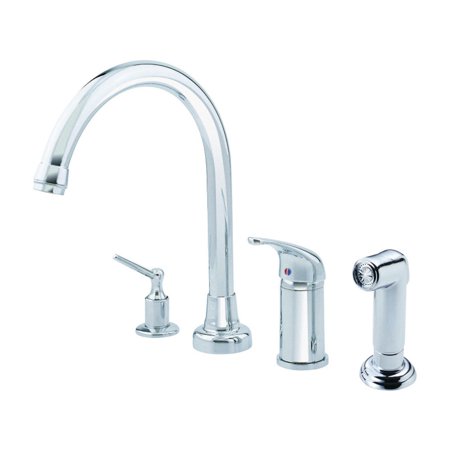 This kitchen faucet is a slight variation on the center set kitchen faucets. As discussed above, center set faucets have a single metal plate connecting all the parts. In contrast, widespread kitchen faucets have all the same pieces, but they are completely separate.
Each piece will need to be installed individually. This means that you can choose to include anything and everything. You can space them anywhere between 6-inches to 16-inches, depending on your preference. Clearly, proper planning is required.
The upside is that you can customize the faucet according to your needs and requirements. The number of holes and waterlines needed for this install will depend on your choices. Many will opt to add a soap dispenser for example. You can expect that this design will require at least 3 holes and 2 waterlines, but potentially more. This can be helpful especially if you have a uniquely-sized sink, so you can accommodate the placement of the faucet and handles as you see fit.
Pros
You can customize everything about these faucets. You can use it how you want and according to your needs.
Easier and cheaper replacement down the road. Instead of replacing the entire thing, you can replace only the item that is broken.
Cons
It requires several holes for installation and careful planning,
It will definitely require the help of a professional to implement the holes. Which is an added expense upfront.
9. Touchless Kitchen Faucet
This is a relatively new style of the faucet that uses sensors to start the water flow. They are most often referred to as the hands-free faucets for this reason.
These faucets use technology to make our lives easier. They have a sliding scale of the included amount of automation. Some have more technology and some have less technology. Some models also include a handle and are known as dual control faucets. In this case, you can use either the handle or the sensors to activate the faucet.
Other models are completely hands-free. Some of the touchless kitchen faucets have a central sensor zone, while others have multiple sensors for different tasks. These sensors are usually powered by a battery or an AC power plug.
Pros
Due to the sensor activation, the faucets remain clean and germ-free. Cuts down on cleaning.
You can preset the default water temperature the way you want.
They are available in combination with the pull-down or pull out spouts as well as other designs.
Some models have technology to automatically shut-off after a few minutes to save water.
Cons
Broken sensors can cause issues with activation or deactivation, rendering the faucet useless until fixed.
There is an added operation cost to bear due to the electricity/battery source required.
They are more expensive due to the advanced technology they contain.
If there is no automatic shut-off feature, the chance of water wastage is higher.
10. Touch On Kitchen Faucet
Another of the newer, different styles of kitchen faucets on the market is the touch-on style faucet. Like the handsfree faucets, they make it easy to turn on/off the faucet when your hands are messy.
You simply touch the faucet spout or handle with your hand to turn on your faucet and voila! Your faucet will be pouring water into the sink. You can use your wrist, forearm, or hand etc. to activate the water flow. It's your choice! The temperature can be set by adjusting the single handle on the side. You can do this before you start with the kitchen tasks.
Some models also feature an LED light which lets you know the water temperature. This prevents any temperature surprises. This kitchen faucet is perfect for people who tend to multitask and don't have their hands free.
Pros
You can turn on/off the faucet with a simple hand touch.
This faucet allows you to multitask in the kitchen.
It protects the faucet from getting dirty if your hands are dirty.
The color indicator displays the temperature to avoid surprises.
Cuts down on cleaning.
Cons
If the battery gets damaged, the touch feature will stop working.
More expensive than your standard faucet.
There is also an added ongoing cost due to the battery or AC power required.
11. Bridge Kitchen Faucet
This type of kitchen faucet is really all about the design. It features a more traditional design and is perfect for period-specific kitchen designs. The design might not suit all customers, but in the right home, it looks exceptionally grand and elegant.
It comes in both double-hole and 3-hole configuration. It has separate lines for both hot and cold water. However, unlike the other faucets, the hot and cold lines connect along the horizontal axis, aka bridge. The spout then extends upwards from this bridge.
Pros
Unique design that fits well with traditional and period-specific kitchen designs.
It is a two-handle faucet for better temperature control and water flow.
Works well with top-mount and under-mount kitchen sinks, perfect if you have water filters.
Cons
It isn't as easy or convenient to use as a single-handle faucet.
It doesn't work well with modern designs.
Since the hot and cold water are connected, you may get a quick splash of the previous temperature before the correct one starts.
12. Two-Handle Single-Hole Kitchen Faucet
This faucet design suits homeowners who have only one hole for installation. The style also boasts the convenience of two handles for managing the amount of water flow and temperature.
Installing single hole faucets is very straight forward. The two handles are directly attached to the spout, meaning you don't need to install many pieces. This means you will save precious space.
Pros
It requires one hole for installation.
The two handle design is great for managing hot and cold water.
Cons
It would require a complete replacement if one handles stops working.
It does not have any added bells and whistles.
Bonus Faucet: The Pot Filler
Though not as common, a pot filler is a type of faucet that is typically wall mounted over a stove or range. As it's name implies, it is typically used for filling pots or easily gathering water for cooking purposes when you are at the range.
Pot fillers connect to cold water only, so it serves more as a convenience for a nearby water source more than a full feature faucet. So if you are looking to use hot water, you'll want to head to your typical kitchen faucet for that.
A pot filler usually has two valves. This serves as a safety to prevent pesky water dripping from damaging your stove. So if one valve is leaky, the other is there to help prevent constant dripping, if dripping occurs. After all, with a pot filler, there is no kitchen sink to capture the water dripping from a faucet.
Lastly, keep in mind that a quality pot filler can be expensive. Not only is the faucet itself sometimes pricey, but the installation and plumbing required can add up quickly. That is because if you don't already have a water line run to the back of your range, you'll need a plumber to get into the wall and install the water supply. If you plan to include a pot filler in your remodel or new build project, plan ahead and know your costs before you dive in!
Pros
It is convenient to have a water supply right over the stove.
Pot fillers usually feature two valves as a safeguard against pesky leaks from a single valve.
Cons
Costs may add up quickly for the purchase and installation of a pot filler.
May be impractical for those who don't cook often.
The unit must be wall mounted.
There is no sink below to catch unwanted drips.
Conclusion
When planning a remodel or building your dream home, you need to consider the pros and cons of each factor and features before you make a choice. We hope this helped you to get an overview of the different types of kitchen faucets available today. 
At the end of the day, only you know what kind of faucet you are looking for. So, make sure you learn about all the pros and cons before you make your choice.
Frequently Asked Questions:
How Do I Choose a Kitchen Faucet? 
If you are replacing an existing unit, the first thing you'll need is to check the number of holes your kitchen sink has already. This is one way to keep costs low. You can determine the type of faucet that is required without additional labor. You should also decide if you're willing to drill into the wall.
From there, consider what would be more convenient for your lifestyle. Look to see how much space you have available. How will you use your faucets? How much maintenance are you willing to do? Would it make more sense to have a touchless, pull-down kitchen faucet, or pull out faucet? Would you like a single handle or a double handle?
Look for the amount of technology you are comfortable with. Consider how durable you'll need the faucet to be and how much regular use it will get.
Finally, aesthetics. Decide if you want a high arc or a low arc faucet and what style and finish you would prefer. If you like farmhouse style design, you here are plenty of options to inspire you. Many people choose stainless steel, but faucets come in plenty of other finish options. 
What Are The Best Kitchen Faucets and Features?
Popular items that today's consumers are looking for in their kitchens include: 
Instant hot water

Pre-rinse settings

Single-touch and touchless options

Pull out faucet, pull-down faucet or side spray functionality 

Separate handle for hot and cold water (especially nice if you have kids)
One of the best sellers is the Moen 7594EC Arbor Motionsense Touchless Pulldown Kitchen Faucet. Aside from being a very sleek and sophisticated faucet, it's all jam-packed with fantastic add-ons. It's loaded with two different sensors for maximum ease of use. Its sprayer is also up to 50% stronger than your typical faucets. That's especially useful for cleaning dishes, pots and pans. It's also fully customizable. Are you looking for a pull out faucet? A pull-down faucet? A side sprayer? Instant hot water? Single handle? Double handle? They have it. If you're looking for a configuration that works with what you already have in your kitchen, they have that too. 
Another popular option for kitchens is the Delta's Leland Single-Handle Faucet with Arctic Stainless 9178-AR-DST. This faucet is especially good at hiding fingerprints, as it comes in a matte finish. If you're worried about the longevity of a detachable spray hose, this is a perfect solution. It offers a magnetic docking system that will automatically pull the spray hose back into place. It's truly been designed with long term durability in mind. While not as customizable as the Moen above, it will fit most common kitchen configurations. It fits both a single or three-hole style set up. 
What Kind of Kitchen Sink Works Best? 
If you're also in the market for a new sink, there's a lot to consider. Much of this is outside the scope of this article. But, generally speaking, there are three different types or styles of sinks. Each option has pros and cons that you should explore. They are also all installed differently and have differing levels of installation difficulties. You should review top-mount sinks, under-mount sinks, and flush-mount sinks to find the one that suits your needs. 
What is the Expected Lifespan of a Kitchen Faucet? 
Many faucets can be expected to last well over 15 or even 20 years. But the potential longevity of the kitchen faucets available can vary. How long you can expect yours to last is really a function of two things. How often you use your faucet and it's manufacturing quality. There are also other factors that come in to play. This includes the quality of the installation and your willingness to do routine maintenance as small issues arise. If this is a concern for you, look for options that come with a lifetime warranty. You'll also want to make sure you're choosing faucets that favor function over looks. 
What Brand is Better: Moen or Delta? 
This question comes down to what you're looking for in your faucet style. Moen faucets are known to be more expensive generally speaking than Delta. If you're looking for some flair or a focal point for your kitchen, Moen is a great choice. Delta, on the other hand, would be good for anyone looking for affordability without compromising style or features. Both brands offer single handle and double handle options for their faucets.
What Is a Ceramic Disc?
Some kitchen faucets advertise the use of a ceramic disc in the design of their product. This is generally in reference to the valve that controls the flow of water. In the past, valves were primarily rubber material. But the transition to ceramic discs has occurred because they are tougher and stand up to wear and tear a bit better.