Disclosure: Some of the links below are affiliate links. This means that, at zero cost to you, I will earn an affiliate commission if you click through the link and finalize a purchase.
Looking for a coffee maker that's easy to use and produces delicious coffee? With our Keurig coffee maker reviews, you get exactly that.
Best Keurig Coffee Maker for Coffee Fanatics
Keurig K575: Your wish for Starbucks like coffee at home is going to come true and it's with the Keurig K575. With a 30z Brew Carafe, unmatched brewing efficiency and 80z water reservoir you'll have coffee on the go 24*7. The large color touch screen with backlight makes it easy to use the coffee maker even at night.
Budget Keurig Coffee Maker
Keurig K55: However, for a good coffee, you don't necessarily have to spend the big bucks and that's what the Keurig K55 is all about. Though cheap it doesn't compromise with coffee flavor. Yes, you'll miss out on the fancy frills and thrills of the higher end models but compact design, ease of use make it a great buy.
Quick Navigation:
Looking for a Keurig coffee maker for convenient use in brewing your beverages? Do you want a machine that will offer you consistent results and can make a variety of beverages?
We have researched and put together a list of 5 of the most-talked-about Keurig coffee makers to make your work easy when choosing a coffee maker.
5 Best Keurig Model Comparison Chart
Our #1 Pick

Keurig K575 Single-Serve Programmable K-Cup Coffee Maker

Versatile Keurig K575 Single-Serve Programmable K-Cup Coffee Maker features multiple brew sizes including a full carafe (sold separately), strength and temperature controls, and fully programmable favorites brewable in under a minute!

---

5 Cup Sizes for Brewing
80 oz Reservoir
Extra Large Color Touchscreen

Keurig K145 OfficePRO Brewing System

Versatile Keurig K145 features multiple brew cup sizes, energy-saving auto off function, and a trial pack of K-cups to get you started with full brewing in under a minute.

---

3 Cup Sizes for Brewing
48 oz Reservoir
Bonus K-cup Portion Trial Pack

Value for Money Pick

Keurig K55 Single Serve

Keurig Classic K55 Coffee Maker features the three most popular brewing sizes, a programmable energy-saving auto off function, and simple button controls for easy brewing in under a minute.

---

3 Cup Sizes for Brewing
48 oz Reservoir
Simple Button Controls

Keurig K250 Single Serve Programmable Coffee Maker

Versatile Keurig K250 Programmable Coffee Maker offers multiple brew sizes including a full carafe (sold separately), strength and temperature controls, and simple touchscreen including specialty brews in under a minute.

---

4 Cup Sizes for Brewing
40 oz Reservoir
2-inch Black & White Touchscreen

Keurig K-Mini K15 Single Serve

Space-saving Keurig K-Mini K15 packs the ultimate punch in a compact design with simple one-cup-at-a-time brewing, perfect for smaller spaces or for traveling.

---

6-10 oz Cup Sizes for Brewing
10 oz Reservoir
Energy-saving Auto Shutoff
In-Depth Keurig Coffee Maker Reviews
This Keurig machine features a number of excellent features that make it the ultimate Keurig brewer. Some of these features include hot water on demand, strength, temperature control, customizable settings, and different size options.
Although this coffee machine takes up a considerable amount of space, it can brew a good number of cups at optimal temperatures.
The ability of the brewing system to cater to the preferences of different people makes it ideal for home and office use.
We take a close look at the features that make the K575 a great coffee machine as well as the cons you should be aware of when thinking of buying the product.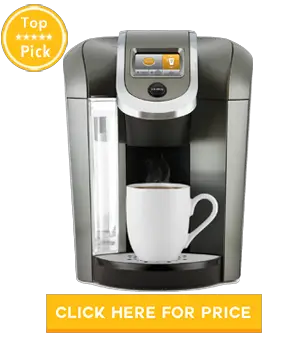 Functionality
In terms of functionality, the machine heats up quite quickly and brews beverages fast. The unit has a LED color touchscreen that makes it possible for you to choose from a lot of options.
The screen features a power button, choices of brew strength, the beverage you want as well as the cup size.
If you happen to lift the handle and close it without having a cup, the screen will provide you with the hot water option. The Keurig 575 scores very highly as per functionality, offering you exactly what you need.
Versatility
This is one of the most versatile Keurig brewers. The coffee machine has five different temperature settings that allow users to brew according to their needs. You can set the appliance at lower temperatures when you wish to brew beverages for kids.
There is also a convenient feature that you can program which will let you brew a cup and then automatically shut off the machine. Like most of the best Keurig coffee makers, the K575 can brew a variety of beverages, offers different brew sizes and some settings you can program for ease of use.
Price and Durability
The K575 not only looks durable but is, in fact, a sturdy and durable coffee machine. Keurig models are known for their construction that features strong and high-quality materials.
The materials are not flimsy in any way and give users an easy time during the cleaning process. The brewer comes with 48 K-cups, an extra water filter, and 4 K-carafes. All these features make the Keurig K575 our top pick.
Pros
You can brew larger quantities of your favorite beverage
The intuitive display of the brewer makes the brewing process simpler
The versatility of the K575 allows you to brew different drinks
The machine is programmable, to turn on and brew a cup of coffee at the set time
Cons
Programmable features are only available for K-carafe
It is not compatible with older K-cups
The Keurig K145 has gained popularity due to the convenience and flexibility that the machine offers users. This machine is ideal for both household and commercial use. Every cup that the Keurig brewing system serves is always fresh and of the preferred taste.
The coffee machine can be used to brew a variety of hot beverages including tea, hot cocoa, a cup of coffee, and iced beverage. This allows everyone to have their favorite beverage.
We look at what this product offers in terms of features and performance. We also delve into the downsides of the machine, helping to determine whether it is the right one for you.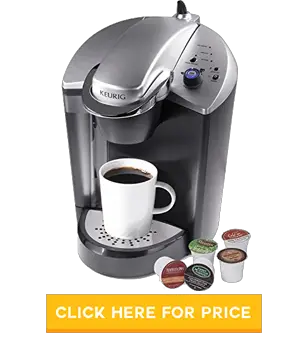 Convenience
The Keurig K145 brews a variety of hot beverages in under one minute.
This would be a convenient feature when you are in a hurry and need to fix a cup of your favorite beverage.
With the ability to brew different beverages, this machine can cater to the needs of people with varied tastes.
The brewer will also automatically go off after two hours of non-use. You will not have to keep checking whether you left the machine running. This helps to save on power and reduce utility bills.
Flexibility
The Keurig K145 brewer offers you the choice of three different cup sizes. These are the 6 oz, 8 oz, and 10 oz.
The different cup sizes offer varied tastes, allowing you to explore the different flavors before arriving at the right one for you. Getting multi-flavored beverages from a single brewing system is not only convenient but will introduce you to endless possibilities.
The machine has a removable 48 oz. Water reservoir. This is designed to make your work easy when you want to clean or refill.
When cleaning any spillages becomes easy, so does the general maintenance of the machine. When you need to store or transport the machine, it will easily drain, giving you a hassle-free experience.
Durability
The construction of the K145 features heavy gauge materials to allow for high volume use of the machine. These sturdy materials are suitable for the busy small restaurant and office environments in which the machine can be used.
The construction is also meant to ensure that the brewer lasts long and that users incur minimal maintenance costs. The powerful internal pump of the brewer reduces the time it takes to brew beverages while the heavy-duty power cord is made to be energy efficient.
Conclusion
The K145 is the best k-cup pod coffee maker for anyone in need of a low maintenance brewer that will offer a hassle-free coffee at an office. The appliance is also versatile and delivers consistent results at all times.
Pros
This is an easy to use a k-cup pod coffee maker that offers great convenience
This single machine gives multi-flavored beverages
There are three different sizes to accommodate travel mugs
Can brew multiple cups with consistent taste and quality
Cons
The machine is noisy when water is heating
The K145 costs more than standard coffee makers in the same category
The Keurig Classic K55 Single Serve Brewer is an affordable machine that is designed to make phenomenal beverages. The simple design of the machine has made it a popular coffee maker among customers.
The machine does not have the bells and whistles that are normally found on other machines. There are also no distracting sounds, screens or doodads. The manufacturer offers a one-year warranty against any defects in materials or craft.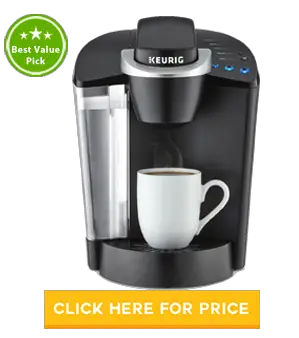 Performance
Although the K55 starts off a bit slow, it gets brewing with time. For this feature, the machine gets just a fair rating for the speed of brewing the first cup, but it enjoys impressive ratings for repeat speed.
The coffee maker scores excellently in terms of temperature consistency as well as the taste and range of beverages that it can make.
It is important to point out that no coffee maker in the same category scores this highly for taste.
Some of the qualities that users love about this machine are the delicious cup of coffee it brews, the time it takes to make a cup of coffee and the wide range of hot and cold beverages it makes available.
Ease of use
Both experts and owners agree that this product has intuitive controls that make it simple to use. The machine scores excellently when it comes to the convenience it offers owners. When you want to fill the machine, all you will need to do is to remove the water reservoir and fill it.
You will also need to occasionally clean the needle, which is a relatively simple process. Although descaling the machine can be a bit difficult, the manufacturer recommends that this is done every three months. Descaling will improve operations and enhance durability.
Appearance
This coffee machine has a generous water reservoir that holds about 48 ounces. Measuring 9.8 by 14 by 13.5 inches, the compact reservoir weighs around 12 pounds when empty.
The sleek feel and modern design of the machine give it a nice look on the counter. The design ensures that the machine takes up less space on the counter as well as during storage. The Keurig classic K55 is available in black and rhubarb, giving customers color options from which to choose.
Conclusion
This is the best Keurig coffee maker for anyone looking for an affordable coffee machine that is simple to use and can help to save on storage space. The machine offers phenomenal beverages and looks nice on the counter.
Pros
The machine is easy to use and clean, making the overall maintenance of the machine hassle-free.
The product features a large enough water reservoir to cater to the needs of a large family or some people in the office setting.
The coffee maker is known for its consistent temperatures.
The machine is compatible with a reusable coffee filter.
Cons
The speed of making the first cup is a bit slow
This machine does not feature a descaling option. This will force you to remove the water manually
At the touch of a button, the Keurig K250 brewer gives you the ease and convenience that come with a simple but smart machine. The single-serve brewer sets itself apart from the typical coffee ma.
With the latest brewing technology, the machine offers you more than 500 varieties of iced beverages, specialty beverages, tea, and coffee. There is a separate setting for those who want to prepare mochas, hot cocoa, and other specialty beverages.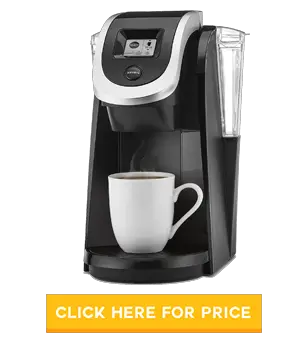 Initial setup
The first time you power the machine, you will be prompted to add water, lift the lid and then press brew.
This procedure is designed to help boot the machine for operation. When powering the machine the first time, it will take some time before the water heats up. If you have any issues with it you can see our troubleshooting guide for Keurig brewers.
For regular use, the brewing cycle will take a little less than a minute. To prevent the accumulation of calcium in the reservoir, it is important to install filters in the reservoir. The process of setting up the machine is relatively simple and is not likely to take a lot of time.
Operation
The Keurig K250 features a 40 oz reservoir which is located at the back of the appliance. In comparison to other 2.0 models, this machine is more compact and takes up less counter space. The operation of the K250 is also quite simple, requiring you to only pop in the K-cup.
Since this is a basic Keurig brewer, there is a black and white touchscreen with options for the strength of coffee you want as well as the brew size. When it comes to brewing sizes, the K-carafe and K-mugs allow you to brew large quantities. There are different sizes of cups and mugs to offer you more flexibility.
Convenience
Although the brewer is largely basic, it is designed to offer you great convenience. With the brew-strength control, you are in a better position to brew the different beverages to your liking. The removable water reservoir allows you to refill and clean the appliance easily.
With the K250, you can see how much water there is in the reservoir, thanks to the water level window. In addition to the water reservoir, the drip tray is designed to simplify cleaning.
Conclusion
Just like many Keurig 2.0 models, the K250 cannot use third party K-cups. If you use any other K-cups apart from the Keurig K-cups, the machine will notify you that the cup is not optimized for brewing. See our newbies guide to using K-Cups.
Pros
The K250 is easy to set up and operate
The machine is compact to save on storage space
You can brew multiple sizes through the K-Mug and K-carafes
The strength control allows you to brew coffee to your liking
Cons
There are no temperature adjustment controls
You will need to adjust the brew size according to your brew strength
The Keurig K15 suited for those who live alone, sole coffee drinkers in a family or college students. The machine is easy to use and offers unmatched convenience. The Keurig K15 has no water reservoir, a factor that makes it easily portable.
However, the compact brewer still provides the right amount of water you need for your beverages. The lack of a water reservoir also serves to make the appliance small and compact. The machine takes up very little space and will fit in tight spaces. If you are looking for a small single server Keurig machine, check out our comparison of K-Mini vs K-Slim.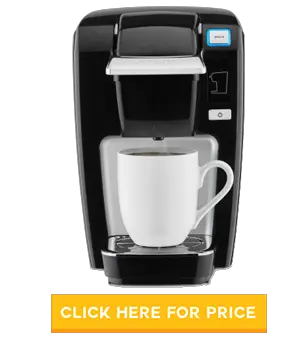 Ease of use
The Keurig Mini Plus is one of the simplest brewing appliances to use. You will simply need to add water after which you can insert a K-Cup.
The next step would be placing a cup on the stand and closing the lid. Once you have done this, you should push the button to start the brewing.
The machine will give a blue flash that will remind you to start the brew, a red light during the heating and a solid red light when dispensing. According to owners, you will be required to add water to every cup.
Although the manufacturer recommends that you clean the needle every few months and descale every 3 to 6 months, these two processes are quite simple.
Performance
Although some people consider the lack of a reservoir to be a drawback, others enjoy the fact that they use fresh water for their brew as opposed to the water that has been held in a container for a period.
When talking about performance, this Keurig brewer will make you a hot and tasty brew every time you use it. Although some people have complained that the K15 is a bit slow, one of the benefits of the machine is that there are different pods available.
Durability and appearance
The Keurig K15 does not just feature a nice and appealing design. The machine is described as a cute little space-saver. Depending on where customers purchase this product, it will be available in some colors.
Regarding durability, the K15 is a sturdy machine that is constructed to have a long working life. You are more likely to get value for money if you take good care of your Keurig K15. Just like most Keurig models, the manufacturer provides a warranty against defects in material and artistry.
Conclusion
The brewing process is very easy with this machine. The K15 has minimal maintenance, making it the best Keurig for college students and those who live alone.
Pros
The brewing process is simple and effortless
Since there is no reservoir, you will not require extra cleaning
You can brew a wide variety of beverages
Cons
This is a slower model when compared to other Keurig machines
Multiple cups will take time since there is no reservoir
The machine is a pretty basic model