Disclosure: Some of the links below are affiliate links. This means that, at zero cost to you, I will earn an affiliate commission if you click through the link and finalize a purchase.
Are you skeptical about buying a new range hood? Here are some benefits and types range hoods you can purchase to keep the kitchen smoker free.
Do you often prepare food that causes a lot of smoke? Worried about the smoke coating your kitchen walls? If yes then you need to install a range hood in your kitchen which will protect your kitchen from any culinary disasters while adding a touch of class.
This kitchen equipment can also be effective in taking the heat out of the fats and the steam while cooking. There are a lot of types of range hoods available in the market based on the size, materials, design, and types which can make it slightly difficult to choose the right range hood for yourself.
Apart from the design and the layout, you also have to consider the functionality of the range hood which is why it is important that you have proper knowledge on the different types of range hoods that are available in the market.
In this article, we will discuss the functionality of a range hood and types of range hoods that are available in the market so you have a better choice on which product to choose for yourself.
What is a Range hood?
The first thing you need to understand is the use and the purpose of a range hood and how it actually works. You will find a range hood called by several other names but it is most popularly known as a vent hood. It is ideally a fan which is stored inside a canopy which is placed on top of your stove to trap the heat and smoke emitting out from your stove.
It is usually designed to trap the heat, fumes, smoke, odors, etc. range which usually forms during the preparation of a meal. This is usually important for people who recycle the air inside their house with the help of a filtration system and would like clean and disease-free air to breathe in.
4 Reasons a Range Hood is a Must
Here are a few important functionalities or benefits of using a range hood which makes it must-use kitchen equipment at home.
Cleaning the Air
The most important function of a range hood is that it helps in getting rid of the toxic gases and smells in your kitchen.
Sometimes, when you cook a meal, a lot of steam, fats, and smoke is produced which can be dangerous to your health if inhaled directly. A range hood will ensure that all these harmful substances are trapped inside its canopy and will leave you with clean breathing air to work in.
Additional Kitchen Lighting
With the help of a range hood, you also get some additional lighting to keep a track of your recipe and look at your stove properly. This is quite useful for both cooking and cleaning purposes and ensures that you perform both the tasks well.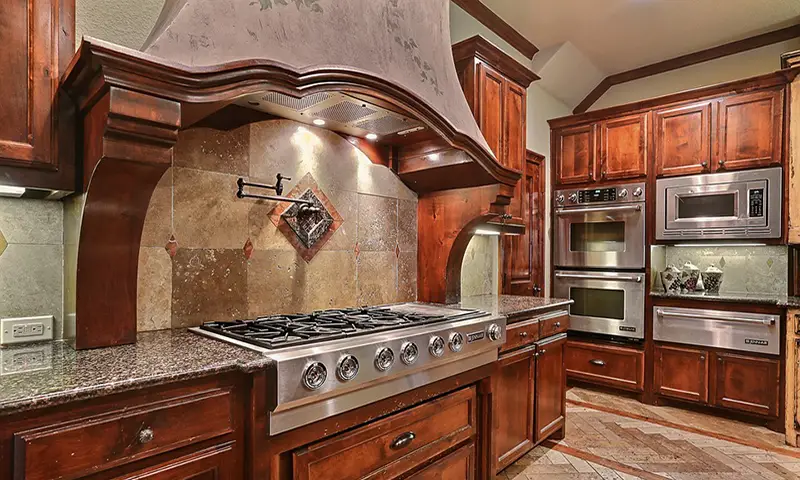 For cooking, it helps you in cooking properly and prevents any messes or burning and for cleaning, you are able to get rid of particles which were otherwise not clearly visible. It also helps you save electricity as you only need to turn on the hood light to cook or clean your stove.
Trapping Excessive Heat
Another major functionality of a range hood is that it helps in getting rid of the excessive heat that is produced while cooking. This makes it comfortable for you to cook for an extended period of time and you won't sweat too much while focusing on your recipes.
Since a range hood includes a built-in fan blower, it is able to suck in the excess heat and the heat is then removed through the vent which helps you maintain a cooler temperature in your kitchen.
Comfortable Cooking
Also, once you install a range hood, you will find cooking quite enjoyable and simple. It will form a clean kitchen environment for you and due to the absence of bad odors and smoke, you will be able to spend more time in your kitchen when desired.
You will also be able to try out new recipes without any fear of burning or creating a foul smell in your kitchen which will encourage your kitchen creativity.
Types of Range Hoods You can Buy
There are mainly 4 types of range hoods available in the market based on their functionality and installation location.
Under-Cabinet Range Hoods
An under-cabinet range hood is the most commonly used type and is available in several compact sizes. You can fix it under your cabinet or you can mount it to your wall, as per the layout of your kitchen for managing the cooking smoke.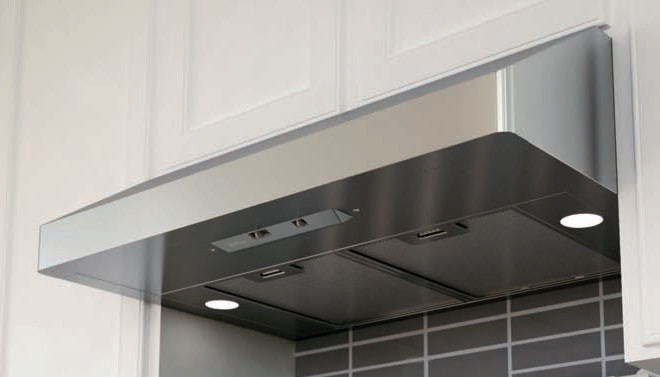 Ideally, people mount this range hood underneath the cabinet which is situated immediately on top of the stove for maximum efficiency. The design of this venting system is quite simplistic and can go with any kitchen style so you don't have to worry about ruining your kitchen's décor.
The ductwork for this range hood is usually placed above the cabinet through the hood or behind the hood, through an exterior wall. This can often lead to less storage space in your cabinet but is really effective in spacing wall space. Also, since it has a simplistic design, it is easy to install and doesn't cost a bomb like other types of range hoods.
Wall-Mounted Range Hoods
A new and popular range hood in households in the wall-mounted range hood which helps in the preservation of kitchen space. This type of range hood is usually installed on the wall which is just above your stove and is famous in kitchens where there are no cabinets above the stove.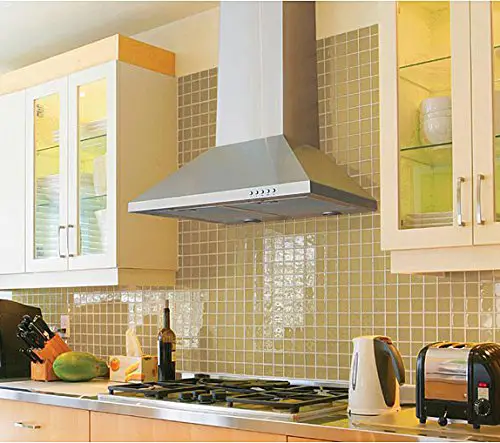 If you have cabinets and still want to install this hood then you would need to first remove the cabinet piece, install your hood, and then add back the cabinet. They usually include a chimney which is really effective for ventilation and usually vent out the smoke through the exterior wall behind the hoods.
Although an under-cabinet is not used for an attractive kitchen look, the same cannot be said for the wall-mounted range hoods. They can act as a major design focus in your kitchen and can add a distinctive appeal to your kitchen depending on the style and material that you use. As a result, this type of range hood tends to be a little more expensive but is the best choice for people who want their kitchen to look attractive and spacious.
Ceiling Mounted or Island Range Hoods
If you have a range that is installed on your kitchen island or is not located against a wall then you need to check out the island mounted range hoods. The canopy of this type of range hood is larger than the stove in order to pull all the smoke directly into its funnel.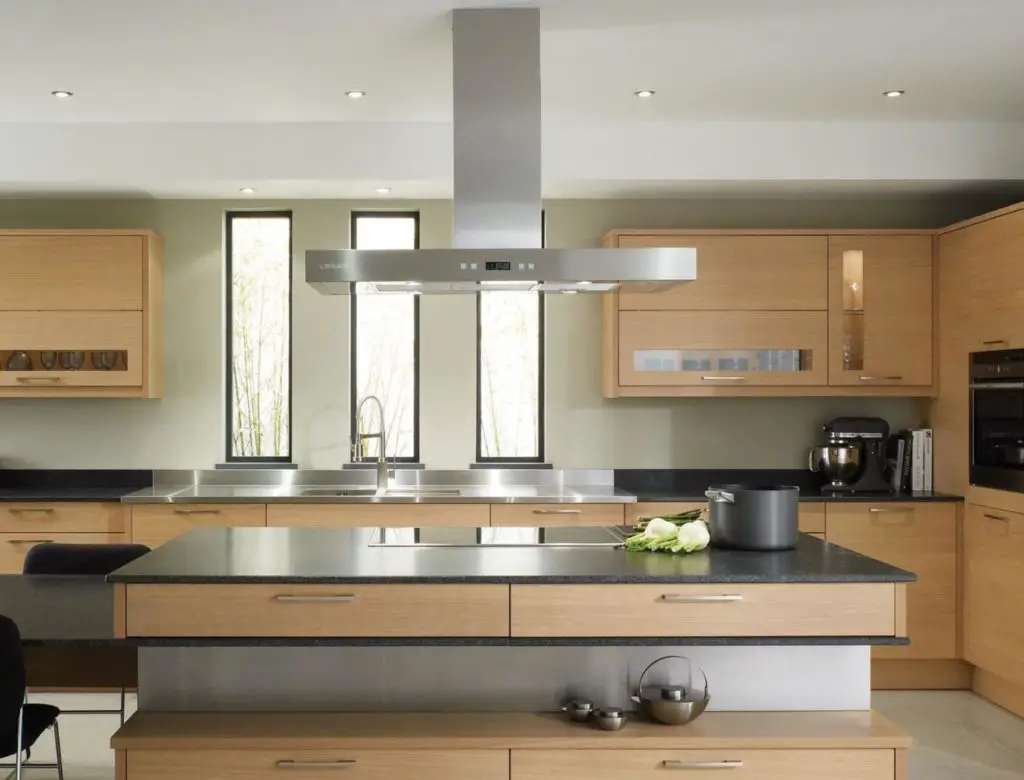 This is important because unlike an under-cabinet or a wall-mounted range hood, you don't have the help of a wall or cabinets to direct the flow of smoke inside the range hood. If you have a huge, professional cooktop, then you can install a ceiling mounted range hood which can handle stoves with additional cooking tools and burners.
Similar to a wall-mounted range hood, this type of hood can offer your kitchen with an aesthetic appeal and comes in many styles and designs for you to choose from. You will find many designs in amazing materials like glass, ceramic, copper, etc. Also, you have an option to install your range hood a little higher to prevent the blocking of your kitchen's sight.
Downdraft Ventilation Range Hoods
Although this is not an ideally used range hood and cannot be termed as a hood too since it is not installed on top of a stove.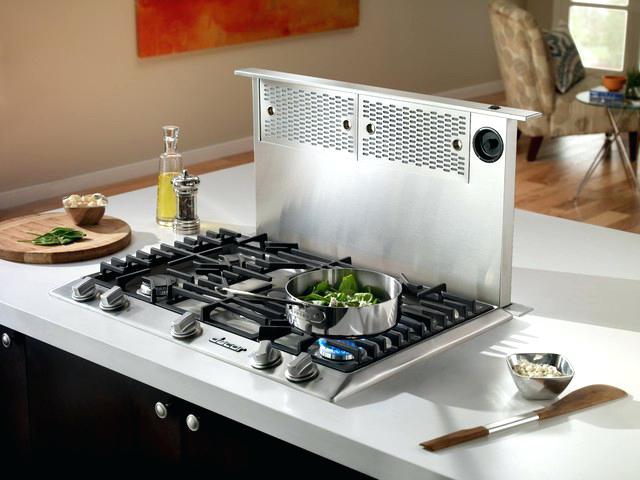 This type of range hood is actually stored and hidden inside the cooking space until you need to use it to pull the steam and smoke away from your cooktop. This type of range hoods can be installed on a kitchen island or a countertop both behind and beside the stove and doesn't need any ductwork for installation.
This is a great option for people who don't have a lot of kitchen space available at home or have a stove that is installed on their kitchen island or is situated against the kitchen wall. The design of downdraft ventilation is not obstructing and works well with all kinds of kitchen looks which makes it a versatile range hood.
Conclusion
When you start with the process of kitchen remodeling then choosing an appropriate range hood is important to keep your kitchen clean and presentable. Choosing the right range hood will not only make cooking fun for you but will also ensure that you don't have to go through the remodeling process for a few hours.
So, make sure that you choose the right type of range hood for yourself and consider other important factors before making a solid choice. Trust me, a small change in your kitchen can make a huge difference in the functionality and the look of your kitchen space.