Disclosure: Some of the links below are affiliate links. This means that, at zero cost to you, I will earn an affiliate commission if you click through the link and finalize a purchase.
One of my most favorite parts of movies is enjoying the delicious taste of classic butter popcorn. I want to make sure you get butter popcorn just the way it's meant to be with this recipe.
Who doesn't love digging into a bowl of butter popcorn and licking their fingers while watching an interesting movie or just chilling out with friends?
Yes, we all love it and the best part about butter popcorns is that you can easily prepare it at home too. They taste as delicious as theatre popcorns but don't cost a bomb which is basically the best of both the worlds.
All you need are some good old-fashioned dry corn kernels along with oil and butter and get the party started. However, to make it easier for you to prepare your own butter popcorns at home, we have prepared this recipe which allows you to cook popcorns in a normal pot with a lid.
For seasoning, you just need to add a pinch of salt or you can add some of your favorite flavors such as pepper, caramel, cheese, and so on to improve the taste of your popcorns. Also, popcorns help you stay full for a longer period of time and offer you with fiber and antioxidants which makes it a healthy snack to munch upon.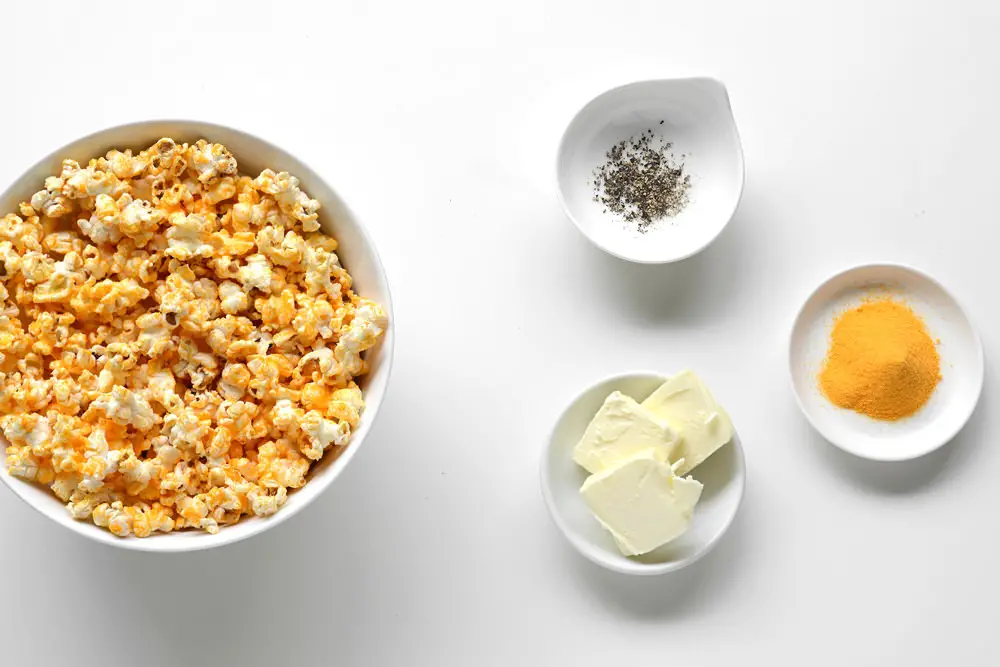 Ingredients Needed
½ cup of Dry Corn Kennels (Unpopped)
2 tablespoons of Oil
1 stick of Butter, melted
Salt, to taste
Instructions
First, you will need to clarify your butter before you can start making popcorn in it. If you have ghee at home then you can skip this step and melt ghee and then use it as a substitute.
However, if you don't own clarified butter then you would need to perform a clarification first so put your butter stick in a measuring cup made up of glass.
Then, microwave your butter for 30-40 seconds until your butter gets completely melted.
You will notice three layers in your melted butter: milk solids, foam, and clarified butter. The clarified butter gives the popcorn the crunch and texture you so love.
With the help of a spoon, remove as much foam as you can. Your clarified butter is now ready to be used.
Find a pot with a lid which will be big and easy to shake. Avoid using cast iron pot as they can be difficult to shake.
Put your pot on the stove at high temperature and add the 2 tbsp. of oil to it. Now, heat this oil for a couple of minutes until it is slightly warm and ready.
Then, keep the stove flame at medium intensity and add your dry corn kernels inside the utensil with heated oil.
Now, move your pot a little so that all the kernels get coated with the oil. Keep shaking in regular periods and ensure that your kernels don't burn.
As soon as you notice the initial corn kernels pop, cover the top of the utensil with a lid so that the kernels can pop without going off all around the kitchen. Leave the lid slightly ajar so that the steam can release else your popcorns will turn mushy.
Once you start hearing the sound of corns popping, pick up the pot and shake it gently so that heat gets distributed evenly and all the kernels get popped. Once you notice the corn popping slow down, stop shaking your pot and let the remaining kernels get popped too.
Now, remove your utensil from the flame and let it fit for a few minutes before opening it. This will ensure that all the corns will get popped and you won't accidentally hurt yourself with a corn pop while opening the lid.
Once your kernels are all popped, open the lid of the pot and slowly pour your clarified butter on top of the popcorns. Keep pouring the butter until all the yellow, clear part is finished and only white milk solids are left at the bottom.
Mix the butter and the popcorn well with the help of a spoon to ensure all the kernels get coated in butter.
Add a pinch of salt or other flavors that you might wish to add.
Now, taste the popcorn and adjust the salt or flavor to make it more delicious.
Your popcorn is all ready to serve and enjoy now.
Wasn't this recipe extremely easy and fun to prepare? Well, then what are you waiting for now, go and make your own delicious Butter Popcorn at home!