Disclosure: Some of the links below are affiliate links. This means that, at zero cost to you, I will earn an affiliate commission if you click through the link and finalize a purchase.
Whether to go with a hand mixer or a stand mixer is one of the most commonly asked questions and in this article, I decided to end the debate.
Baking is a delicate and precise art and one needs the proper tools and equipment to get the mixture right. One such important baking tool is a mixer which will help in mixing your ingredients together and will allow you to prepare your batter, dough, etc. in an efficient yet quick manner.
However, there are two types of mixers available in the market to choose from: hand mixer and stand mixer. Both of these mixers efficiently mix the ingredients and help in preparing your baking mixtures but they are not similar to each other in any other way.
The only similarity between them is that they mix ingredients together but apart from that, both of them are supremely different from each other.
In this article, we will discuss these two types of mixers, their pros, and cons and how they are different from each other so you will have a better knowledge about which mixer will be more suitable for your needs.
What is a Hand Mixer?

As the name suggests, a hand mixer requires the use of your hands in order to mix the ingredients together. It is a lightweight and compact hand-held kitchen tool which is available in two types:
Electric Hand Mixer
Manual Hand Mixer
An electric hand Mixer includes a motor and different speed settings which can be used to get the desired mixture and requires less manual effort from your side. On the other hand, a standard hand mixer, also known as an eggbeater, doesn't include any motor and you need to exert some manual force in order to mix your ingredients well together.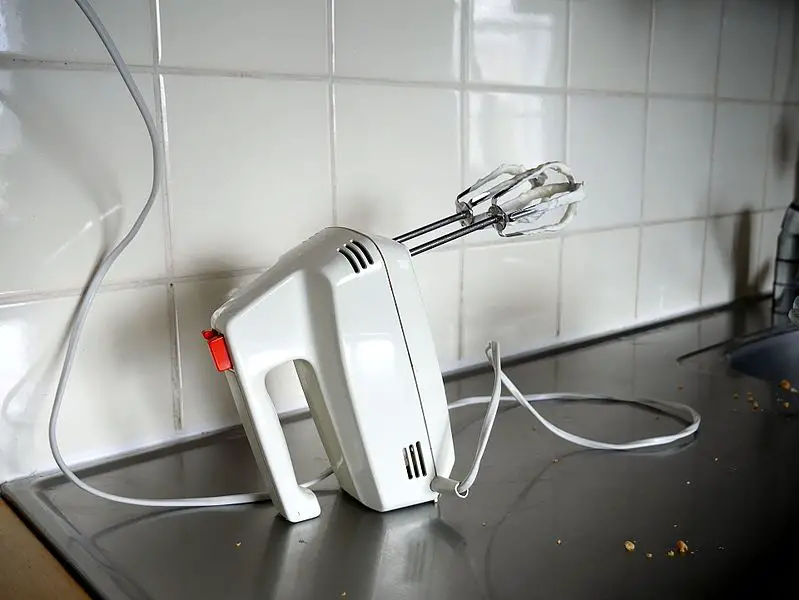 It includes a rotary crank instead which is connected to the beaters. So, users need to hold the top handle of the beater to keep it steady while they need to use the other hand to operate the crank and beat the eggs together.
An electric hand Mixer comes with a motor and handle. The motor performs the task of beating while the user doesn't need to operate the crank to make the electric hand mixer work. It gives you a more consistent mixture whereas the consistency of the mixture prepared with a manual hand mixer depends on the effort exerted by you and the speed at which you mixed the ingredients well.
If you don't bake regularly and have less space in your kitchen then a manual hand mixer is the ideal choice. This type of mixer is perfect for light jobs which don't require a lot of mixing which includes preparing the cake batter, whisking eggs together, and so on.
Pros of Using a Hand Mixer
While a hand mixer might not be as powerful as a stand mixer, it does have numerous advantages, one of the few reasons a lot of users tend to use it in their kitchen for mixing the ingredients together. Here are a few pros of using a hand mixer:
Hand Mixers are considerably cheaper than a stand mixer.
Cleaning an electric hand mixer is much easier and quicker than cleaning a stand mixer. You can also use the eject button to remove the mixer attachment so that you can clean it properly.
They are easier and simpler to operate and electric mixers offer users with different mixer speeds which can be set with the help of a single button.
They are small and compact and don't require a lot of storage space. They can be easily stored in a cabinet or can be also placed on your kitchen countertop for easy access.
Hand Mixers don't require a lot of maintenance which helps in saving a lot of money and their attachments usually come cheap so you can easily replace them once they are damaged and cannot be used any longer.
Hand Mixers are more suitable for whisking eggs and cream.
They are lightweight and can be easily carried around. This is why even children can learn to use them properly.
They are portable and can be used in conjunction with any mixing bowl.
A few hand mixers have a powerful motor that allows the users to perform tough mixing tasks as well.
Cons of Using a Hand Mixer
With every kitchen tool, there are a few pros and cons associated with its operation. Here are a few disadvantages of using a hand mixer:
They are not as powerful as a stand mixer and so cannot mix a lot of mixtures that require high motor power.
Your mixing bowl and your hand mixer are not fixed in one position so you will need to exert manual effort to ensure that the mixer is held properly and doesn't damage the hand mixer in the process of mixing.
You cannot mix thick batters with a hand mixer.
It allows you to prepare only small batches of mixtures so it is not suitable for use during large gatherings.
An electric hand mixer offers only 3-5 speed settings and thus offers less versatility to the baker.
It doesn't include a mixing bowl so you need to either purchase it or use a bowl available in your kitchen for mixing the ingredients together.
It doesn't come with a protective splash guard so you have to be careful about spilling the mixture in your kitchen.
What is a Stand Mixer?

A stand mixer is a more advanced version of a hand mixer and includes a heavy-duty motor that performs most of the tasks such as making doughs, thicker mixtures, and so on leaving the user free to perform other kitchen tasks. A stand mixer is larger than a hand mixer and includes a motor that is encased inside a heavy-duty metallic body.
But since these mixers are bulkier moving them around can be a real pain so make sure you have pre-defined space at your bakery or home kitchen for the mixer
A stand mixer features a mixing bowl, mounting base, and a stand mixer arm. The mounting base is the place where your mixing bowl is fixed in place whereas the stand mixer arm is used to attach different accessories to your stand mixer so that you can prepare different types of mixes.
These mixers usually use planetary mixing action to mix the ingredients together in the bowl with the help of the attachment that rotates in a counter direction to ensure that the mixture is thoroughly and properly mixed together.
While expensive their utility is unmatched. From mixing small batches of cakes and doughs for a family of 4-5 to ensuring your newly setup bakery has enough muffins and cakes rolling out to feed hungry customers, these mixers can take it all on.
It generally includes a flat beater for preparing cake mixes, a whisk for whisking the eggs and whipping the cream properly, and a dough hook for kneading the dough for bread or pizza but you can always get add-ons like a food processor, pasta maker etc to ease up other tasks. A few of the stand mixers also include a splash guard to minimize the mess and keep the mixture from spilling around your kitchen.
If you are serious about baking then a stand mixer is your best friend and should be the first baking equipment in your kitchen.
Pros of Using a Stand Mixer
A stand mixer has a huge advantage over a hand mixer due to its size and its power which is why it is more famous among bakers than a hand mixer. Here are a few advantages of using a stand mixer:
It comes with a large mixing bowl which allows the users to mix a lot of ingredients together without worry about any splashes or spills.
It features a powerful motor that is capable of performing the toughest mixing tasks with great ease.
It allows the user to attach different attachments and accessories for performing different mixing tasks.
You don't have to worry about keeping the mixing bowl in place as the bowl is kept fixed in its place the stand mixer attachment performs its task.
It gives you an option to multi-task, so you can easily focus on other kitchen tasks while the stand mixer mixes your ingredients for you.
It consists of many advanced features and functions like a timer, automatic turn off feature, preset functions, etc. which makes it easier to mix ingredients with your stand mixer.
It doesn't require any manual effort from your side so you can relax while the stand mixer does the job.
It often has a large capacity so you can mix thicker and bigger quantity mixes with ease.
It offers around 12 different speed settings to the feature which can cover a wide variety of mixing tasks.
It usually includes a splash guard which protects the mixer from spilling any ingredients or mixture outside the mixing bowl.
You can mix different kinds of mixtures easily and quickly with your stand mixer and it will always give you a consistent mix.
Cons of Using a Stand Mixer
Apart from its many advantages, a stand mixer does have a few drawbacks that you must consider if you're serious about baking:
It is huge and heavy and can be difficult to move around or store in your kitchen if you have a small kitchen space.
It is really expensive and doesn't make sense if you are an occasional baker and not a regular one. A lot of users might not be able to afford it and might need to stick to a hand mixer for their mixing tasks.
Cleaning a stand mixer and its attachments is quite cumbersome and ends up taking a lot of time.
Due to its powerful motor, it consumes a lot of energy and can often increase your electricity bill by a great amount.
Which One is Better?
So, the question is which mixer is better for kitchen tasks. Well, as is the case with more kitchen and household appliances, there is no one correct answer to this question. Both the stand mixer and the hand mixer are good at their jobs and can provide you with an efficient and consistent mix every time.
If you're a baker looking for a secondary mixer for smaller baking tasks then I would suggest you buy a good quality hand mixer as it is cheap, small, and extremely easy to use.
However, if you are going to bake a lot then you need a piece of proper baking equipment like a stand mixer which will perform all the mixing tasks for you and will be also able to prepare thick and large quantity mixes for you.
Although it will be expensive, this will be a long time investment and you will end up using your stand mixer for at least 10 years before you think about replacing it.
Make sure that you find the right mixer by comparing your needs, the mixing tasks at hand and also your budget before making any final choice. Another important factor to determine would be the storage and kitchen space at your home. If you have a small space then a hand mixer will be a smart choice else you can purchase a stand mixer.
So, make sure you consider all these important factors and features before making a definite choice and if you're still confused check out the video guide below.
How to choose the best mixer
Conclusion
As mentioned earlier, a stand mixer and a hand mixer are both good at their respective jobs so you cannot really compare them with each other. However, if you have a small budget and less kitchen space then a hand mixer will be the better choice else you can easily purchase a stand mixer.
Also, make sure that you determine your mixing needs and mixing frequency before selecting one of the mixers for yourself. At the end of the day, it all comes down to your usage needs and requirements. So, choose wisely when looking for a mixer for yourself.