Disclosure: Some of the links below are affiliate links. This means that, at zero cost to you, I will earn an affiliate commission if you click through the link and finalize a purchase.
Find our hand mixer reviews, comparison charts and buying guides to help you buy the best hand mixer for the ultimate baking experience.
Heavy Duty Hand Mixer for Professionals
Breville BHM800SIL: Need a top-notch hand mixer? This Breville hand mixer scraper is an absolute beast. It comes with 9 speeds and 240W motor and thus ideal for even large-scale cake mixes and doughs. It's also light and compact and thus easy to store away when not in use.
Budget Hand Mixer for Beginners
KitchenAid KHM512: However, if you're a beginner and need a hand mixer for occasional usage the KitchenAid KHM512 just the ideal mixer. It comes with 5 mixing speeds, soft grip handle, and dishwasher safe beaters while it's stainless steel build means this one's built to last.
Quick Navigation
When it comes to making delicious treats with hand mixers, the only limit is your imagination. If you're after a tasty dessert you can use it to whip up a mouthwatering muffin, meringue or a cake mix that will make you popular with all your friends.
If you're in the mood for something more savory it can be used to make a tasty dip like hummus or guacamole, or even something more substantial like smooth mashed potatoes, meatballs or pizza dough.
If you're a devout foodie looking to get your hands on this kitchen essential, we've reviewed the top choices on the market. Here are our top 10 hand mixers to cater to your needs.
Best Hand Held Mixer
Top pick

Breville BHM800SIL

The Breville BHM800SIL is a super smart tool that detects what accessory is being plugged into it and adjusts the speed that it works at accordingly.

---

9 Speeds
Auto Speed Adjustment
With countdown timer

KitchenAid KHM926CU

The KitchenAid KHM926CU has nine speeds depending on what you're making, from recipes to keep ingredients nice and chunky to whipping up a delicious meringue.

---

5 Speeds
Soft Start
Soft Grip Handle provides comfort

Budget Pick

KitchenAid KHM512ER

The KitchenAid KHM512ER is a compact handheld mixer that will add a splash of color to your kitchen as well as treating your taste buds

---

5 Speeds
Soft Start
Easily and quickly remove any accessory

Cuisinart HM-90BCS

The Cuisinart HM-90BCS is a nine-speed handheld mixer is an ideal gift choice. It's the perfect combination of function and form.

---

9 Speeds
220 Watt Motor
3 low start speeds

Auto Amazon Links: No products found.

KitchenAid 9-Speed

The KitchenAid 9-Speed is a a handheld mixer that boasts superior performance as well as a touch of style.

---

9 Speeds
Soft Grip
Sturdy and easy to clean
In-Depth Hand Mixer Reviews
This is a super smart tool that detects what accessory is being plugged into it and adjusts the speed that it works at accordingly.
It has a countdown timer, which is really convenient when you're working with a recipe that requires precision, and a light so you can easily check your food while it's being blended.
There are nine speeds to choose from depending on what kind of recipe you're using, and the buttons to choose which option you need are easy to understand and navigate.
With a powerful 240 watt DC motor, this piece of equipment has a high torque but works quietly and efficiently.
The rubber-coated beaters are designed so that you can use them all the way to the edge of your bowls without causing any clanging, and they wipe easily.
Light in weight but solidly built, the machine is reliable, durable and easily cleaned when you're done the cooking and getting ready to dig into your food.
This model is silver and would fit in really well in a modern, cosmopolitan kitchen. It's on the expensive end of the scale and would suit those who are willing to pay a little extra for a top quality product.
The Breville BHM800SIL is professional hand mixer that is suited for small and large scale baking business looking to produce recipes that would put it to good use regularly.
Treat your favorite foodie to a new hand mixer and pro whisk. This all-inclusive set comes with two Stainless Steel Turbo Beater II Accessories, as well as a Stainless Steel Pro Whisk, two Stainless Steel Dough Hooks, a Blending Rod, and a convenient Storage Bag.
This KitchenAid model has nine speeds depending on what you're making, so for recipes that call on you to keep the ingredients nice and chunky you choose speed one, for creaming butter or mixing bread batter you choose speed six and for whipping up a delicious meringue, it's speed nine.
There's no need to worry about making a mess with the trademarked Soft Start feature that gradually brings the beaters to the speed you need without causing a splatter! Plus, the Soft Grip Handle is comfortable on your hands while mixing.
You can lock the cord to either the right or left-hand side of the mixer so that it's easy to reach the ingredients from any angle. It's also easy to wipe clean the round cord making tidying up simple. This is a nifty little gadget ideal for any recipe that calls for a powerful hand mixer
And while it doesn't match the performance of the top pick, it's certainly great for any baker looking for a slightly cheaper hand mixer.

 If you're looking for a compact handheld mixer that will add a splash of color to your kitchen as well as treating your taste buds, try out the KitchenAid Ultra Power Hand Mixer in Empire Red (also available in a variety of different cheerful and bright colors).
With five speeds, it's not quite as advanced as the nine-speed options we have mentioned here, but will be totally suitable for most beginner and intermediate level cooks tackling a range of recipes. It's ideal for those with smaller kitchens, as it won't take up too much space when you're not using it.
The Stainless Steel Turbo Beater™ II Accessories are capable of mixing heavy ingredients and are suitable for dishwashers. It's easy to remove the accessories with just a click, which makes cleaning and tidying easy. You can lock the cord to either the left or right-hand side of the machine, meaning you can tackle your ingredients from any angle.
With a one-year hassle-free replacement warranty, this KitchenAid hand mixer our top pick for newbies looking to make a foray into the world of baking with some easy go recipes.
If you've got a friend or family member who has a passion for food and loves clever gadgets, this nine-speed handheld mixer is an ideal gift choice.  It's the perfect combination of function and form.
It has an aesthetically pleasing silver chrome exterior and simple controls that make operating it and changing speeds really easy. The three lower speeds are designed to avoid splatters.
It comes with beaters, dough hooks, a chef's whisk, spatula, and even a recipe book full of ideas along with the instruction booklet to help you get started. All of the accessories store neatly away in the base so keeping things together is easy. The cord is long enough that you can move around your kitchen with ease safely while using it.
At 220 watts, this is more powerful than most handheld mixers, and will easily handle blitzing ingredients for any recipe in less time than other models might take. With the LCD screen, it's easy to tell what speed you're on.
It feels durable and well built, so you can have confidence in it for the long term. It even comes with a three-year limited warranty in case something happens.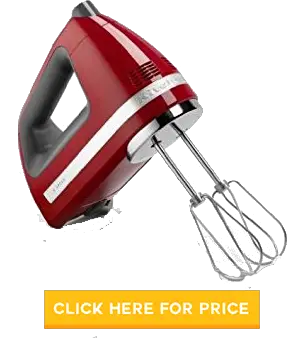 Ready to go one step further? Indulge yourself with the KitchenAid 9-Speed Digital Display Hand Mixer Empire Beautiful Red, a handheld mixer that boasts superior performance as well as a touch of style.
This piece of equipment comes with a whisk, a milkshake liquid blender rod attachment and an accessory bag, so you'll be whipping up a whole range of delicious treats within minutes. It has a soft grip handle that is comfortable, which helps if you're blending for a long time.
Making this the best hand mixer for bread dough is its ability to 'soft stir' at lower speeds. And at high speeds, it can cut your whisking time down dramatically for whipped cream and other desserts.
The beaters are sturdy and easy to clean, and the machine can be used from either the left or right-hand side. Designed with long-lasting use in mind, this must-have kitchen accessory is built robustly and operates steadily, as well as having a modern, sleek aesthetic.
Although this model is on the more expensive end of the scale, the superior quality it operates with makes it the right choice for regular bakers and other home chefs who regularly need to use hand mixers.
The Hamilton Beach Hand Mixer has six different speed options as well as a 'quick burst' button.
At 250 watts peak power, this machine punches above its weight and will make short work of ingredients for any dish.
It has a built-in groove that makes it easy to rest the mixer on the side of the bowl when you're adding more ingredients. Aesthetically, it has a functional exterior and it comes in white with a hint of blue.
It has a snap-on storage case that the beaters fit neatly into for storage. This model is a great choice for users whose first priority is getting the best price – it's exceptional value for money. 
A super sleek hand mixer that looks modern and sits in its own base,
This is a high-end model ideal for those who have got more than a modest budget to spend on the right product.
With 250 watts of power, mixing is made easy, no matter what ingredients you're using. The soft grip design is ergonomically designed to ensure maximum comfort for the user, and the dials are designed so cleverly that even a child – under supervision – could understand how to operate them.
The beaters are dishwasher safe but must be dried straight away to avoid rusting, which some might consider frustrating.
This is a luxury model at the higher end of the price range, it's an investment appliance for those who want a high-quality, long-lasting appliance.
Are you looking for a simple, effective hand mixer at a competitive price? This might be the one for you.
This is a no-nonsense appliance that does exactly what it says it will.  It's a compact, black appliance that is reliable, effective and durable.
The mixer has five speeds that you move between by simply turning a dial, and a burst button for when you need a little extra power, a 240-watt motor, and a one-touch beater eject system. It quite simply couldn't be easier to use.
On the downsides, some users have found it a little difficult to insert the beaters into the motor and remove them, which could be off-putting, especially for older buyers or those contending with arthritis or similar challenges.
#9: OXO On Digital Hand Mixer

If you've got a kitchen full of modern, stylish black accessories and you're looking to stick with that trend, this OXO On Digital Hand Mixer might just be the right option for you.
The mixer has a slow start to keep things splatter-free as well as soft-touch digital controls that intuitively allow you to vary the speeds.
The motor operates at a consistent speed and stays that way even as your batter gets thicker. A set of dough hooks for an extra thick batter is included in the set.
A built-in headlight illuminates the bowl while you mix so that you can monitor the batter consistency, and it stays for the entire time that the mixer is plugged into the power socket. The beaters can be conveniently stored in the mixer's body, and compact, upright storage is easy since the cord wraps around the base.

This stylishly designed hand mixer in red and silver has a powerful 250-watt motor to whisk, knead, and mix your ingredients to the perfect consistency. It has five different speed settings as well as a turbo function and an ejection button.
The set includes two beaters, two dough hooks, and a balloon whisk. It's light in weight, making it convenient and easy to use, and handy to store away when you're done.
The whisks are tough and can handle potatoes and other heavy ingredients easily. However, they are not dishwasher safe and have to be hand washed, which is a drawback for some.
People especially love how this model looks – it's color and design guarantee that it will brighten up your kitchen! This is a model that is priced to sell, and another of our highly recommended options for those on a tighter budget. 
Conclusion
So, are you ready to start creating some mouthwatering new recipes? A handheld mixer is a versatile tool for so many great types of food! Those are our top choices and we're confident that the right choice for you is among them – simply choose based on what your budget is, how often you use a hand mixer and what your home's needs are.
It might be the right time to splash out and choose one of our top recommendations, or if you're just getting started, one of our budget options might make more sense – either way, we've got you covered.
Ultimate Hand Mixer Buying Guide
In order to make the right choice, you've got to look for the right features in a hand mixer. So what are these features we're talking about? This ultimate buyer's guide section will cover everything you'd need to know.
What kind of recipes do you use most?
Different mixers offer different benefits. If you most often use your mixer to make bread dough, you're going to want a mixer that can handle a large quantity and moves relatively slowly to get that perfectly kneaded bread.
If you're cooking mashed potatoes you should be on the lookout for strong beaters; and if you have a sweet tooth and you're most often whipping up the cream and other desserts, your top priority should be speed and power.
If you are a regular Nigella Lawson and you need all of the above, you're going to need one of our top options that don't compromise on speed, strength or style – but for that, you must be prepared to pay the premium price.
Are you looking for a quick-fix or a long-term investment?
There is no doubt that there are some incredibly wallet-friendly brands on the market, and others that look pretty expensive for a small kitchen appliance – the options we've outlined in this post range from around the $20 mark to significantly more costly brands.
If this is an appliance you plan to use once or twice a year, you can probably go for a more economical option, but if you plan to use your hand mixer weekly, splashing out on an upscale model might actually make more sense in the long run… After all, you pay for what you get.
Does it come with a robust warranty?
You finally make your choice. Your hand mixer arrives, and you have fun creating new recipes – but then disaster strikes on the third use and it breaks down.
What kind of warranty have you got if your brand new appliance dies without any kind of explanation? Naturally enough, the pricier upmarket brands tend to offer better protection in case something goes wrong.
Be sure to check what kind of warranty comes with your choice of hand mixer so that you don't come in for any nasty surprises in case of a breakdown!
So now that you know exactly what you're looking for, without further ado we're sure you're going the right pick, a pick that will last you for years and help bake the best of cakes and muffin.
Happy Baking!