Disclosure: Some of the links below are affiliate links. This means that, at zero cost to you, I will earn an affiliate commission if you click through the link and finalize a purchase.
Looking for the best stand mixer? Read our stand mixer reviews, comparison charts and top recommendations to make the right buying decision.
Best Stand Mixer for Professional Use
KitchenAid Professional 600: If you have a large family or need to cook bigger batches then you need a powerful workhorse. Professional 600 does exactly the same but with the noise on this thing is one thing you might have to live with.
Best Stand Mixer for Everyday Use
KitchenAid Artisan Series: It is rightly referred to as "Television's favorite stand mixer", as it can handle anything you throw at it and is hands down the quietest Kitchen Aid stand mixer. It also eliminates the common knocking on the countertop problem faced by many stand mixers.
Cuisinart HM-90S: A slightly smaller mixer, this one is ideal for nuclear families. Also for smaller batches, this gives the ideal mixing experience.
Quick Navigation
Stand mixers, after food processors, are the meanest machines that sit on your countertop. They provide an efficient and powerful alternative to normal hand mixers. With several accessories, you can do way more than mixing cream or preparing the cake batter. We have reviewed over 30 models and bring to you the 4 standout stand mixers that are stealing the show.
Best Stand Mixers Reviews
Product
Details

Our #1 Pick For Home Use

KitchenAid KSM150PSER Artisan Series Stand Mixer

Complete with coated flat beater, coated dough hook, 6-wire whip and 1-piece pouring shield, the KitchenAid KSM150PSER Artisan Series Stand Mixer makes any culinary creation a breeze.

---

10 Speeds
5-Qt Stainless Steel Mixing Bowl
Empire Red Finish

Our #1 Pick For Professionals

Auto Amazon Links: No products found.

KitchenAid Professional 600 Series Stand Mixer

Complete with wire whip, burnished flat beater, spiral dough hook, and pouring shield, the all-metal KitchenAid Professional 600 Series Stand Mixer stands up to even the busiest of kitchens.

---

10 Speeds
6-Qt Stainless Steel Mixing Bowl
Nickel Pearl Finish

Best For Smaller Batches

Cuisinart HM-90S 9-Speed Handheld Mixer

With beaters, chef's whisk, dough hooks, spatula, and instruction/recipe book, the Cuisinart HM-90S 9-Speed Handheld Mixer features a handy storage case attachment for accessory pieces.

---

9 Speeds
Attachment Storage Case
Brushed Chrome Finish

Auto Amazon Links: No products found.

KitchenAid Classic Plus Series Stand Mixer

With coated flat beater, coated dough hook, and wire whip, the KitchenAid Classic Plus Series Stand Mixer with tilt-head design and 59-point mixing style takes your kitchen to the next level.

---

10 Speeds
4.5-Qt Stainless Steel Mixing Bowl
White Finish

KitchenAid Classic Series 4.5 Quart Tilt-Head Stand Mixer

With its iconic 59-Point Planetary Mixing Action, this KitchenAid Classic Series 4.5 Quart Tilt-Head Stand Mixer includes a coated flat beater, coated dough hook, and wire whip to get your kitchen off to a great start.

---

10 Speeds
4.5-Qt Stainless Steel Mixing Bowl
Black Finish
In-Depth Stand Mixer Reviews
If you have ever owned a stand mixer these are common problems, you face. While working with larger batches, it tends to 'move' on the countertop or while handling the dough the power of the motor simply is unable to match the load and finally for smaller batches, some portions are left untouched.
Well, the Artisan smashes these 'common problems' out of the park. It works tirelessly like your hardworking mom and creates a perfect mix, for recipes you want to try.
Powerful Mixing Action
Let's talk about mixing first. Well, the company claims, that there are 59 touch points around the bowl which leads to a more thorough mixing. We have no reason to contradict that claim as the mixing for the most parts is on point. You get three accessories with the mixer i.e. beater, dough hook and wire whip. We will go over them one by one.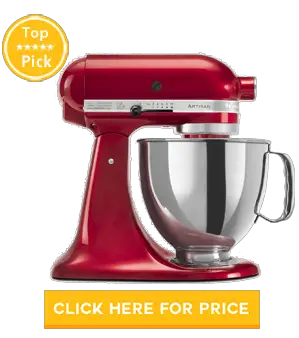 Beater – The beater works like a charm and creams even large quantities of butter and sugar flawlessly. You will rarely have to scrape (however recipes that require the addition of eggs might need some). And if you hate being messy, you will crave the pouring shield which can be used to add dry or wet ingredients. It is detachable, so there is no annoyance whatsoever. The yield is also higher (only second to Professional 600).
Dough hook – The 's' shaped dough hook handles kneading with ease. Traditional 'C' shaped hooks, had a common problem, where the dough started climbing up. The innovative design helps it to knead better, and you get a much stronger mix. In the case of heavy dough, there is no 'knocking' so you won't have to worry that the stand mixer might just fall off.(Pro tip – DON'T choose a higher speed setting than '2', otherwise, the motor would just burn out)
Wire Whip – If you want to Sponge Cakes or those lip-smacking cupcakes, you need to incorporate as much air as possible. The KitchenAid wire whip is again at the point and does exactly what you want it to do. The powerful motor makes way for high speeds, and whipping batter for tough recipes like Zucchini cake is literally a piece of cake (Pun Intended). Even with small quantities, the wire whip was able to generate fluffy layers, and this is where Artisan puts other mixers to shame.
Overall, all these accessories help even the most amateur of cooks churn our scrumptious dishes for their friends and family and
Flexibility 
The Power Hub in the top center adds a lot of utility to the mixer. You can choose from 12 added attachments which include the pasta maker or the ice cream maker. Having said that, not everyone will be willing to go for all of them, but this option saves you the trouble of buying a new device altogether. So if you fancy getting a food grinder, save some kitchen real estate and buy an attachment for just $30.
Apart from all this, we love the build, of the machine. It is sturdy and is made of premium materials. It's hefty though, so it will probably be taking a permanent position on your countertop.
And it is also available in multiple shades. You can pick one that matches your style or looks good in your kitchen setting. (Some colors, however, cost a little more than others)
Cons
In a machine that has got over 4000 5 star ratings on Amazon, it is hard to pick out a major flaw. There are a few things here or there, which however got our attention. We would have liked a timer on the machine, for those recipes that require precision. An obvious solution to this would be to set on a timer on your phone. (We told you we were getting nitpicky)
Secondly, the nylon coating on the provided attachments, start to chip off with time. We highly recommend you to get metal burnished ones whenever you are looking for replacements.
Finally, this product now has a 1-year warranty. Again it is a sturdy machine and it will way longer than that unless you burn the motor by mishandling. (So you really need to be overly concerned about that either)
Recommended For
This one is for everyone who has a love of baking. It is powerful, well-built and with the power hub, it can turn into your "culinary center". It even mixes small portions well, so for the home cook looking to invest in a stand mixer, this is hands down the best you can get.
If you are however interested in bigger batches (and only bigger batches) then the KitchenAid Professional 600 hits the bull's eye. It essentially takes the power and performance of the Artisan up a notch, and in this review, we are going to mention how exactly it is different from the Artisan.
A high-powered Motor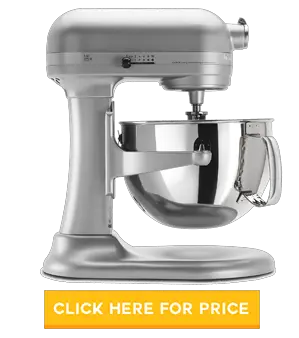 The 600 is powered by a 575-watt motor as opposed to 325 one used in the Artisan. Obviously, this gives it the power to handle more complex batches. This can be seen in all three attachments (the dough hook, beater and wire whip).
If you are making a larger cake more air gets incorporated throughout or if you are making a bigger batch of bread, the dough hook handles it well, without any knocking.
Secondly, there is a considerable difference in 'speed 7' to 'speed 10' (which is not the case in Artisan). It also comes with a soft start feature, which prevents the ingredients from splattering all over the place.
Due to a larger bowl, there are increased touch points (67 to be exact), which again helps in a consistent mix.
Sturdy Bowl-Lift Design
In terms of volume 6 quarts is pretty high and thus it needs to be supported well. In this case, the bowl-lift design goes in favor of the Professional 600. The additional latch on the pole of the mixer gives much-needed stability when mixing heavier batches. You can simply raise the lever to change the position of the bowl (whenever required).
Finally, the larger bowl obviously has a larger yield, and you can create a mix that's enough for 13 dozen cookies.
And yes, all the attachments are better than those provided with the Artisan. They are all made of metal and last much longer than the nickel-coated ones provided with the Artisan.
Cons
Like we mentioned at the start this thing can only handle large quantities. If you take small quantities of single egg white and whipped cream, chances are there will be no contact whatsoever. This one shows its magic only when it has large batches to work with.
Secondly, we hate the noise of this thing. It is easily the noisiest stand mixer ever produced by Kitchen Aid. The culprit is the motor, and there is no fix around this (You have to deal with it!)
Recommended For
If you bake regularly for a large family or you make big batches of bread, you should definitely go for this. It is the go-to choice for chefs, and chances are you will find this in good bakeries in your town. One thing though, with great power, comes great noise. 😉
If you think stand mixers seem to be too much for you, then this handheld mixer from Cuisinart might just be what you are looking for. The 220-watt motor gives you enough power to mix cake batter, and can easily mix bread dough without straining.
It is quite easy to operate it; you simply have to push the On/off button. It also comes with 10-speed settings, with a substantial increase as you move higher. Higher speed settings also make whipping cream a lot easier, and greater air can be incorporated into the mix.
The whole mixer is not that heavy, and we particularly like the ergonomic handle.
The HM-90S also has a well-thought design. For example, the power cord can be adjusted, for both left or right-handed operation. There is a separate button if you want to detach the beater from the mixer and finally, it comes with a separate case, which is used to store all the accessories. These tiny things here and there, make it more user-friendly.
If you are looking to buy this for dough, well you still have to use your hands at the end to get that nice round shape.
For brownies or cookies, the appliance works flawlessly. (However, there is one issue which is addressed in the Cons section)
Overall it is an affordable alternative to a full sized stand mixer, and for small portions of cookies, or brownies, you can easily bank on this thing.
Cons
Cuisinart claims that the mixer comes with a soft start, but this isn't the case. The speed is high, right from the start, and you might have to encounter splattering issues. In case you use a small bowl, and especially with liquid ingredients, they tend to splash out of the bowl.
A possible and highly recommended solution for this is to use an oval-shaped bowl with high edges so that splattering can be reduced.
Secondly, from speeds '1 to 5' the mixer is reasonably quiet, but after that the noise gets substantial. At its highest speed, it gives the Professional 600 competition. This can prove to be annoying for some users.
Recommended For
If you don't want to invest in a stand mixer and need something that can make mixing tasks effortless, then the Cuisinart HM-90S is a good option.
If you bake once or twice a week, then there is a stand mixer you can buy which is under $200. The kitchen aid classic plus is underpowered compared to the Artisan but if you want to give your hands some rest from using hand mixers, then this proves to be a good option.
Motor with 10 Speed Settings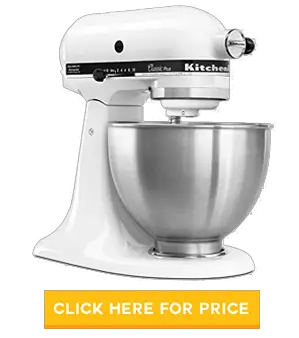 The Classic Plus is powered by a 275-watt motor which works fine for moderate use. What do we mean by moderate? Well if you are mixing the batter for small cakes, brownies, muffins or even pizza dough, then the appliance would work without a hiccup.
There is not much difference in speeds, but still enough air is whipped into the cream, for fluffy layers. A fair warning though, do not operate this at a stretch, as this burns down the motor. You would have to turn it off and on, every now and then if you want the motor to last.
And yes it can mix bread too, but again you have to keep the capacity in mind.
Finally, like other Kitchen Aid mixers, this also comes with a power hub for attachments, which increases the utility of the whole mixer and you can use the power of the motor to use attachments like shredder more effectively.
4.5 Quart Bowl
In terms of quality, the bowl provided with the Classic Plus isn't that sturdy but handles day-to-day tasks pretty well (unless you drop it). Secondly, even though the motor is underpowered the efficiency is on point, and this increases the touchpoints on the bowl. Even thick (or sticky) ingredients get mixed thoroughly. (This is particularly helpful when you are making brownies or muffins).
Cons
The only major gripe we have with this is the fact it doesn't come with the beater, dough hook and wire whip. You have to buy these separately. (Pro Tip – Go For Metal ones)
Secondly, it tends to knock when we are mixing bread dough in it. (Don't exceed speed '3')
Recommended For 
For occasional cooks, this is an affordable option and for small portions it gets the job done. There is no issue with durability also (except the bowl) and unless you burn the motor with a heavy load, this thing lasts for years.
Ultimate Buyers Guide for Stand Mixers
Stand Mixers are known to make your life easier and give enough power to the hands of an average home cook, to produce stunning dishes. You can mix almost anything. You can create the dough that can be used for your favorite bread or pasta, whip cream to create moist layers for your cake or mix all the ingredients thoroughly to create the batter for your favorite cookies.
Before we get to the various features you need to look for in a stand mixer and how to choose one, that will work perfectly for your need, we would like to cover two basic designs of stand mixers-
Tilt head design – This is a common design in most domestic mixers. The top portion of the mixer tilts back and you can change the attachments. The bowl, however, remains stationary. The tilt head design can be stored easily if the height of the cabinet is low.
Bowl-Lift Design – In this case bowl is attached to a lever and you can move it up and down. This helps in the case of large stand mixers (like the Professional 600). The lever gives added stability while you are mixing heavy ingredients.
So if you are in the dilemma of tilt head mixer vs. bowl-lift mixer, then you should focus on what you need. For most home cooks, a tilt design works well but if you need to cook larger batches, you would be better off with bowl-lift stand mixers.
In terms of motion, we only recommend the planetary type mixers. In this, the beater revolves around the axis while the bowl remains still. This leads to a greater number of touchpoints and even small quantities can be reached. In the other type of mixers, the beater remains stationary while the bowl moves in a circular motion. The ingredients don't get mixed up thoroughly and you also have to do a lot of manual scraping. (Then what's the point of owning a stand mixer right?)
Now once you understand what kind of stand mixers you need to look at in the first place, you then need to pay attention to what kind of features you want. Let's talk about basic tasks first.
A good mixer can easily whip cream or egg whites effectively.
It manages to incorporate air into sugar or butter mix for fluffy layers
And finally knead the dough, without moving all over the countertop.
These are the basic three tasks you want your stand mixer to do. How well they do these, depends on the power & efficiency of the motor. Generally, KitchenAid mixers and Cuisinart mixers that we have reviewed handle all this without a hiccup.
Now coming to bowl sizes, for a home-cook, a 4 or 5-quart bowl is more than enough. It can easily help you four dozen standard-sized cookies. If you are however an avid baker, then you can go up to 6-quart stand mixers, but you generally are not able to mix small batches, in such large sized bowls.
A lot of stand mixers these days, like the KitchenAid mixer series, come with a Power Hub, which can be used to operate a host of other accessories (like pasta roller, ice cream maker etc.) They all increase the versatility of your stand mixer and essentially make your mixer, the culinary center of your kitchen. You can easily go for a mixer that costs about 160 bucks, that handles all the basic stuff. But for about $60 more you get a more powerful and versatile mixer, that gives you all the power to go wild with your culinary imagination.
Finally, we would like to talk about the common concerns about a stand mixer. Firstly, the accessories you use with the mixer like the beater or the dough hook should be made of metal. The coat (especially nylon) over some accessories generally chips off. This exposes your food to harmful chemicals, so you are better with burnished metal accessories.
That's all you need to know before buying a stand mixer, and we hope all your queries related to the same have been addressed.