Disclosure: Some of the links below are affiliate links. This means that, at zero cost to you, I will earn an affiliate commission if you click through the link and finalize a purchase.
Looking for wine cooler reviews to help find make the right buying decision? Keep your wine smooth and aromatic the best wine coolers.
Best Commercial Wine Cooler
Edgestar CWR1661SZ: With a capacity of 332 and features that keep the wine fresh and lip-smackingly good, the Edestar CWR1661SZ is an absolute beast. A high-end product for restaurants and cafes to showcase their wine collection and keep it good.
Best Wine Coolers For Home Use
Kalamera 30 Bottle Cooler: Need a top-notch wine cooler for your home? With memory temperature function, a bolt lock, and design your guests are going to go gaga over, the Kalamera is the best in its class.
NutriChef 18 Bottle Cooler: However, if looking for something even smaller and aren't bothered about the fancy frills and thrills, the NutriChef 18 bottle wine cooler offers the best bang for your buck.
Quick Navigation
"Isn't my fridge enough to chill the wines?"
That's a question we often get asked and the simplest of answers is NO. But why? That's because a regular fridge may over chill it and room temperature may often be too hot. Plus there's the positioning. Place it wrong and you'll have the yucky sediment taste. So what do you do?
For the ideal storage solution, a wine cooler is a must but buying the right wine cooler can be tough. You have to choose between a single zone, double zone, and built-in or freestanding standing wine coolers and tons of other details (aaaaagh, sounds hectic, right?).
Well, KitchenGuyd did the digging for you to make the search hassle-free so your wine collection never goes bad.
Best Wine Refrigerator Reviews
Product
Details

Our #1 Pick For Commercial Use

Auto Amazon Links: No products found.

Edgestar CWR1661SZDUAL 332 Bottle Wine Cooler

The Edgestar CWR1661SZDUAL 332 Bottle Wine Cooler features digital temperature controls with LED display, with built-in carbon filter and tinted glass doors to protect the flavors of your wine collection.

---

Slide-Out Shelves
40-65 Degrees Fahrenheit
Side-By-Side, Each Holds 166 Bottles

Our #1 Pick For Home Use

Auto Amazon Links: No products found.

Kalamera 15" 30 Bottle Built-in Wine Cooler

The Kalamera 15" 30 Bottle Built-in Wine Cooler features LED control display to set the perfect chill temperature, and fits under your counter or can be a freestanding unit.

---

2 Layer Tempered Glass Door
40-66 Degrees Fahrenheit
Holds 30 Bottles

Auto Amazon Links: No products found.

NutriChef 18 Bottle Thermoelectric Wine Cooler

The NutriChef 18 Bottle Thermoelectric Wine Cooler features a handy digital touch button display panel and reinforced glass door with air-tight seal to maintain the perfect chilling temperature.

---

Built-In Circulation Fan
50-64 Degrees Fahrenheit (or Celsius)
Holds 18 Bottles

Auto Amazon Links: No products found.

EdgeStar CWF340DZ 34 Bottle Dual Zone Wine Cooler

With a touch LCD display, the EdgeStar CWF340DZ 34 Bottle Dual Zone Wine Cooler makes it easy to keep both reds and whites at the perfect temperature, and features security locks to keep your collection safe.

---

Dual Temperature Zones
41-54 and 54-64 Deg F
Holds 34 Bottles

Ivation 18 Bottle Thermoelectric Countertop Wine Cooler

The Ivation 18 Bottle Thermoelectric Countertop Wine Cooler offers superior insulation and digital thermostat controls for consistent temperatures during the delicate aging process.

---

Thermopane Smoked Doors
54-64 Degrees Fahrenheit
Holds 18 Bottles
In-Depth Wine Refrigerator Reviews
I remember the hours I have spent chatting up with friends at particular restaurants, cafes etc. because they had the perfect wine and food.
But for any commercial place storing tons of these bottles can be tough unless you have a pair of Edgestar CWR1661SZDUAL Wine Coolers and here's why we love them so much.
Design
The paired EdgeStar units can store a whopping 332 wine bottles in total, yes 332 (you heard that right), so you'll never run out of space.
And with the stainless steel finish, wood-trimmed wire shelves, and smooth interior lighting create an eye-pleasing contemporary look (this cooler is dressed to impress).
Further, adding to that is the tinted glass but there's more to the tint that just adding tot he spectacle.
It also protects the wine from UV rays, because in the end, it all comes down what's on the inside.
Functioning
Double the coolers mean double the benefits. You can now store your whites separate from the reds ensuring perfect temperature for both types (god, no it isn't the same).
Temperatures for each cooler can be adjusted from 45-65 degrees within seconds with just the touch of a button and the large monitor makes it easy to keep track.
But does just setting the temperature do the trick? No, your cooler needs to maintain that as well for even cooling and aiding that are the high-powered circulation fans.
Secondly, the built-in carbon filters keep out odors (because good wine isn't just about the taste).
And lastly, with the lock feature, you're wine's safe and secure so ones stealing your badass collection away from you.
Drawbacks but not dealbreakers
There's a famous saying, the best things are either illegal or expensive. While not illegal these EdgeStar coolers come with a premium price tag. But with high-end features and unmatched storage capacity, it's a buy the gods would be proud of.
Want to show off your wine collection in the best possible way at home? The Kalamera 15" Wine Cooler is the perfect fit with its top of the line features and a design to die for.
Design.
Being just 15" wide it can fit into tiny corners (so space won't be an issue) and it still manages to hold 18 bottles of wine, so you are never short on supply 😉
And hey if you need to store bigger bottles, simply remove the wooden racks and you are set.
Secondly, with the Built-in universal hexagon bolt lock, you don't have to worry about uneven temperatures (you like to drink wine at a set temperature, the Kalamera will keep it that way).
And finally, Double-Layered Tempered Glass Window shields your wine from those UV Rays and your wine tastes exactly like you want it to taste.
Functionality
The Embedded Carbon Filter gets rid of foul odors (because the charm a good wine lies in the smell too).
And compared to other compressor coolers, the Kalamera is noise and vibration-free (so now you can enjoy not just sediment-free wine but a sound sleep as well).
Working in tandem with the bolt lock to maintain internal temperature is the memory function. This automatically restores the previously saved temperature setting in case of a power cut (perfect for the forgetful you).
Drawbacks but not deal breakers
While there's not much to fault about the Kalamera, It's a single zone wine cooler so you'll not be able to store whites and the reds separately (a small drawback of another classy cooler).
All in all, it's the best wine cooler for home use and worth the premium cost.
Need a bigger wine cooler? The Kalamera 24" Wine Cooler 46 Bottle Wine Cooler is a great alternative. It is 24 inches wide and can store 46 standard wine bottles and comes with all the high-end features of the Kalamera 15" 30 bottle Wine cooler.
Its dimensions are W23.4" x H33" x D24.2" inches and can be used as a freestanding unit or installed at a specific location.
Who doesn't love to score a bargain buy, right? Good performance, low price, a win-win situation. No wonder the NutriChef Wine Cooler has become an Amazon best-seller.
Design
Sleek and sexy is what NutriChef seems to aim for with this wine cooler and boy they nailed it. This means it can easily fit under your kitchen island or be used as a countertop appliance. Adding to that are the black exterior and polished chrome racks that give an eye-catching look.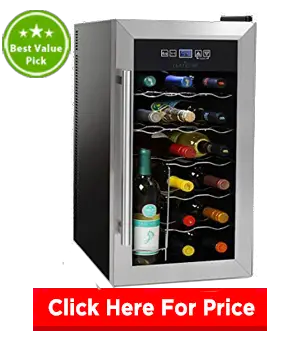 Also, with touchscreen control, the changing temperature is easy peasy.
The on/off LED lights and crystal clear glass let you keep a check on the wines without having to open the door (maintaining temperature is important, remember?).
Function
The Thermoelectric cooling system means it's super quiet (no more will the vibrations and noisy compressors of other cheap cooler spoil your sleep or wine).
The circulation fan in tandem with the ventilation grill and air-tight door seal keeps the optimum internal temperature so you're wine stays fresh and aromatic.
Drawbacks but not deal breakers
The sleek design means internal space is compromised making it an ideal buy for only those with a really small wine collection.
Also, the lack of carbon filters means leaving your wine in the cooler for too long can result in foul odor.
Lastly, it's single-zone cooler and thus only suitable for particular wines or champagnes (ones that require the same temperature).
In conclusion, if you're looking or an occasional wine cooler and need something on the cheap, the NutriChef cooler is your match of the day.
Being one of the top manufacturers, EdgeStar was always going to be hard to keep and this time it's a top-notch dual zone wine cooler so you can store more than just wines. Here's more about it.
Design
While large, the reversible door hinge gives you plenty of options when looking for a place to store the cooler.
The Stainless steel finish gives it an elegant look as it stands tall in your bar or living room. Adding to that are the soft LED lights that give a clear view of your collection so you can sit back and gaze at your babies anytime.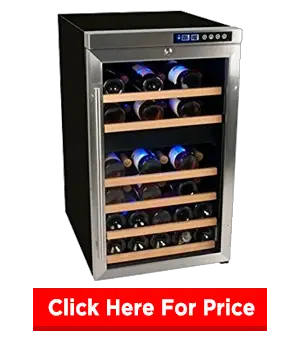 Function
The temperature in the upper zone can be adjusted between 41-54 degrees making it the ideal environment for your precious white wine collection.
And to the rescue of your red wines in the lower zone with a temperature range of 54-64 degrees.
While temperature shields the wine on the inside, the built-in lock shields it on the outside, preventing thefts or easy access to your kids while you're away.
While a compressor cooler, it's isn't as noisy as the cheaper buys and vibrates less keeping out sediments and letting you sip your wine in peace.
Drawbacks but not deal breakers
The glass lacks tint the higher end models have and thus your wines exposed to the UV light (avoid storing bottles for more than a few months).
But that aside, for any avid wine drinker his whites and reds are equally precious and this Dual Zone EdgeStar knows exactly how to keep both sets fresh and long-lasting.
If you're looking for a mid-range wine cooler that is compact, light and yet offers sufficient storage space, the Ivation 18 Bottle Thermoelectric Counter Top Wine Cooler is your best bet.
Design
The Ivation Thermoelectric Wine Cooler is 13.5 inches wide so you can either fit it into your kitchen or bar or use it as a countertop appliance.
The thermopane tempered smoked glass door combined with a solid polyurethane heavy foam insulation prevents UV rays, helps maintain a set temperature and humidity levels. It also creates an odor-free environment that maintains wine texture and aroma.
The 5 chrome racks are detachable to fit in bigger bottles. The soft interior LED lights provide adequate lighting and add to the looks.
Functionality
For the perfectly aged wines, the temperature is key (as you know by now).
With the digital simple touchpad, you can set temperatures between 54 – 64 degrees in seconds ensuring maximum flavor.
The thermoelectric cooling system is energy efficient and less noisy as compared to compressor coolers of the same range.
Furthermore, the low vibrations mean the wine sediments remain settled allowing the wine to age gracefully for the ideal texture and taste.
Drawbacks but not deal breakers
Even though small in size it cannot be used as a built-in unit and does not come with a lock, thus maintaining a consistent temperature is difficult as it's prone to constant opening.
The single-zone functionality does not allow you to separate reds from the whites and hence isn't the perfect cooler for those with a wide variety of wines.
Love both red and white wines? Both wine types require different temperatures for optimal taste and this where a dual-zone wine cooler like the Haier HVTEC16DABS comes in handy especially if you're on a tighter budget.
Design
The Haier HVTEC16DABS can hold 18 standard wine bottles (ideal for a small collection) and its sleek design makes it easier to place it in the kitchen, living room or the bar.
The curved Double Pane smoked Glass Door keeps out sunlight for optimal taste while the recessed handle adds a touch of class to the cooler. The subtle blue LED lights makes sorting out wines easier and adds to the appeal.
The 8 chrome racks store 2 bottles each and can be removed to fit in larger bottles if need be.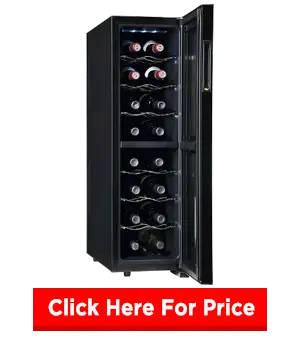 Functionality
The dual touchscreen controls help adjust the temperature of each zone separately making it possible to store both white and red wines at suitable temperatures.
Temperature can be adjusted between 54-66-degrees for the upper zone and between 46- 66 degrees for the lower zone.
The Thermoelectric cooling system ensures the cooler produces minimal noise and vibrations keeping the wines steady and surroundings peaceful.
This system requires less maintenance, is energy efficient and is less sensitive to surrounding temperature thus efficiently maintains a constant temperature.
Drawbacks but not deal breakers
The cooler lacks adjustable hinges and isn't compact enough to be installed into kitchen or bar cabinets or tighter spaces. Also, the vent requires open space for optimum functioning. With time the cooling system becomes slightly noisier.
Koldfront has been known to manufacture portable appliances that blend in perfectly with home interiors and the Koldfront TWR187ESS is in keeping with these expectations. It's easy to use, versatile, well designed and yet affordable.
Design
The stainless steel finish along combined with the tempered glass and the cool blue LED lighting provides the perfect internal environment and exterior display to show off your beloved wine collection.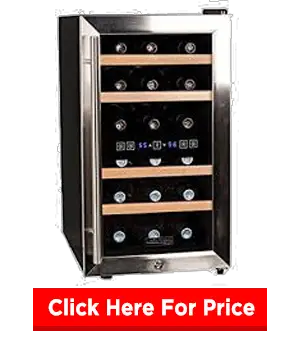 The Koldfront TWR187ESS Wine cooler can store 18 standard wine bottles. The 5 wooden shelves each has a storing capacity of 3 bottles and can be removed to fit in bigger ones.
The built-in lock keeps the bottles safe and secure and also helps maintain the required temperature in each zone by limiting opening and closing.
Functionality
The cooler comes with an LCD display and a soft-touch control panel which helps adjust the temperature for both the zones.
For the upper zone, the temperature can be adjusted between 54-66 degrees Fahrenheit and between 46° to 66°F for the lower zone thus helping separate white and red wines.
With the thermoelectric cooling system, your wines remain unmoved due to low vibrations and you can enjoy your wines in peace without paying exorbitant electricity bills as it's energy-efficient.
Drawbacks but not deal breakers
The wine cooler requires more space as compared to some of the other smaller coolers on the list.
Also, it needs to be opened with care as the shelves are smaller and bottles may often slip out if opened with a jerk (a broken wine bottle, nightmarish, isn't it?).
Last but certainly not least comes another top seller and while it may lack the fancy frills of the top models it makes, The Avanti EWC1201 is another great budget pick.
Design
The sleek and compact design of the cooler allows you to cram it into the smallest of spaces or use it as a countertop appliance.
It can hold 8 horizontal and 4 vertical, regular 750 ml bottles. The vertical storage system allows the storage of opened bottles.
Also, the racks are removable thus making enough room to fit in larger bottles.
The platinum finish along with the double-paned curved glass door and the chrome racks provides an elegant way to show off your collection.
Functionality
The cooler comes with a soft-touch digital control panel making it easier to check and manage the internal temperature.
The thermoelectric cooling system is energy efficient and does a decent job of maintaining a consistent temperature. It's also relatively less noisy and vibration-free, enough to keep the sediments undisturbed.
Drawbacks but not deal breakers
The thermoelectric system is reliant on the surrounding temperature and thus needs to be placed in cooler places for optimum performance.
Also, it lacks a lock but for a cooler less than $150, the drawbacks aren't real deal breakers and can be easily dealt with.
The Ultimate Wine Cooler Buying Guide
When buying a wine cooler it is important to buy a make and model that offers value for money for which makes it important to understand the different types of wine coolers and the various features each offer. So here are a few important factors that go into making the perfect buying decision.
Single Zone vs Dual Zone
Single Zone
Single zone wine coolers are often more compact and ideal for small spaces and come with a single cooling zone and controls. These coolers are ideal for people with a single type of wine collection i.e. either red or white.
Dual Zone
If you've got a collection of both red and white wines, you'll know that both require different temperatures which makes a dual-zone wine cooler a must buy.
The two zones come with different temperature controls and thus each set of wines can be placed under a suitable temperature. Also, these wine coolers are pricier and require more space.
Thermoelectric Vs Compressor cooling system
The thermoelectric cooling system is often considered better than compressor cooling systems as they are more energy-efficient and produce less noise and vibrations.
This means they provide a silent environment while keeping the wine stable and odor-free. Compressor cooling systems are less powerful and only suited for people with small or single wine collections.
Other Features
Ensure you find a wine cooler that can easily fit in your entire collection. Size of the cooler can vary from as low as 12 bottles to as high as 66-99 bottles but with the increase in storage, the price and space required also increases.
Also, ensure the racks are either wooden or chrome as these are easier to clean and require less maintenance. The racks should also be removable so larger wine bottles can also fit in if required.