Disclosure: Some of the links below are affiliate links. This means that, at zero cost to you, I will earn an affiliate commission if you click through the link and finalize a purchase.
Looking for the perfect faucet to complement your farmhouse style kitchen? Finding a good match can be tricky! Especially with all of the options out there.
I'm here to help inspire your kitchen design and provide you with some good farmhouse kitchen faucet ideas.
Some Farmhouse Faucet Essentials
First, let's start with the basics. There are many types of faucets available on the market, but farmhouse style may require a little more thoughtful selection than your run-of-the-mill selection.
Since farmhouse sinks are typically wider and deeper than standard kitchen sinks, two important elements of a farmhouse faucet should be present. And these two things are strictly utilitarian rather than design-focused, but bear with me…
The faucet needs to have a longer reach to get around when cleaning and doing dishes
It should have a higher water flow rate to accommodate the larger sink
And generally, in terms of design, farmhouse kitchen faucets often have a high-arc design. This lets you utilize your large basin-style sink to its fullest functionality without spilling water all over your floors and countertops.
Farmhouse Faucet Benefits
There's something special about owning a farmhouse kitchen faucet. It's not just the way it looks, but also the way it functions. A lot of people think that all faucets are created equal, but that simply isn't the case. Farmhouse kitchen faucets have a lot to offer in terms of both form and function. Here are just a few of the benefits that you can enjoy when you own one of these faucets.
Durability
First of all, farmhouse kitchen faucets are incredibly durable. They're usually made with a brass finish, which means it maintains the ability to withstand a lot of wear and tear. So you can rest assured that they'll last for many years to come.
Low Maintenance
Additionally, they're also quite easy to maintain. You won't have to spend hours scrubbing and polishing them to keep them looking new. And most metal polishers, cleaners, and household kitchen cleaning products will get the job done.
Made For Functionality
Another benefit of farmhouse kitchen faucets is that they're designed to provide you with maximum utility, so you can be sure that you'll get a lot of use out of them.
Simply put, they are sink faucets that are made and designed for people who like to be in the kitchen. If you're someone who likes to cook, then you'll appreciate being able to easily wash your hands or prep food without having to worry about getting water all over the place.
Aesthetic Appeal
Finally, farmhouse kitchen faucets also add a touch of style to your kitchen. They come in a variety of different styles and finishes, so you can easily find one that complements the rest of your kitchen's décor. Whether you want something traditional or something more modern, you're sure to find a farmhouse kitchen faucet that's right for you.
Farmhouse Kitchen Faucet Styles
When it comes to choosing a farmhouse kitchen faucet, there are many different styles and designs to choose from. Whether you want a traditional or more modern look, there's sure to be a style that will suit your needs. Here are just a few ideas to get you started in your search for the perfect farmhouse kitchen faucet.
Gooseneck Style
One of the most popular styles of farmhouse kitchen faucets is the gooseneck style. This type of faucet has a long, curved neck that allows you to easily reach all areas of your sink. These are available in both traditional and modern designs, as well as pull-down options, so you can find one that fits your specific style.
Pull Down Faucets
If you're looking for a more modern look, you may want to consider some of the more modern pull-down farmhouse kitchen faucets. These types of faucets feature a sleek, contemporary design that can really make a statement in your kitchen.
Pull-down faucets are available in both single and double-handled designs, so you can choose the one that best suits your needs. They can usually reach much further than the gooseneck faucet, and offer more range and mobility in any direction.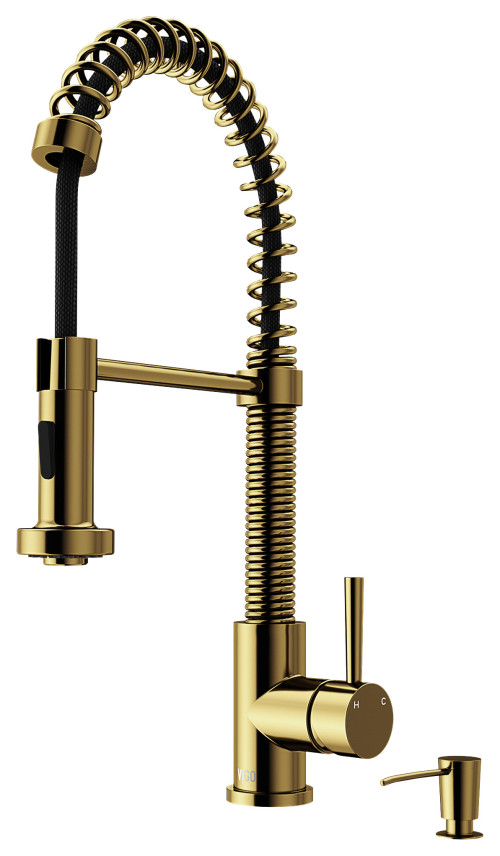 Bridge Faucet
If you're looking for a more traditional look, you may want to consider a bridge farmhouse kitchen faucet. Bridge faucets have two handles that are mounted on either side of the sink, and often come with a separate spout or handle to be used as a soap dispenser or sprayer.
These faucets are the most commonly recognized for a wide variety of sinks. These will give your farmhouse kitchen sink the ultimate old-school look and feel.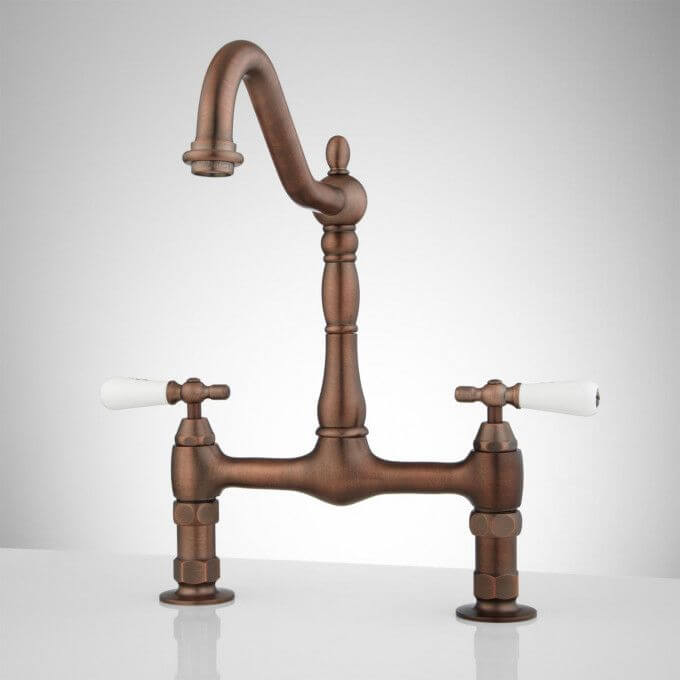 Wall Mounted Faucet
There is something charming about a wall mounted faucet. For me, when I see a faucet like this, I think of a quaint cottage with a fire burning in the fireplace.
Though the installation takes a little more thoughtful planning that your usual types of faucets, the look achieved by this design is well worth the effort.
For a unique farmhouse kitchen look, a wall mounted faucet will certainly do the trick!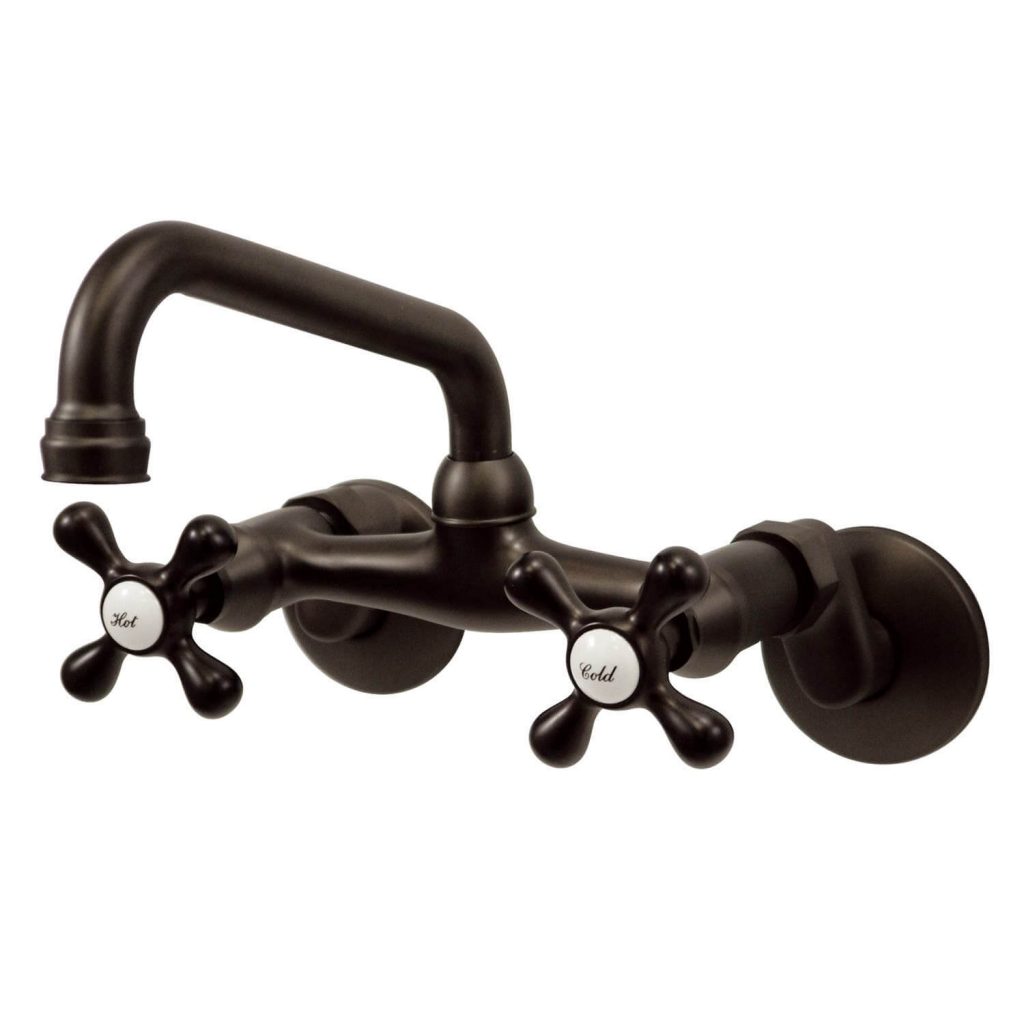 Farmhouse Kitchen Faucet With Soap Dispenser
Having a separately installed soap dispenser is both handy and pleasing to the eye.
Without the dispenser, you are stuck with using a pump dispenser that may not match your kitchen. Not only that, many soap bottles are made of plastic which eventually find their way into the garbage.
So why not incorporate unique style into your kitchen with a matching soap dispenser. It will be right where you need it every time.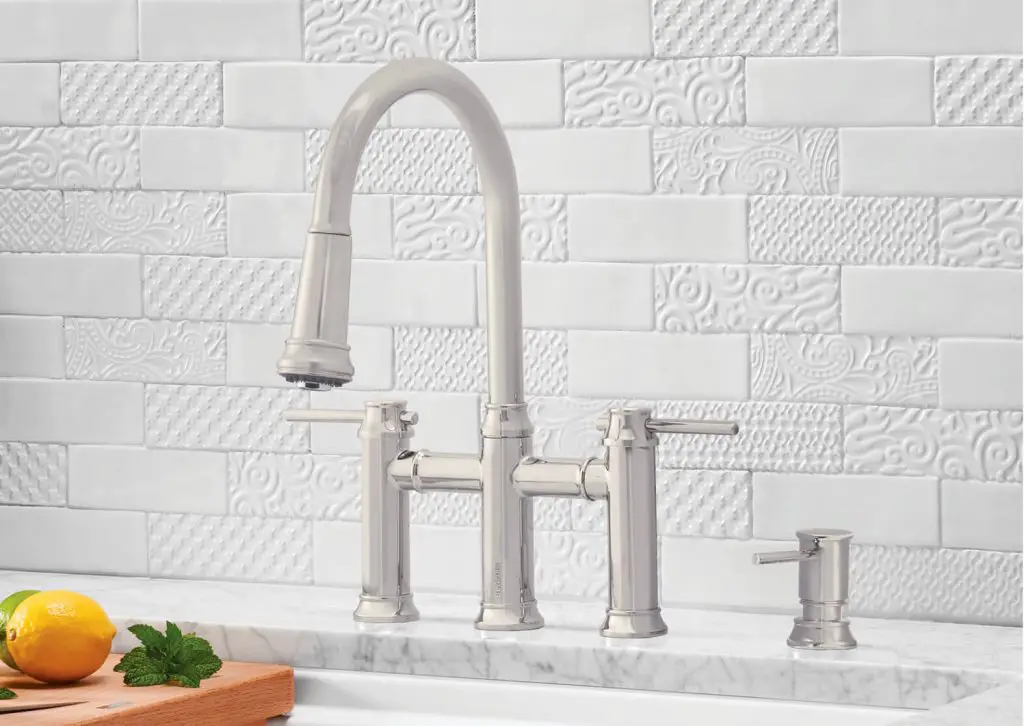 Farmhouse Kitchen Faucet With Side Sprayer
Though most faucets on the market come with built-in sprayers, there is still demand for separate sprayers. The main benefit of having a dedicated sprayer (not part of the faucet) is that it allows you to spray around the kitchen sink a little easier.
Not to mention, have you ever left the spray mode on your faucet? I have, and when I go to quickly wash my hands and end up getting bombarded with the sprayer, it's not ideal.
So why not have a dedicated sprayer to keep things in order!?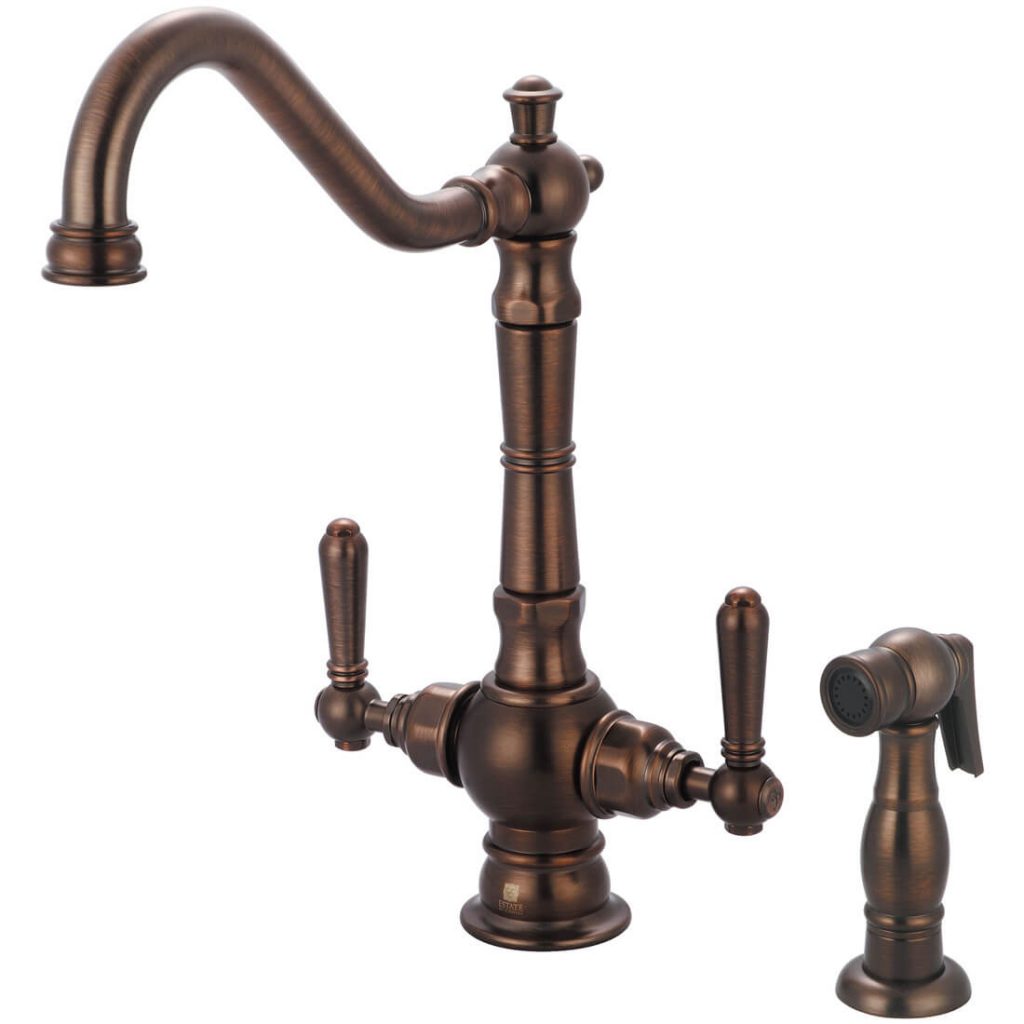 Rustic Look Faucets
The word "rustic" can refer to a number of different things, but some common characteristics include being old-fashioned, simple or unsophisticated, and rough or unfinished. Rustic furniture, for example, often has a handmade look with knots and imperfections in the wood. It may be painted or left natural.
Rustic decor often includes country-style elements such as gingham, plaid, and denim. The rustic style is often cozy and warm, with a focus on natural materials and textures.
A rustic farmhouse kitchen faucet is a type of kitchen faucet that is designed to have a rustic or antique appearance. Rustic farmhouse kitchen faucets are often made of materials such as brass or bronze. They often feature vintage-inspired details such as exposed pipes or distressed finishes.
Rustic farmhouse kitchen faucets can add a touch of charm to any kitchen, and they are a popular choice for homeowners who want to create a rustic or country-inspired kitchen design.
Modern Farmhouse Kitchen Faucet
Some people might consider something to be modern if it is new or up-to-date. Others might think that something is only modern if it breaks from traditional conventions.
In general, though, there are a few key characteristics that are often associated with modernity. A focus on progress, an emphasis on individualism, a rejection of traditional values, and a focus on technological innovation. Of course, not all modern things need to have all of these characteristics. But they are often seen as being indicative of a modern sensibility.
In general, modern farmhouse kitchen faucets tend to be more minimalist in design than traditional farmhouse kitchen faucets. They also often incorporate more contemporary materials and finishes, such as stainless steel or brushed nickel.
Additionally, many modern farmhouse kitchen faucets have features that are designed to make them more functional and user-friendly, such as pull-out sprayers or touchless activation.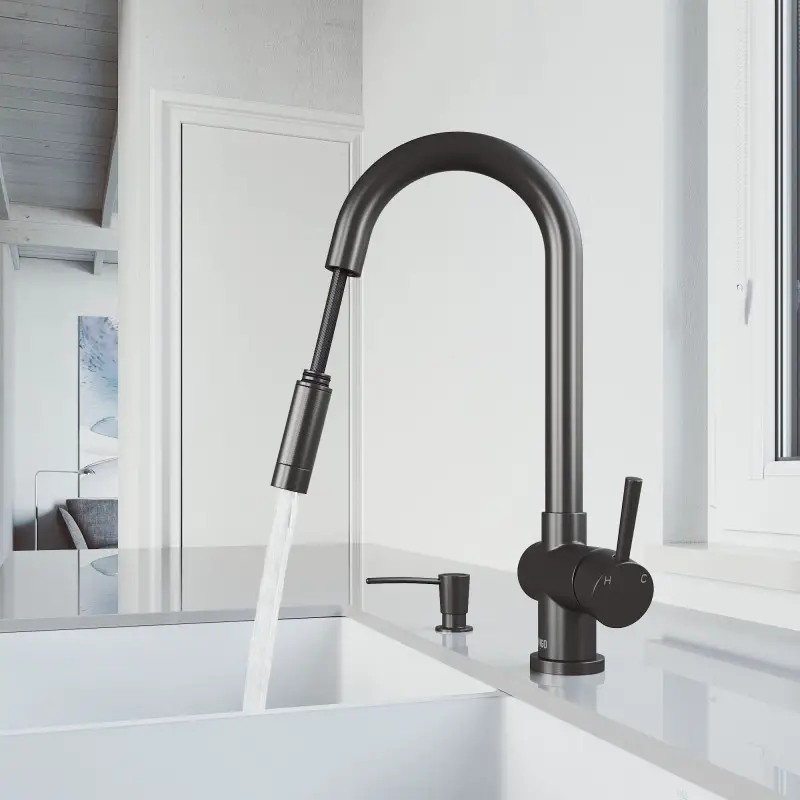 Vintage Farmhouse Sink Faucet
Some people might consider something to be vintage if it is from a certain era or if it has a certain style directly linked to a defining characteristic of the past. Others might consider something to be vintage if it is rare or unique. Ultimately, the definition of vintage is subjective and up to the individual. But ultimately denotes that something looks like it is from the past.
A vintage farmhouse kitchen faucet is one that is designed to resemble those that would have been used in a farmhouse in the past. It seeks to maintain authenticity to the functional farmhouse kitchen sinks that were once used. They often have a more rustic look and feel to them.