Disclosure: Some of the links below are affiliate links. This means that, at zero cost to you, I will earn an affiliate commission if you click through the link and finalize a purchase.
Check out our In-depth Under Sink Water Filter Reviews, comparison charts and top picks to help you find the Best Under Sink Water Filter for pure water.
Premium Under Sink Water Filter
Home Master 7-Stage Reverse Osmosis Filter: The Home Master RO is everything a home RO system should be. It purifies water, re-mineralizes it and unlike with under sink water filters, the battery-operated pump and large fittings ensure water flow remains at optimum levels and wastage is reduced by 50%.
Budget Under Sink Water Filter
APEC Top Tier 5-Stage Reverse Osmosis Filter: Not all good things have a premium price tag and the APEC Top Tier Filter is just another example of it. While it lacks a remineralization system, it still cleans 1000+ pollutants and automatically shuts off once the storage tank is full to reduce wastage.
Under Sink Water Filter by Type:
Do your kids regularly complain about an upset stomach or are they suffering from other water-borne diseases? Ever spurt water out of your mouth because it was so disgusting? Does the water not taste as good as it once did?
Not using a good RO Filter means risking the health of your loved ones (not something you'd want right?). So to help you put an end to such troubles we picked out the best under sink water filter.
These picks are easy to install, convenient to use and service and don't take up any counter space. So let's get right into it.
Top Rated Under Sink Filtration System
In-Depth Under Sink Water Filter Reviews
If you're a health freak with no budget constraints the Home Master Reverse Osmosis Filter offers the perfect under sink filtration solution for your home but what is it about this filter that makes it so good? Do its features really justify its hefty price tag?
We put it to the test and here's everything we found out.
Unmatched Cleaning System
While you can get 5 or 3 stage filters for cheaper prices, if water purity is of utmost priority, we'd say, the more the merrier.
With its 7 stage reverse osmosis filtration system, it gets rid of 99% of pollutants. Be it simple sand, dust or dangerous pollutants like arsenic, radium, chlorine etc. with its carbon filters and effective RO membrane it will purify water all day long.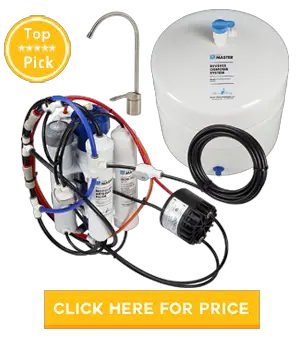 But here's where Home Master stands out. With most filters leaving the pure water for too long in the storage tank means its acidic nature dissolves some of the rubber bladder (oops, not what you'd expect from your filter, right)?
Well, the Patented re-mineralization technology of the Home Master loads up the water with calcium and magnesium not once but twice (yup, it isn't your ordinary filter).
This lowers water's pH level resulting in not just a longer lasting storage tank but also purer and better-tasting water.
Also, with the power of 254 um UV light the filter eliminates 60+ germs, viruses, bacteria and other microorganisms.
Convenience
While we do change the filters regularly, do you ever pay attention do the canister filter housing? Do you know what happens when it's not changed for long? It's likely bursts open flooding your entire home. Scary, right? Well, not if you own this Home Master Filter.
The Modular All-in-One Design means the filter is placed into the housing and thus easily changed every year so this bad boy will last you for years. Also, it teamed together with the push-in fittings mean servicing the filter is hassle-free so no bodybuilders or wrenches required here.
Lastly, the Brushed Nickel Faucet fits in well with all kinds of kitchen interiors while the Fridge Connection Kit lets you connect the filter directly to your refrigerator for on the go cold water supply.
Flow Rate
A slow flow rate is common RO filter problem but not with the Home Master. The Fast Flow RO Kit comes with larger fittings and thus guarantees double the flow rate so cleaning veggies or any stained dish is faster and easier.
Secondly, with the non-electric permeate pump, the Home Master saves up to 80% more water and raises production by 50% making it one of the most water efficient models on the list (save water, save the planet, be a hero ;)).
Verdict
Feel the cost is too high? Are you willing to compromise on water quality? If not, the Home System Filter with its excellent filtration system, convenient clean-up, servicing and a high flow rate is worth every penny.
Need something slightly cheaper? The iSpring RCC1UP-AK is the ideal pick. iSpring is one of the most trusted brands when it comes to filters and this model is just another example of it. Here's why we recommend the RCC1UP-AK.
An Excellent Purifier
The 7 stage filtration process includes multiple carbon filters that clear 1000+ pollutants while the RO membrane can filter 100 gallons per day so there's plenty of clean water always on the go.
And teamed together with the regular alkaline re-mineralization filters are red mineral stones that take the health quotient up a notch by adding back lost minerals like magnesium, calcium etc.
Lastly, the 11-watt ultraviolet sterilizer gets rid of the viruses and bacteria and turns on/off automatically as water flows saving you a couple of bucks on the electricity bill.
Convenience
Firstly, the filter comes with a transparent 1st stage housing so you're never too late to change the filter.
Secondly, the use of multiple types of filters not only cleanses water better but ensures each filter functions at optimum levels and lasts longer (yeah, it's an investment built to last).
While the push-in fittings and free chrome faucet makes installation and servicing easier. And in case you have any doubts, check out the video guides or connect with their support team as they're always ready to help.
Flow Rate
Worried about the slow flow rate? That's where the booster pump comes in handy. It fastens flow rate and reduces wastage and guess what? It's silent too.
Drawbacks but not deal breakers
While its feature rich the filter certainly has few drawbacks. It requires regular maintenance or starts to leak over time. Also, installing this filter isn't the easiest but with the video guides and supportive customer team, soon enough, you'll be a pro at it.
Verdict
Being a top-notch brand, iSpring clearly is one to consider. With minimal drawbacks and maximum features, it's definitely worth its relatively high-cost.
On a tight budget? The APEC 5 Stage Reverse Osmosis System is the perfect blend of excellent features and affordable pricing (no wonder it's a best seller).
So is it just the low pricing that makes it a hit amongst buyers? Let's find out.
5 Stage purification
While it's just a 5 stage filter the double carbon blocks are equally effective and can rid the water of 1000+ contaminants such as chlorine, arsenic, lead and even viruses and bacteria to ensure safe, healthy yet tastier drinking water.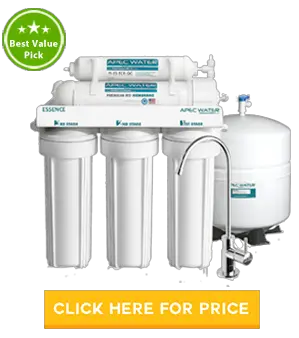 Convenience
The stainless steel teeth combined together with the unique O-rings ensure optimum grip and 0% leaks (Nah, this one's not flooding your house).
With the push in fittings setting up and cleaning the filters becomes easy but in case of any trouble just refer to the installation videos or detailed instructional manual.
Also, to reduce water wastage, the filter automatically shuts down each time the tank is full (perfect for the eco-friendly people).
Secondly, it also comes with a lead-free chrome faucet that goes well with the interiors and saves you a few extra bucks.
And lastly, the filter system is WQA certified and to top it all off, you get a free lifetime support service
Drawbacks but not deal breakers
Yes, the filter lacks a re-mineralization filter as it's just a 5 stage filter but it's double carbon filters ensure the water is purer than most other filters at this price range.
Also, since it lacks a motor the water flow will be restricted, something you can always get as an add-on.
Verdict
The APEC Top-Tier Filter lacks the fancy frills and thrills like the higher end filters but for a model that costs less than $200, it's certainly the best under sink water filter for any budget buyer.
At number 4 on our bandwagon of under sink water filters comes in the Global Water 5 stage Reverse Osmosis System.
Global Water Solutions Ltd. has been known to manufacture cheap yet durable products and that's what the RO-505 is about. Here's what we love about it.
5 Stage Filtration
It's 5 Stage filtration process clears 99% contaminants and produces about 50 gallons of fresh water each day.
The first 4 filtration layers rid the water of any dust, sand and also the more hazardous chemicals like arsenic, chlorine, fluoride. While the final stage ensures the water is tastier (no yucky smell and taste making you want to spit out the water).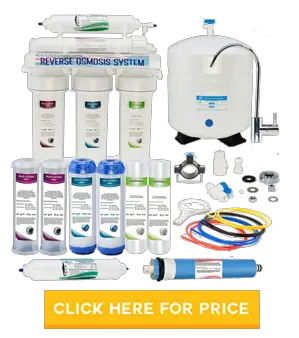 Convenience
With the Quick Connect fittings and color-coded pipes, installation or servicing is simple (no wrenches or other big tools needed here). Plus you get an additional set of 4 filters and yes, it's absolutely FREE.
Further, since the package also includes a faucet so you'd face no compatibility issues.
Also, the filter's automatic shut off feature means you'll be wasting less water while its quiet operation ensures absolute peace of mind.
Drawbacks but not Dealbreakers
The RO system lacks the ability to re-mineralize the filtered water and while still pure its certainly going to lack in taste.
Secondly, with regular use, the filter becomes prone to leaks and bursts so make sure you run a maintenance check once a month.
Plus, the pump is sold separately and thus adds to the overall cost. So do you really need the pump? Well, definitely, unless slow water pressure is something you're ok with.
Verdict
It's 5 stage filtration, quick connect fittings and free additional filters certainly make it an attention grabber and is an ideal buy for those on the lookout for a cheap under sink filtration system.
With an NSF certification, the Aquasana 3-stage Under sink filter is clearly one to keep an eye on especially if you're looking for filter system on the cheap but since it isn't a reverse osmosis system like our other picks, is it still an effective RO system? Lets' find out.
3 Stage Filtration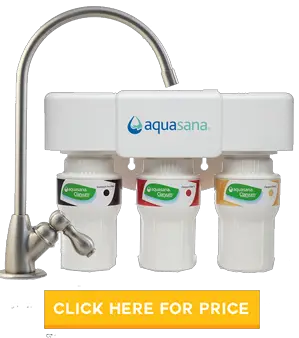 Unlike our other top picks, this Aquasana filter comes with only a 3-stage filtration process, so is it equally effective? Do you still get clean water?
Absolutely, with Claryum technology the filter clears the water of about 86 harmful substances like lead, mercury, asbestos etc.
Also, the selective filter system ensures the water isn't stripped of the good healthy minerals like calcium, magnesium etc. (a common problem with other 3-5 stage filters).
Convenience
A standout feature of this RO is the filter alert system so there's no guessing, you know exactly when it's time for a change, a feature few filtration systems offer.
Secondly, it's compact design along with the twist on/off filters makes installation and replacing filters a breeze so you'd not need any big tools for this one.
Lastly, you have a choice of 3 faucet finishes so you can pick one that best matches your kitchen's interiors, another exclusive feature offered by Aquasana.
Drawbacks but not Dealbreakers
The 3-stage filtration process means not all contaminants or germs are removed so water may taste slightly chemical. Also, customers have reported leaks and bursts. In other words, it's a high maintenance water filter.
It only purifies only 35-40 gallons of water in a day and since it doesn't come with a pump, water pressure is low and water wastage slightly higher than other models.
Verdict
Yes, the Aquasana has its share of flaws but considering it costs you less than $150, it's 3 stage filtration system is perfect for a cheap and quick fix to your water problems.
Features of an Under Sink Water Filter
Here are a few top features of the Under Sink Water Filter which makes it such a popular water filter type among the customers:
Easy to Install
Most water filter for residential purposes are easy to install and can be done by the user itself and under sink water filters are certainly no different.
So, you can get any under sink water filter and install it yourself or you can hire a professional to do it for you, the whole installation process is not going to take more than 30 minutes.
Small and Compact in Size
One of the best features of the under sink water filter is that it is small and compact in size so it can be easily installed in a big house or a small house.
If you have a small kitchen then you can easily place your under sink water filter beneath the kitchen sink so that your kitchen doesn't look too small or cluttered.
Helps in Space Conservation
Since this type of water filters are small and compact, you can save a lot of kitchen space by storing it beneath your kitchen sink.
Even if you have a big kitchen, you don't need to take up space on the counter as this water filter works exceptionally well from beneath the sink as well.
Cost-Efficient
The under sink water filters are one of the most affordable water filters in the market as they are inexpensive and have low upkeep costs as well.
Easy to Maintain
One of the greatest features of under sink water filters is that they don't require any kind of regular maintenance, all you need to do is just replace the filter regularly and you are all set to use your water filter system.
This is why this type of water filter is perfect for people who don't like indulging in too many maintenance tasks and would like to install an easy and convenient water filter at their home.
Varying Models
You will find different types of filters available in this water filter type in which some filters will remove only the odor and taste from the water while other filters will get rid of germs, bacteria, heavy metals, and so on. You have