Disclosure: Some of the links below are affiliate links. This means that, at zero cost to you, I will earn an affiliate commission if you click through the link and finalize a purchase.
Need a stand mixer for your bakery? Read our in-depth review of the Kitchenaid Professional 600 series to find out why it's the ideal choice.
This one's a complete workhorse and can help average home cooks churn out fluffy layers of cake that can put even the most reputed bakers to shame. It is loaded with features that make the Kitchenaid Professional Mixer 600 culinary center of your kitchen. Here is our review of this beast.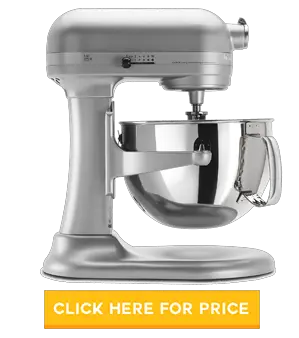 Initial Impressions
It comes with all metal housing which makes the exterior quite durable. You get a flat beater, a dough hook and wire whip along with the mixer and the bowl.
Attaching the bowl to the mixer is fairly simple, however, we would recommend going through the user manual once. It comes with variable speed control, a powerful 575 motor (that can handle the thickest of dough), and a hub for attachments which makes the machine versatile.
Powerful Motor
You can easily knead the dough for three to four loaves of bread with this. The 6 quarts bowl is spacious enough and with the 67 touchpoints, the dough is thoroughly mixed. We don't recommend speed higher than 2 while kneading, as it can cause the motor to heat.
It can easily whip egg whites, prepare dough for cookies, prepare batters for cheesecakes, mix potato mashes and a lot more. The variable speed option helps to give different kinds of batter a more thorough mix.
It comes with a soft start feature, which reduces splatters and if the motor gets too hot, it will stop working.
Overall it can handle almost anything you throw at it, however, if you cook relatively small batches like one egg white and cream, Kitchenaid Artisan will do a much better job.
Versatile
If you have a small kitchen and struggle to store all those appliances, then the professional 600 will provide to be the ideal all-rounder. You can use over 15 different attachments, which can be easily attached to the hub.
Attachments like the pasta maker, meat grinder, ice cream maker and sausage stuffer will make this the most dependable appliance in your kitchen.
Getting these attachments proves to be cost-effective too (considering you won't have to buy different appliances) and gives you the much-needed space in your kitchen.
Durable
The KitchenAid Professional 600 uses a sturdy metal and a highly efficient motor. This makes it one of the most durable stand mixers you can buy. Customers have been using this for over 20 years and it continues to mix heaviest of batches with ease.
Cons
Everything is not right with this machine and the biggest complaint users had with this was the noise. It's a loud machine! KitchenAid has used metal gears with this to give it more power and this is what makes this machine noisy.
Also, there is something we will like to clarify, there is absolutely no plastic used in this machine. Earlier models used a plastic housing but Kitchenaid Mixer Professional has stopped their production and all new models come with an all-metal build.
Recommended For
If you make your own bread or if you prepare batters for cake on a regular basis, then this is a must-have machine.
You can prepare larger batches with more consistency. Putting different attachments to use, you can replace many appliances and use this one single machine for most of your culinary needs.