Disclosure: Some of the links below are affiliate links. This means that, at zero cost to you, I will earn an affiliate commission if you click through the link and finalize a purchase.
Find our indoor grill reviews, comparison charts and buying guides to help you buy the best indoor grill for the perfect sandwiches and burgers.
Best Indoor Grill for Home
Breville BGR820XL: If you're looking for an all-purpose indoor grill and shopping without budget constraints the Breville BGR820XL is hands down the best. With an adjustable height, multiple grilling modes and unmatched cooking technology, you'll have your money's worth within the first use.
Cuisinart GR-4N Griddler: However, if you're in for a budget model, the Cuisinart GR-4N Griddler is a great alternative. It is easy to clean and is a 5-in-1 grill making it the perfect blend of great functionality and durability for an indoor grill costing less than $100.
Quick Navigation:
Anyone looking for a high-quality grill has a hard road ahead of them. There are so many different possible models and types from which you can choose such as electric griddles, sandwich makers, contact grills, etc. and trying to find one that suits your unique cooking needs can seem impossible at times. Thankfully, a large number of manufacturers have created grills that stand ahead of their competitors.
That's why we've compiled this list of incredible indoor grills. The following seven are the best grills you'll find this year. First, we'll discuss our top choice to give you an insight into the best features to look for in a grill. Then, we will discuss the best budget model and all other choices on this list. In this way, you'll have an insight into the top indoor grills on the market this year.
Best Indoor Grills
Product
Details

Our #1 Pick

Breville BGR820XL Smart Grill

With flat and ribbed cooking plates, the Breville BGR820XL Smart Grill features multi-mode operation with digital thermostat control to give you grilling perfection every time.

---

Adjustable Height
Removable DW-Safe Plates
Opens Flat for Large Surface

Cuisinart GR-300WS Griddler Elite Grill

With dual digital temperature controls for reversible top and bottom plates, the Cuisinart GR-300WS Griddler Elite Grill offers a versatile solution for your indoor grilling needs.

---

Locking Adjustable Height
Reversible Flat/Ribbed Plates
6 Cooking Options

Value for Money Pick

Cuisinart GR-4N 5-in-1 Griddler

With easy-to-use knob selector controls, the Cuisinart GR-4N 5-in-1 Griddler includes gourmet recipes and scraping tool to simplify your indoor grilling and griddle solution.

---

Floating Cover Self-Adjusts
Reversible DW-Safe Plates
Opens Flat for Large Surface

Auto Amazon Links: No products found.

George Foreman GRP4842MB Multi-Plate Evolve Grill

The updated George Foreman GRP4842MB Multi-Plate Evolve Grill features top surface digital controls and dishwasher safe removable plates, with additional plate options sold separately to offer versatile cooking solutions.

---

Adjustable Cooking Angle
Ribbed Ceramic & Waffle Plates
500 Deg Searing Burst

Cuisinart GR-150 Griddler Deluxe

With dual heat controls including searing option, the Cuisinart GR-150 Griddler Deluxe offers versatility with easy-to-use classic knob controls and dishwasher safe plates.

---

Locking Adjustable Height
Reversible Flat/Ribbed Plates
Opens Flat for Large Surface
In-Depth Indoor Grill Reviews
Breville makes high-quality grills that provide you with many unique benefits. This particular model is our top choice. Why? It provides you with the best variety of incredible amenities and features. It is also one of the easiest-to-use and reliable models on the market. Below, we will list three of its best features to give you an idea of why it tops our list.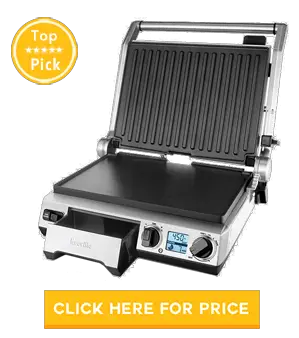 Element IQ Technology
Each burner in this grill comes with embedded heat sensors. These detect any heat drops that occur when cold food is placed on the grill. When it detects this temperature change, it will automatically adjust it to warm it back up again. This benefit allows you to cook your food faster and evenly. It also keeps you from suffering from food-borne illnesses.
Even better, it creates a great sear and sizzle quality that cooks your food more quickly and with a richer diversity of flavors. We particularly love the way that it automatically causes your meat or veggies to sizzle and enjoy hearing the sound it makes as it cooks.
Adjustable Heights
If you are looking to use your grill for multiple types of food, you can adjust its height to allow in different foodstuffs. For example, you could add in thicker steaks or a heavy concentration of delicious broccoli. However, you could also tweak it to allow a more even cut on thinner meats, such as ham or some cuts of chicken.
The nonstick plates used in this height-adjustment tool are made from stainless steel. As a result, they are less likely to get stained or suffer from rust and other weathering problems. This stainless steel construction is common throughout the rest of the grill.
Multiple Grilling Modes
Each model of this grill can be adjusted to two different modes: panini and barbecue mode. The first choice lets you create high-quality panini sandwiches quickly and efficiently. The other opens up the grill to let in a wider variety of foods. As a result, you can save money by avoiding having to buy multiple grills to serve these same two purposes.
Final Thoughts
As you can see, this grill offers you one of the most diverse and engaging grilling experiences on the market today. While we admit it may seem a little expensive when you research prices, we truly believe that it offers you one of the best possible grilling experiences today. So check it out!
Here's another fun Cuisinart that may suit your unique cooking demand. What we like about this particular model is its diverse range of uses. In fact, it is probably the most diverse and easy-to-use grill on our list. In our features list, we will break down these multiple grilling techniques and provide you with an insight into why it is a good choice for your needs.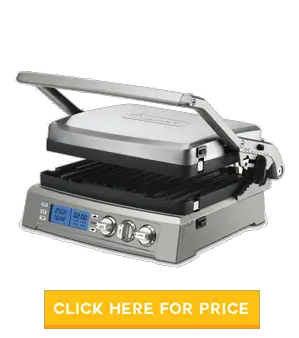 Six Cooking Options
That's right; there are six different ways that you can cook on this grill. You can use the contact grill to cook your meat and vegetables. You can then close it up to create a useful panini press. However, you can also use a full griddle, full grill, an option between both sides, and a top melt that lets you melt various foods in an easy way.
What makes these options so great is that they can be set by a single button. Rather than adjusting heat levels or flustering with other control options, you simply position your grill properly and press the right control button. At this point, your food will cook quickly and easily, creating delicious meals in no time at all.
Dual-Zone Temperature Control
Grills like this have two halves that can be used in various ways. As mentioned above, you can press them together to make delicious paninis or grilled cheese sandwiches. However, this Cuisinart does something we'd like to see more grills do; provide you with a dual-zone temperature control system. That's right, you can set two different temperatures on both sides of this grill.
As a result, you can cook different types of food at the same time. For example, you could set one side for the light-heat level needed to fry most eggs. Then, you could set the other half for a higher-temperature fry for sausage or bacon. The possibilities are almost endless with this option.
Quick Searing Option
Searing your meat or vegetables gives them a restaurant-quality taste that is hard to get at home. By selecting this quick heat option on this Cuisinart grill, you can sear your meat quickly and get the kind of mouthwatering tastes you've been craving. More grills need to integrate this great feature.
Final Thoughts
There's a lot to like about this grill. We're particularly fond of the multitude of grilling options it offers. We're also quite pleased with its searing option. While not our favorite grill on the market, we would definitely not turn one down.
The last Cuisinart grill we'll examine is this fun little unit. Its name kind of says a lot about its quality: it is designed to be a multifunctional grill that suits many different grilling situations. We'll examine these functions below in greater detail, as well as a few other features that make this model stand out from others like it on the market.
5-In-1 Functionality
When you use this Cuisinart, you get access to many different grilling options. It can create flat and delicious pancakes, rich and juicy sausages, rich and flavorful burgers and steaks, creamy grilled cheese sandwiches, or the mighty panini. All of these options are easy to make and understand and can be tweaked in a multitude of ways.
By focusing all of your grilling needs in one handy tool, Cuisinart is saving you a lot of money. For example, you won't have to buy a specialized grilled cheese grill or a sausage cooker. Instead, you can simply adjust a few knobs and get ready to cook your food.
Simple Control Scheme
When you are looking to use this grill, you likely don't want to spend a lot of time messing with complex controls. Thankfully, you won't have to with this model. Like all Cuisinart tools, it has been tweaked to be as streamlined and efficient as possible. In this way, you won't get confused when grilling or make a mistake that ruins your food.
For example, it is labeled with simple temperature controls that can be adjusted to a precise and accurate heat level. On the front, it has a variety of light indicators that let you know when it is time to add or remove your food from the grill. This streamlined approach makes it a grill that is easier to understand and reliable for many cooking situations.
Easy Cleaning Method
Like other Cuisinart Griddles of this type, this model has been adjusted to create an easy-to-clean surface. Simply open it up, remove the plates, wash them in the sink, rinse them off, reinstall them, and your grill is ready to go. With such an easy clean method, it is simple to keep this grill free from grease and dirt buildup.
Conclusion
While we have highlighted many great Cuisinart grills on this list, we have a soft spot for this one. It's not their most powerful or durable model, but it has the kind of diverse range of use we like to see with our griddles. This is a great choice for dorm students or bachelors who need a quick way to cook many types of food.
Last, but not least, is one more George Foreman grill. We're surprised that so many of these popped up on our list, but we can't deny their high-quality. This last grill uses an updated grilling system that makes it a great choice or a multitude of different grilling experts.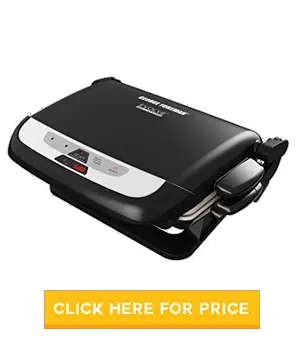 Interchangeable Plates
The main thing that sets this George Foreman grill apart from the others on this list is the use of the Evolve Grill System. This system requires the use of multiple different interchangeable plates. Each of these plates has been designed for a specific type of food, such as eggs, sausage, burgers, or even many types of delicious vegetables.
While this might seem like a pain in the butt, it is actually a major boon. Instead of relying on one single set of plates, you can create a more specific and exact grilling experience. As a result, your food will be cooked more fully and have an overall better taste.
Multiple Grilling Angles
Good grills typically allow you to adjust the angle at which they grill. Why? This action allows you to cook in multiple different ways. For example, laying it flatter allows you to bake your food in a manner that is different from frying. To fry food, you will need a slightly different angle, one that this grill can achieve with just a few simple tweaks.
Start by choosing the type of cooking you want to perform and then adjust the handle to that type. You can also create more precise grilling angles in a similar way. Don't hesitate to experiment with this approach to make your own new style of grilling.
Searing Ability
Where many grills let you down is a lack of true searing abilities. Searing allows you to create that rich and well-cooked flavor that you get from restaurant burgers. Thankfully, this George Foreman grill has a high-heat searing option that will quickly produce up to 500-degree Fahrenheit heat. As a result, your food will have the delicious seared taste you've been craving.
Final Thoughts
Another day, another great George Foreman grill. They really work hard to fine-tune these grills in fun and unique ways. The searing option is a particular favorite of ours, though we also like the angle adjustment process. Try this one out if you want restaurant-quality meat in your home.
Cuisinart is a company with many years of experience providing great kitchen items. At one point, their name was almost synonymous with food processors and cooking equipment. While they aren't as hugely popular as they were in the past, they are still producing great items that sell well. This grill is one of their best products and one of the best seven grills on the market.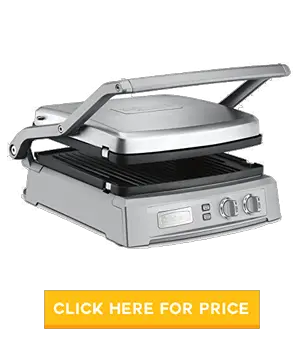 Multiple Grilling Options
Each model of this Cuisinart grill gives you the chance to adjust its grilling method. For example, you can use it as a contact grill to cook burgers, meat, vegetables, and much more. This option makes it a great choice for indoor or camp grilling. However, you can also close its sides to create a powerful panini grill that is among the best on the market.
These multi-function grilling options make it a great choice for someone who plans on using their grill regularly. They won't have to struggle to find a reason to use their pricey grill investment. Instead, they'll be using it to cook meat and other high-quality products.
Compact Construction
Have you been trying to find a grill that is high-powered but which will also fit in your kitchen? It is a battle that many homeowners think is impossible to win. However, that is not the case at all. Compact grills like this Cuisinart have been designed with the modern kitchen in mind. Rather than struggle to fit this grill into limited counter space, you can store it when it isn't in use.
In fact, it should be small enough to fit in just about any cupboard in your home. This means you can take it out when you want to use it, clean it off when you're done with the cooking, and then store it again when it's finished being cleaned. However, you can also simply leave it out on your counter, as it will take up very little room.
Stainless Steel Construction
For a grill to be worth your time, it should be built using a reliable and sturdy material. This great grill uses tested and approved high-quality stainless steel. As a result, you won't have to worry about it breaking down or suffering from serious weathering damage. It also won't rust when you wash it, as long as you avoid burning or scratching its surface.
Final Thoughts
Cuisinart rarely lets its customers down, and they certainly didn't with this grill. While it's not quite good enough to get top marks on our list, it is a more than worthwhile addition to just about any home. Consider it if you want a compact and diverse grilling experience.
The infamous George Foreman Grill has been unfairly satirized over the years. While it is easy to joke a bit about George's appearance in these ads, his grills really do offer you a high-quality experience. In fact, we believe that this grill is the best budget model on the market. Here's what you can expect from this fun and quirky little grill.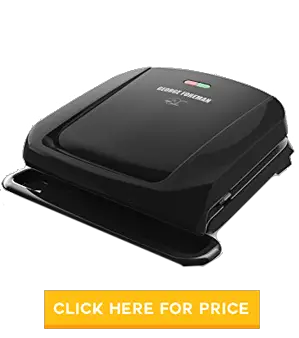 Fat-Removing Design
The major benefit of the George Foreman Grill is the way that it separates unhealthy fats from the rest of your meat. When you grill with this model, it automatically presses fat from your foods and collects it in a grease trap. As a result, you can get a reduced-fat burger or steak that retains the natural tastiness and texture of the meat.
We've found that people looking to lose weight or drop their cholesterol count loved this grill. It let them eat the grilled meat that they loved and provided them with a heart-healthy diet. Consider this model as a gift for a loved one who needs a little help in losing some weight.
Non-Stick Coating
When the George Foreman grill was originally released, it touted the use of a non-stick coating. Fans of the grill loved the way it prevented their meat from sticking to the grill and becoming inedible. That non-stick surface is available on this grill, but it has been enhanced by doubling the dose of the coating applied to the grill.
As a result, it provides an even more reliable non-stick surface that will last for years. This durable quality makes the George Foreman grill the kind of item you can find in somebody's house 10 or even 15 years after they initially bought it.
Easy Cleaning Design
Cleaning up a grill can be an exasperating process if it isn't done properly. Thankfully, this grill has easy-to-remove plates that can be washed in the sink or even in a dishwasher. Once they have been cleaned, they can be reinstalled to use the grill again and again.
Final Thoughts
While most George Foreman grills are pretty reliable, this one tops them all. We are particularly fond of its low price. You really can't find a grill of this type and of this quality for any lower. So consider it if you're on a difficult or rather strict budget.