Disclosure: Some of the links below are affiliate links. This means that, at zero cost to you, I will earn an affiliate commission if you click through the link and finalize a purchase.
I have lived in apartments and small homes that have a kitchen without a pantry. I love pantry storage space. But I have learned that a well-organized small kitchen is so much better than a large messy one!
Pantries Have Their Challenges
There are positive aspects to having a small kitchen with no pantry. For one thing, pantries are a prime space to get overlooked when cleaning and organizing. They are usually behind a closed door. Out of sight, out of mind. So pantries can be challenging to keep organized and clean.
Not to mention, the typical over-collection of appliances and kitchen gadgets…
You know, that ice cream maker you used once and stashed away? Yeah, I do this sort of thing too. These are the things that build up over time and cause clutter.
But We All Love Storage Space
However, if organized and maintained well, pantry storage space can provide a ton of value. Pantry space provides the home cook with easy access to ingredients, frees up space in the kitchen, and can help keep things organized.
Who doesn't love that?
Make The Best of The Space You Have
Sometimes you just need to compromise a little.
Yes, to incorporate a pantry in a small kitchen, you could do some remodeling in your home. But remodels are expensive, time consuming and disruptive.
So if you are not looking to rip up your kitchen to add a pantry, what is one to do?
Small kitchens can be somewhat challenging to make pantry space in. But by incorporating some creative ideas, you can open up room for extra food storage and organization.
Create Pantry Storage On A Budget
Creating storage space and organizing a small kitchen doesn't have to be expensive. Trust me, these sort of projects can get pricey if you don't watch your spending.
Some of the options we'll cover below are actually free! My goal is to be as resourceful as possible.
By looking for under-utilized or wasted space, you can get some quick wins in the organizing game. Kitchen solutions for organization can be cheap, functional and still attractive.
Different Small Kitchen Pantry Styles
How exactly do you organize a small kitchen without a pantry? If you are looking for ideas, we've got you covered.
All you need is some organization and maybe a few tools. So let's dive in!
Cabinetry
Using existing kitchen cabinet space is maybe the most popular options to incorporate pantry space into your small kitchen.
It is a popular choice because cabinetry is typically already a part of the original kitchen, so there is no need to do an expensive remodel project. Cabinetry will often have shelving that can help to organize items.
Pull-Out Drawers
Though often overlooked, drawers can be used for more than just your silverware and junk you rarely use (a.k.a., "Junk Drawer"). When you have a kitchen without a pantry, organizing existing pull out drawers can offer a quick and easy way to store things like spices, kitchen towels and food items.
Converting Broom Closets and Recessed Space
Many kitchens will have broom closets or auxiliary features like a recessed wall meant for furniture. These spaces are great options to build a pantry from.
There may already be existing shelving making it easier to set up than some other styles. Using jars and other types of containers on shelving can help keep things organized and give you easy access to the things you use often.
Carts and Islands
If you have a built-in or movable island, this can be a good option for a small kitchen without a pantry. You can use them to store stuff like utensils and dry goods. If you do not have an island in your kitchen you might want to consider adding a movable cart.
A cart is uniquely useful because it can be moved out of the way and put in a corner when not needed. Appliances and commonly used pantry items on carts are easy to access, making busy cooking easier.
Under stairs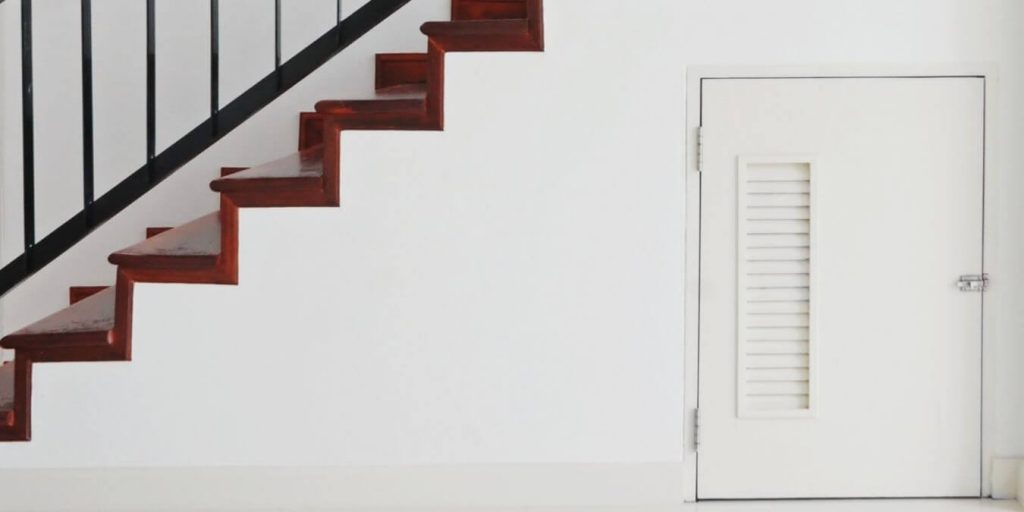 Often homes with stairs will have a small utility closet under them. These closets can really help to organize a small kitchen without a pantry.
If the stairs and utility closet are close to the kitchen it will make storage even easier to access. Although these closets might be smaller than a walk-in closet they still offer a good amount of space for staples and small appliances.
Repurpose Furniture
Do you have furniture or shelving that doesn't serve a practical purpose? For example, a hutch is a common piece of furniture that is often found in dining rooms. It can be used as a pantry instead of holding dining utensils and plates.
Other pieces of furniture like an armoire, bookshelves, or freestanding cabinets can be repurposed into a pantry. Painting and staining are simple ways to make the repurposed furniture match your kitchen.
Go Vertical (Use That Wall Space!)
One of the best things you can do in small kitchens is to go vertical This means that you should make the best possible use of the wall space that you do have. Every small kitchen can make use of an additional shelf, hook or rack.
In small spaces, you have to get as creative and resourceful as you can.
Suppose you have an old hutch up against the wall. You could install shelves on either side of the hutch. The name of the game is using up that available wall space in a functional way.
Declutter the Space For A More Functional Small Kitchen
Do you have 8 measuring cups and 5 gravy boats? A plethora of old mugs with chips and cracks in them?
If this is the case, it may be time to go through these and see which you absolutely should throw out. Of course, there's likely going to be some sentimental value when it comes to your belongings. However, if it's taking up a ton of space and making it difficult to use your kitchen, consider what you can donate or throw away.
This can be a stressful process that you don't have to do all at once. But here's a tip that might help — Anything that you've been keeping for sentimental purposes can be photographed or you can take a video to keep for the memories. It might make parting with some items a little easier.
But remember, the more stuff you have, the smaller your kitchen will feel. So get to decluttering!
Keep Your Items in Plain Sight
It's in your best interest to keep as much in your line of vision so that it's readily available for use. I'm not suggesting keeping bags of sugar and flour open on the counter. But I do suggest using counter space wisely and intentionally.
When you organize a small kitchen, try to think about what you use the most. Do you bake a lot? Then get some glass canisters to hold flour and sugar. Do you like coffee? Keep your small Keurig out and available.
But be careful not to over-use your countertops. I am sometimes guilty of this, but counters can become an unintended drop zone or a catch-all for clutter. So be sure to organize that countertop.
Alcoves Are Ideal
Do you have an alcove in your kitchen? This may seem like a waste of space, but it really can be a convenient little nook that allows you to store some extra things out of the way.
It's not exactly a pantry, but you can mount some shelves and place some bins and containers with handy labels on them so that you can keep everything neat and tidy.
Since your alcove probably isn't behind a closed door, you may want to put some decorative touches on it. Otherwise, just be sure to keep it as organized as you possibly can.
Use Command Strips
Command strips are an excellent tool for hanging things up. You won't be able to use them for anything too heavy, but they are great when it comes to getting that extra bit of storage you need for items that you'll want to grab for quick use.
Place oven mitts, potholders, and more on these hooks. You can hang them right on your wall by your counter. Or you can put them inside of a cabinet if you'd rather not have them in sight.
Tiered Baskets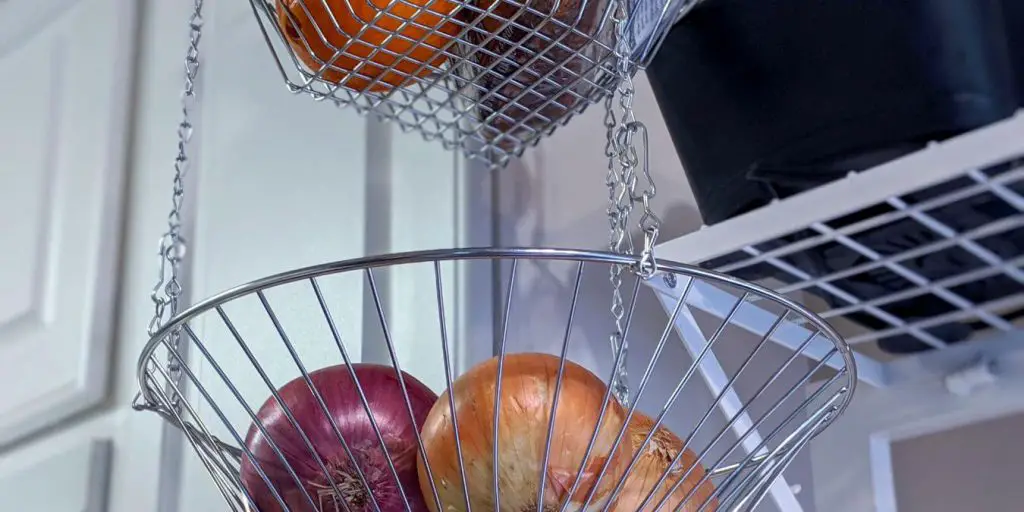 Do you like to keep your produce out on display? If you're looking for a decorative touch that makes use of vertical space, consider hanging up some tiered baskets.
You can hang them right from the ceiling, or you might place them on the counter if the idea of hanging baskets makes you nervous. This is great for things like oranges, bananas, bags of pasta or dried rice, and other staple food items.
If you have limited countertop space, this is truly a wonderful way to make use of what you do have.
A Final Note
The most important thing you can do to organize your small kitchen without a pantry is to get intentional. Take time to think about what's most important to you in the kitchen.
What ingredients do you access the most? Keep them close by.
What wall space do you have? Utilize it.
And what about the kitchen cabinets and existing furniture you have? You can likely create some pantry space by decluttering and organizing.
A pantry is nice to have. But the truth is, they're not critical. What we've covered here proves that with some thoughtful planning, you can organize a small kitchen without a pantry! And it can be done with a tight budget.