Disclosure: Some of the links below are affiliate links. This means that, at zero cost to you, I will earn an affiliate commission if you click through the link and finalize a purchase.
Delicious cornbread has long existed as a staple of Native American cooking, with time-honored recipes making their way into the kitchens of communities throughout the American South and Colonial America.
As cornbread spread across the continent, the United States would eventually become the home of no less than six distinct cornbread recipes, ranging from pancake-like Johnnycakes to southern baked cornbread.
Today, cornbread is one of the most mouthwatering culinary traditions of the American South. However, classic southern cornbread isn't the only way to enjoy this traditional food. Different cornbread recipes each pair beautifully with a whole range of sides, main courses, beverages, and condiments.
Cornbread has become one of my family's go-to side dishes for dinner. And for a good reason. It's versatile and compliments many main dishes well. And yes, sometimes it does appear on the table as a main dish (see below for cornbread and beans).
If you've ever wondered what to eat with cornbread, this is the list for you. Read on to discover some of the delicious foods you can eat with cornbread.
1. Chili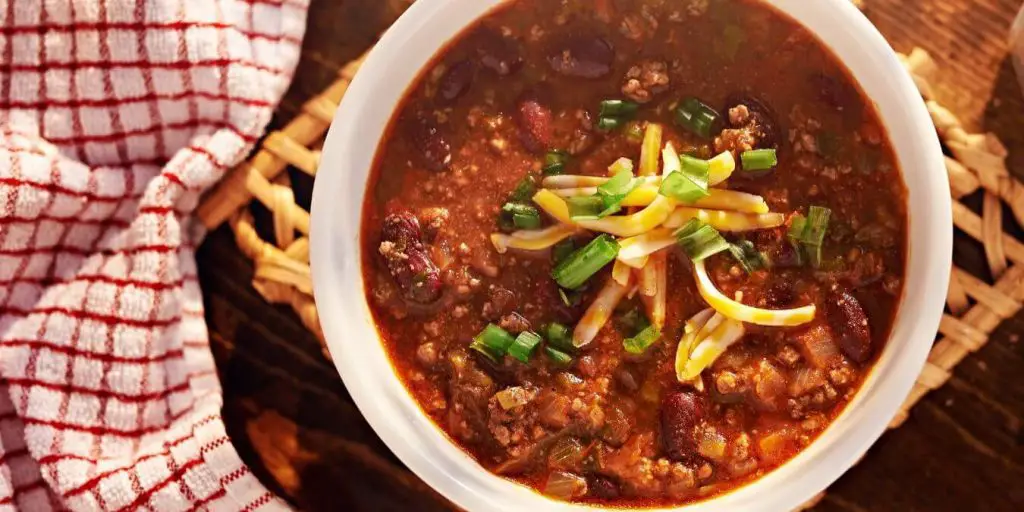 Chili and baked cornbread go together like peas and carrots. Just as there are many recipes for cornbread, you'll find a million different ways to cook chili. Which chili should you eat with cornbread?
If your chili has some kick to it, choose a sweet cornbread with sugar in the recipe. The spicy chili will match the sweetness of the cornbread perfectly. And to add even more flavor variety, try putting some sour cream on top. Or if you eat dairy-free, try a spoonful of dairy-free yogurt on top.
If your chili is a little sweet from brown sugar or another sweetener, try a style of cornbread with less sugar to offset the sweetness in the chili. Who doesn't love the combination of sweet and savory!?
You may serve the cornbread as a traditional side with a bowl of chili, or you might try breaking it up into pieces to serve on top. If you want to create a full meal with additional sides, you might add onion rings, sweet potato fries, coleslaw, or potato skins to your spread.
2. Fried Chicken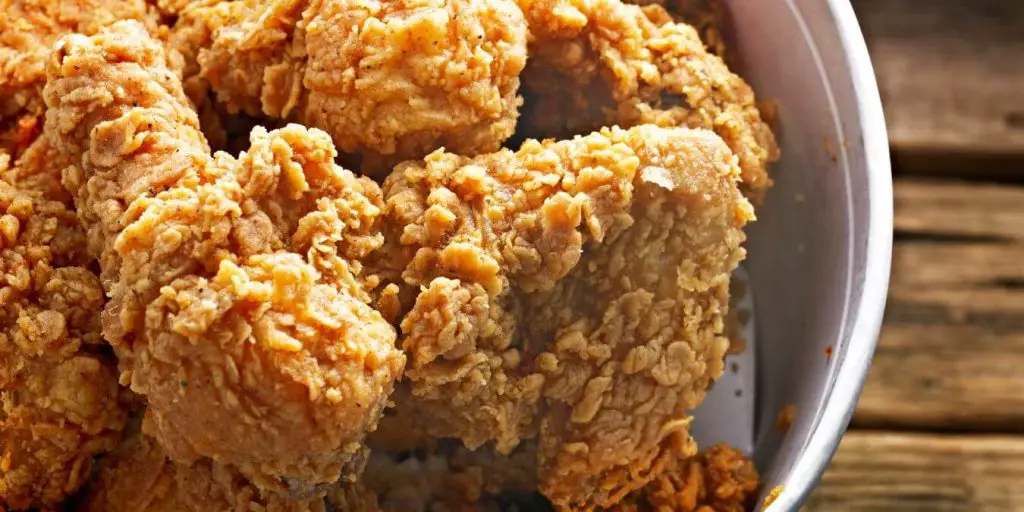 You might think the best side for fried chicken is a plate of warm, flakey biscuits, but it is amazing to eat with cornbread. Cornbread is an excellent and delicious partner for fried chicken, no matter what style of cornbread you make.
Whether your cornbread is sweet or savory, it should complement your fried chicken with ease. You might add green beans to your meal to complete the plate or a side of fried okra.
If you want to get creative with your cornbread and fried chicken, you might try cornbread crusted chicken, which uses a cornbread mix for the breading. Rather than frying the chicken, the recipe calls for coating it in the cornbread mixture and baking it in the oven for about 40 minutes.
3. Pork Chops
Not only is chicken a delicious food to serve with cornbread, but pork chops also create a tasty meal when accompanied by the yellow bread. One of the tricks to improving the taste of pork chops is seasoning them with salt at least 30 minutes before cooking. Pork chops don't have a lot of fat, so it's important to bring out the flavor as much as possible when you prepare them.
When served with a slice of cornbread, the sweetness of the bread will taste delicious with the subtle salty flavor in the pork chops.
Just as you might with your chicken dish, you can also make cornbread-crusted pork chops. Pork chops made in this way are best cooked in a frying pan rather than in the oven. However, if you want to bake your pork chops in a creative way with your cornbread, you might try cornbread stuffed pork chops. Pillsbury shares a delicious version made with sage and maple flavors.
4. Baked Beans
Beans and corn work so well together that dozens of recipes exist for pairing corn with virtually every type of bean. From succotash to black bean & corn salad, these two foods are combined in so many ways with great success.
One exceptional way to combine these complementary flavors is to make cornbread and serve it with a side dish of baked beans. You're certainly welcome to buy a can of baked beans and a readymade cornbread mixture at the store but making a pot of baked beans and a tray of cornbread isn't exactly rocket science.
One of the keys to a mouthwatering meal of baked beans and cornbread is your choice of barbecue sauce in the baked beans recipe. If you're making sweet cornbread, try a barbecue sauce with a little kick and fire in it. If you're making cornbread with just a smidge of sweetness, consider a sweet barbecue sauce.
5. Roasted Chicken
If you're looking for a slightly healthier chicken dish with cornbread on the side, you might choose roasted chicken. Roast your chicken with herbs like sage and garlic and vegetables like onions to create a delicious pairing between the roasted chicken and cornbread.
The Chicken Farmers of Canada have a really interesting take on cornbread and roast chicken. Not only do they stuff their roast chicken with a delicious concoction of cornbread stuffing, but they also suggest using day-old cornbread cut into small pieces for the stuffing.
The recipe does take a few hours to complete, so it's best to try it on a day when you have some leisure time before the dinner hour. You'll also need to babysit the chicken while it cooks and baste it every 20 minutes to create a delicious crispy skin.
6. Casserole
There are as many types of casserole as there are sizes of baking pans, and it's tough to choose which casserole recipe might taste best with cornbread. If you're interested in an easy dish that incorporates cornbread batter into the casserole, you might try BBQ beef cornbread casserole by chef and blogger Sabrina Snyder of Dinner then Dessert.
Her recipe is described as a mix between homemade cornbread and BBQ beef sloppy joes. Not only do the cornbread and beef make wonderful friends in the casserole, but the dish is easy to make for a family meal.
Other casserole options open to you include cheesy cornbread casserole and Mexican cornbread casserole. Cheese is a natural partner for cornbread. Adding ingredients like diced tomatoes, green chilis, and taco seasoning amps things up a notch.
7. Ribs
There aren't many comfort foods more satisfying than barbecue ribs and a side of cornbread smothered in butter. What's the best way to scoop up the excess barbecue sauce on your plate? With a warm and soft piece of cornbread.
One of the secrets to making an amazingly juicy and tender ribs is to bake them at a low temperature for several hours. Try baking them at 275° F for two or three hours. It's the simplest cooking hack ever to get the juiciest and most flavorful ribs.
If you're feeding the whole family and want to make a full dinner, you might consider adding baked beans and some steamed vegetables to your plates. Broccoli, in particular, pairs very well with cornbread, and they both are a wonderful addition to a BBQ rib dinner.
8. Milk & Honey
Sometimes, you don't need a complete meal to enjoy cornbread. All it takes is the addition of a couple of foods or different ingredients to create a tasty comfort snack. With that in mind, consider pouring some honey on top of your cornbread and eating it alongside a warm glass of milk. Some cornbread fans have even been known to crumble their cornbread into a bowl of warm milk.
Another option is to substitute a few ingredients in a traditional cornbread recipe. Rather than using sugar in your cornbread recipe, try adding honey instead. You can substitute honey on a one-to-one ratio with the sugar that your cornbread recipe requires.
Another way to change the taste of cornbread is to use regular milk instead of buttermilk. If you're using a store-bought mixture that calls for a few additional ingredients, you can usually use milk (some recipes even call for it) rather than buttermilk. Gluten-free cornbread recipes often work very well with regular milk and don't necessarily need buttermilk.
9. Oil
Oil probably isn't the first thing you think about when you see a slice of cornbread, but using oil in a recipe rather than butter, as well as alongside butter, can create a different and interesting texture for your cornbread.
If you're interested in a slightly healthier version of cornbread, you can use extra virgin olive oil rather than butter. Some cornbread aficionados use a combination of butter and oil, which helps create a moist cake that also retains that buttery cornbread taste.
You can also use the aforementioned honey in your recipe rather than sugar. Both oil and honey can help you create an amazingly moist piece of cornbread. Although "bread" is in the name, cornbread is actually a lot more like cake, and treating the recipe like a cake recipe with some oil is a great way to keep things moist.
10. Jalapenos & Cheese
Cornbread is a simple and sweetly subtle cake, but adding jalapenos is an excellent way to spice things up. Especially if you want the cornbread to stand on its own as a major part of your meal. Jalapenos don't need to add an eye-watering, mouth-burning amount of heat. They just spice things up to a medium level.
When you use fresh jalapenos in your cornbread, make sure you give them a taste before you toss them into the mix. If you're heat-sensitive, some jalapenos might taste a little too spicy. Jalapenos are rarely consistent in how spicy they taste, so it's helpful to check them before you add them if you're at all concerned about the final result.
Ideal cheeses to add to your cornbread and jalapeno recipe are cheddar cheese, Monterey jack, or a combination of the two.
11. Beef Stew
Beef and corn have long been partners in various recipes. Consider shepherd's pie for a start (or cottage pie as some refer to the beef version). There are few things more satisfying than eating a spoonful of beef, corn, and mashed potatoes in a meat pie.
If you're making sweet and crumbly cornbread, one of the best tastes to add to your cornbread experience is beef. Most beef stew recipes tend to call for salt, and the taste of finished stew alongside cornbread makes for a delicious salty and sweet experience.
Grocery store H.E.B. has a pretty fantastic recipe for beef stew and vegetables, and they pair their stew with jalapeno cornbread. The peas and carrots in the stew recipe also taste delicious with the cornbread. You might just want to crumble up your slice and toss it into the stew after you serve it.
12. Greens & Veggies
Any green vegetable, whether steamed, sauteed, or baked, goes with cornbread very nicely. If you're a vegan or vegetarian, make your cornbread and serve it with a satisfying bowl of spinach, collard greens, or broccoli.
You can change the taste of your greens to accommodate the type of cornbread you make. If you're making cornbread with a subtle sweetness, try to hold back on the amount of butter you use in your greens or veggies.
13. Hot Dogs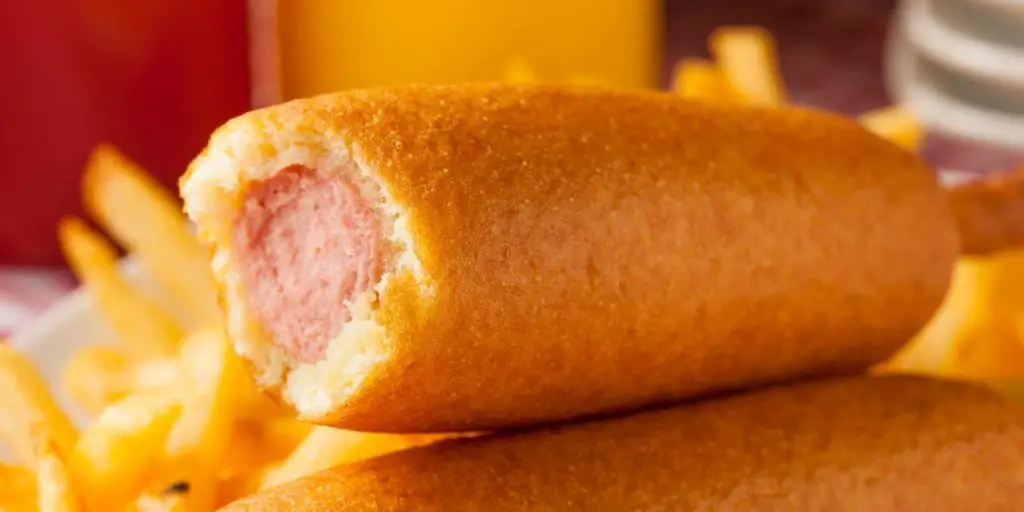 Head to almost any freezer section in the grocery store, and you'll find a pack of frozen corndogs for sale that are easy to take and bake and eat. They're a staple at sporting events, county fairs, and summer barbecues.
If you're not particularly adept at battering hot dogs, one option is to use your cornbread like a hotdog bun. You can increase the firmness of your cornbread by using an extra egg in your recipe or adding a tablespoon of olive oil to the mix. A sturdy cornbread is best to hold the hotdog.
Making your own corndog allows you to control the ingredients, too, so you can create a vegetarian or vegan version with a plant-based hot dog if you wish.
14. Roast Duck
Roast duck is a popular dish at Asian restaurants. But you may not realize how savory and delicious roast duck tastes when paired with a piece of cornbread. Roast duck is normally pretty salty, which means it is perfect to eat with cornbread to balance the flavors.
Just as you might with roast chicken, you can also stuff the duck with cornbread stuffing for a delicious result. Simply use a box of cornbread stuffing mix when slow roasting the duck. If you've never made duck before, make sure you start by boiling the duck for at least 10 minutes, which helps render out the fat for a moist result.
Another thing to remember about making duck is that you need to flip it at least once during the roasting process. Duck isn't a "set it and forget it" bird like turkey or chicken. But it is well worth the extra attention when you take a bite with your side dish of cornbread.
15. Ice Cream
Technically, cornbread is more like cake than bread, so why not eat it for dessert? Not only can you eat cornbread at the end of the meal, but you can also add some ice cream to your bowl for a delicious ending.
Buttermilk ice cream is a terrific choice for a cornbread topper. Old-fashioned vanilla is another excellent option. This is the ultimate comfort food!
If you're feeling adventurous, you might try this ice cream cornbread recipe from Southern Living. You'll use ingredients like heavy whipping cream, egg yolks, and blueberry preserves. If you want something a little less complicated, pick up a pint of buttermilk ice cream at the store.