Disclosure: Some of the links below are affiliate links. This means that, at zero cost to you, I will earn an affiliate commission if you click through the link and finalize a purchase.
Home Master is one of the top brands for kitchen appliances like a filter and their TMHP-L Hydroperfection Loaded Undersink RO exemplifies why.
The Home Master TMHP-L Hydroperfection Loaded Undersink RO Filter is one of the best under sink water filters in the market which offers a great water solution to its users and doesn't cause a lot of problems.
This water filter system offers highly pure water with added minerals which are perfect for health-conscious people who want clean drinking water daily to stay fit and healthy. Its innovative design gets rid of the most common problems that are usually found in a traditional RO system which includes slow water flow rate, slightly acidic water, high water waste, and so on.
Due to its superior quality and features, it is considered one of the best RO systems in the market and also comes with a 5-year warranty which further cements this theory. In this article, we will provide you with a detailed review of this amazing RO system so that you have a good idea about its features, advantages, and disadvantages before purchasing this RO water filter system.
About The Brand
All of us want pure water which is why we often install water filter systems at home to get the desired cleanliness in our drinking water. However, not all systems can provide you with exceptionally pure water by removing all the harmful contaminants.
Home Master is one of the few brands which actually delivers what it promises and has an exceptional line of water filter systems which provide users with clean drinking water which is good in taste too.

Home Master offers filtration systems which are famous for their quality and performance since 2002 and focuses on build quality rather than cost-cutting which is why their water filter systems are completely dependable.
Home Master not only produces exceptional Undersink Reverse Osmosis Water Filter Systems but also produces many amazing models in Sinktop Systems, Whole House Water Filter Systems, etc. This company ensures clean, great-tasting water to its users and ensure that all the units produced are easy-to-install and are built of great quality.
Home Master ensures that users don't need to worry about filter replacements, DIY service challenges, or weak water pressure. It is certainly one of the top most brands to consider when purchasing a water filter system and their Hydroperfection Loaded Undersink RO Water Filter System is undoubtedly one of the best RO water filter systems in the market.
Overview
The Home Master TMHP-L Hydroperfection Loaded Undersink Reverse Osmosis Water Filter System features a permeate pump which can produce around 75 gallons of water per day and reduces the quantity of water that is needed to pass through the membrane. As a result, this system only wastes 1 gallon of water for producing 1 gallon of pure water.
It also includes a UV light which can eliminate 99.8% of the microorganisms present in the water while adding back a few minerals in the water with the help of the remineralization filters. This helps in increasing the mineral taste of the water while reducing the acidity of the water at the same time.
This latest water filter system has a huge 3/8-inches of diameter tubing along with the permeate pump and upgraded faucet and the large tubing helps in improving the water flow rate and the speed of pure water production.
It features modular filters, including an iron filter, which is extremely easy to change and doesn't require any tools or guide for performing it. You also need to change the filters only once in every one year or once 2000 gallons of pure water has been produced since these filters are built of high-quality and are long-lasting.
Although it is an expensive water filter system, it is completely worth the high price as it includes a UV light to kill microorganisms, remineralizes water, produces high water output, and is also efficient in reduced water wastage. The TMHP water filter system works well for both town and well water and can produce great-tasting clean water quite efficiently.
What we like about the Filter
The Home Master TMHP Water Filter is one of a kind of water filtration and purification system which offers many amazing features to the users which not only make it a great addition at home but make it the perfect product to watch out on your health. Here are a few of its commendable features and functions which are definitely worth mentioning: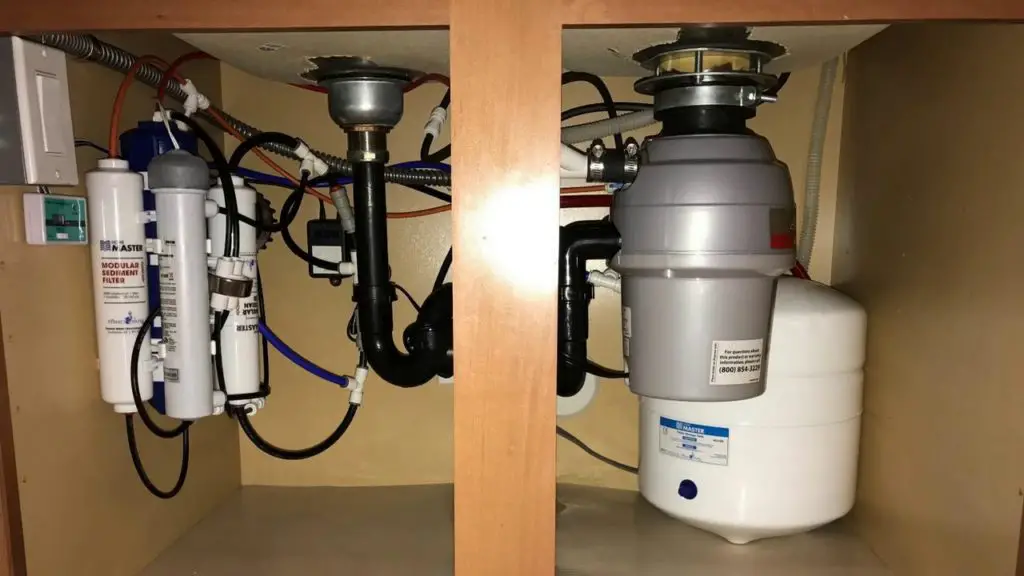 7-Stage Filtration Process
Apart from the UV filtration, the Home Master Hydroperfection uses other filtration and purification methods to ensure that the water is free of any chemicals, metals, bacteria, etc. It uses a 7 stage process of filtration, purification, sterilization, and enhancement to provide users with extremely clean drinking water.
It uses sediment, catalytic carbon, reverse osmosis, and iron purification to get rid of up to 98% of chemicals, chlorine, iron, metals, and other harmful contaminants which are present in the water.
Usually, dissolved iron in water can damage the reverse osmosis' membrane but since Home Master Hydroperfection has an Iron filter acting as a catalyst for removing the dissolved iron, one need not worry about it causing any damage to the RO membrane.
The iron pre-filter also helps in the removal of harmful chemicals which include chlorine, pesticides, herbicides, etc. The UV light chamber then takes care of killing the germs and viruses present in the water which helps greatly in improving the taste of the water too.
The Home Master Hydroperfection RO System also employs a catalytic carbon filtration method with the help of a carbon pre-filter which helps in treating the harmful chemical chloramine.
It also includes a Full Contact Mineralization process where water's pH level is balanced by the filter system and a few minerals are added to the water to make it slightly alkaline which results in clean great-tasting water.
UV Light Filtration
A lot of water filter systems often use chlorine to get rid of the microorganisms and viruses but Home Master Hydroperfection uses ultraviolet light to remove the viruses and microorganisms and is found to be more effective than chlorine as well. The water is passed through the UV light chamber where UV light penetrated the water and deactivated the microorganisms present in the water.
The UV light technology is found to be the most recommended method for sterilization of water as it provides instantaneous results while not leaving any chemical residue in the water. The Home Master Hydroperfection can effectively kill more than 60 types of viruses, bacteria, and other organism and supplies you with exceptionally clean and sterilized drinking water.
Modular Filter Design
One of the most commonly faced issue with a traditional RO water filter system is canister filter design where you can change the filters but not the canister which houses these filters. This can be dangerous as microorganisms, sediment, build-up, etc. gets collected inside the canister after daily use and can reduce the efficiency of the water filter system over time.
This can often lead to leakages, water damage, and really expensive filter repairs but Home Master's TMHP-L water filter system features an all-in-one design allows users to change the canister along with the filter.
In this design, one can easily dispose of the filter and the filter housing which makes it easier to replace the filter and reduces the accumulation of residue inside the filter. So, you don't have to worry about any water damages or water leaks or any costly repairs with this water filter system.
Easy to Change Filters
Apart from offering modular filter design, Home Master TMHP Undersink RO Water Filter doesn't require any tools or expertise to change the filters. It can be easily performed by a newbie and doesn't require any force or strength to accomplish this task.
Home Master Hydroperfect RO system makes it easier for the users to make the annual filter replacements as it includes a push-in seal to quickly and painlessly replace the filter.
Faster Flow Rate
The Hydroperfection RO Water Filter also employs Fast Flow RO! Kit from Perfect Water Technologies which helps in producing faster water flow rate so that the user doesn't have to wait a long time to pour himself/herself a glass of clean drinking water.
The water filter uses huge fittings and tubing with high-flow components that help in almost doubling the flow rate in comparison to traditional RO water filters.
Enhanced Water Efficiency
Another important feature of the Home Master Hydroperfection is that Perfect Water Technology comes with a permeate pump that doesn't run on electricity and helps in further improving the water efficiency.
This pump helps in reducing the wastage of water by almost 80% while at the same time it increases water production by 50%. It also helps in getting rid of a condition known as TDS creeps from your water which leaves you with safer and cleaner drinking water for use.
Long Lasting Filters
Another great feature of Home Master's TMHP-L Water Filter System is that the filters last longer in this RO system than any other traditional RO filter system. It requires a filter replacement only every once in a year or after every 2,000 gallons of purified water.
Ease of Installation
One of the best things about the Home Master Hydroperfect RO Water Filter System is that it is super easy to install and can be placed by users who have never installed their home equipment themselves. Yes, you can definitely install it in your kitchen with the help of the manual instructions and video tutorial and will take less than a couple of hours to get it properly set up.
Most users take around 45 minutes to install this RO water filter while a few may take up to 3 hours too but you can easily install it in a day and don't need to hire any professional to do the job for you.
How to install the filter without expert help
Noiseless
Another great thing about this RO water filter system is that it barely produces any noise so you can easily rest and take a nap and don't have to worry about your children waking up due to its loud noise. Its pleasant humming ensures that no one is disturbed at your home and keeps a peaceful environment at home.
Produces Pure Great-Tasting Water
The Home Master Hydroperfect helps in not only removing the microorganisms, sediments, ions, chemicals, heavy metals, etc. but also adds the minerals back to the water to create clean mineral water which is healthy and tasty to drink.
Since it gets rid of ions and most foul contaminants, you also don't have to suffer from a bad odor or have to taste weird tasting water anymore. It uses the Full Contact remineralization system which helps in balancing the pH level of water at two different purification process points.
The first time the minerals are added back when the water is passed to the storage tank and the second remineralization occurs when the water is transported to the faucet.
Small doses of calcium and magnesium minerals are added at these points so as to make the water alkaline which results in purified better-tasting drinking water.
Warranty and Quality
The Home Master Hydroperfect RO System's design and construction materials make it strong and durable and NSF (National Science Foundation) certified for material safety and water purification performance which is how you know that it would easily work for a long time.
Due to its high-quality build, the manufacturers also offer users with a 5-year warranty on this water filter system and further prove its durability.
The Good, Bad and the Ugly
Pros
The Home Master Hydroperfection is an exceptionally good water filter which is why it is no surprise that it comes bearing many advantages which can make it a good choice for producing clean drinking water. Here are a few benefits of using this water filtration system at home:
Features UV light to kill the germs and other contaminants and purifies water so that it is clean for drinking purpose.
Includes a 7-stage filtration process for complete purification and filtration of water.
Offers long-lasting filters so you don't have to replace the filter frequently and can make the most out of it before you need to finally change it.
Offers faster flow rate so you don't have to wait for hours to fill your bottle with purified drinking water.
Filters are easy-to-change so you don't need any tool to replace your filters.
Installation is easy and doesn't require any professional help.
It is easily affordable and helps you save a lot of money as you don't have to rely on water delivery services anymore.
It produces clean drinking water with a great mineral taste.
It reduces the water wastage by 80% as compared to other RO systems.
Includes a 5-year warranty on any issues or defects.
Works well on both town and well water.
Cons
As is the case with most products, there are certain disadvantages associated with this water filter system as well:
Although it does reduce water wastage by 1:1 ratio, i.e., for every 1 gallon of purified water, 1 gallon of water is wasted. However, 1 gallon of wastewater for every 1 gallon of clean water is not a good deal and is not at all ideal from a water conservation perspective.
Their instruction manual for installation is actually quite poorly made and cannot be solely relied on for DIY installation. You will need to look at video tutorials to install this water filter system and won't find the instruction manual much helpful for it.
People often complain that the hose that is connected to the water faucet gets loose easily and needs to be extremely tightly fit for the water filter to work.
Should you really buy it?
The Home Master Hydroperfection RO Water Filter System is definitely one of the better water filters and delivers exactly what it promises to the users.
It can work on all kinds of water supply to provide you with safe and clean drinking water and effectively gets rid of all chemicals, microorganisms, and other contaminants that are usually found in water. It doesn't require a lot of maintenance and is supremely easy to install which makes it an attractive option for more households.
This is undoubtedly an effective RO system which provides you with the benefits of UV light sterilization and several steps of filtration and purification process which ensures that the water received from this system is completely clean and will taste delicious.
Although it doesn't handle water wastage as well as we would like to, it is still a great choice and easily one of the best RO systems in the market. If you are buying a water filter system for the first time then you can be sure to have an amazing experience with the Home Master Hydroperfection Reverse Osmosis Water Purification System.