Disclosure: Some of the links below are affiliate links. This means that, at zero cost to you, I will earn an affiliate commission if you click through the link and finalize a purchase.
Are you planning to install a walk-in shower in your bathroom? Not sure how to go about it? Here are 10 ideas you'll thank us for.
A Walk-in shower is one of the most amazing ways to make your bathroom more elegant and useful.
It doesn't matter whether you have a bathtub or a Jacuzzi, a Walk-in shower will give a modern feel to your bathroom and will allow you to use your bathroom space efficiently.
Are you looking for some amazing ideas for your Walk-in shower? Then you absolutely need to check out these amazing and creative Walk-in shower ideas. Who knows, you might actually end up implementing one of these ideas in your own bathroom!
1. Glass-Enclosed Shower
One of the most popular walk-in shower ideas is to use a glass enclosure to mark your shower stall. Transparent glass is a perfect way to transition between the shower room and the rest of the bathroom.
You can also see the entire bathroom and the light from the bathroom will make it look quite spacious and elegant. You can add curtains to your glass-enclosed showers or you can add a few shelves to make it more convenient.
2. Private Spa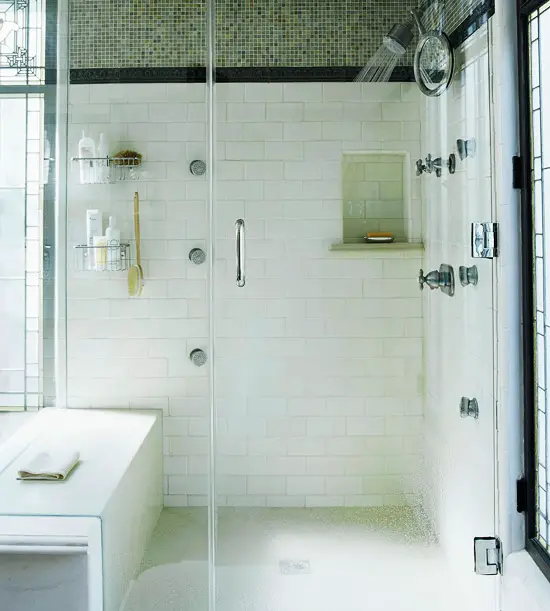 You can also make your walk-in shower into your private spa by just using a few right materials and textures. You can add a chandelier to your shower stall to make it look more luxurious and elegant or you can add the mosaic tiles to give it a more modern and luxurious touch.
You can create your own spa by just installing a beautiful limestone bench and adding white the white and black mosaic tiles. You can also add a window and a wall niche to make it more appealing and convenient.
3. Nature Inspired Shower
If you are an outdoorsy person then you would love to add a few stones and wooden fixtures inside your shower stall. You could use stone on the floor and wooden fixtures to decorate your shower stall.
This way, your shower stall will look more nature-friendly and you can feel like you are not taking shower in your bathroom enclosure but are instead taking a nice shower outdoors.
4. Indoor-Outdoor Shower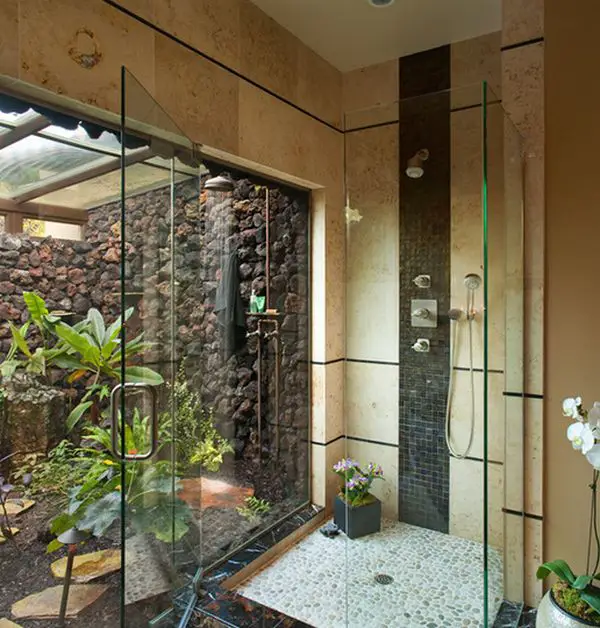 You can also place your indoor and outdoor showers side by side and add similar details so that it looks an extended part of each other. You can place a glass wall between the two showers so that the light can enter into an indoor shower making your outdoor shower less awkward or weird.
5. Open Shower
Another great idea for a walk-in shower is to get rid of the bathroom walls so that your bathroom looks more harmonious. It is not necessary to have an enclosure for your shower space, you can also let your shower stall be open. This way you will find that your bathroom looks more spacious and smooth.
6. Fully Outfitted Shower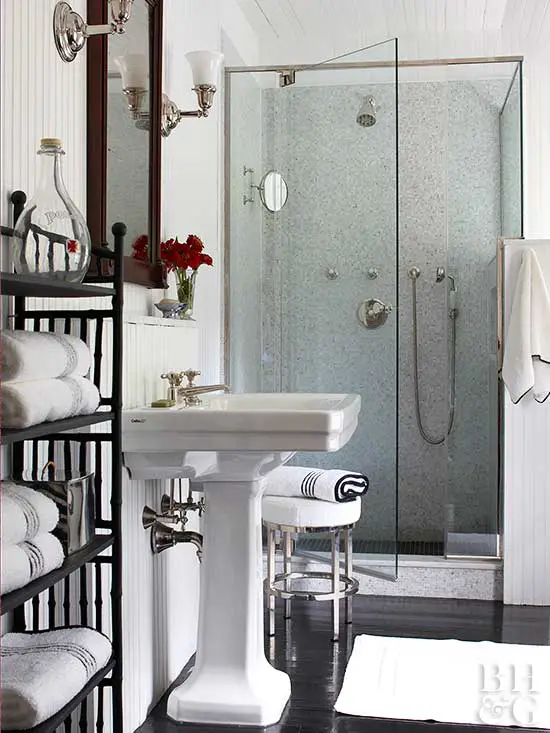 Another great idea for your walk-in shower is to make sure that your stall has all the necessary and requirement shower accessories which will make it really convenient to use.
You can include handheld and wall-mounted shower head to make it the ultimate showering experience for yourself and a mirror would be a great way to shave while showering or ensure that there isn't any soap residue on your body.
A step between the shower and the bathroom will keep the water from overflowing your bathroom and will allow you to dry yourself out of the shower without any risk of slipping.
7. Light Filled Shower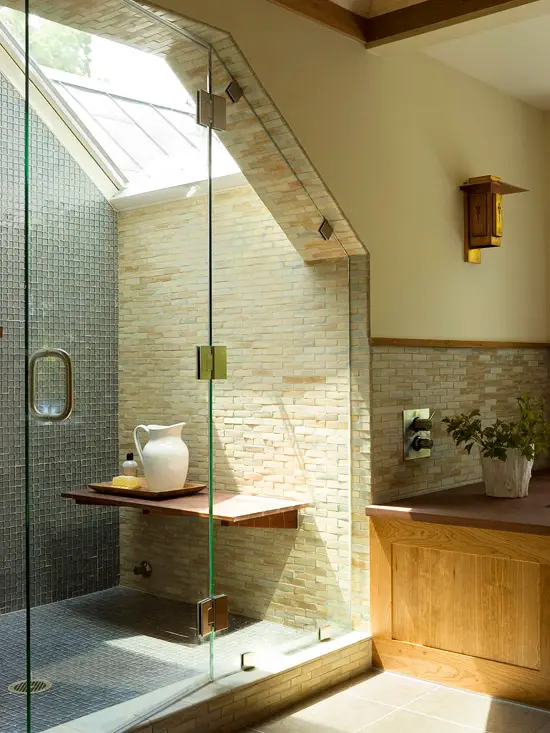 Another great idea for a walk-in shower is to either install it near a window so that you have natural light filling in the shower stall or you could get a skylight.
The light will provide your shower stall with a unique and beautiful look and it would feel more spacious and clean too.
You can also install light bulbs so that you can use your shower during night time too and have enough light to take a pleasant and relaxing shower before you go to sleep.
8. Mixed Tile Look
If you want to provide a nice and elegant touch to your shower then a great way to do this would be by using different tile styles and designs on your floors and your walls.
This will provide a fun touch to your bathroom and will make it a more comfortable and relaxing place to shower at. You can use porcelain tiles of different sizes to decorate your shower.
Also Read:
9. Shower and Steam Room combo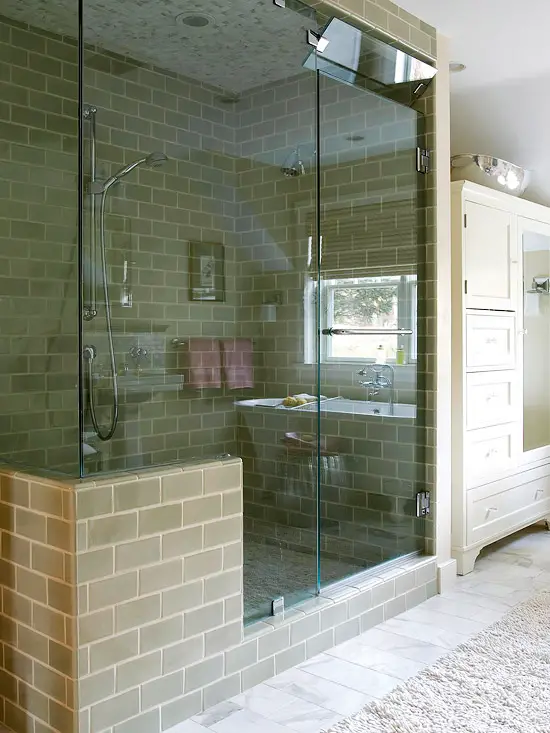 An amazing idea for a walk-in shower would be to turn your shower into a steam room whenever you want. You just add the glass enclosures for your steam/shower room and then use a transom window to circulate the air when you are using your glass enclosure as a shower stall.
You can start the steam generator when you are in the mood for a little steam or you can simply use the showerhead for taking a refreshing and rejuvenating shower.
10. Corner Shower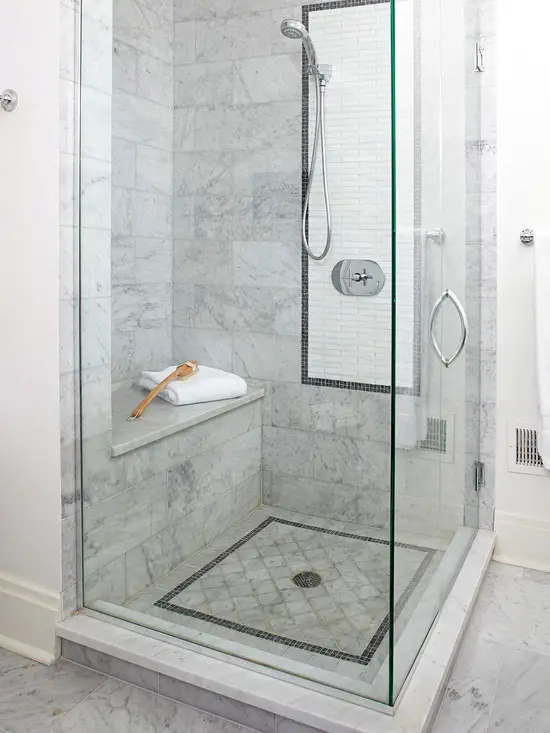 Another wonderful idea for a walk-in shower is a corner shower in which you make the most of a bathroom corner with the help of a slender shower stall.
Although this might seem like a small space to shower in, it can be made to look more spacious with the help of glass enclosure and decorative tiles.
The glass enclosure will let more light in which will make the shower stall look more spacious while allowing you to efficiently use your bathroom space and not wasting any area.