Disclosure: Some of the links below are affiliate links. This means that, at zero cost to you, I will earn an affiliate commission if you click through the link and finalize a purchase.
Find our Freestanding grill reviews, comparison charts and buying guides to help you buy the best freestanding grills for the perfect outdoor party.
Are you looking for a high-quality grill that will suit your needs? Then you need to check out one of the seven models we have outlined below. We will take a deep look at each product to give you an insight into its best features. Each has its own benefits that will suit different grilling purposes. Our guide will help you find one that is perfect for you.
We will also give you a good idea of what grill works best for those who have a limited budget. Saving money by purchasing a less expensive, though still high-quality, model is a good idea for those who want a great grilling experience without breaking the bank.
Top 5 Best Freestanding Grill
Product
Details

Our #1 Pick

Auto Amazon Links: No products found.

Weber 62014001 Genesis II LX E-440

With Infinity Ignition and new Grease Management System, the Weber 62014001 Genesis II LX E-440 delivers reliable grilling with fewer flare-ups, while the Flavorizer bars add rich flavor to grilled foods.

---

4-Burner Gas Grill w/ Side Burner
Stainless Steel Construction
646 Sq Inches Cooking Area + 198 Warming

Our #2 Pick

Blackstone 28 Inch Outdoor Flat Top

With professional grade construction, the Blackstone 28 Inch Outdoor Flat Top delivers restaurant-quality grilling in your own backyard!

---

2 Gas Burners
Flat Top Grill Surface
470 Sq Inches Cooking Area

Auto Amazon Links: No products found.

Weber 61010001 Genesis II E-310

With Infinity Ignition, Flavorizer bars, and porcelain-enameled cast iron cooking grates, the Weber 61010001 Genesis II E-310 offers excellent grilling backed by Weber's generous warranty.

---

3 Gas Burners
Stainless Steel Construction
513 Sq Inches Cooking Area + 156 Warming

Auto Amazon Links: No products found.

Char-Broil Performance 475

With electronic ignition and porcelain-coated cast iron grates, the Char-Broil Performance 475 provides a great grilling option with side shelves and side burner as well as temperature gauge.

---

4-Burner Gas Grill w/ Side Burner
Grill Cover Included
475 Sq Inches Grill Surface + Side Burner

Auto Amazon Links: No products found.

Weber 62020001 Genesis II E-410

With Infinity Ignition and new Grease Management System, the Weber 62020001 Genesis II E-410 delivers reliable grilling with fewer flare-ups, while the Flavorizer bars add rich flavor to grilled foods.

---

4-Burner Gas Grill w/ Side Burner
Stainless Steel Construction
646 Sq Inches Cooking Area + 198 Warming
Best Freestanding Grill Reviews 
This grill is our pick for the top grill of 2018. It has many different amenities and benefits that make it worth your time. Below, we will list the many features that set it apart from the other grills on this list. While it costs a little more than some of the other grills highlighted, we believe that the extra cost investment is more than worth it for the high-quality of this grill.
GS4 Grilling System
The Weber 62014001 uses the patented GS4 High-Performance Grilling System to create a diverse new world of grilling. It uses four different stainless steel burners so you can cook multiple foods at different heat levels. As a result, you could cook different types of meat and even vegetables with this system quickly and easily.
The design of this grill was tweaked by Weber after 30 years of experimentation and experience with the world of personal grilling. As a result, it is one of the most reliable and high-quality grilling experiences on the market. Select a precise heat level for each burner and get the exact cooking level that you want with each type of food.
Improved Grease Management System
Grease is a major problem when trying to grill food. While most grills will have a grease collection system, they usually get filled up quite easily and require regular cleaning. Without regularly maintaining the level of grease in your grill, you run the risk of flare-ups and even fires. This danger is one that must be avoided to create a safe grilling experience.
Thankfully, the Weber 62014001 grill has a tweaked grease management system that helps keep grease away from your burners by collecting it in a safe environment. Once your grease has been properly contained, you can clean it out to keep your grill safe from fire.
Infinity Ignition
There's nothing worse than trying to start a grill and failing to get it going. This Weber grill avoids that problem by using Infinity Ignition. This system uses a unique internal switch to ensure that each burner on this grill lights the first time. In this way, you won't have to mess around with the controls to get the gas to ignite, nor will you have to deal with poor gas control when the system starts running.
Conclusion
The obvious high-quality of this grill and its many features make it an easy pick for the best grill of 2018. However, that doesn't mean you shouldn't consider any other grills on this list. In fact, each will provide you with a great grilling experience. But this one is perfect for those who have a little money to spend and want the best grill on the market today.
When you want to set up a restaurant-style griddle station in your very own backyard, the Blackstone 28 Inch Outdoor Flat Top Gas Grill Griddle Station is the answer. Available at an affordable price and in an attractive, low-profile format, the Blackstone Outdoor Griddle Station lets you cook restaurant-style meals at any cookout.

470 Square Inches of Perfect Griddle Cooking
Restaurants use griddles because they are easy to clean and efficient to use — it's like having a giant pan that you can grill everything on at once. The 470 square inches of the Blackstone Outdoor Griddle can be used for scrambled eggs, pancakes, and Teppanyaki-style cooking.
Easily Transportable With Fold Up Legs and Industrial Wheels
You probably don't want a griddle set up in your yard all year — and there may be times you want to set up a griddle at a neighbor's house, a tailgating party, or even a campsite. This gas-powered grill can be taken down easily, with its fold-up legs — and it can be easily moved with its industrial wheels.
Push Button Ignition Makes It Easy to Use and Easy to Setup
Rather than having to light charcoal and wait for it to get heated, the push-button ignition provides an easy start to your grilling or griddling experience. Other grills need a lot of work to get started: this griddle is fast to set up, which means that you can start cooking immediately.
Not too expensive and not too cheap, this is one of the best griddle options for those who want to grill in their backyard or at a campsite. But it is a little large and heavy for those who just want to grill quickly. For those, the Presto 07047 may provide a better option.
Having already discussed a Weber grill above, and deciding it was the best on our list, we will now highlight a slightly lesser model. While it has many of the same features as that grill (such as the GS4 Grilling System), it is a slight downgrade. For example, it only has three burners instead of four. However, it also has a high-quality grease management system and the Infinity Ignition system, making it worth your time.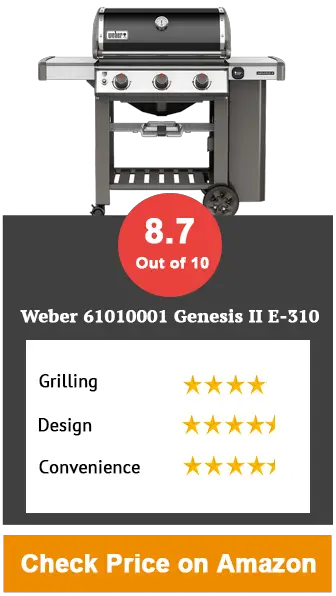 Flavorizing Bars
This feature was also present in the previously mentioned Weber grill, but we'll take a look at it right now to give you an idea of its benefits. Each burner on this grill includes flavorizing bars that trap the juices of your food and add to their flavor. This provides your food with a richer and juicier flavor than they would have had without the bars.
In fact, this is probably the feature that makes this Weber grill stand out the most. While many of its features are similar to the other Weber grill we mentioned, it is available for less money. This makes it a great choice for those who liked the sound of that grill but couldn't afford it.
High-Volume Cooking Area
While this grill doesn't have quite the same cooking volume as the other Weber, it still offers you plenty of room. With 513 square inches of cooking area, it is possible to cook multiple foods at the same time. Estimates state that it is capable of cooking about 15 burgers, depending on their size. As a result, it still produces a high-volume of great meat.
Another nice feature of this grill is the 156 square-inch Tuck-Away warming rack. This rack lets you warm up food that may have cooled down during the initial cooking experience. We think this feature makes this a great camping grill, as you will likely have leftovers to cook after your initial grilling experience.
Stainless Prep Areas
The food preparation and cooking areas on this Weber grill have been built with tough stainless steel. As a result, they will resist cutting and weathering damage for years. Even better, it features hanging storage hooks that let you store items as diverse as spatulas and forks. As a result, you have plenty of storage options for this grill.
Conclusion
Reliable and durable, this Weber grill has a lot to offer the average camper. While we still prefer the other Weber model previously mentioned, we wouldn't turn this one away. Try it out if you need a Weber grill that is easier to afford.
If you're looking to save money on your next grill purchase, this is the model for you. While it lacks some features that are included with the other grills on this list, it still offers a high-quality grilling experience at a low price. Here's a look at just a few of the best features of this intriguing and fun little grill.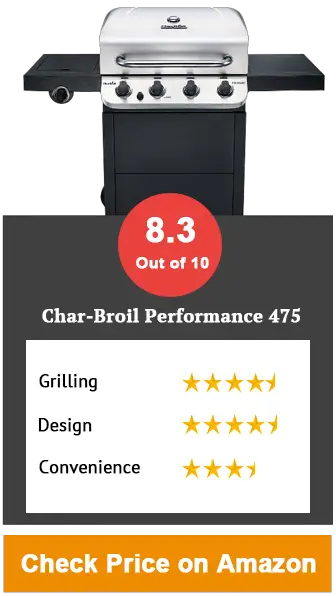 High Level Of Cooking Space
The aspect of this grill that really makes it stand out from other budget grills on the market is its cooking space. With 475 square-inches of cooking space, you have an incredible amount of space to grill. Its primary cooking area is about 25.6 inches by 18.5 inches. As a result, you have room for a wide number of foods.
The manufacturer website estimates that this Char-Broil grill can cook up to 20 burgers at one time. This high-volume cooking makes it great for sports games or other situations in which many burgers must be cooked. The number of hot dogs and brats it can cook is even higher, due to their smaller surface area. Add a secondary cooking area for veggies, and you have plenty of great cooking options with this grill.
Stainless Steel Burners
A good grill needs sturdy burners that won't wear down or suffer from severe damage. This Char-Broil grill has four stainless steel burners that are designed to withstand a wide range of weathering elements. As a result, it is possible for it to survive accidentally being left out in the rain without suffering from too much rust.
Combine those burners with the installed heat tents and you have a very precise grill with great burners. The heat tents of these grills are small metal covers that capture heat and focus it on your food. In this way, you won't suffer from an excessive level of heat loss. This means your food will be cooked evenly and won't have any dangerous bacterial infections.
Conclusion
While a little simple when compared to the other grills on this list, it is a great option if you want to save money. Its features help it combat its budget status to become a worthwhile grill that a large number of people will enjoy. Try it out if you want a fun grilling experience for your home or hunting camp.
Last, but not least, is this Weber model. This grill manufacturer has produced many great models over the year. In fact, it's no surprise that they produced three of the best models for 2018. Anyone who has tried out a Weber grill before should know what to expect from them by now. However, we're going to outline the best features of this grill to provide you with an insight into why it's a great choice.
Bluetooth Control
While other Weber grills also have a Bluetooth option, we like the way it works in this model. It allows you to hook up your phone or another electronic device to the system to control it in a simple way. However, it can also be used to play music to entertain your guests. In this way, the Weber is the kind of entertainment option that fits in with a wide number of situations.
GS4 Grilling System
Like every Weber grill mentioned so far, this model uses the GS4 grilling system. And like the first grill highlighted, this one has four burners. This puts it a slight step ahead of the second Weber mentioned, though that burner will cost you a little extra money. Each burner has been carefully designed to provide you with an even and reliable cooking experience.
Infinity Ignition
We have already touched on the Infinity Ignition in our previous Weber reviews. However, if you skipped to this one without reading them, it is worth understanding why this is such a great feature. Essentially, it provides your burners with a quick-start boost that will ignite them on the first try, no matter what the weather conditions.
Conclusion
This Weber grill model sits somewhere between the other two we mentioned. While less expensive than our top pick, it also has more burner options than the less expensive model. If you really want four burners but can't afford the top Weber on our list, try this one out.
#6 Pick: Traeger TFB30LZB Tailgater 20 Series
If you are looking for a high-tech grill, then this model is the one for you. It comes with many interesting features that make it easy-to-use and fun to cook with while camping. However, it also has an old-fashioned real-wood cooking system that produces an incredible amount of flavor. Here is what to expect from this great grill.

Digital Elite Controller
One feature that truly stands out with this grill is its simple LED control system. By hooking it up to the Digital Elite controller, you get a high level of control excellence. You can be standing yards away from the grill and control its heat level with the Digital Elite. However, it can also adjust other elements of the grill, making it a diverse and engaging model to use.
Real-Wood Cooking Capacity
Another feature that makes this grill stand out from the others on this list is the real-wood cooking feature. Powered by 100 percent pure hardwood pellets, you get a delicious and reliable level of taste each time you grill. Try out different wood pellet flavors to create a variety of different tastes. For example, you could use mesquite wood to get that delicious barbecue flavor that you would otherwise have to get with a sauce.
Large Grilling Area
If you need to cook a large number of burgers, this is the perfect grill for you. It has 300 square inches of grilling space. As a result, you can cook up to 10 different burgers at a time. While not quite as high-volume as some of the other grill models on this list, it is perfect for small gatherings or large family reunions that plan on going for an extended period.
EZ-Fold Legs
Storing your grill between the grilling seasons can be difficult. Many grills are often bulky or hard to fold. Thankfully, this model comes with easy-to-fold legs that make it more compact and easier to use. As a result, you can get this grill folded up and stored in your garage when winter or the early spring rain starts hitting the area.
Conclusion
Anyone looking for a high-class grill that looks great and which will last for years should check out this model. We love how it uses wood pellets to create a smoky and delicious barbecue flavoring. Anyone looking for a more old-fashioned grilling style should check out this model.
This Dyna-Glo grill has been carefully designed to withstand tough weathering conditions and to create a prime-quality grilling experience. While not quite up there with our top pick, it does provide you with many unique benefits. Here are just a few of its most interesting features for you to consider.
Adjustable Charcoal Baskets
Grilling with charcoal is a unique experience that creates delicious and unforgettable food of a very high quality. The adjustable charcoal basket tray system of this cooker lets you adjust the heat to a perfect level. As a result, you can get even cooking without having to mess around with your charcoal too much.
Even better, it allows you the ability to adjust the amount of charcoal you use with every grilling experience. In this way, you can create evenly cooked meat that tastes delicious. It also allows you to cook different levels of meat, including rare, medium, and well-done.
Cast Iron Cooking Grates
Any great grill needs good grates on which to cook the food. The cast iron grates of this grill are sturdy, reliable, and won't suffer from rusting or other wear and tear problems. As a result, your grill will last for years beyond its initial purchase date, creating a great investment that will be easy for you and your family to afford.
Even better, each grate has been carefully designed to capture the juices of your cooking foods. Grilling foods in their own juices enhance their flavors and make them taste a lot better. While other grills also have this option, it is a specialized feature of this model. This makes it a good choice for those who like their grilled food to taste very juicy.
Multiple Storage Areas
Each grill of this model comes with side shelves, a storage basket, and even a bottle opener. These extra options make it easier to store cooking items and to have a fun grilling experience. The bottle opener is especially nice, as it lets you open beer or soda for your visiting guests without having to track down or buy your own opener.
Conclusion
While not the best model on this list, this Dyna-Glo grill still offers you plenty of great features, options, and amenities. We are particularly fond of the flavor-lock grates and think that they give this particular model its unique edge. Try it out if it sounds like the right grill for your needs.