Disclosure: Some of the links below are affiliate links. This means that, at zero cost to you, I will earn an affiliate commission if you click through the link and finalize a purchase.
Wondering what shower head would be suitable for your household? Confused about the different styles? Read our in-depth guide to know more.
A good and refreshing shower can help in elevating your mood and can keep you energized for the entire day and with the right shower head, taking a shower every morning can offer you a luxurious experience.
If you are looking to replace your old shower head with a new one or if you are installing a shower head for the first time, it is always important to understand the different types of shower heads that are available out there so that you can make the right decision.
6 Types of Shower Heads
There are mainly 6 types of shower heads available in the market these days that you can consider for your own bathroom: Single-spray, Rain system, Handheld, Body Spray/Shower Panels, Ceiling Mount, and Sliding bar.
1. Single Spray
A Single-Spray shower head is one of the most commonly purchased shower heads and has been so for as long as I can remember (c'mon, we've all used one like this before, haven't we?). This type of shower head provides you with a single spray pattern of good pressure which makes showering time a wonderful experience.
It is suitable for any user who is looking for a simple and budget-friendly model and has a bathroom size that ranges from small to medium.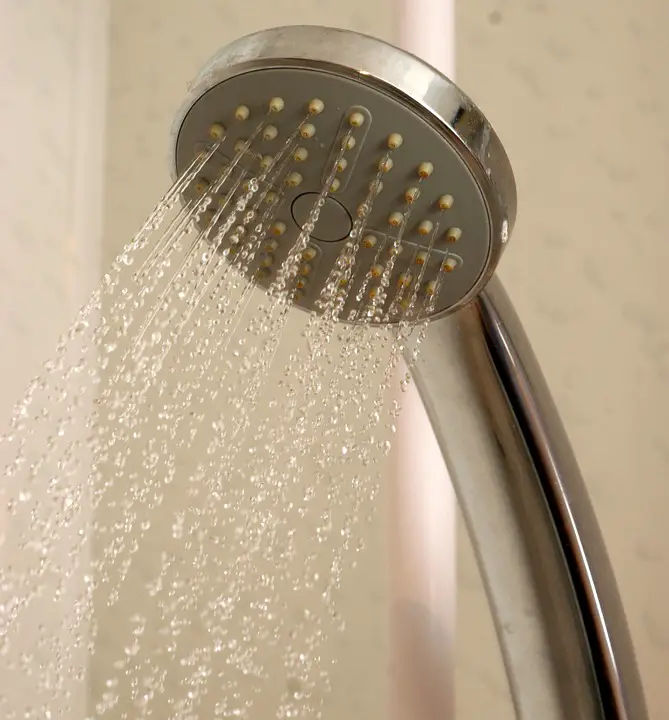 2. Rain System
A Rain shower head has become recently popular in many households as it offers you a steady flow of water from directly above you and provides you a light water pressure with a large diameter that helps in evening out the water flow, allowing you to enjoy your shower without squirming or moving a lot.
You need an extended shower handle to fit this shower head so that you can stand directly beneath it to enjoy your shower without having to move much to ensure that all your body parts are exposed to the water, as is the case with a single-spray shower.
Moen is one of the best shower head brands and their Moen S6320BN Rainshower is definitely one to watch out for. While it comes with a premium price tag, it's top-features will change your bathing experience forever.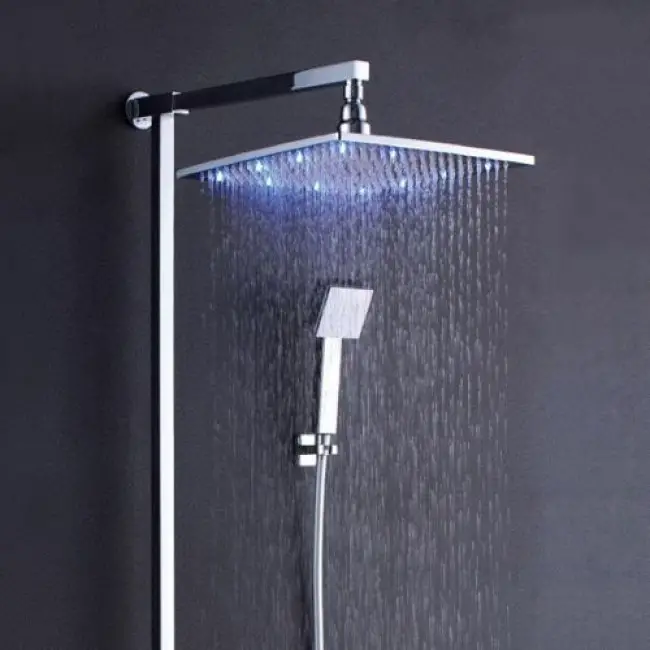 3. Handheld System
If you are one of those who hates moving around during a shower to rinse off the soap on your body, then a handheld showerhead is the right choice for you.
With the help of this showerhead, you can stay at just one spot and move your shower head to access the different soaped parts of your body. This type of shower head is extremely useful and helpful for bathing your kids, pets, elderly people, etc.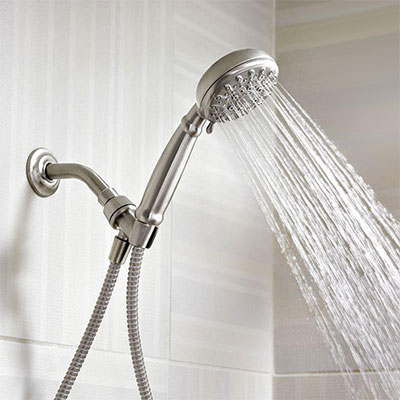 4. Body Spray/Shower Panels
A Body Spray shower head is one of the most luxurious kinds of shower heads which is usually installed to pamper yourself. This shower head is quite expensive and can only be installed if you are having a complete renovation of your bathroom.
The spray/shower outlets are fitted from the top to the bottom on parallel or adjacent walls which gives your body a massaging and invigorating experience.
5. Ceiling Mount
A Ceiling mount shower head is another luxurious option for people who want to pamper themselves and have enough money to keep their bathroom trendy looking.
This shower head is fixed in the ceiling so that it can provide you an even flow of water but it requires special plumbing which can increase the installation cost.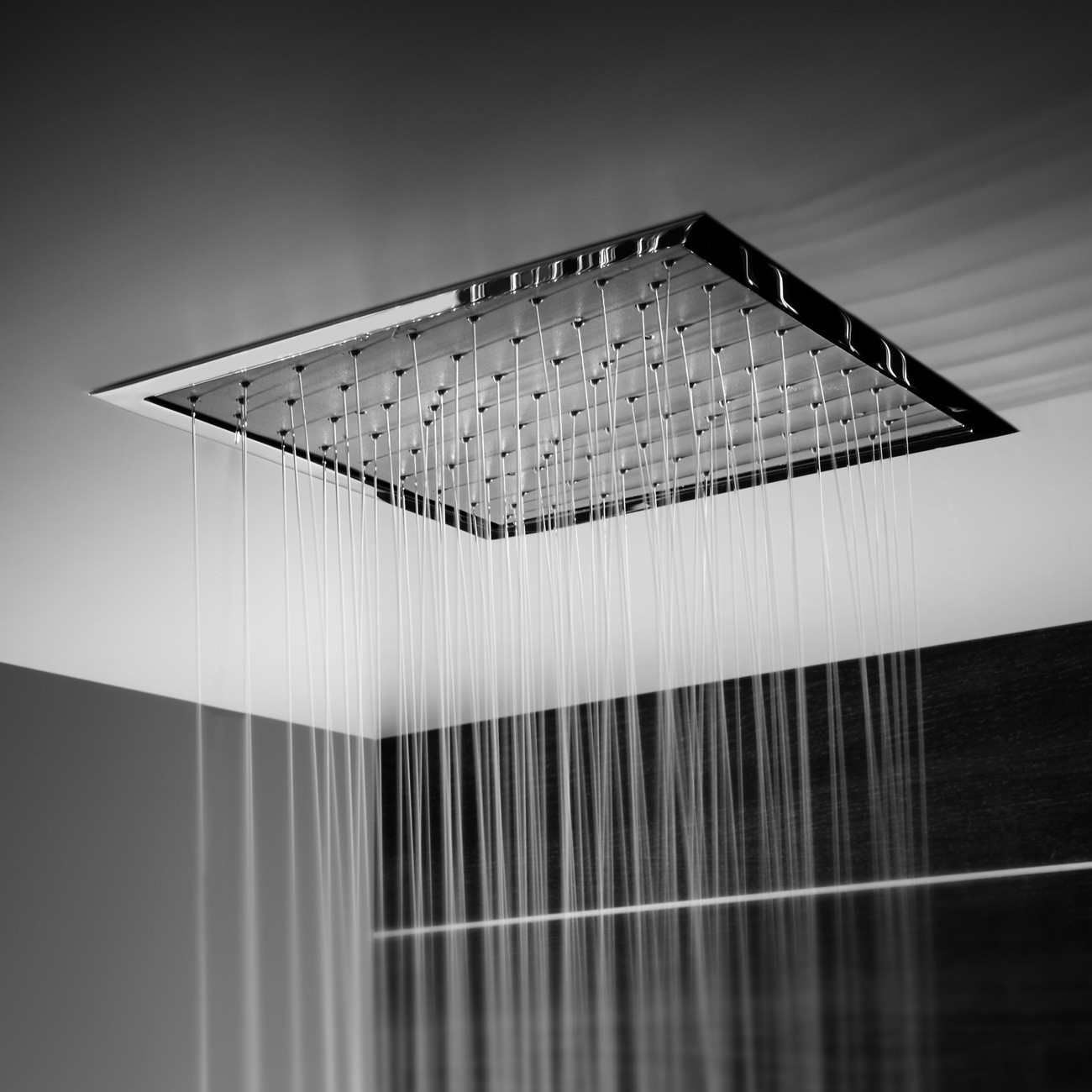 6. Sliding Bar
The last but not the least, sliding bar shower head is ideal for families with kids as you can adjust the height of the shower head by sliding it up or down. It is easy-to-adjust and you can set for different height users which makes it such a popular option for families.
---
How to Choose the Right Showerhead for Yourself
Now that you understand the different types of shower heads and how each one differs in its functions and uses, you can make a better choice for yourself. Here are a few tips to help you out in buying the right shower head for yourself:
Know your Budget
To find which shower head will be perfect for you, you first need to determine your budget and then start looking at the different shower heads.
If you have a small budget then it would be better to stick with the simpler designs like a single spray shower head, rain shower head, etc. On the other hand, if you have a large budget then you can easily consider a ceiling mount shower, sliding bar shower head, and so on.
Consider the Bathroom Size
Another important thing that will affect the choice of your shower head is your bathroom size. If you have a small or medium-sized bathroom then you would need to consider a handheld, rain system or single spray showerhead for yourself.
However, if you have enough space in your bathroom, then you can consider the body spray, ceiling mount or sliding bar shower head for yourself.
Is it easy to install?
Another important deciding fact is the installation process. If you want some product which is easy and quick to install to your bathroom then you would need to stick to simpler shower heads like a handheld showerhead, single spray showerhead, etc.
If you don't mind renovating your bathroom or changing a bit of the plumbing there to install your shower head, then you can consider the rest of the shower heads.
A quick guide to installing a shower head
Consider the size of your family
Most importantly, you need to figure out how many members of your family are going to use this shower head. If the answer is more than 3-4, then you might find a sliding bar or a handheld showerhead a better option as it is adjustable for kids and you can use the handheld showerhead to clean your pets too.
But buying the right shower head isn't just about that, you'd also want one with the top of line features. Wondering what these features are? Check out our Ultimate Shower Head Buying Guide to know more.