Disclosure: Some of the links below are affiliate links. This means that, at zero cost to you, I will earn an affiliate commission if you click through the link and finalize a purchase.
Want to get the best range hood to fit your needs? With our in-depth range hood reviews,  we'll help keep grease, smoke and fumes out of your kitchen and home.
Best Range Hood for Home Use
Zephyr Typhoon: There's a reason the company named it Typhoon, it cleans anything that comes its way. The unit has the high-end features you'd expect from a premium model including a sleek stainless steel finish, grease filtering, timed delay-off, and whisper-quiet blowers. The low body profile ensures it blends with any decor while the 10 years warranty is a vote of confidence on its durability.
Best Budget Range Hood
Broan 413004: For the budget buyers in the house, this non-ducted cabinet range hood from Broan is perfect. With features like a removable charcoal filter that helps to efficiently recirculate air, a fan with speed control, a protected lamp, and a variety of styling options, with a choice of color finishes, including a classy stainless-steel look you're sure to have your money's worth.
Quick Navigation
Most people don't associate range hoods with being exactly exciting or sexy items, but there's a lot more to them than first meets the eye. In this roundup, we take a look at seven of the best available range hoods that will get smoke, fumes, and grease out of your kitchen while combining with your decor and not setting you back a fortune.
Best Range Hoods
In-Depth Range Hood Reviews
Zephyr's 30-inch wide Typhoon is one for the premium buyers. It's packed with top of the line features you would expect from a high-end under cabinet unit, including a beautiful design with a sleek stainless steel finish, grease filtering, timed delay-off, and whisper-quiet operating motors.
Best Features
Its low-profile body design fits in with any modern kitchen and it has an industry leading 10-year parts warranty, so you can be sure of its longevity and that it's a well-made high-quality product.
You practically won't be able to hear the hood's two powerful 6-speed motors while they're in operation. The motors and blowers will suck up 850 CFM (cubic feet of air per minute), with a CFM range for the internal blowers of 250-850.
The unit's Airflow Control Technology, or ACT, is an exclusive feature built into Zephyr hoods, like the Tycoon, which limits the maximum blower CFM in order to meet local code requirements. With ACT, the hood will produce 0.9 Sones at 250 CFM and 5 Sones at 850 CFM, which is pretty low.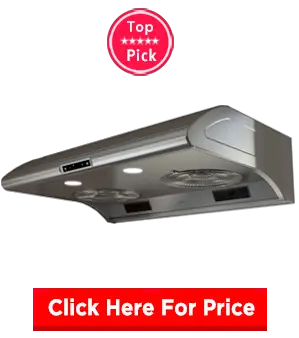 The Typhoon is one of Zephyr's original designs but has thoroughly been updated with a modern look based on smooth curved lines. Besides the default stainless-steel finish, you can also get the hood in either black or white finish to adapt it and combine properly with your kitchen decor.
It's complemented with easy touch-sensitive capacitive controls in the front-center of the unit, which includes the 6-speed levels, a quiet speed setting (QSS), and an auto-delay or delay-off function.
It contains a filter-less self-cleaning system (it uses professional baffle filters) which automatically separates grease from the air, making cleaning a snap, and you have your choice of vertical or horizontal ducting.
A pair of 35W dual-level dimmable halogen lights puts the finishing touch on this classy high-end unit. Options include a make-up air kit, a 7-inch round damper and an energy efficient, and long-life Bloom GU10 LEDs which can replace the halogen lights.
Conclusion
This classy, modern high-end range hood is far and away the best under cabinet range hood reviewed in the roundup. It's industrial design, functionality, and features make it stand a notch above the competition.
Specs and interesting facts:
Dimensions: 20.8 x 29.8 x 7.9 inches
Weight: 41.9 pounds
Material Type: Stainless steel
Installation type: Undercabinet
Warranty: 10-year on parts and 1-year labor
This 30-inch under cabinet hood from XtremeAir is a quality high-end US-made unit from a renowned leader in the ventilation industry. It's stylish and comes with powerful, yet quiet, motors.
Best Features
It's easy to clean and built with non-magnetic stainless-steel, with a stainless-steel finish, has handy mechanical control buttons on the front with speed control. Overall, it's a solid, feature-laden, and classy top-range hood, that's a somewhat cheaper but worthy alternative to our top pick from Zephyr.
The body design of this Ultra Series model is of a pretty, slightly curvy-cornered full seamless square corner construction and is finished in brushed stainless steel.
The material used is tough, super-thick 1mm, high quality, commercial grade non-magnetic stainless-steel, which is a longevity guarantee. It's easy to clean thanks to this finish as well as to the includes slanted stainless-steel baffle filters, which are dishwasher safe.
The unit's two powerful, ultra-quiet motors include a pair of squirrel cage blowers and produce a maximum air intake of 900 CFM (cubic feet of air per minute). The noise levels are pretty low, with a range of 1.5 to 6.5 Sones (33-55 dB). The 3-speed control is mounted on the front and uses mechanical EZ pushbuttons.
Lighting is handled by two 2W, energy-efficient LEDs that round-out the hood's classy design. It uses duct-type venting (no recirculation) and comes with an 8-inch round duct vent on the top of the unit.
Conclusion
This model, like all XtremeAir hoods, is built in the company's California plant. This, together with the XtremeAir's 10-year warranty on the motors, make the unit an excellent pick if you want an affordable professional-grade range hood for your home.
Specs and interesting facts:
Dimensions: 22 x 29.8 x 9.8 inches
Weight: 53 pounds
Material Type: Stainless steel
Installation type: Undercabinet
Warranty: 10-year on the motor and 1-year labor
Need something on a budget? Despite its low price, the hood is quite capable of removing unwanted kitchen range smells, smoke, and gases quite efficiently.
It has quality features like a removable charcoal filter that helps to efficiently recirculate air, a fan with speed control, a protected lamp, and a variety of styling options, with a choice of color finishes, including stainless steel.
Best Features
The Broan 413004 is a standard 30-inch wide hood that won't hook up to a ducted ventilation system, but given its ultra-low price, it does have some pretty interesting things going for it, like a front mounted control unit with a two position fan control (2,850-RPM, max speed), and light rocker switches.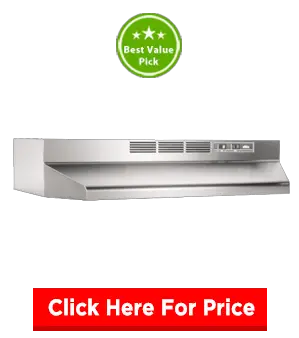 The fan is designed for a long life and isn't exceedingly noisy, though no noise measurements are supplied by the manufacturer. The grease-capturing charcoal filter is removable and can be easily cleaned and a lamp lens for a 75W incandescent bulb (not included) lights up your kitchen range with at a wide angle.
As you'd expect from a very low-end hood, there's no ducting connection, so the air flows from the bottom of the filter, on up. It then flows out through another three columns of vent slats on the range hood's front. For this reason, installing it won't constitute a massive kitchen reform project and it should be an easy install for do-it-yourselfers.
Besides the stainless-steel finish, you can also get the unit other colors to help match your kitchen decor: white, almond, and black. It also has some nice decorative touches, like a hemmed bottom and mitered sides.
Conclusion
The Broan 413004 isn't just economical, it's also the best ductless range hood available. The company's 80-years experience with residential ventilation systems, means you're still getting a quality product from a top-notch company.
Specs and interesting facts:
Dimensions: 33 x 20 x 7.6 inches
Weight: 54 pounds
Material Type: Stainless steel
Installation type: Undercabinet (Non-Ducted)
Warranty: 1-year limited
This mid-high end 30-inch range hood from BV International with a modern industrial design, high-airflow blowers and is easy to clean thanks to its removable body and filters.
Best Features
Its operation is pretty quiet, especially when taking into account its high fan speed. The unit's illumination, materials, and finish are outstanding and should give you many years of maintenance-free service. It's backed by a 2-year product warranty.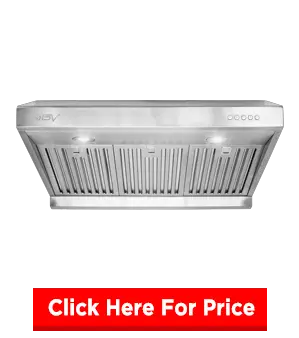 The BV range hood is very easy to clean up thanks to the fact that it's designed to be taken apart without the need for special tools. You can easily remove all parts, including the stainless-steel baffle filters.
It provides high airflow with two 170W high-speed motors that suck up to 800 CFM (cubic feet of air per minute), while not making much noise, with a max rating of 3.6 Sones at the top fan speed. The control panel on the front provides for three fan speeds.
BV's unique, patented "Slanted" design for the hood's housing contributes to its effective and quiet airflow while providing optimum coverage over the entire cooking surface of your range. The range is made from high-quality brushed stainless and sheet metal and is cUL and ETL certified. The illumination is provided by two energy-efficient 2W LEDs.
Conclusion
This is an excellent mid-range choice and it appears to be a quality unit since BV stands behind it with a 2-3-year limited warranty and lifetime tech support.
Specs and interesting facts:
Dimensions: 30 x 22 x 10 inches
Weight: 42.7 pounds
Material Type: Stainless steel
Installation type: Undercabinet
Warranty: 2/3-year limited warranty
This wall-mounted range hood from Kitchen Bath Collection is unique in that it does double duty as both a vented and a recirculating hood, so you can use it in places with or without an outside duct connection.
Best Features
It's a mid-range product price-wise but is full of high-end features, like ultra-bright LED lighting, charcoal carbon filters, three-speed settings on a relatively high-speed and low-noise blower, and an eye-catching two-piece chimney design.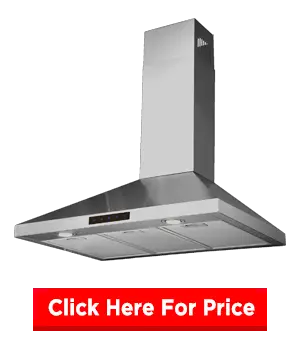 The STL75 is a 30-inch wide wall-mounted hood made from high-quality 304 stainless-steel. It has a classy two-piece chimney with adjustable height that has sleek curved edges without visible welded seams.
Its flexible 6-inch diameter duct is made from aluminum and can be easily attached to either the wall or ceiling. If you opt for a vent-less installation there's no additional installation required.
The unit's UL-certified motor has three-speed settings and runs at 412 CFM (cubic feet per minute), which is more than enough for most ranges, with a noise range of 48-58 dB. The lighting on the hood is one of its most outstanding features, with two high-end LED units, each having 49 bulbs. It's much brighter than any of the computing units we've seen.
Finally, the STL75 is very easy to clean with its corrosion resistant stainless-steel finish and two dishwasher-friendly aluminum microcell grease filters.
Specs and interesting facts:
Dimensions: 30 x 20 x 28 inches
Weight: 35.1 pounds
Material Type: Stainless steel
Installation type: Wall-mounted, vent/recirculating
Warranty: 1-year limited warranty
This 30-inch under cabinet range hood is from well-known ventilation supplier Broan and is from the manufacturer's high-quality mid-range line. It's quite flexible and can be used both as a vented and recirculating hood.
Best Features
It's quieter than other mid-range hoods, has adjustable lighting, is easy to clean, with your choice of aluminum or charcoal filters, which do an outstanding and efficient job of removing odors and airborne particles. The unit is also backed by an industry-leading 10-year warranty, which attests to its quality workmanship.
The QS130SS has a powerful, yet quiet permanently lubricated fan motor, which is designed for long-range service, and the axial blades result in a quietly running, top performing exhaust system. The motor runs at a quiet 1.5 Sones and uptakes air at 220 cubic feet per minute (CFM). It's UL listed and HVI certified.
A versatile, flexible design regarding mounting and venting accommodates off-center duct connections and is the result of the unit having four ducting options. It also has connector/backdraft dampers and keyhole mounting slots, so you can have a non-ducted, recirculating installation, or 3-¼-inch x 10-inch or 7-inch-round ducted discharges, without having to reposition the blower.
The unit has a sleek, clean, modern design, with a long-lasting powder-coated black finish and a non-stick bottom cover. Its surface is easy to clean as well as the filters, which are dishwasher-safe. The front-mounted rocker controls are easily accessible and have two-speed settings and dual halogen lighting settings (these can optionally be substituted for LEDs).
Specs and interesting facts:
Dimensions: 20 x 30 x 7.2 inches
Weight: 22 pounds
Material Type: Stainless steel
Installation type: Undercabinet
Warranty: 10-year limited warranty on major components
#7: Tatsumaki 30″ 
3 Speed Setting Range Hood 
This medium to high-end 30-inch wide Tatsumaki range hood has a beautiful sleek contemporary design together with a number of high-end features that make it a good pick if you're looking for a classy, powerfully suctioning hood.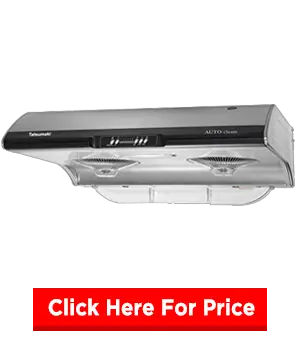 Best Features
It comes with features like a high-quality filter, a powerful motor with a 3-speed range and ultra-high CFM value. It also has delayed auto shut-off, great lighting and is very easy to care for and clean.
The unit is easy to install and has a classy, modern look and a high-tech inspired industrial design. Its convenient delayed-off feature lets you turn the blower on and forget it and it will automatically shut off when all the smoke, steam and airborne particles are safely disposed of. The two motors are quiet and can suck air at a rate of as much as 750 cubic feet per minute (CFM).
A digital touch control panel in the middle of the unit's front includes controls for the six-speed suctioning, clock, timer, and unit-light on/off. The hood has both vertical and horizontal venting connections and the stainless steel baffle filters are great at removing grease from the environment and are dishwasher safe.
Specs and interesting facts:
Dimensions: 22.1 x 29.8 x 7 inches
Weight: 37 pounds
Material Type: Stainless steel
Installation type: Drop-in under cabinet
Warranty: 2-year on parts
The Ultimate Range Hood Buying Guide
If you have a kitchen, and who doesn't, right? You most likely have a countertop stove, be it convection, ceramic or gas you'll be venting out smoke, fumes, grease, and smelly gases. Unless you totally make do with a microwave oven for all your culinary needs, you'll need a range hood.
These products are extremely practical and can be stylish if you take the time to choose the one that best suits your kitchen decor. Arguably the best looking, most frequent, and most easily combinable finish is stainless-steel. Here are a few factors to keep in mind when shopping for a good range hood.
Vented or Duct Free
First of all, when you're looking for a range hood you have to decide whether you want a vented or a duct-free model. A ductless hood should only be considered if there's no way for you to run a vent outside the house or to a chimney.
A ductless hood takes gases, smoke, and odors through a filter and recirculates them right back to your kitchen. Sometimes you have no choice but to do this, but this is definitely a suboptimal solution.
Type of range hood
Besides over cabinet range hoods, there are two other major types, under cabinet hoods and wall chimney hoods. An under cabinet model needs to be mounted to the bottom of a wall cabinet, while a wall chimney hood can be used if there are no cabinets on top of your range and mount on the wall using an exposed vent stack. Since there are no cabinets to help funnel fumes, you should get one that's at least six inches wider than the kitchen range top.
Cubic feet per minute (CFM)
In fact, you should always buy a hood that's at least the width of the range top where you do your cooking. Smaller hoods may not capture all your fumes, which will result in poor performance and a smelly kitchen.
One of the most important factors to take into account when evaluating range hoods is the cubic feet per minute or CFM of air that the hood can exhaust. The more airflow, the faster you'll be venting air out, but be careful, CFM on its own is not the ultimate indicator of smoke and gas capture and removal.
Ease of Installation
You should also get yourself a capable qualified installer, or if you're doing it yourself, always carefully follow the manufacturer's directions. Over-the-range hoods, for example, should always have plenty of space in between the cooking surface and the hood itself, typically 18-30-inches. You need enough room for working around the range when you cook, and there shouldn't be too much space so the steam and smoke don't escape out the sides.
The ideal situation is for you to vent outdoors, with as wide a smooth-walled metal duct as will fit your hood, don't have excessively long ductwork if you can avoid it, and avoid bends to have a maximum of unimpeded airflow. You should also cap your exhaust pipe outside the house to avoid back drafts.
Filter Type
Range hoods typically have either metal filters (aluminum or steel) or charcoal filters. The first type is used mainly in vented hoods and doesn't need much maintenance, besides regular washing, while charcoal filters are typically used in recirculating systems and need much more attention, whether cleaning or replacement.
Blowers and Motors
Other factors to take into consideration are the number of blowers and motors, which can be one or two and the associated fan speed. Most hoods have a speed control that can go from two speeds all the way up to six.
You may need a high-speed setting and a corresponding high CFM and noise level when cooking and lower settings after you're done with the cooking but still want to ventilate the kitchen while you're eating (and want as little noise as possible). You might also be interested in an automatic shutdown timer., which many mid to high-end range hoods will include.