Find our charcoal grill reviews, comparison charts and buying guides to help you buy the best charcoal grill for indoor/outdoor use. 
Top Pick for BBQ Fanatics
Weber 15501001: If you're looking for a grill that's easy to use, clean and yet produces restaurant quality grilled food the Weber 15501001 is the ideal grill considering you are willing to pay the big bucks. It's one that will leave int he most experience of grillers is awe with its top of the line features.
Budget Charcoal Grill For Beginners
Weber 14402001: If you're just starting out with grilling and need something compact and less pricey, the Weber 14402001 is the ideal pick. For a grill that costs less than $150, there aren't many that match the convenience or grilling efficiency of this charcoal grill in the same price range (a true value for money we'd call it).
Quick Navigation
With a nearly infinite variation of grill masters out there, there are nearly as many types of grills available to accommodate the different priorities of each. Some cooks care most about keeping everything clean and organized while they cook, for others it's all about the durability.
There is no one right way to grill- there is simply the right way for you! We've compiled a list of the top 7 Charcoal Grills of 2020 to help you sift through the hundreds of options and hone in on the grill that will best fit your fun summer plans.

 Top 5 Charcoal Grills Comparison Chart
---
In-Depth Charcoal Grill Reviews
The Weber 15501001 has 'Deluxe' in its name for a good reason and if you've got the budget, it's an absolute peach of a grill (a dream model for any fanatic).
So what makes it our top pick? Why is it so widely sold? We've got the answers.
Large Cooking Space
Planning to watch the weekend game with your friends over while you sip beer along with the perfectly charred steak? Seems like you'd need a quick, large yet efficient grill.
Luckily, the Weber 15501001 comes with a cooking space of 363 square inches (perfect for both direct or indirect cooking of the steak or veggies).
Also, with the 22-inch porcelain-enameled bowl you can sear of the meat for more lip-smacking flavor and the perfect charred grill marks, a delight to any eye.
Easy temperature control and monitoring
For the perfectly grilled steak or lamb rack or just veggies it all comes down to the temperature and the rust-resistant aluminum damper gives you full control over the cooking
Secondly, the accurate built-in thermometer teamed together with the removable LCD timer ensures you're never 'just guessing' the temperature or the cook duration (guarantees perfect meats and veggies each time).
An On-the-go Grill
Unlike most charcoal grills, starting the Weber 15501001 is easy peasy as it comes with a Touch-N-Go gas ignition system that gets it up and running within a minute (a standout feature we're sure you'll love).
Also, the trap doors on the grill make it easy to add additional charcoal without disturbing the cooking.
Secondly, with the large aluminum ash catcher, the otherwise dreaded task of cleaning can now be completed within a few minutes.
Lastly, the large CharBin storage container lets you store additional charcoal for quick and easy access while the large, durable wheels make moving the grill around a breeze.
Verdict
While it's small size limits its versatility, the ash catcher and push-button ignition are features to die for and thus worth the premium price range.
---
If you're looking for something cheaper without compromising on grilling efficiency or portability, the PK99740 is just the ideal pick.
With an experience of more than 50 years in the grill industry and their unique retro grill design still intact, PK Grills is surely one of the top fanatic favorite brands in the market.
Cooking Efficiency
The standout feature of the PK 99740 is the 4 adjustable vents (2 top and 2 bottom vents) which teamed together with the 360 square inch cooking space provide ample room for both direct and indirect grilling (so the meat is flavored to perfection).
Also, since cast aluminum is a good heat conductor temperature inside the grill rarely fluctuates even on a windy day.
And if that's not impressive enough, well, it's going to last you a lifetime too as it's rust resistant.
Lastly, with the airtight lid, you'll no longer have to worry about flare-ups or altering temperatures.
Lightweight and Portable
Got a camping trip planned out? Or just want to go tailgating with your family over the weekend?
If it's grilled food you're thinking you'll miss out on, with PK99740 your prayers have been answered.
While the cart comes with both large and small making it easy to move around the grill in itself is lightweight and can easily be lifted off the cart and placed into your car (there's your new camping buddy).
Verdict
If you're looking to host a large crowd on a regular basis, the PK grill isn't for you due to its comparatively small size.
Also, the lack of an ash catcher makes cleaning a tedious task though using a large aluminum tray at the bottom is a quick and easy workaround it.
But if portability and flavors are a priority and you'd love an old-school yet innovative grill, the PK Classic grill is the ideal pick and worth every penny.
---
No matter where you are in the country, or whether you're in the city or the countryside, you're probably going to spot a few of these particular grills. Because let's face it, the Weber Original Kettle Grill is a classic! The fact that Weber Grills are made right in the USA is fitting since it seems to regularly be America's favorite everyday grill.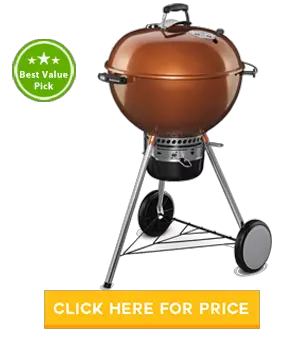 Not only does the Original Kettle Charcoal Grill have that familiar style with the easily removable dome-shaped lid, but it also works like a charm to get your burgers or hot dogs grilled with impeccable flavor. It also comes in a warm copper color or forest green beside the classic black option.
Easy to clean
For the minimalist, this is definitely the ideal choice. It's simple, practical, made to last, and easy to maintain.
No fancy nobs, nooks, and crannies to clean and check upon. Just empty the ash, clean the grate, and your grill is ready for the next event.
The Weber's cooking grate even has a retractable portion so you can easily access the coals beneath it when needed, and the glass-reinforced nylon handles have useful hooks on either end to hang your grilling tools.
Compact Size
Another fantastic feature is its compact size. At only 22 inches in diameter, you have plenty of space to cook for the whole family, but when the cooking's done just clean it up and tuck it inside your garage, or under an awning, or wherever!
While the larger, more elaborate grills will take up a good amount of space in your yard or carport, this grill stealthily awaits your next barbecue out of everyone's way.
The easy "One-Touch" cleaning system allows you to simply remove the aluminum ash catcher and dispose of the ashes. Simple as that.
Portability
When working with the Weber Original Charcoal Grill you will need to find some alternative counter space, however. Easily portable, you can move your grill near to any picnic table or outdoor counter area, but the grill itself doesn't have a surface for anything but the cooking meat itself.
Verdict
All in all, keeping aside the flaws, the Weber Original Charcoal Grill is the best charcoal grill under $200 and will ensure you have a great 4th of July even if on a budget.
---
And now for those who want a little more style and spice to their grilling experience. We've seen the portable grills, the durable option, and the grills easiest to tuck away out of sight, but what about those grills masters whose cooking has been honed to a fine science? Dyna-Glo adds just the detail and brilliance you might be looking for if this sounds more like you.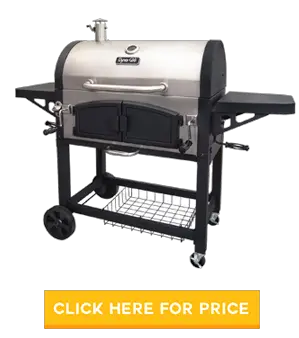 Better heat control
Many grills have very few options as far as adjusting the heat intensity for the food being grilled, and this can have a huge effect on how the finished product will taste.
If you're the type of cook that calculates the weight, the type of food, the length of time, and the temperature down to the finest detail, then you'll probably want to look into the Dyna-Glo Dual Zone Premium Charcoal Grill.
Convenient
This grill allows you to easily fill the coal baskets from loading doors in the front of the grill, while a turning handle nearby helps you adjust the height of the charcoal bins, and therefore they're proximity to the food being cooked.
Each side of the grill has a coal basket that is individually adjustable, allowing you to cook at two distinctly different temperatures at the same time.
Large cooking space
With 816 square feet of cooking surface, this grill also has the most space for grilling out of all the charcoal grills listed here. If you're most concerned about the quantity and the quality of your culinary creation, the Dyna-Glo Dual Zone Premium Charcoal Grill might be the right grill for you. A chic stainless steel exterior only adds to its appeal.
Verdict
For anyone looking for a grill with a large cooking space for the Dyna-Glo Dual Zone Premium Charcoal Grill is the ideal pick and while not the cheapest grill on the list, it's certainly worth the extra bucks.
---
Kamado Grills are a modern take on a Japanese cooking range often fuelled by charcoal and best kamado grills are often more durable and charcoal efficient (means more cooking with fewer refills).
But how does the Char-Griller 16620 fair against these expectations? Let's find out.
Good Build
While traditionally kamado grills are built using ceramic, they are often heavy, pricier and high maintenance and that's where the Char-Griller steals the show.
It comes with a heavy gauge steel build which makes it lighter, durable and cost-efficient (true value for money we'd say).
The cart is manufactured using tubular steel w/rubber wheels so it can handle the bumpiest of backyards or interiors while the front locking casters ensure the grill doesn't slip or slide away.
Temperature Control and Smoking
Firstly, the grill has two vents, one at the top and the other at the bottom. Both are numbered so you have a clear idea of their positioning allowing you a more consistent grill or smoke
Secondly, the double-walled construction teamed together with an air-tight lid and porcelain-coated interior helps maintain heat throughout the cook so the flavors and juiciness remain intact.
Lastly, with the 314 square inch cooking area, you can easily switch to indirect or direct heating so your meal's cooked just the way you like it.
Convenient to use
Worried about cleaning up the post-party mess caused by your charcoal grill? Well, with the removable ash catcher it's only going to take you seconds.
Since the grill is energy efficient you can reuse the charcoal reducing need to add additional charcoal in between the cook.
But in case you do need to add more charcoal just remove the centerpiece and throw in a few coals, just a few seconds task.
Verdict
Getting the grill up and running can be tedious especially if you're a beginner as it doesn't use a push button ignition like our top model.
Also, its small cooking space means it's not a grill for large parties or events.
Lastly, the cast-iron grate offers less durability and will require regular maintenance especially if you're grill fanatic.
Overall, if you're on the lookout for the best of both worlds, the 16620 Akon is the best charcoal grill smoker combo in the market. Also, it's cost-effective and offers the most benefits of a ceramic kamado grill.
---
Best features
Weber has it again with our easy-clean preference for their original black grill. This grill is very similar to the first one we mentioned, with a couple of small differences. While it doesn't have the fancy color options that the previous Weber model does, the classic black suits most people just fine.
The ash catcher isn't enclosed like the previous model but instead sits like a large open aluminum pan to catch the ash.
The side effect of this could be ashes strewn by the wind if you're cooking on a windy day. It also may not hold as much ash as the One-Touch cleaning system ash container.
If you know that you'll be frequently barbecuing along a windy coastline, the Weber Original Kettle Premium Charcoal Grill might be your best bet. If not, this model is just as useful and even simpler.
Durability
It's effortless construction increases it's durability, making it the ideal choice for frequent transportation.
Many people love to relax and grill in their backyards, but if you're the adventurous type that often heads to the mountain for a camping weekend, or to the park for a community barbeque, the Weber Original Kettle 22-Inch Charcoal Grill is easy to brush off and stash into your pick-up, SUV or camper.
Unlike many of the more extravagant grills, you won't have to worry about damaging one of the many nobs, or knocking a propane tank loose. Just strap it down and you're good to go!
---
Now, let's cut the fluff. If you're not interested in shiny paint, nobs and dials, secret doors and fancy extras, what you're probably looking for is a Kingsford.
The Kingsford Barrel Charcoal Grill is the perfect specimen of rugged simplicity. No frills, no flash, just built for the outdoor man's world where the only thing that matters is how many burgers you can grill at a time.
Durable but heavy
The Kingsford Barrel Charcoal Grill almost looks like it was chopped off a steam engine, with a sturdy cylinder body and grates on the bottom and side. But it doesn't just look sturdy- it really is.
While many other grills are made with lighter weight metal for easier portability, the Kingsford is made from a heavier metal for durability and longevity.
If you want a grill that you can leave outside and won't need to haul into your garage whenever you're done with the grilling, this is probably the best choice.
You'll find this model is twice as heavy as most of the other models on this list, but that is simply because it is made to last for a good long time.
And if you're a no-nonsense type of grill-master, there nothing like grilling burgers on a good old hunk of metal.
---
Another thing that Char-Broil does really well is that it adds a porcelain coat to their cooking grates. This feature adds greater protection from elements and wear and tear, adding to the durability and quality of the cooking experience.
Compact Design
We've already offered a couple of options for the minimalist, but what if you don't have the large truck or the oversized SUV? Or perhaps you haven't yet moved into that home of your dreams, and are still in that cramped apartment?
In this case, you might be looking for something even more compact that you can either hide in the hallway closet or puzzle into the back of your Subaru for that weekend getaway.
If this sounds a little more like your lifestyle, the Char-Broil Charcoal Grill, 580 Square Inch might be your best bet.
The crowning feature of this grill is its portable size. Standing much shorter than many of its competitors, it is much easier to stow in the back of smaller vehicles, yet still has all the features you need for your grilling needs.
The removable ash pan sits securely near the bottom of the grill chamber, and the top adjustable damper makes changing the temperature clean and simple.
Warranty Provided
Another wonderful feature of the Char-Broil Charcoal Grill, 580 Square Inch is its 10-year warranty on the core parts: the firebox and lid. Even the ash-pan has a 5-year warranty. For a $95 purchase that seems like a generous move on the manufacturers part.
---
While the Weber runs around $150, that may still a stretch for your budget. If this is the case there is another high-rated option with an even lower price tag: the Char-Broil American Gourmet Offset Smoker.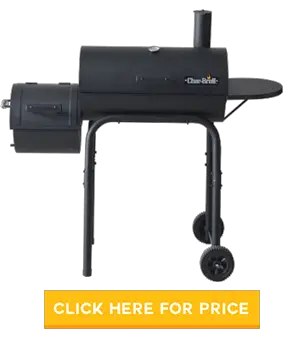 Its unique combo of grill and smoker has made it one of the best sellers on Amazon, and it continues to haul in 5-star reviews from happy customers.
Large cooking surface
The Char-Broil American Gourmet Offset Smoker has 290 square inches of cooking space in its main chamber, and another 140 square inches available in the side firebox chamber.
On the other side of the main cooking chamber, you'll find a small surface available for you to set a plate, or some cooking tools, or a small bouquet of wildflowers.
Firebox Chamber
The firebox chamber is arguably the best feature this model has to offer. This option allows you the space to prepare meat with an even smokier taste.
It's the perfect starter smoker for someone cooking for just a couple of friends or a small family. If you plan to one day host the neighborhood barbecue, however, or selling your smoked meats to the masses, you may eventually need to upgrade.
For everyday meals and small get-togethers though- you'll find this a great touch to your arsenal of meal-prep tools.
It's a bargain
For this price, the dual capability of both a grill and a smoker makes the Char-Broil American Gourmet Offset Smoker a great bargain. And when you're done, the two wheels on one side makes it easy to tilt and wheel away to its storage space for later use.
However, it's dual functionality is also its downfall as it performs both functions at an average level but better than others of the same price range. For the ultimate smoked foods, we'd recommend you get a top-notch propane smoker.
---