Disclosure: Some of the links below are affiliate links. This means that, at zero cost to you, I will earn an affiliate commission if you click through the link and finalize a purchase.
Chicken pot pie has a long tradition. Pot pies, in general, go back hundreds, if not thousands, of years. According to the K-State University website, some version of the pot pie has been made since Roman times.
Nowadays, people associate the chicken pot pie with farm table comfort food recipes. Come the cooler months of the year, it's probably pretty safe to say that chicken pot pie is being served somewhere from coast to coast. However, despite how common and popular it is, many people don't know what to serve with chicken pot pie.
In this post, we'll take a look at some of the best side dishes to serve with pot pie and why they work so well with the dish.
Let's get started.
Table of Contents
What Does Chicken Pot Pie Taste Like?
With a buttery-flaky crust, thick juices, succulent vegetables, and the taste of a childhood well spent, chicken pot pie is one of the most popular comfort foods there is. In some respects, it tastes a little like chicken stew with vegetables but with a small bite of bread mixed in. It's the perfect culinary remedy for a cold Fall day.
It's also worth mentioning that pot pie made with chicken isn't the only game in town. Throughout time, home cooks have served chicken pot made with veal, beef, turkey, and mutton. There were even a few pigeon pot pies on sailor ships. (I'm not sure how I feel about that one…)
Additionally, although it's now common to serve a chicken pot pie with the ingredients encased in a full pie crust, other pot pie recipes also call for toppings like biscuits, mashed potatoes or mashed sweet potatoes, or cornbread.
What To Serve With Chicken Pot Pie
What Appetizer Goes With Chicken Pot Pie
If you're wondering what appetizer goes with chicken pot pie, here are a few tips to keep in mind. Because chicken pot pie is so filling, you may want to choose some light appetizers to go with it. These should whet the palate without filling you up completely.
It's also nice to select appetizers made with fresh, uncooked ingredients, again to keep things light. However, that's not a requirement. Just a suggestion.
The following recipes complement chicken pot pie well.
Appetizer 1: Lettuce Wraps
As far as what appetizers to serve with chicken pot pie, it's hard to go wrong with lettuce wraps. Aside from the fact that by nature, they're usually light and refreshing, it also seems like about four zillion lettuce wrap recipes exist. This gives you a lot of options come prep time.
Here are a few of our favorite lettuce wrap recipes to serve with chicken pot pie.
Mango and zucchini lettuce wraps combine julienned zucchini slices, with thinly-sliced mangos. A bit of soy sauce, ginger, and honey in the dipping sauce adds a savory tinge to each bite.
Asian lettuce wraps bring together a little bit of ground chicken, peanut butter, and some Asian spices to make a light treat that goes down easily.
Here's why I like these: If you have any chicken left over from the prep of the chicken pot pies, the Asian lettuce wraps allow you to use it up.
Aside from this, ingredients like mangoes, soy sauce, peanuts and peanut butter, and ginger taste great with chicken… So much so that many chicken recipes call for those ingredients.
I also like the fact that this recipe adds a bit of the exotic to such a traditional meal without overpowering it.
As foodies extraordinaire, Steven and Chris point out: it's best to "choose apps that give a big, flavour in one bite. […] Your guest will come back for more."
Appetizer 2: Two-Ingredient Fruit Dip
The nice thing about this two-ingredient fruit dip recipe is that you can use almost any fruit in season, including apples, strawberries, kiwis, and more. Additionally, having a bit of sweet before your chicken pot pie tends to prime your taste buds for something a little more savory.
As far as what to eat with chicken pot pie goes, a fruity appetizer may not have been the first thing that came to your mind, but we recommend that you don't discount it right off the bat.
Serving fruit ahead of a meal is just the kind of thing that would happen if you were having dinner with friends who own a small farm. You can pretty much guarantee that whatever your farmer friends grow ends up on the table at dinner time, including fruits.
And along those same lines, it's good to point out that fresh sliced vegetables, like tomatoes and cucumbers, also would work well with chicken pot pie as an appetizer for the same reason.
What Kind of Salad Goes With Chicken Pot Pie
As far what kind of salad goes with chicken pot pie, I'd recommend the same kind of advice I gave above. Keep it fresh and light if at all possible.
When you're serving chicken pot pie, that's not the time to break out the macaroni salad. Save that for another day. Instead choose something that tastes delicious with chicken pot pie but that won't detract from your pot pie recipe.
Salad 1: Caesar Salad
Although chicken Caesar salad is very popular, many times Caesar salad consists of mostly lettuce.
If you're making a Caesar to go with your chicken pot pie, keep a few things in mind:
Start with crisp, fresh romaine lettuce. If you can buy it on the same day you plan to serve the chicken pot pie, all the better.
True classic Caesar dressing pulls together some pretty savory flavors, like anchovies and raw egg yolks. These ingredients, plus the copious amounts of garlic, give caesar its kick.
If you have any chicken leftover from your pie prep, you can grill it for use in the salad. That said, I wouldn't recommend making the chicken the star of the salad. Just use as flavoring to keep the focus on the chicken pot pie.
Salad 2: Waldorf Salad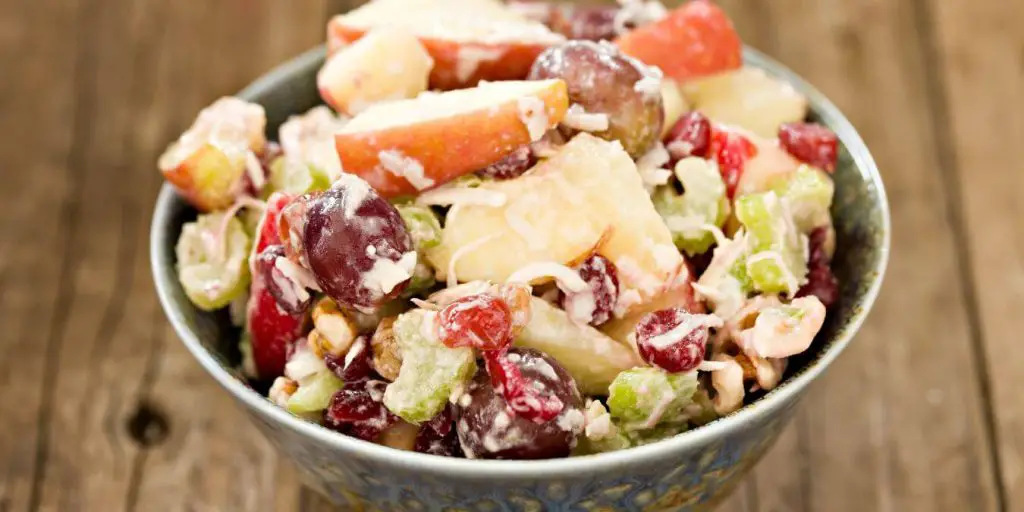 As far as what side goes with chicken pot pie, I have to confess that Waldorf salad counts among my favorites.
There are plenty of reasons for this, but mostly, it has to do with the fact that I associate chicken pot pie with fall and winter cooking, and the ingredients in the salad — apples and grapes — grow to their full ripeness in the fall.
And speaking of, here's a pro-tip for you. If you can buy your ingredients for the Waldorf salad from a small farm, do it.
As the Fruit Guys point out: "Remember that fruit grown at small farms often has size variations and natural blemishes that make it look different from fruit found in supermarkets. Small farm fruit always makes up for in taste what it may lack in visual perfection."
What Bread Goes With Chicken Pot Pie
As we mentioned from the outset of this post, it's very common to see chicken pot pie recipes served with bread tops instead of crusts. That should give you some idea of how delicious certain breads can be with this type of recipe.
My recommendations stem from that fact. However, I am also recommending breads that would be good when it's time to soak up some of the gravy that inevitably results when the chicken, vegetables, and spices in the pie cook down.
Bread 1: Buttermilk Biscuits
I have to admit, buttermilk biscuits remind of when I used to eat breakfast at my favorite aunt's house. Her buttermilk biscuit recipe was every bit as flaky and delicious as any chicken pot pie crust.
Like most experienced home chefs, she never measured anything. She just tossed a bit of this and a smidgeon of that into the proverbial pot, and viola! buttermilk biscuits. If you want to add even more comfort food to your comfort food, go with biscuits. And add honey butter… Mmmmm…
Bread 2: Sourdough Bread
As far as bread is concerned, if you're looking for what goes well with chicken pot pie, think about trying an artisan bread, like sourdough bread.
What's great about sourdough bread as a side for chicken pot pie is its consistency. The thick and chewy crust protects a chewy and almost savory center. Because of this, it makes an excellent choice when it comes time to soak up those gravies from the chicken pot pie.
What Side Goes With Chicken Pot Pie
Sometimes, it's a bit harder to choose what side goes with chicken pot pie because, by nature, chicken pot pie kind of has all the sides cooked within the confines of the pie. It's not unusual to see an assortment of veggies, like peas, carrots, and corn in the pie.
In light of all of this, it can be a bit challenging to find side dishes for chicken pot pie that complement it. When I was deciding on which side dishes to recommend with chicken pot pie, I decided to go with recipes that don't have as many of the same ingredients that chicken pot pie has.
Side Dish 1: Seasonal Squash With Olive Oil
I like serving lightly sauteed seasonal squashes, like zucchini and yellow squash, and even a bit of pumpkin chunks. Making these squash dishes can be as simple as steaming some chunked squash and then topping the dish with some garlic butter.
Side Dish 2: Green Bean Casserole
Although you can put green beans in a chicken pot pie, they're not as common of an ingredient in my experience. That's why green bean casserole is such a good option. It takes your fresh-cut green beans and infuses them with the flavors of cream of mushroom soup, soy sauce, and French's friend onions. It complements chicken pot pie nicely.
Side Dish 3: Sautéed Spinach
Here's another light side dish to serve with chicken pot pie that's hard to beat: sauteed spinach. As I mentioned, pot pie tends to be a more hearty, heavy meal. Sauteed spinach counters this with its light-weight texture and fresh taste.
What's more, because spinach has such a unique flavor, it can definitely hold its own when served with a dish like chicken pot pie. My favorite sauteed spinach side dish consists of fresh spinach, a tablespoon of olive oil, some fresh garlic, and a dash of white pepper to give it a slightly spicy nip.
What Dessert to Serve with Chicken Pot Pie
If you've made a chicken pot pie to beat all chicken pot pies, then it's likely that your guests won't be very hungry after dinner is done. That doesn't mean you shouldn't figure out what dessert to serve with chicken pot pie. It just means that you maybe don't want to go overboard, serving six kinds of pie and some fruit cake.
Instead, I find that small, per-piece desserts work best. These types of desserts give your guests something sweet to nibble on when you serve after-dinner coffee. However, they shouldn't overwhelm a full tummy, particularly if you wait a bit before you serve dessert.
Dessert 1: Penuche Fudge
Penuch fudge is pretty much a staple dessert/ candy in our house. Every time my son gets home from college, he gets a batch.
It combines all the goodness of brown sugar, vanilla, and fresh milk. And given how small you can cut each piece of fudge, it represents a nice option as a dessert to serve after a meal of chicken pot pie.
Dessert 2: Brown Frosted Butter Cookies
We're heading back to the 1950s and the Better Crocker Cookbook for the recipe for the brown frosted butter cookies.
Truthfully, when I serve chicken pot pie, I can't help but get a bit nostalgic. I think most people are like that. That's why these cookies pair so nicely with them.
Aside from that, they give you the convenience of a cookie-sized dessert after a meal, but add a bit of a cake-like quality to the mix because of the frosting that you put on top.
They're a soft, sweet cookie that adds a rich sweetness to the end of a chicken pot pie dinner. But because they're so small — compared to a slice of cake, for example — you don't have to wonder what dessert to serve with chicken pot pie. This is it!