Disclosure: Some of the links below are affiliate links. This means that, at zero cost to you, I will earn an affiliate commission if you click through the link and finalize a purchase.
Looking for the ultimate tower fan for your home/office use? The Seville Classics Ultra slimline is the best bang for your buck and here's why.
We all love having an effective and powerful fan which helps in making our hot suffocating room cool and comfortable again. While an A.C is an effective way to cool your room, it can be quite expensive and can increase your daily costs a lot.
This is why a lot of people often opt for a fan to cool their environment and one such popular fan style is a tower fan. A tower fan not only offers you cool air flow but also takes up minimal space which is why it is quite popular in homes and offices.
Seville Classics UltraSlimline Tower Fan is one of the best tower fans to purchase if you are looking for an effective yet inexpensive tower fan. In this review, we will highlight all the features of this tower fan which make it so amazing and must-buy product for anyone who is looking for a cooling fan.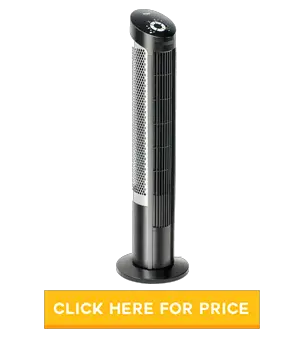 About the Brand
Seville Classics is one of the leading brands for home and garage products and provide the customers with quality yet inexpensive product most of the time. This brand has been here for around 35 years now and has become quite popular for quality fans, desks, closets, shelves, and so on.
Their products are mostly eco-friendly and the efficient customer service will keep you happy and satisfied with the product. Seville Classics have introduced several amazing tower fans in different design and styles to suit your needs and requirements.
This brand not only offers the best power, noise, level, etc. but also gives you convenience at a really affordable price.
They also offer a 1-year warranty on their products unless explicitly mentioned which is proof of their good quality construction. So, make sure that you always check out Seville Classics range for the best tower fan for yourself.
Seville Classics UltraSlimline Tower Fan
Seville Classics UltraSlimline Tower Fan is a stylish and sleek 40-inches tower fan which can be placed anywhere in your home, office, etc. which is in need of effective cooling.
It features 4-speed settings to choose from and is one of the quietest fans in the market so you can keep it close to your location without getting distracted by the sound.
Due to its oscillating feature, it offers users with 75-degrees area coverage and includes an LCD remote which makes it easier to control your fan without getting up every time.
This tower fan also features an 'Eco' mode for energy conservation and is extremely easy to clean and take care of. With its timer function, you can set your fan to shut off anytime between 30 minutes to 7.5 hours and can forget all about it once done.
Its black satin finish with its modern design works extremely well with your interior décor and will make this fan the major source of jealousy for your guests and friends.
Apart from its amazing features and functionality, this tower fan is also compact as it takes only 1 sq. ft. space for storage and inexpensive at just $59.99. Trust me, this is definitely one of the best tower fans with this cost and features in the market and you would be a fool to ignore it.
What We Love About The Fan
Here are a few main features of Seville Classics UltraSlimline Tower Fan which makes it such a popular fan for office and home use:
Ultra Slim Design
One of the best things about the UltraSlimline Tower fan is that it has a sleek and compact design which makes it quite attractive to look at and equally easy to store as well.
Its modern dark design and the 40-inches height makes it flexible and convenient to store in rooms for cooling. Also, due to its slim structure, finding an adequate place to store this tower fan is not really hard and makes it quite unobtrusive.
It is tall but it can easily stand on its base and it offers great air circulation to the users. It is constructed out of plastic which makes it lightweight while its amazing design helps in matching the home décor.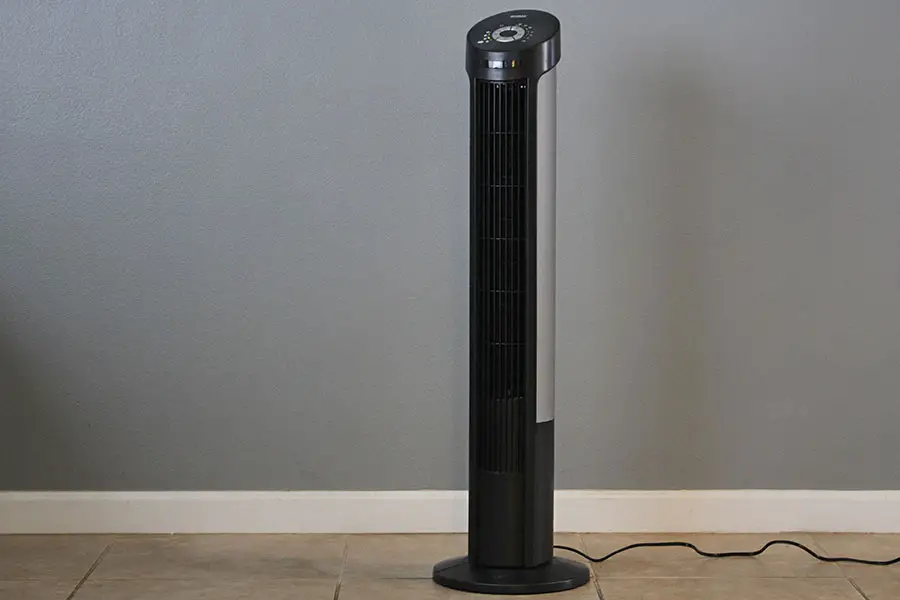 Variable Speed
Apart from offering a great style and design to the users, this tower fan also provides you with 4-speed settings to choose from.
This includes low, medium, high, and eco speed settings to suit your needs and provide you with an adequate cooling effect. You will find that this tower fan works really well and noiselessly at low and medium speed settings but often produces a little noise at the high-speed setting.
To control the speed settings, you have two options: manual buttons or remote control. So, you can easily change the wind speed by just sitting at your place and using the remote control which makes it highly convenient and flexible to use.
All these three settings are enough to handle different cooling temperature and the 'eco' setting not only cools your room but also helps in energy conservation, giving you the best of both the worlds.
Remote Control Feature
One of the topmost features of this tower fan is its remote control which works efficiently within a 15ft range from the tower fan. So, you can easily control your tower fan without being near it and can adjust the cooling settings according to your needs.
There is no backlight on the remote control so you can use it at night as well when everyone is sleeping in the room without disturbing anyone with the annoying remote control lights.
The LCD screen on the remote control is quite easy and clear to read and offers you full information for changing the setting. It uses 2 AAA batteries to operate which can be recharged or replaced and it can be placed behind the fan for storage when you no longer need to use it.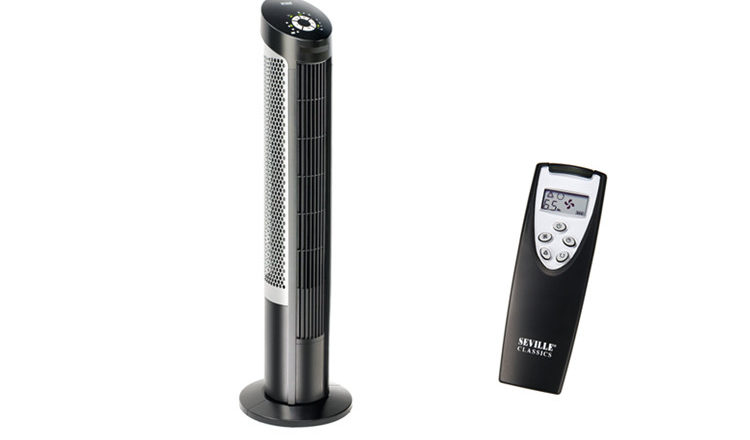 Automatic Timer
Another great feature of this UltraSlimline Tower Fan is that it provides you with a programmable shutdown feature so that the fan stops without you needing to prompt it. You can just switch on your fan and keep it on for a maximum of 7 hours before it automatically shuts off to save energy.
This makes it handy for use at night as you don't need to wake up and turn it off. This is an attractive feature for customers as it makes sleeping and working quite convenient and the fan just restarts when it feels that the room is starting to heat up again, similar to how many A.Cs operate.
The timer depends on your settings and you can set it to turn off after 30 minutes or any time before 7 hours.
Air Flow Setting
This tower fan offers directional cooling along with circulation of air all around the room with the help of its 75-degrees oscillation range and 115-degrees angle.
This is perfect for people who want a particular spot in the room to be cooled quickly while not compromising on the overall coolness of the room. With its different speed settings, 2 tilt positions, and different breeze options, you can get a different quantity of air circulation.
LED Control
As mentioned earlier, this tower fan includes 4-speed settings and remote control with LCD screen which makes it easy to manage and control the fan settings. With the help of this LED control, you can set your fan's timer also to run at a regular interval and you can choose the desired cooling option.
The LED control panel is situated on the fan's top so it is easily visible even when it is dark around and is really convenient when you have to change the settings during nighttime. So, you don't need to turn on the lights in the room and can just use the remote control or manually set the fan as desired.
With the highest wind speed, you will get a comfortable air breeze during the hot temperature but it can produce a lot of noise. Make sure that you stick to the low-speed setting during the night for a soundless and efficient cooling so that you can sleep comfortably.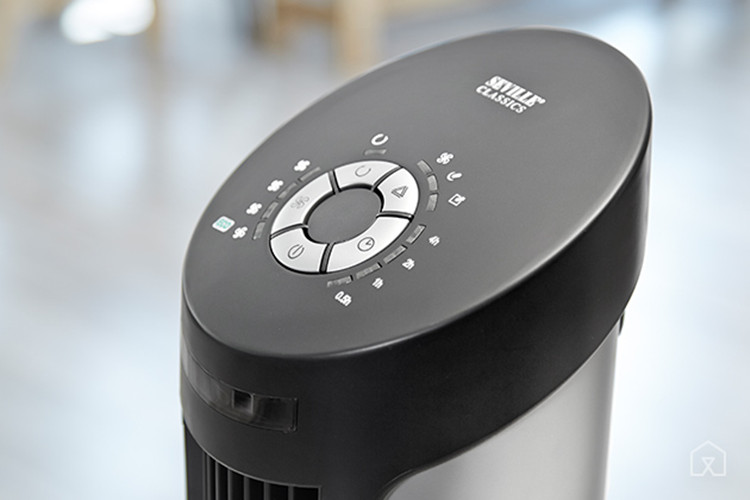 High Stability
This tower fan is quite stable in comparison to other products and features a well-built, balanced fan body which doesn't fall easily.  The blades of this fan are built out of steel which is why you don't have to worry about it getting damaged under any pressure or high-speed setting.
However, one must take care and clean the fan regularly to ensure that it lasts for a long time and store them in a protected area where they cannot be knocked over and damaged.
Low Noise Level
Although the tower fan does produce a considerable noise at high speed, it is still low in comparison to other tower fans and works perfectly for home and office use.
If you use it on the low setting then you will not hear the noise at all which is why it is ideal to use during your sleep. It includes a steel oscillating grille which is responsible for the low noise level.
Offers Safety for Pets and Kids
Another great feature of this tower fan is that it provides you with utmost safety and ensures that your kids or pets don't injure themselves while playing near this fan.
Since the blades are tucked away safely inside the fan and the grilles places keep a protective layer outside the fan, it is hard for your kids to reach out and touch the blades.
Also, it is highly stable and won't fall off on its own so you don't have to worry about accidental falling down as well. Overall, this is a safe fan to be used at home which will protect your small children from any kind of fan injuries.
Pros
It is reasonably priced at just $60.
It covers a large section of an area quickly.
It offers good circulation ability to the user.
It includes a remote control for added convenience.
It is slim and sleek which makes it easier to store in a small corner.
It offers 4-speed settings to the users.
Cons
It is not as durable as other fans.
It often squeaks when fan oscillates.
It is not as powerful as other tower fans.
See the fan in action below
Conclusion
The Seville Classics UltraSlimline Tower Fan is undoubtedly one of the best and most affordable fans in the market. It is quite capable of cooling your room quickly and efficiently and offers you convenience and comfort with its amazing features like remote control, programmable shutdown, LED control, and so on.
You will be able to choose the desired wind speed setting for effective cooling and will be able to sleep peacefully at night with its low setting feature. Although it does make noise in the high-speed setting, it is certainly not a deal breaker and its compact size and affordable price more than make up for this small drawback.
You can place the fan in any small place making it the ideal fan for an office space or bedroom where you need directional cooling for a longer period of time. So, if you are looking for a new and effective fan for yourself then Seville Classics UltraSlimline Tower Fan is a perfect choice.