Disclosure: Some of the links below are affiliate links. This means that, at zero cost to you, I will earn an affiliate commission if you click through the link and finalize a purchase.
A pull-down kitchen faucet eases the workload in a kitchen and Delta 9192T-SSSD-DST is one of the top kitchen faucets to consider and here's why.
Design
Delta 9192T is a pull-down touch-sensitive faucet which makes it easy and convenient to control the flow of water from the faucet spout. Out of all the touch-sensitive kitchen faucets available in the market, Delta 9192T is undoubtedly the most elegantly-styled faucet. It features a high-arc, shiny stainless steel finishing along with soap dispenser which makes this faucet look more modern and contemporary.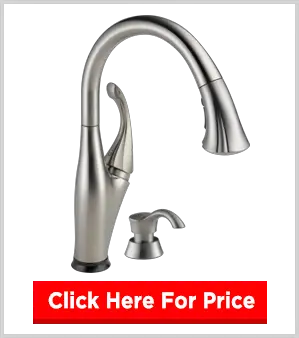 This is why it works great with all kinds of kitchen décor. You can match it with stone countertops, rustic décor, or even a wooden finish.
If a clean and curvy faucet is what you require in your kitchen, then Delta Faucet 9192T is easily the best-suited model for you.  Its curvy design with some advanced rubberized nubbins protects the faucet from getting dirty or layered with mineral deposits.
Due to its easy touch-activation, you don't have to spend too much time in turning the faucet on/off. A simple touch anywhere on the handle or spout works like a charm. As a result, you save a lot of time while cleaning or cooking but, that's not all.
Its touch3go feature ensures that you can wash your hands without having to touch the faucet and risk any form of contamination. Isn't that incredible now?
Performance
Since it is constructed out of premium materials and has an efficient design, it provides users with high-class performance. Delta faucets are known to be sturdy and durable and can easily withstand the daily vigorous use without affecting the performance or appearance.
Ask anyone about this effective faucet and they will tell you how powerful and long-lasting this model is.
Quality
One of the top manufacturing companies for kitchen and bathroom accessories, Delta has created a niche for itself and is popular for its high-quality products like the Delta 9178-AR-DST. It uses creative and advanced technology in its products which makes it so popular among the consumers.
The most commendable thing about Delta is that each of their product undergoes an intense testing phase to ensure its performance and durability before being shipped off to the showrooms.
Also, all these units are designed are safe from water contamination or any potentially harmful metals so, there is nothing to worry about. The electronic fixture in this model also includes a 5-year warranty which guarantees your unit against drips and leaks.

Features
Delta 9192T is one of the best faucets in this price range as it offers you a wide range of features which makes it extremely helpful to use while cooking or washing.
With its Touch3go technology, you just need to touch anywhere on the spout or handle to turn it on. You can use your hand, wrist, elbow, or even forearm to get the faucet started. Don't worry, you won't end up wasting water with this faucet because it includes a built-in safeguard. This safeguard ensures that your faucet will automatically get turned off after 4 minutes to preserve water.
With the sprayer, you can alter the flow of water and with its wide-angle swivel, it is easy to cover three sink setup as well. Also, the high neck enables you to use this faucet in shallow sinks as well. MagnaTite Docking mechanism ensures the spray wand stays locked in place when not in use.
The Diamond Seal Technology used in this faucet prevents any leakages or drips after regular usage while its single lever design makes it easy and efficient to control water. Also, the interior lining keeps the contaminants out of the water so there is no chance of germs or bacterial infection too.
The long range of the faucet (more than 10 inches) will make cleaning painless when you are loaded during holidays. This high-end model (9192T-SSSD-DST) is further equipped with LED lights which change their color according to the temperature so, you are less likely to accidentally burn yourself while using the faucet. Also, soap dispenser comes integrated with faucet and the included baseplate makes it possible to use it, irrespective of the sinkholes on your faucet.
It has a 15.42-inch spout which is probably one of the best features of this faucet and due to its 180-degrees swiveling, you can cover all corners of your kitchen. With all these features, the Delta 9192T offers the best functionality but remember it comes at a premium.

Pros
Reduced risk of water contamination due to touch3go technology
Allows you to turn on/off the faucet with a single touch
Diamond valve technology prevents leakages
180-degrees swivel allows users to cover a large sink area
LED lights help in determining the water temperature in the faucet
MagnaTite docking system ensures the sprayer stays in place and doesn't come loose
Water conservation with the built-in safeguard in the faucet
Cons
Touch feature means it unexpectedly turns on/off at times.
Highly Priced but worth every penny.
Conclusion
Delta 9192-SSSD-DST is certainly a high-quality pull-down kitchen faucet which provides both convenience and efficiency to the users. The only problem that you would face with this faucet is the electrical setup which requires regular maintenance.
Also, you would need to get the replacement batteries frequently. But, if you don't mind these little drawbacks this faucet is sure to give you bragging rights over your friends and relatives.