Disclosure: Some of the links below are affiliate links. This means that, at zero cost to you, I will earn an affiliate commission if you click through the link and finalize a purchase.
In this Delta 9178-AR-DST Leland review, we'll show you why it's a popular pull-down faucet that will bring a classic professional edge to your home kitchen while going easy on the pocket.
It is available in five different styles: stainless steel, arctic/brushed stainless steel, chrome, Venetian bronze, and champagne bronze, that will complement any contemporary kitchen theme. Plus, compared to the Delta 9192T-SSSD-DST, it's cheaper too. Here's a more in detail review about it.
Design
Delta 9178-AR-DST showcases an elegant design along with several amazing features which makes this a popular kitchen faucet among the users. With its stainless steel finish, you can forget about any stains or fingerprints that are likely to cover the surface of the faucet.
With its elegant style and affordable prices, Delta 9178-AR-DST is a dream faucet for anyone who is looking for a top functionality faucet at a cheaper price. This pull-down kitchen faucet resembles a teapot and the single handle enhances the appeal of the faucet.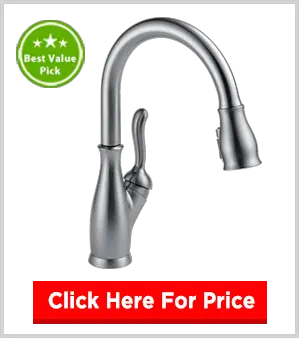 Apart from the aesthetics, this faucet features a high-arc 360-degrees spout swivel which means more coverage and convenience while washing or cleaning pots, in or away from the sink.
With its pull-down spray wand, it becomes easier to clean and rinse off the faucet and the MagnaTite docking feature ensures that the wand stays in place when not in use. This means that you don't have to worry about loose or hanging spray heads anymore, even after years of usage. Also, since it uses Diamond Seal technology in the valves, there fewer chance of your valves getting worn out after years of usage.
Apart from meeting the ADA standards, this faucet provides both 1 and 3-hole installation for both modern and traditional kitchens. With this faucet, you don't have to worry about hard water build up as the touch-clean spray holes in the spout takes care of it.
Delta 9178 is also available in 5 different styles and unique designs which allows you to choose the one which matches your kitchen décor perfectly.  It offers some really creative looking finishes to the customers with its Venetian bronze, artic stainless, and chrome style. Venetian bronze is specifically a great fit for anyone who wants their kitchen to look beautiful and amazing.
It is built from high-quality bronze which ensures reliability and longevity, so you can use this faucet for a long period of time.
Performance
Apart from its aesthetic appeal, this kitchen faucet is highly efficient in water dispensing and allows you greater control over the water flow. It is also supremely easy to use and you can adjust the water temperature quite conveniently which is why it is a highly rated faucet in the market.
With the Leland single handle, you can get the perfect water flow & temperature in a single move, making this faucet very easy to use. The toggle system also makes it easy to manage water consumption as the user can switch from spray to stream mode, whenever required.
Trust me, if you are looking for great performance at a low cost then Delta 9178-AR-DST is the product for you.
Quality
The Diamond Seal technology used in this kitchen faucet ensures that your faucet lasts a long time while giving consistently high performance. In fact, Delta brand takes proper measures to ensure that all the products from their brand satisfy customer's apt needs and requirements.
Their manufacturing process begins with an impeccable designing to prevent common errors which might cause faucet failure or any maintenance activities that could require time or expenses.
Also, Delta uses premium grade materials for building their products which further adds to the faucet's durability. As a result, you can be sure that your faucet can easily withstand vigorous daily usage.

Features
This budget-friendly pull-down kitchen faucet offers some really handy features to the users which makes it so widely used in households.
With its MagnaTite docking system, you don't have to worry about spray head coming loose or being difficult to maneuver. The magnets will keep your spray wand in place without overdoing it.
Another great feature of this kitchen faucet is that it offers you different spray settings to choose from and all you have to click to toggle between these different water flow settings. Thankfully, the stream and spray modes are easy to toggle with the switch and whenever you turn the faucet on, you get the mode last used.
Accessing the switch is quite easy and effortless but, using the lever can take some time to get used to. However, once the user understands the strength of the lever, this faucet becomes extremely easy and convenient to use.
Also, it includes a built-in indicator which will display the water temperature information at all times. This makes it easier to set up and use, without having to scald yourself accidentally from hot water.
The 360-degree swivel movement makes it easy to clean and the pull-down spout has a reach beyond 10 inches. This makes it extremely useful in washing and cleaning around the sink area and puts it ahead of most other kitchen faucet models in the market.
Diamond Seal Technology features provide more resistance and strength to the valves so, you can operate this faucet for years without facing any leakage issues.

Pros
Diamond Seal technology ensures resistance to long-term wear and tear.
MagnaTite docking system will prevent the sprayer from drooping.
The user can toggle between stream and spray mode easily
Built-in safeguard indicates the water temperature for safe use.
One of the most easily affordable pull-down kitchen faucets in the market.
Cons
Requires professional help for installation.
Should be handled with care
Conclusion
If you are looking for an efficient faucet which has all the updated features and goes easy on the pocket then the Delta 9178-ar-dst is certainly the right model for you.
Its two proprietary features make this unit stands out in comparison to other faucets in the market while the 3 available finishes are aesthetically pleasing and will make your kitchen look absolutely gorgeous.