Disclosure: Some of the links below are affiliate links. This means that, at zero cost to you, I will earn an affiliate commission if you click through the link and finalize a purchase.
Check out our in-depth rice cooker reviews, comparison charts, and top picks to help you find the best rice cooker for the perfectly cooked rice.
 Best-Rated Rice Cooker for Home Use
Zojirushi NVC18: The Zojirushi NVC18 teams the best aspects of pressure cookers and induction heating to provide optimum temperature and pressure levels for quick-fire cook without compromising on taste or quality making it our top rice cooker.
Rice Cooker for Budget Buyers
Instant Pot DUO80: The DUO80 is our best-value-for-money pick. It's a top-seller from Instant Pot and it's much more than just a rice cooker. It's versatile and more feature-laden than most expensive high-end multi-cookers. It combines seven kitchen appliances in one and features 14 smart programs for cooking a variety of dishes.
Quick Navigation
The main advantage of owning a rice cooker is the consistency with which you'll be able to prepare delicious rice servings without having to keep an eye on your pan. The rice won't stick, and will never be over or undercooked. And you won't have to worry about draining excess water after you're done.
If you frequently cook rice, it pays off to have a good rice cooker. My family loves stir fries with crispy water chestnuts, Indian dishes and Mexican food. So using a rice cooker has been a game changer.
Many cookers have features like intelligent cooking, keep warm, timers, and a whole bunch more.  In this roundup, we show the top performing rice you can buy with different feature sets and at different price points. We look at simple budget models as well as feature-rich high-end rigs and review the best selling and best-performing rice cookers, picking the best value for money options.
What is the Best Rice Cooker?
Our #1 Pick

Auto Amazon Links: No products found.

Zojirushi NVC18 Induction Heating Pressure Rice Cooker

With a smart system powered by induction cooking, the Zojirushi NVC18 Induction Heating Pressure Rice Cooker delivers the perfect rice every time through multi-menu options for nearly any rice dish you can imagine.

---

Easy-to-Use Color LCD Controls
10-Cup Capacity
Stainless Brown Finish

Auto Amazon Links: No products found.

Tiger Corporation JKT-B10U C Induction Heating 5.5-Cup Rice Cooker

The multifunction Tiger Corporation JKT-B10U C Induction Heating 5.5-Cup Rice Cooker allows you to cook a variety of rice dishes to perfection, complete with all the tools you need.

---

Easy-to-Use Color LCD Controls
5.5-Cup Capacity
Includes Silicone & Wood Utensil Set

Value for Money Pick

Instant Pot DUO80 8 Qt 7-in-1 Multi-Use Rice Cooker

Not just a rice cooker, the Instant Pot DUO80 8 Qt 7-in-1 Multi-Use Rice Cooker also functions as a pressure cooker, sterilizer, steamer, and slow cooker, just to name a few.

---

15 One-Touch Cooking Presets
Up to 70% Faster
Replaces Up to 9 Appliances

Zojirushi NS-TSC18 Micom Rice Cooker and Warmer

With several presets, the Zojirushi NS-TSC18 Micom Rice Cooker and Warmer helps you find the perfect setting for various rice dishes.

---

Easy-to-Use LCD Controls
10-Cup Capacity
Stainless Brown Finish

Auto Amazon Links: No products found.

Panasonic 10-Cup Microcomputer-Controlled Multi-Cooker (SR-ZG185)

With 13 preset cooking options plus a measuring cup, steamer basket, and rice scoop, the Panasonic 10-Cup Microcomputer-Controlled Multi-Cooker (SR-ZG185) offers an easy path to perfect meals every time.

---

Easy-to-Use LCD Controls
10-Cup Capacity
Even Heat & Keep Warm Up to 12 Hours
In-Depth Rice Cooker Reviews
This high-end device from Japanese manufacturer Zojirushi is the best rice cooker for brown rice we were able to find. It's based on its top-selling Japanese market models and uses pressure inductive heating which combines the best aspects of pressure cookers and induction heating. This allows for higher pressures to be achieved and higher temperatures than boiling to get the moisture into the rice for faster cook times.
The rice is cooked evenly throughout, unlike with traditional resistive heating elements or induction coils that can result in stickiness at the bottom, or in the rice being slightly under-cooked at the top.
If you're making mixed dishes, adding poultry or meat to your rice, or you want to soften the hardness of brown rice, then this is the cooker for you. The cooker is highly "intelligent," with its advanced fuzzy logic tech based on Artificial Intelligence.
It "learns" from past cooking experiences and adjusts the cooking cycle. It sets the ideal cooking times and pressures, pre-soak times and steaming wait-periods, resulting in perfectly cooked rice every time.
With the multiple cooking options you can cook a wide variety of dishes such as mixed, porridge, Shushi/sweet, rice GABA, etc. brown (yup, it's much more than a simple rice cooker). The Umami setting allows the rice to be soaked for longer, thus blending sugar into the water making the rice sweeter and tastier while the Platinum Infused nonstick inner cooking pan hydrates rice better.
The steam-reduce setting gives the rice a slightly harder texture and in case you like the rice slightly crisped, the Scorched setting is just what you're looking for. Also, safety features like Pressure control valve (with pressure release ball), safety valve, pressure indicator, whistle are perfect for first-time users
The automatic keep-warm function keeps rice warm longer and prevents drying and in case you're slightly late and worried the rice may have gone cold with the reheat function you can heat up the rice within a few minutes.
Other Features/Specs:
Dimensions: 16.5×11.1×10.1 inches
Weight: 17.2 lb
Volume (rice capacity):  18 liters, 10 cups
Power rating: 1,370 watts
Washable detachable inner lid
LCD control panel with clock and timer features, with these settings:
Warranty: 1 year on parts and labor
Pros
Excellent bowl design
Manufactured in Japan, the biggest manufacturers of rice cookers around the world
Cons
High price (but not overpriced considering the quality)
Tiger's a well known and respected Japanese brand whose rice cookers have been around for ages. This excellent mid-range induction cooker comes with Tiger's "Automatic Cooking Logic" system that actively monitors rice temperature and adjusts cooking times.
It gives you evenly cooked, fluffy rice ready for you to eat just when you want it. The induction heating elements in this cooker make precise heating adjustments throughout the pot and can cook a wide range of rice types with its two preset cooking timers and eight computerized menu settings.
The 3-layer metal cooking pot is coated with a non-stick ceramic coating and has a detachable, washable lid. It also comes with two wooden 8-inch race paddle/stirring spoons made from scented beechwood.
Other features/Specs:
Dimensions: 8.4×10.2×13.9 inches
Weight: 10.7 lb
Volume (rice capacity):  5.5 cups
Power rating: 1,080 watts
Heats rice up to 265 degrees-F, steams to 240 degrees-F
A steam vent cap for added safety
Keep Warm Function
Ultra setting soaks rice longer for more tender rice
Has menu functions for different rice types and consistencies: seasoned, sweet, brown, long grain etc.
Can cook combo rice/meat meals or meat alone, like short ribs
Pros
Manufactured in Japan
Perfect for Asian sticky rice
Cons
Some reports of it being noisy
Somewhat pricey
This top-selling multi-cooker from Instant Pot is not a top of line rice cooker, it's much more than that.
Its versatility is what impressed us the most and that's why it's our Budget Pick. It's a top value for money proposition and is chock full of features you can only get in much more expensive high-end multi-cookers.
It combines seven kitchen appliances in one and features 14 smart programs for cooking a variety of dishes.
The stainless steel cooking pot has no potentially unhealthy coatings and has smart microprocessor-controlled heating intensity and duration to cook your rice (and other food) to perfection every time.
The cooker comes with a number of useful accessories, like a stainless steel steam rack with handles, rice paddle, soup spoon, measuring cup, and a condensation collector. It integrates with Amazon Alexa with a Skill and free app for guided cooking with 300+ rice cooker recipes.
Other Features/Specs:
Dimensions: 14.8×13.2×14 inches
Weight: 15.8 lb
Volume (rice capacity): 6 quart
Power rating: 1,200 watts
Preset temperatures: 12
Dual pressure settings: High 10.2 -11.6psi; Low 5.8 -7.2 psi
7 in 1 kitchen appliance.
3 Temperature settings for simmering, searing & thickening
It's chemical free and includes marking in the inner pot at 1/2 and 2/3 full for safety.
Dishwasher safe cooking pot, lid and steam rack.
Fingerprint-resistant brushed stainless steel build
Pros
Low price and outstanding value for a plug-in multi-cooker
Versatility beyond just rice dishes
Outstanding safety features (important for a pressure cooker)
Cons
Might want to get extra accessories to get at some of the functions available
Manual too extensive, can be difficult to understand
This is a quality mid-range cooker from a trusted Japanese brand. It comes with a microcomputer fuzzy logic tech that monitors and adjusts cooking temperature and times to fine-tune these parameters and cook perfect rice every time.
It comes with a variety of cooking functions for cooking a wide range of rice types and consistencies including white rice/sushi, mixed rice, porridge, sweet, brown, cake, steam, and quick cooking.
The Zojirushi NS-TSC18 uses a black thick inner cooking pan providing even heating for better cooking, an interchangeable melody and beep signal to indicate when the cooking cycle has ended, a detachable and washable inner lid, an easy-to-read LCD control panel, automatic keep warm, extended keep warm, reheating cycle and a delay timer with two settings.
The cooker also has a steaming basket that can bake cakes so if you're one that loves to cook cake often, this rice cooker is just perfect.
Other Features/Specs:
Dimensions: 11.1×9.9×15 inches
Weight: 11.8 lb
Capacity:  10 cups (1.8 liters)
820 watts
12 Preset temperatures
Doubles as a steamer with its versatile steam setting
Easy-to-clean coated stainless steel exterior
Automatic keep warm,
Built-in retractable power cord.
Interchangeable melody and beep signal
Delay timer with 2 settings
Easy-to-read LCD control panel with Clock and Timer functions
Detachable and washable inner lid
Includes steaming basket accessory to steam foods
Healthy brown rice setting
Pros
Excellent textured rice every time, very consistent
A wide variety of rice types and varieties supported
Cons
Reports of Keep warm function not reliable if kept on for a few hours
Manual is not very good
This Panasonic multi-cooker is an excellent mid-range choice if you're looking for a convenient and versatile machine. It has fuzzy logic technology with microcomputer control that continuously monitors and adjusts the temperature and cooking time to fine-tune and precisely, evenly finishes your rice.  It automates rice cooking for a wide range of rice types and finished textures.
Its pre-programmed automatic menu system has 13 options for cooking a wide variety of rice, hot cereals and soups. It also has a keep warm function to make it simple to select and set the cooking options for your tastes.
You can choose white, brown, sticky and steamed, jasmine, multigrain or quinoa, and more. And if you're tight on time a quick cook function gets you great rice in a hurry.
It also functions as a high-quality slow cooker for perfect oatmeal and other hot cereals, plus tasty soups,  stews, and chili.  When your cooking is done, a convenient keep-warm feature maintains an ideal serving temperature for up to 12 hours. The timer and keep-warm settings are also great when slow cooking.
 Other Features/Specs:
Dimensions: 10.3×15.2×9.8 inches
Weight: 9.9 lb
Volume (rice capacity): 10 cups
24-hour preset timer for on the go rice
Inner pan has 6-layer diamond fluorine, non-stick inner coating ensures better heat retention
13 automatic menu options for a variety of rice, hot cereals, soups and more on a large,
Easy to use and read LCD control panel
The package comes with measuring cup, clear measuring lines in the inner pan, a steamer basket for easy serving, and a rice scoop.
6-layer, ultra non-stick coating ensures perfect cooking.
Pros
Great price for a full-featured cooker – very inexpensive for a fuzzy logic cooker
A wide variety of functions
Cons
Steaming timer starts at 10 minutes, which may belong for some veggies and noodles
This COSORI Premium 8-in-1 Muti-Cooker is a great choice for budget-conscious buyers. It does a lot more than cook rice and has a wide range of cooking programs with advanced microprocessor technology which monitors pressure and temperature, keeps time, adjusts heating intensity and duration, and controls cooking temperature curves precisely. It's definitely a great value for money proposition.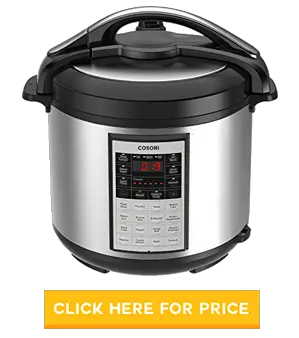 It has a versatile pressure cooker design and the cooking programs include Hot Pot, Pasta/Boil, and Sauté/Brown, traditional slow cooking with high, normal and low settings. It also makes yogurt, with a high setting for pasteurizing, and it has a low setting ideal for glutinous rice. Also, its ETL, FCC, & FDA certified with 9 safety mechanisms for uncompromised safety and peace of mind.
Fast cook times: Advanced steam technology seals in steam to cook up to 70% faster. Eco-friendly efficiency, this user-friendly cooker emits no steam when cooking, locks in more nutrients and vitamins and the food-grade stainless steel exterior, lid, steam rack are easy to clean and dishwasher safe
Extra essential: Recipe book, stainless steel thickened steam rack with handle, tempered glass lid for slow cooking, extra silicone sealing ring, ladle, rice spoon, and measuring cup included
Gather Around function: Create a family-style hot pot, for fondue that everyone can enjoy at dinner parties and special get-togethers. The Pasta/Boil function cooks pasta al dente, or Sauté/Brown to pan-fry or simmer foods inside.
Safety features
Pressure Limiter ensures pressure is kept within safe operating levels and the Lid Lock Safety prevents the lid from being opened while the cooker is pressurized.
With the Anti-Clog Protection food particles won't be blocking the pressure release valve while the Lid Position Monitor prevents the pressure cooker from operating if the lid is improperly positioned
The Pressure Auto-Control Guard always keeps the pressure in a safe range and in case the current exceeds safe operational levels the Electrical Current Monitor automatically turns off the pressure cooker.
Temperature Controller ensures food is evenly cooked, but not burned and for added safety, the Excess Temperature Monitor cuts power to temperature fuse if internal temperature exceeds safety limits.
Other Features/Specs:
Dimensions: 14.8×14.2×14.2 inches
Weight: 8.9 lb
Volume (rice capacity):  8 Qt
Custom cook times
6 different pressure levels
Adjustable temperatures
2 manual pressure cooking modes: Pasta/Boil and Hot Pot programs.
6 cooking functions: Bake, Saute and Brown, Boil, Steam, Slow Cook, and Pressure Cook.
7-in-1 cooking appliance
Pros
Excellent price for a feature-filled cooker
Versatile: Lots of preset programs
Very easy to use and to clean
Cons
Large footprint
Slow to warm up
If you're looking for something compact, the VM7900 is the best small rice cooker in the market and guess what? It's budget-friendly as well. Its unique feature is the use of unglazed clay as the main material in its cooking pot. Clay has a reputation for making better tasting rice and other foods because it's porous and moisture circulates more evenly throughout.
So, unlike with other cookers, you need not have any concerns about aluminum, lead and non-stick chemical coatings contacting your food. The clay pot also helps to preserve important nutrients, enzymes, and vitamins.
The VitaClay VM7900-8 doesn't skimp on functionality either. It's 4-in-1, a rice cooker, a slow cooker, a digital steamer, and a low-temperature artisan yogurt maker. It cooks up to 4x faster than conventional slow cookers and is simple to use.  It's fully programmable from 10 minutes to up to 5 hours with 10-minute increments.
The delay timer and automatic warm function allow you to start cooking automatically at any time of the day or for early morning breakfast without waking up. It also has an easy to read clock and LCD display.
This cooker is a must for artisan grains and heirloom beans or grass-fed beef. Savory bone stocks to rich soups and stews have all the vital nutrients sealed in for your good health. There are a tons of options to serve as a side for soups and stews that are quick and easy, such as cornbread.
7 function settings include White rice, Brown rice (Wholegrain, or Wild rice), Sweet rice (Sushi, Sticky), Reheat, Stew (Roast or Steam or Beans, or less liquid cooking), Soup (Broth or more liquid-based cooking) and Yogurt(Germinate) so your food cravings are well-taken care of.
And with the natural, unglazed, Zisha clay your rice will not only be packed with flavors but important nutrients, enzymes, and vitamins as well and free from added non-stick chemical glazes, lead, and aluminum.
Other Features/Specs:
Dimensions: 17.2×11.4×13 inches
Weight: 15.6 lb (shipping weight)
Volume (rice capacity):  8 cups
Power rating: 600 watts
Pros
Excellent taste
Great programmable features
Compact and budget-friendly
Cons
The clay pot is fragile and prone to breakage during delivery and during use
Rice can stick to the bottom
Only suitable for small families
Ultimate Rice Cooker Buying Guide
As we mentioned earlier, buying one of these cookers makes sense if you find yourself frequently cooking rice. A rice cooker can save you lots of time over the years and it's a great labor-saving device.
The quality of the rice you'll be eating and serving your family and guests will be a cut above what you're currently getting. A rice cooker makes better quality rice than what you're used to when cooking rice on your stove with a traditional pot. To top it off, the consistency of your rice can't be matched and you'll have lots of options that you'd never get with your old pot.
Points and considerations to take into account for choosing the right cooker
Volume or capacity
Rice cookers come in different sizes and you should dimension your cooker according to the number of people you usually cook for. It's not the same if you just cook for yourself and maybe one other person, or if you have a large family. Also, you may want to cook a lot of rice in one sitting and store the rest for leftovers.
Cooker materials and construction
As is the case with conventional pots and pans, the cooking pots on rice cookers can be either built from stainless steel or from aluminum with a non-stick coating, you can even get clay pots on your cooker. The lids can have either metal lid or glass, which you can see through to keep tabs on how your rice is cooking.
Cook timer
Most cookers incorporate a timer that you can program to delay the start of cooking for a specified period of time. This way you can put the rice in the cooker before you go to work and have your rice freshly cooked when you get back home for dinner, or you can put cereal grains on the cooker at night before going to bed and have a hot and nutritious breakfast ready when you wake.
Electronics and intelligent features
If you opt for a budget rice cooker you'll just basically get an electric steamer with a timer. Mid-range and high-end devices can be much more sophisticated in that they'll usually have an induction heating element incorporated and logic chips with Artificial Intelligence and fuzzy logic algorithms that will "learn" and adjust cooking temperatures and times to perfection.
Rice Types and Texture Settings
Most mid-range/high-end rice cookers let you optimize how you cook different kinds of rice, like hard textured brown or wild rice and soft, yet firm Sushi rice. There are cookers that have settings for fluffy porridge, or for non-rice dishes like cake.  Many multi-cookers offer the possibility of preparing rice with meat or poultry, pasta, cereals, and other, non-rice food items.