Disclosure: Some of the links below are affiliate links. This means that, at zero cost to you, I will earn an affiliate commission if you click through the link and finalize a purchase.
Our drip coffee maker reviews will help you pick the best drip coffee maker in the market so you get barista like coffee at home.
Top-Rated Coffee Maker for Home
Technivorm Moccamaster KBG: Stealing the show away from the so-called Big Brands of the coffee industry, the Technivorm Maccasmaster is any coffee lover's dream come true as it can provide you barista like coffee all day long. Don't believe us? The handcrafted brewer has been certified by the Specialty Coffee Associations of America and Europe and that speaks volumes.
 Budget Drip Coffee Maker
Hamilton Beach 49980A: However, if you're looking for something cheaper yet efficient with the Hamilton Beach 49980A you'll get just that. You can use either ground coffee or packaged Pods and with the special control panel and display screen using the coffee maker is easy peasy.
Quick Navigation:
The steam, the luxurious dusky smell, the sound of it pouring right into the middle of your morning rhythm; coffee has become the ultimate way to add flavor and warmth to the daily grind. For the morning people, it's just an extra accent to all the dazzling possibilities the new day brings. For the…not-so-morning-people, it's very often that one thing that can actually lure them out of bed and convince them there is something in this day worth leaving sumptuous sleep for.
But as the popularity of coffee has risen, so have the prices! For those keeping a sharp eye on their expenses, a $3-$5 Latte from the local barista every day starts to add up real quick. That's pushing $1,000 a year just for weekday coffee stops! In the light of this breakdown, investing in a good drip coffee maker begins to sound less like an expensive and more like the most convenient, economical, and downright smart way to go. But where to start?
Here are our top 7 picks and we're going to tell you why. But before we dig in, are you interested in also checking out our top reviews for home espresso machines? 
The 5 Best Drip Coffee Makers
Product
Details

Our #1 Pick

Technivorm Moccamaster KBG 10-Cup Coffee Brewer

Technivorm Moccamaster KBG 10-Cup Coffee Brewer features a unique copper boiling element with no pump, producing a perfect brewing temperature of 196 to 205 degrees Fahrenheit every time.

---

Brews in 6 Minutes
Hot Plate Won't Burn Coffee
10 Cups

Bonavita BV1900TS 8-Cup Carafe Coffee Brewer

The Bonavita BV1900TS 8-Cup Carafe Coffee Brewer maintains optimal brewing temperature and supports premium brewing with enhanced showerhead and optional pre-infusion mode for superior flavor.

---

One-Touch Operation
Thermal Carafe
8 Cups

Value for Money Pick

Hamilton Beach 49980A Single Serve and Full Pot Coffee Maker

Whether you prefer regular or bold brew style, the Hamilton Beach 49980A Single Serve and Full Pot Coffee Maker is a versatile option to brew into a cup or travel mug, or into the included carafe.

---

Fully Programmable Auto Brew
Sneak A Cup Pause N Serve
12 Cups

Auto Amazon Links: No products found.

BUNN NHS Velocity Brew 10-Cup Home Coffee Brewer

Modeled after its commercial counterparts, BUNN NHS Velocity Brew 10-Cup Home Coffee Brewer features an always-hot stainless steel water tank allowing a superior quick brew process, while the exclusive spout eliminates drips.

---

Full Pot in 3 Minutes
Commercial Style Sprayhead
10 Cups

Auto Amazon Links: No products found.

Cuisinart DCC-3200AMZ PerfecTemp 14-Cup Programmable Coffeemaker

The Cuisinart DCC-3200AMZ PerfecTemp 14-Cup Programmable Coffeemaker brews coffee at a higher temperature for maximum flavor, including in 1-4 cup mode.

---

Fully Programmable Auto Brew
Permanent Filter
14 Cups
In-Depth Drip Coffee Maker Reviews
It's not Mr. Coffee, Keurig or Cuisinart- who the heck is Technivorm? Nestled in the heart of the Netherlands, we've unearthed this gem to present to you as our top pick. While factories everywhere pump out coffee makers, Technivorm prides themselves in hand making all of their coffee makers, and has even been certified by the Specialty Coffee Associations of America and Europe, and received the European Coffee Brewing Center's Seal of Approval after passing through their rigorous testing process.
Brew Quality
The result of all of their craftsmanship and attention to detail: the Moccamaster KBG 741 10-Cup Coffee Brewer with Glass Carafe. The detail that truly makes this coffee maker stand out from its peers is the copper boiling element within the base.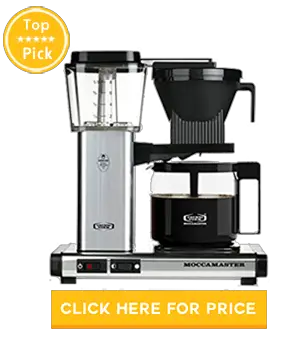 This is a crucial factor because it heats the water to temperatures of 196-205 F, which ensured the full flavor is extracted from the coffee grounds. Many coffee makers don't reach this necessary heat-level, causing the finished brew to lack the quality and flavor found in a Moccamaster brew.
And on top of its amazing quality, it also only takes 6 minutes to brew a full pot of coffee for you to enjoy.
Chic Customizable Design
The brilliant performance of the machine is only accented by it's sleek and stylized design. The aesthetic of kitchens is becoming more and more important, and something as prominent as a coffee maker can make or break the look of your cooking area.
Unlike most of the standard coffee makers which only come in black, or possibly silver, the Moccamaster KBG 741 10-Cup Coffee Brewer with Glass Carafe comes in whopping 16 different colors! Whether your vibe is an earthy bronze or a popping lime green, they've got you covered!
So is it worth the investment?
Technivorm has factored in style, speed, durability, and quality into their Moccamaster KBG 741. $330 may sound like a lot when you're putting it up against many other coffee makers frequently advertised so is it really worth it?
Well, at this price, you get a 5-year warranty, a machine that provides a coffee-shop-quality cup of coffee, and the time and money you save on all those coffee stops. Five plus years of premium brew that the cheaper coffee makers can't match and coffee shops would charge you twice as much for? We'll take it!
If you're looking for a coffee maker with the same quality of the Moccamaster but want something a bit more compact, you might just be searching for the Bonavita BV1900TS 8-Cup Carafe Coffee Brewer. This little trooper has managed to accumulate 1,300+ reviews on Amazon, with a solid 4 gold stars as a result. There are many reasons customers are raving about this purchase, but here are the top highlights.
Unbreakable Build
While many coffee makers come with a standard glass decanter, this can pose problems for some people. First of all, though these decanters are made of super thick glass, glass is still considerably more breakable than steel.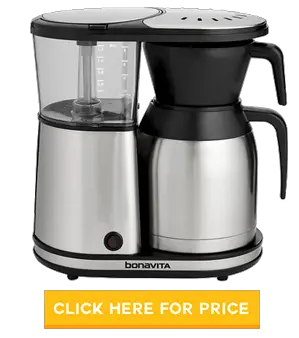 Perhaps it was with this in mind that Bonavita decided to create their carafe with steel instead of glass, making it nearly indestructible. With kids running through the kitchen, energetic dogs, or just clumsy tendencies, this feature alone makes the Bonavita BV1900TS 8-Cup Carafe Coffee Brewer a hot item for many coffee drinkers worldwide.
Brew Quality
On top of its compact design and durability, now we throw in its impeccable quality. Much like the Moccamaster, Bonavita knows the importance of proper water temperature when brewing the perfect cup of coffee, so they designed the Bonavita BV1900TS to heat water to the prime temperature range of 196-205 F, causing it to be recognized by the Specialty Coffee Association of America as part of its Certified Home Brewer Program.
Simple One-Touch Brewing Operation
The easier a coffee brewer is to use, the better. The Bonavita Carafe Coffee Brewer features simple brewing with one-touch operation. The Bonavita Carafe Coffee Brewer keeps water at the optimal temperature for brewing, within the range of 198 and 205 degrees Fahrenheit. When the button is pressed, the water is released and a full carafe of coffee is brewed. Of course, that's also an "always-on" design, which isn't the most energy-efficient compared to pour-in coffee makers.
Optional Pre-Infusion Setting
If you want a strong, bold cup of coffee, the optional pre-infusion setting is right for you. The pre-infusion setting moistens the coffee grounds for better flavor and allows it to sit. It will then alert you to when your coffee can be brewed.
A convenient auto-off setting after 40 minutes also ensures that the coffee grounds don't just sit there indefinitely unused. The pre-infusion mode works with the wide showerhead and flat-bottomed filter to give you the perfect carafe of coffee each time — but, again, this is ideal for those who want their coffee strong.
Are you looking for a good coffee maker on a budget? The most affordable option on this list, the Hamilton Beach 49980A Single Serve Coffee Brewer is very similar to the Cuisinart 12-Cup — it's just missing a few small features.
As both a single-serve coffee brewer and full pot coffee maker, the Hamilton Beach is ideal for those who sometimes want one cup and sometimes want a whole carafe. In addition to being able to keep your options in terms of quantity, you can also keep your options open in terms of the type of coffee you get: you can either use ground coffee or pre-packaged pods.
Single Cup, 12 Cup, or 14 Oz Travel Mug Brewing
The Hamilton Beach is able to brew single cups, an entire carafe, or even fill up a 14-ounce travel mug on demand but the travel mug itself is not included. The carafe is positioned on one side while the cups or mug are positioned on the other, making it easy to make a pot of coffee for your home in addition to a cup of coffee on the go.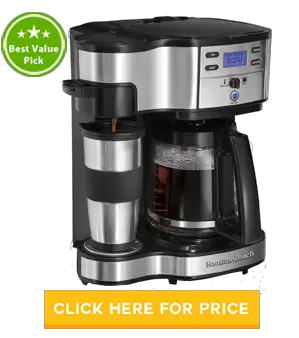 There are two separate options for filling these; the carafe side has a special reservoir that is filled with coffee grounds. Again, like other multiple brewing systems, this also means that you have multiple parts that need to be cleaned.
Use With Either Ground Coffee or Pre-Packaged Pods
On the other side of the carafe, the mug and single-serve cup side can either use ground coffee or pre-packaged pods. These pre-packaged pods are available off-brand or through Hamilton Beach, though Keurig k-cups cannot be used. This gives you full control over the type of coffee you brew and lets you brew things other than coffee: there are pods available for other types of hot drinks, such as tea and cocoa.
A Special Control Panel and Display for Programmability
The Hamilton Beach coffee maker has a special control panel and a display that makes it easier to program. You can program the brewing time for up to 24 hours in advance, prepping it for your next morning and then forgetting it until your coffee has been brewed.
The Hamilton Beach is just as highly rated on Amazon as many of the other options on the list, and it's easy to see why. Apart from the inability to use Keurig branded k-cup pods, Hamilton Beach offers virtually every feature that other, more expensive coffee makers do.
Though it may not necessarily be as durable or last as long, the Hamilton Beach is able to brew a wide variety of coffee sizes, manage pre-packaged pods, and brew an entire carafe from ground coffee, depending on your personal needs. If you want a versatile all-around device at a very low cost, the Hamilton Beach has a lot to offer — but you're not going to want to get it if you want something durable that's going to last for years and years.
Bunn has been known as the restaurant's friend, but what about at home? If you want the durability of Bunn but aren't interested in the bulk and capacity of the BUNN 13300.0001 VP17-1SS Pourover Coffee Brewer, this next option might be the perfect one for you. Bunn has taken their time-tested coffee maker and made a home coffee brewer for everyone to enjoy.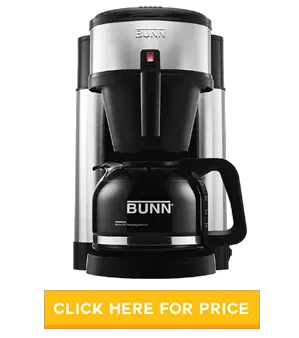 Brew Speed
The first thing to note about the BUNN NHS Velocity Brew 10-Cup Home Coffee Brewer is implied in its name: velocity. It's fast! 10 cups of coffee will definitely take care of a whole family, and it can produce that amount in only 3 minutes! If coffee makers were cars, this would be the Ferrari.
When things are rushing in the morning and people are dashing out the door to school, work, events- whatever!- no one wants to be standing around the coffee pot waiting for the last drops to drip! This coffee maker ensures all 10 cups are ready to go before you are.
Drip-Free Pouring
Another unique feature of the BUNN NHS Velocity Brew 10-Cup Home Coffee Brewer is its carafe spout. We've all encountered those awkward pitchers that always seem to pour anywhere but where we're aiming, and Bunn has sought a solution to this common frustration. Their drip-free carafe design only makes mornings speedier and cleaner as the coffee easily hits the cup and heads out the door.
Keep those cups coming!
If you're looking for a coffee maker that accommodates a group of people and does it at record speed, the BUNN NHS Velocity Home Coffee Brewer is the best drip coffee maker for you. And while you would be spending over $200 for the BUNN 13300.0001 VP17-1SS tank, the sportier BUNN NHS Velocity comes in at just around $120.
Cuisinart isn't unaware of the variety of lifestyles that they are catering to with their kitchen appliances. While many households only include 1-5 people, some situations include many more visitors to the coffee machine throughout the day. For these larger communities, they designed the Cuisinart DCC-3200AMZ 14-Cup Glass Carafe with Stainless Steel Handle Programmable Coffeemaker.
Programmable Features
Much like it's little brother, the Cuisinart DCC-3400 12-Cup, it has a completely programmable feature that makes it convenient for homes and offices alike. For the office scenario, this can be particularly useful: a secretary with a large task list in the morning can program the coffee pot the night before, so it'll be ready to go and brewing before she even steps in the door the next day. That makes for a lot of happy employees!
Brew Capacity
On top of that, an extra two cups can make all the difference between needing to make one pot of coffee or two. If you have a larger office or family, it'd be a major hassle to have to make two pots of coffee in the morning rather than one, just to fit a couple more people into the coffee line!
These extra two cups in the 14-Cup Glass Carafe might make all the difference in your home or break room. This model also has a brew-strength feature that allows you to choose between a regular brew or a bolder brew.
Kick that Monday office gloom
With its programmable options, stainless steel look and larger capacity, we've named this the Break-room Favorite. If you've been assigned to find the best coffee maker for your office or lobby, this might be just the one. Whatever your flavor, whatever your style, there's sure to be a coffee maker on this list to save you money, save you time, and most of all, get you that delicious dose of dusky goodness we all know and love.
With fast brewing and a unique build for even flavor extraction, the BUNN BXB Velocity Brew 10-Cup Home Coffee Brewer is designed for one thing: brewing a consistent carafe of coffee every single time. The BUNN Velocity can brew anywhere from four to ten cups at a time and brews into a special no-drip glass decanter.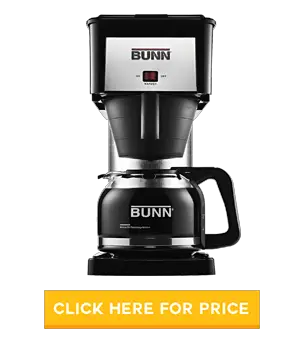 Unique Sprayhead for Even Flavor Extraction
The BUNN Velocity comes with a spray head that is specially designed to saturate all of the coffee evenly at once, activating its flavor and ensuring complete coffee extraction.
Once the brewing has been completed, the porcelain-coated warming plate will be able to keep the coffee warm without burning it. Together, this is designed to get the most out of even premium coffee blends.
10 Cups in Three Minutes
The BUNN Velocity keeps its water heated to 200 degrees so that it can brew very quickly — generally within about three minutes. It is able to brew up to 50 ounces of coffee at a time at this speed.
Though it isn't able to brew a single cup of coffee or a mug of coffee, it is a fast way to make large volumes of coffee — it all depends on exactly what you're looking for in regards to your household.
The BUNN Velocity is a fast way to brew 10 cups of highly flavored coffee to the perfect temperature. The only downsides that appear to come with the BUNN Velocity are quality and durability issues; some of the machines need to be repaired or replaced quite frequently.
This makes the BUNN potentially less durable and long-lasting than the other top brands which tend to be very reliable and durable. Otherwise, the BUNN Velocity is ideal in many ways for those who simply want to be able to brew ten cups of coffee in the morning without any additional fuss.
With the Cuisinart SS-15 12-Cup Coffee Maker and Single-Serve Brewer, you have the power to brew either a carafe or a single-serve cup of coffee. You can even control how flavorful each individual cup of coffee is, and you can use either reusable filters or k-cup pods inside of the machine. Altogether, the Cuisinart can function as an all-in-one device for all of your drip coffee needs, in addition to being an instant single-serve brewer.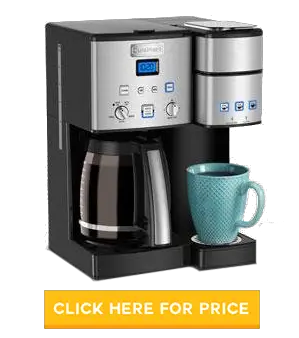 Single-Serve Brewer for 6 oz, 8 oz, and 10 oz Sizes
The Cuisinart is very customizable, offering both a single-serve brewer and a carafe brewer. Additionally, the single-serve brewer can brew 6 ounces, 8 ounces, and 10 ounces, making the Cuisinart comparable to many other single service devices. The ability to brew different sizes of single-serve coffee lets you control the boldness and flavor of each drink.
This makes the Cuisinart an ideal machine if you want to be able to perfectly control the amount of coffee you brew and its strength. On the other hand, if you don't care about that, the Cuisinart also has twice as many parts to clean — and maybe more complex than you really need.
K-Cup Pod Compatible With Reusable Filter Cup
Though there are other drip coffee makers that can make single-serve brews, the Cuisinart 12-Cup is special in that it is also Keurig pod compatible, in addition to coming with a reusable filter cup. That means that you can use any of the K-cup pods in the Cuisinart device, which includes a wide array of coffees, teas, hot cocoas, and other hot drinks such as cider.
Special, Programmable Control Panel
This coffee maker has 24-hour programmability, so it can automatically get started with brewing at any time. Additional features include the ability to control temperature, coffee boldness, and self-cleaning. All of this together ensures that you'll have coffee brewed to your exacting specifications.
The ability to use Keurig K-cup pods substantially extends the usefulness of this drip coffee maker, which offers the best of both worlds in terms of both drip coffee and instant single-serve brewing. The only downside is that the larger water reservoir is not removable, which means that it can be a pain to refill the machine… and the K-cup pods may really be unnecessary if you just want to brew a carafe of coffee in the morning.