Disclosure: Some of the links below are affiliate links. This means that, at zero cost to you, I will earn an affiliate commission if you click through the link and finalize a purchase.
Looking for a top-notch blender? The Vitamix G-Series 780 is an excellent choice. Wondering why so? Here's everything you need to know about it.
Vitamix G-Series 780 is the fanciest blender by Vitamix making it one of the best blenders for smoothies. It is Vitamix's first touchscreen control blender and has all the power and features of the Pro 750 model but you also get a touchscreen to make it super easy for you to use. Although you can get similar features and blending results with a lower priced model, if you like the glowing screen and can afford it, then you should definitely go for this touchscreen version.
It is also one of the quietest blender models till now which makes it really attractive to a lot of customers. In the below sections, we have provided you a detailed review of this latest blender model so that you know all the pros and cons before you purchase this blender for yourself.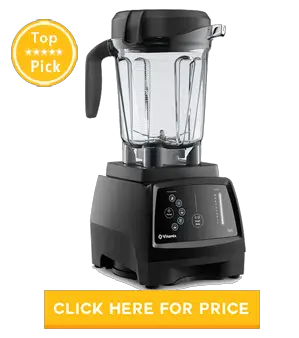 About the Brand
If you are new to the Blender family, then you can definitely not do better than a Vitamix Blender. Vitamix is one of the oldest blender making a brand which is known to produce only high-quality blenders for its customers. Due to the Vitamix blenders' excellent design and high power, it has been found that the blend ingredients are much smoother than what the other blenders offer. Due to high power, Vitamix blenders can also blend thick things like hummus, ice cream, butter, etc. and a full-size Vitamix blender has a capacity of 64-oz which makes it easier to blend ingredients in a bigger bunch than smaller batches.
You can easily prepare soup for your entire family with the Vitamix blender and due to the powerful friction provided by the blender, your soup comes out both hot and smooth. One of the best parts about Vitamix blenders is that it is extremely easy to clean, you just need to run it with soapy water and rinse it.
Vitamix also offers its customer with a 30-day trial period and allows you to return the product in the first 30 days if you face any issues. Your money is fully refunded and Vitamix takes care of the shipping charges as well and it offers you with a 5-7 year warranty for its blenders, allowing you to change or get your blender serviced in case of any issues.
About Vitamix G-Series 780
Vitamix G-Series 780 is the top-of-the-line Vitamix blender which is both powerful and comes with a 7-year warranty. It includes a 2.2 HP motor and is perfect for making all kinds of smoothies without any hindrance, including kale and spinach smoothies. It comes with a stainless steel 4-inch blades which can cut through thick and hard items like ice and frozen fruits and is fast enough to make hot soup for you as well. With this blender, you also get a large capacity 64-ounce BPA-free plastic container which can be used to blend different types of ingredients.
Apart from being powerful and efficient, this blender is also the perfect size to prepare meals for your entire family and friends. The markings on the plastic container make it easier for the customer to determine the amount of liquid to be filled and the container lid allows you to add ingredients while the lid clips ensure that the container doesn't come loose in between a blend. The Vitamix G-Series 780 is the blender of choice in most reputed restaurants and cafés due to its high power and excellent performance.
What are its best features?
This latest addition to the Vitamix blender family comes with many amazing features and functions which make it a great option for most customers. It not only provides you with a great blend but also adds a charm to your kitchen by its sleep and attractive design. Here are a few top features of this blender than one should consider when planning to buy this blender.
Touchscreen
As we have already discussed above, Vitamix G-Series 780's unique feature is its touchscreen control panel which makes it a more advanced and modern design than its previous models. This blender model doesn't come with any physical switches or dials, instead, you have to program your inputs into a backlit smooth glass panel with the help of your fingers. It works similar to a tablet or a touchscreen phone, however, in this case, you can blend your ingredients together instead of checking your social media sites.
Although the touchscreen in this blender is not as sensitive as a tablet touchscreen and would require a customer to push a little harder or user more surface to make a selection. This ensures that you won't accidentally turn on your blender with a slight touch of your hand and is quite simple to operate. The touchscreen layout is fixed and the function gets lit up with a glowing blue backlight whenever you press it.
Vitamix 780 is quite easy to clean as well as all you need to do is a quick wipe down of the panel and you don't have to worry about liquid being spilled on the touchscreen. Your blender will continue to work even if smoothie or juice gets spilled down on the screen.
Preset Programs
The next important feature that comes with Vitamix 780 is the feature of preset programs. Similar to Vitamix 750, this blender model comes with 5 preset program modes i.e., smoothie, soup, puree, frozen dessert, and self-clean mode. The user can choose the desired program and the blender will automatically run the ingredients at different speeds to achieve the selected preset mode.
This feature allows you to multitask and makes it easier for new users to learn how the machine works. With the preset programs, you can easily achieve the desired blend and won't have to worry about setting the time for a too long or too short period of time, your blender will take care of it all. Also, unlike other Vitamix models, Vitamix 780 also displays the speed settings for a chosen program so that you can learn the recommended speed and time to achieve a particular blend.
Better Manual Control
Vitamix 780 has a pulse feature which allows the users to quickly turn the machine to the desired speed and then change it later again. You can set the speed of your blend manually with a simple touch and you can alter the speed by simply sliding up or down on the speed control strip. This model also allows you to stop a program early and provides you the ability to use manual speed control during a program. Just touch the desired speed and the program speed will get overridden during a blend.
10 Speed Settings
This blender model also offers the customers with 10-speed settings which is plenty for most blends and makes the blender multipurpose. This is also the first variable speed Vitamix which offers the speed in a quantized form i.e., a user can select a speed from 1 to 10 only and cannot select any speed in between these numbers as was the case with the blender with physical knobs. However, 10-speed settings offer the users with perfectly fine control so this quantization is not a bad thing after all.
Automatic Switch Off
Another handy feature of Vitamix 780 is that it prevents the blender contents from getting scattered all around the kitchen. A lot of users often start the blender at the maximum speed and slowly ramps up the speed for you. Although this feature is available in most Vitamix blenders, the thing that sets apart 780 is the automatic shut off of the blender after 10 minutes of a manual blend. This helps in ensuring that your blender stays in one piece while your blend is still edible and has not turned to a completely liquid form.
Excellent Design
Vitamix 780 has a similar design to all the other models in G-series but comes with an updated airflow design in the base which ensures efficient cooling of the motor and reduces the sound of the blender better than the other models. It also includes a physical on-off switch on the right side of the bottom and back of the blender.
With this blender, you get a 64-oz plastic container and a 4" blade which allows you to blend a large number of ingredients with great ease. The container also easily fits under 18" kitchen cabinets which makes it easy to store. The wide blade design makes it easier to chop up food items as the food is more likely to fall into a 4-inch blade than a 3-inch blade. Also, you can chop a large number of ingredients at once which helps in saving both time and effort.
Container Compatibility
This blender model is compatible with all Vitamix containers which make it easy to choose the perfect container for your blender. You can get a spare 32-oz container with a narrow bottom if you want to blend ingredients with the volume of 6-16 oz. Also, if you would like to use your blender for making your own flour then getting a dry container will be more efficient and will protect your main container from getting scratched during the blend.
Ease of Cleaning
Since this blender model includes a preset program for self-cleaning, it is extremely easy to keep your blender clean and fresh. All you need to do is fill the water halfway in the blender and add a few drops of mild dish soap and then set the preset self-cleaning program or run the blender for 30 seconds. This allows you to clean your blender after every use which will help in increasing its life by a few years.
Noiseless
Apart from all the amazing features that this blender has to offer, one of the most interesting and loved feature is the quietness of this blender. Although this blender still makes a little noise, it is considerably less than the other models.
Manufacturers usually display the noise level of the model with an empty container but the noise level greatly depends on the ingredients so the harder the ingredients, the more noise the blender will make. However, Vitamix 780 is still undeniably the quietest blender in the market without any noise dampening shields.
Warranty and Customer Care
Vitamix 780 also comes with a 7-year warranty and best customer service which makes the maintenance of this blender a total breeze. The warranty for this model includes replacements, repair, and shipping charges as well. It also includes replacement and repair of the blender parts like a jar, blender assembly, base unit, and so on. The customer needs to provide the serial number on the back of the blender to obtain free customer service and Vitamix also offers its customers a 30-day free trial to determine if they want to keep the blender or not.
Pros:
Comes with a sleek and modern design
Includes 5 preset program modes
Includes an easy-to-use touchscreen panel
Includes 10-speed settings and pulse program which allows better manual control
Includes a 64-oz BPA-free container
Includes sharp 4-inch blades for chopping
Comes with a 7-year full warranty and customer service
Allows the user to make smoothies, purees, frozen mixtures, soups, etc.
Quietest blender in the market
Cons:
Quite expensive
Offers similar functions as other Vitamix models
Cannot be used by a blind user
Is Vitamix G-Series 780 worth the purchase?
Yes, Vitamix G-Series 780 is an expensive blender model but it is certainly worth its high price. It performs many tasks that other blender models are still not capable of performing like making warm soup. It also offers you blending at a professional level and the touchscreen control panel makes it easy and quick to use.
So, if you are looking for the best blender and can afford the high price then Vitamix G-Series 780 is the perfect blender choice. This blender model is going to last you for a long time and will provide you with an efficient blending which will totally justify its high price.
See the Vitamix 780 in action below