Disclosure: Some of the links below are affiliate links. This means that, at zero cost to you, I will earn an affiliate commission if you click through the link and finalize a purchase.
Not sure which fan type will be best? Below we weigh the pros and cons of the different fans best suited for home and office use.
A lot of people use Coolers or Air Conditioners at home to cool their homes but they can often be expensive and can consume a lot of electrical energy.
In such situations, a fan is found to be the ultimate choice which not only makes it comfortable to stay at home during summers but also keeps your electricity bill under check.
However, there are different types of fans available in the market which can make it difficult to choose the right one for yourself.
Don't worry, with the help of this article, you will be able to understand the differences between the fan types and their benefits and drawbacks so that you can make the right choice.
A fan has several uses which include cooling your body, cooling a room, cooling a hot machine, exhausting air from a room, and so on. Fans for home use are usually used for providing good ventilation and cooling to your home.
Here are the major fan types that you can use in your home:
Ceiling Fan
One of the most commonly used fans in most households in a ceiling fan which is suspended from the ceiling of your room and can be switched on or off with the help of a switch on your wall.
When you switch on your fan, the blades of the ceiling fan start moving in a clockwise or anticlockwise direction to provide you with cool air and slowly come to a halt when you turn the switch off.
The fan blades can rotate a complete 360 degrees and can be further divided into two types depending on the motor used: AC Motor fan and DC Motor fan. A DC motor fan can rotate in both the directions which makes it easy to use it both in summer and winter seasons.
On the other hand, an AC motor fan can only be used during the summer season. Nowadays, a lot of ceiling fans also include a remote control system, thermostat, decorative lights, etc. so that your fan looks more modern and stylish and can go with any kind of décor.
It consumes the most power in comparison to all the fans available for home use at 60-70 watts power consumption. Also, one of the best thing about a ceiling fan is that you can find it in different blade numbers like 3, 4, 5 and 8.
A ceiling fan is quite handy and can be used in multiple places like bedroom, garage, living room, kitchen, and so on. However, since this type of fans often produces noise, it might not be suitable for bedrooms while sleeping.
Pros
It is easy to clean
Extremely easy to Install
Durable and lasts for a longer time period
No additional space required on your floor
Useful for both winter and summer seasons
Cons
Cannot provide ventilation to a large space
Creates a lot of noise
The capacitor needs to be changed in a few months
---
Tower Fan
Tower fans tend to be thin and compact which is why it is so popular all over the world. The fan blades are obscured inside the fan. Also, due to its slim and lightweight structure, it is quite easy to move around, from one room to another.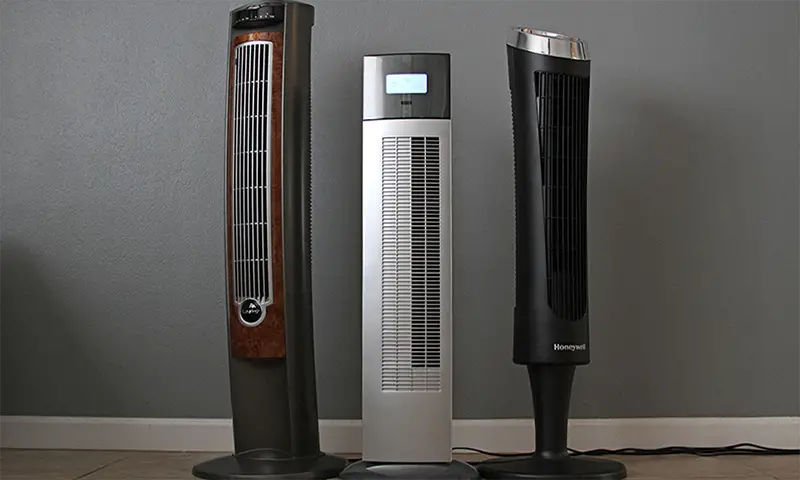 You can easily find this fan in different sizes including 48, 42, 40, and 38 inches. Apart from its compact size and high portability, they also come in multiple designs and styles to suit your needs. The best tower fan also includes several features like automatic timer, air filter, digital display, etc. which make it easier to use the fan and conserve electricity.
These features are particularly good for people who wish to check the thermostat, timer and speed settings of their fan and want an easy, noiseless cooling solution for themselves.
It is really quiet and uses airflow technology to spread air throughout the room. This type of fan is particularly good for bedrooms and gyms as it doesn't produce any noise and can supply you with constant air flow.
Pros
Sleek and thin design helps in space conservation
Easily portable
Produces really low noise
Different designs, styles, and functions allow more options to users
Blades are protected inside the fan so less likelihood of getting hurt
Includes digital display to display fan speed, temperature, mode, etc.
Cons
Not as powerful as other fans in producing cool air
Cleaning is hard as you need to disassemble the fan first
Includes a plastic body which can get easily damaged
---
Pedestal Fan
The pedestal fan is different from a tower fan and uses the support of an adjustable stand to change the height of the pedestal fan.
This type of fan produces a lot of air at a high speed so a lot of area gets covered in a short period of time. It usually includes a remote control along with a digital display which makes them easier to operate on a daily basis.
Assembling this fan is quite easy and since it is slim and lightweight, it can be easily moved from one room to another. This type of fans is commonly used in gardens and patios.
It can be also used for bedrooms but it tends to produce a lot of noise on high speed so if you don't require to use your fan on high speed then you can easily keep it in your room.
Pros
Circulates the air efficiently with 180-degree oscillation
Easy assembly
Offers high-speed air flow which covers a large space in a short period of time
Easily portable and durable
Cons
Produce a loud noise in the high-speed setting
Not safe for kids as the blades can be easily accessed through the grilles
---
Bladeless Fan
One of the safest and quietest fans to be used at home is a bladeless fan which operates like a vacuum cleaner and uses a brushless DC motor for operation. The blades don't exist in this fan which is why it is safe to keep small kids and pets.
It basically works by sucking in the air through the base of the fan and then the air is amplified inside the fan cylinder by 18 times before being blown out. This efficiently produces a strong burst of cold air without creating any unnecessary noise.
It also includes an air filtration system and an air ionizer which helps in keeping the air clean and also offers users with several speed settings to choose from.
It also includes an adjustable thermostat which can be set to automatically turn on/off when your room reaches a particular temperature. These type of fans are perfect for bedrooms, living rooms, and offices as they produce no noise at all.
Pros
Produces no noise at all
Powerful air supply
Easy to assemble and clean
Safe to be used around pets and kids
---
Desk/Table Fan
One of the best fans for individual use, desk/table fan is perfect for use at homes and offices.
Although it consumes a lot of electricity, it can efficiently provide cool air to keep a single person comfortable and can be kept on a desk or a table which is why it is termed as a desk/table fan. Some fans also include a mist cooling system which helps in providing extra cooling.
Users can also adjust the angle of these fans for more direct airflow and its easily removable front grille makes it easy to clean and assemble this fan. This fan is easily portable and can be used in all places.
You can keep it on your reading desk or your makeup table to keep yourself cool and can also be used for a comfortable cooking experience in your kitchen.
Pros
It is extremely affordable
Easy to assemble and clean
Lightweight and compact
Easily portable
Offers high airflow
Cons
Unsafe for use around kids
Makes a lot of noise
---
Window Fan
A window fan is made to be placed inside the opening of your bedroom wall, kitchen wall or bathroom wall. It usually operates by flowing the cool air from outside the room to inside or by exhausting the hot air from inside the room to the outside.
It is quite versatile with its numerous modern features like remote control, variable speed settings, automatic timer, and so on. It can easily cool a room but choosing the proper size and power according to the room space is highly important.
It consumes only 40-45 watts on high speed which helps in electricity conservation while offering a good air flow.
It also features a reversible switch which allows you to change the direction of the blades for controlling the direction of air flow and since the motor is water resistant, you don't have to worry about the fan getting damaged during rainfall as well.
A window fan can be used in your living room, bathroom, kitchen, bedroom, garage, and so on places.
Pros
Gets fresh and cool air in your room
Doesn't take up too much space in the room
Extremely safe to operate
Quite easy to clean
Offers a noiseless operation
Efficiently cools your room
Cons
Often brings bad smell to the air
Installation of the fan is tricky
So, now that you understand a little more about the different types of fans, you can easily make the right choice for yourself and select the best-suited fan for your home.