Are you looking for an effective fan for home/office use? Confused between a tower or a pedestal fan? At KitchenGuyd will make the choice easier.
While both tower and pedestal fans are good for home usage, we can't have both the fans at home and need to make a choice. The perfect fan depends not only on the price of the fan but several other factors as well which includes space, efficiency, aesthetics, features, and so on.
A fan is one of the most effective and budget-friendly options to keep your room cool while not investing in an A.C and choosing the best-suited fan for yourself can only enhance this experience. Both tower and pedestal fans have their own pros and cons which is why it is important that you check their reviews and gather information on them before making a choice.
So, we have prepared this comparison guide to help you in your choice and make it easy for you to select the best-suited fan for yourself.
Room Space
One of the first things that you need to consider when choosing a fan for your home is the location and space available for your fan. Different people have different sized flats and furniture which can often determine the fan type which will be most feasible for your place. So, check out space in your home before you proceed with the buying of a fan.
If you have a small space or want to cool a small room at home then a tower fan will be the ideal choice for you. The tower fans are usually slim and lightweight and can be kept in any corner of the room without taking too much space.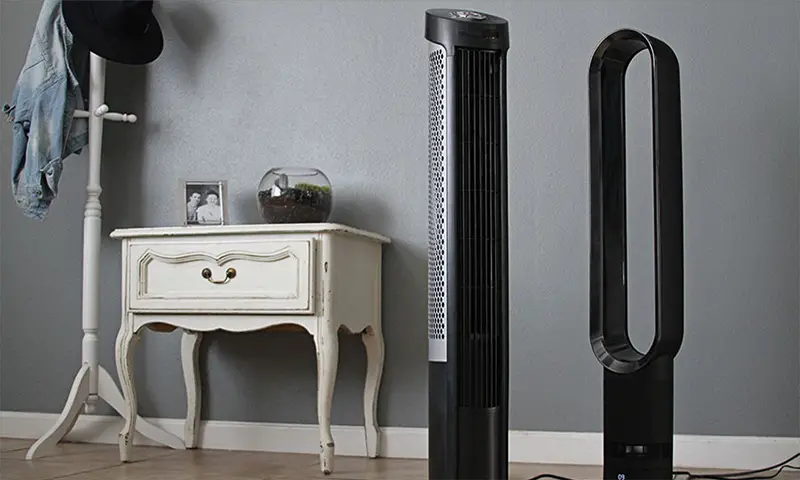 On the other hand, if you have a large area to cool then a pedestal fan will be a better choice as it has powerful blades and can circulate the air more efficiently. One thing to keep in mind is that pedestal fans are slim from the middle but wide upper and base body, so they require more space which is why they usually work best in big rooms, garages, or patios.
Noise Levels
Next thing that you might need to consider is the noise level produced by both the fans and which one suits your needs better. Let's face it, no one wants a loud noise-producing fan which will disrupt their sleep or work for the most part of the day.
If you think similarly too then you better opt for a tower fan as it is known to be one of the quietest fans in the world while providing you with cool and fresh air. The tower fans are designed using a brushless motor which is why they are so quiet and can be kept at a closer distance to you without the fear of the noise.
On the other hand, a pedestal fan is more powerful and comes with larger blades which make a lot of noise and can be really annoying to hear. Yes, they do provide high-speed air flow to the users but the constant noise can make it really difficult to sleep peacefully or work.
Fan Design
You might also want to purchase a fan which goes with the look of your home and doesn't stand out like a sore thumb. If that is the case then a tower fan will be a better choice as it comes in many styles and designs which can easily match the room décor.
The tower fan is also slim and has an elegant design which takes minimal space. You can easily choose a tower fan which suits your office or home but the same is not true for a pedestal fan.
A pedestal fan comes in old designs which might not match your home décor but it includes an adjustable height feature which allows you to direct the airflow to a particular area. As a result, you can easily direct your fan to provide air flow to your bed, desk, or a table. So, if you don't care too much about the aesthetics then a pedestal fan can also be considered.
Operational Cost
A lot of people also look for a fan which would consume less energy and will save them the electricity cost in the long run. A pedestal fan is considered to be more energy efficient than a tower fan but the difference in the energy consumption for both is almost marginal.
However, if you consider the operational cost in the long run then a pedestal fan will cost you half of what a tower fan will cost you and it will provide you with better airflow than a tower fan.
Ease of Cleaning
If you are looking for a fan which will require minimal cleaning efforts then tower fan is the perfect choice for you. A tower fan keeps the blades hidden inside the fan so there is less likelihood of the blades getting any dirt or dust stuck to them.
So, to clean a tower fan you just need to use a vacuum cleaner brush and clean the outside of the fan. If you wish to clean the blades then you can use compressed air to accomplish that but there is no need to disassemble a tower fan to clean it.
On the other hand, a pedestal fan will require a lot of time and effort for proper cleanup. You will need to disassemble the fan and remove the grille so that the blades can be unscrewed and then you need to wipe down the blades with a dish wash soap and warm water solution.
Once you have washed the parts, you will need to dry it with a cloth and then re-assemble your fan again. Choose the pedestal fan only if you don't mind spending at least 30 minutes in the cleaning of your fan every month.
Portability
Although both the fans are easily portable due to their sleek and slim design, tower fans are much easier to move around due to their lightweight feature. This is because tower fans are usually constructed out of plastic so you can easily pick them up and move them around.
On the other hand, a pedestal fan is usually constructed out of aluminum or stainless steel which can be a little heavy, so it is not feasible to move them around too much.
Additional Features
Before you select a fan for yourself, make sure that you check out the various features and functions provided which will make it more comfortable for you to use the fans. Here are a few features that you might wish to check out when looking for a suitable fan.
Auto Shut off
One of the handiest features in a fan is the automatic shut off feature which will ensure energy conservation by shutting off the fan after a determined period of time.
So, you don't have to worry about leaving your fan open anymore as you can simply set a timer to switch it off. However, this feature is only available in a tower fan till now so you might need to forget the pedestal fan if you want a timer function.
Speed Setting
If you are looking for a higher and powerful speed feature then a pedestal fan will be the best choice for you. A tower fan does offer a decent airspeed but it can never match the speed setting of a pedestal fan.
Adjustable Height
If you wish to adjust the height and the angle of your fan to particular spaces then a pedestal fan is the ideal choice for you. The tower fan doesn't have this feature so you will be forced to manage with a single height and angle of the fan.
Remote Control
A remote control option makes it easy to control your fan and will allow you to manage the settings without getting up every time. If you wish to have a remote control feature then choose the tower fan because pedestal fan doesn't include this feature.
Display Settings
You can find a digital display in both the fans but the likelihood of finding this in a tower fan is more in comparison to a pedestal fan. Also, a pedestal fan with a digital display is likely to be more expensive while most tower fans already include a digital display.
Air Purification
If you are living in a polluted area then you might want to look for a fan which will also offer you the air purification feature. In such a case, a tower fan is an ideal choice as it often includes an air filter which helps in removing the allergens and other particles to ensure that you receive cool and purified air.
A few tower fans also include a filter that can get rid of pollens, dust, animal hair, and so on which makes the air infinitely better to breathe in. The air ionizer also helps in improving the air quality and will make it more comfortable for you.
However, if you don't care about the air purification then you can stick with a pedestal fan which will provide you with high-speed airflow and will keep your room cool and comfortable.
More about Fans: Which Type of Fan is Perfect for Home/Office Use?
Safety Features
In terms of safety and security, a tower fan is better than a pedestal fan. This is because the blades of the tower fan easily hide inside the grille so pets and kids cannot touch it.
However, since the tower fan is sleek and slim and includes a thin base as well, it is quite likely to knock over and cause injuries.  A bladeless tower fan is a safer option as the blades are hidden from the view and the motor is placed at the base of the fan.
On the other hand, a pedestal fan is less likely to knock over as it has a wide base but its blades are large and fast-paced so it can easily cause injuries. It also includes grille for protection but due to the size of the blades, it is easier to get hurt.
Conclusion
So, which one would be a better option? Well, this actually depends on your needs and requirements. If you want to cool a large room at an inexpensive price then a pedestal fan will be the ideal option.
However, if you want to cool a small area while maintaining the aesthetics of the room then a tower fan will be the better choice. Both of these fans have their own advantages and disadvantages so it is up to you, which fan seems more suitable for your function.