Disclosure: Some of the links below are affiliate links. This means that, at zero cost to you, I will earn an affiliate commission if you click through the link and finalize a purchase.
Confused about what separates the best shower heads from the rest? Our Buyer's Guide will make the choice simpler than ever.
Have you ever considered the importance of a good shower head? No? Well, it is no surprise that a lot of us don't really pay much attention to our shower head even though we use it daily every morning. Who would think about shower heads while taking a shower when they have important life decisions to ponder upon?
Yes, a showerhead may not seem that important but if you want a hygienic and refreshing shower every day, then you need to pay it a little bit of your attention. A good shower can help in rejuvenating you and help you become more awake which can help you in having an amazing day ahead of you. Wondering how you can buy a good shower head for your bathroom?
We have the perfect answer for you. With the help of this guide, you will be able to sort out the best shower head and will be able to choose the perfect product for yourself. So, here are the top 7 things that every user should consider when shopping for a suitable shower head.
1. Water Pressure available in your bathroom
The first and foremost thing that you need to consider when shopping for a shower head is the water pressure that is available in your bathroom.
If you have a strong water pressure available at your home, then a shower head with 2.5 GPM or lower will be able to provide you with the perfect water flow. However, if you have low water pressure in your home, then you would need to consider a higher GPM shower head for your bathroom.
2. Paying attention to your budget
Another important thing to consider when buying a shower head is your budget and how much more are you willing to spend. If you are looking for a budget-friendly shower head then you should probably stick to the traditional shower head model.
But if money is not an issue for you and you would like a shower head with the best features, then you could buy a handheld showerhead, rain shower head, water saving shower head, and so on. Remember that a simple shower head would always be cheaper than a designer shower head.
3. Different Spray Settings that are available
This is yet another important thing that one must consider when buying a showerhead. Do you want a firm spray or do you want a water massage?
You can get a shower head which can provide you with a normal water spray or you can consider a shower head with a rain shower.
It is ultimately up to you and your requirements. You can also get a shower head which allows you the option of more than one water spray settings but remember, the more feature it has, the more costly it would be.
4. Consider the Water Temperature option
One important thing to keep in mind when searching for the right shower head is that make sure it won't cool down the hot water in order to provide more water pressure.
A lot of aerating showerheads use air pressure to offer you the feeling of a strong water pressure which can greatly affect the water temperature and will return you cold water.
However, there are many shower head manufacturing companies these days who are dealing with this issue by using technology that can increase the water pressure while keeping it hot.
5. Easy Installation or not?
Another deciding factor in whether a shower head is perfect for you or not is its installation process. Most shower heads are easy to install and can be fitted with the help of an adjustable wrench and some plumber's tape but an instruction manual and an easy-to-reach customer service can make the whole experience even more pleasant for the user.
So, check out a shower head which will provide you with detailed instructions on how to install your own shower head and will always be available to contact in case of any emergencies.
Need help installing your new shower? Check out the step by step guide below.

6. Height variation of the users
This is yet another important factor that one must consider when looking for a suitable shower head. You need to consider the different users that will be using the shower head to take a bath and compare their height differences before making a decision.
If you have someone as tall as 6 ft. who would be using this shower head and someone as short as 4ft 11in using the same shower head, then you would need to consider a shower head which would be comfortable for both of the users and will be adjusted easily by them.
7. Type of Shower Head required
This is one of the deciding factors to consider when choosing the perfect shower head for yourself. There are different types of shower heads available which are suitable for different purpose and needs so one needs to consider all the different shower heads type before making a choice.
You will find mainly three types of showerheads: fixed shower head, handheld showerhead, and water saving showerhead, d. A fixed showerhead will be attached to a shower arm that is attached to the wall and can be easily replaced by unscrewing the old shower head and then screwing a new one in its place.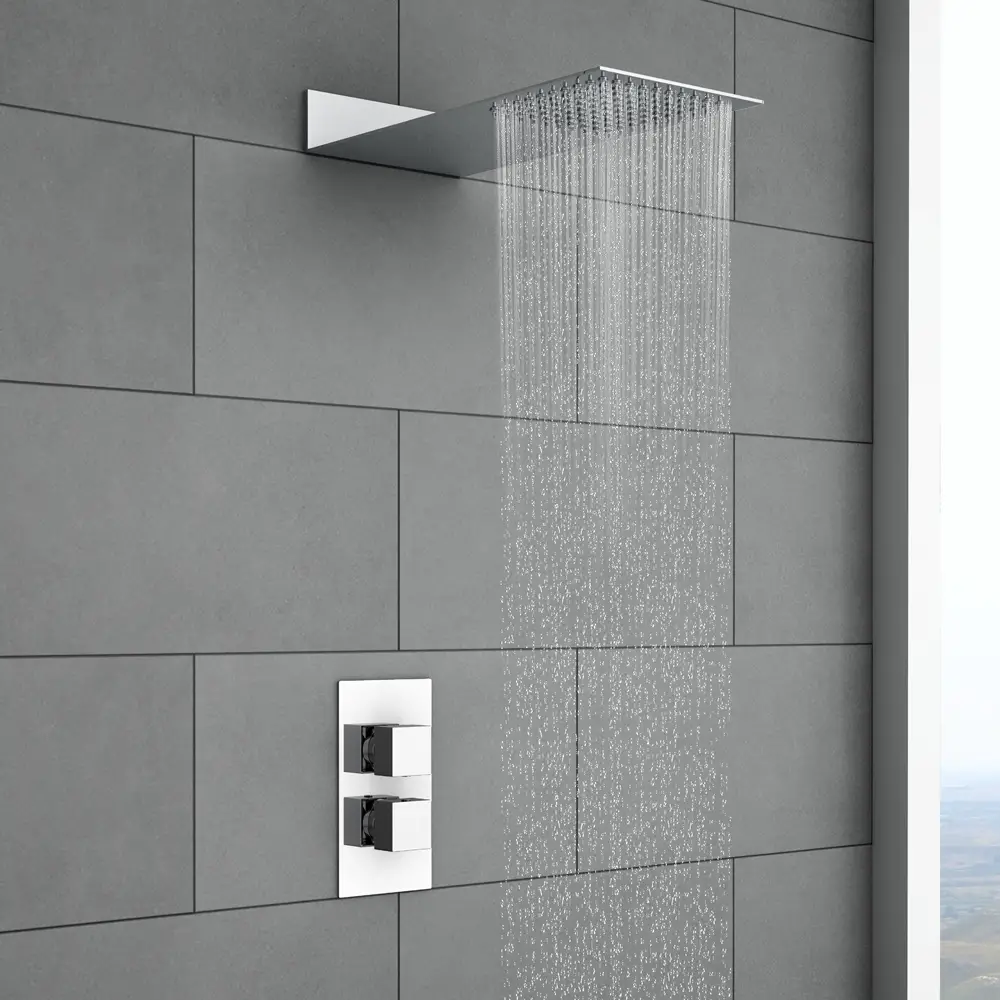 A handheld showerhead is usually connected to a long hose which can be placed into a cradle when not in use and can act as a fixed showerhead when you do not take it off its cradle. You will find this different sized hoses for this showerhead which makes it ideal for showering your kids, children, cleaning, etc. This is also a great choice for households with users of varying heights.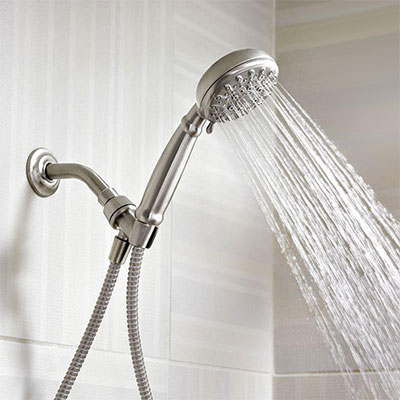 Handheld Showerhead
If you are a water conservationist who would like to save water while showering, then a water saving showerhead would be ideal for you. Such shower heads offer you water using as little as 1 GPM and are aerated which makes it feel like you are receiving more water.
For a more detailed analysis of the different types of shower do read: 6 Types of Showerheads and how to find your best match