Disclosure: Some of the links below are affiliate links. This means that, at zero cost to you, I will earn an affiliate commission if you click through the link and finalize a purchase.
Looking for an efficient smoker to use for your entire family? If yes, then look no further than the Masterbuilt 20050614 and here's why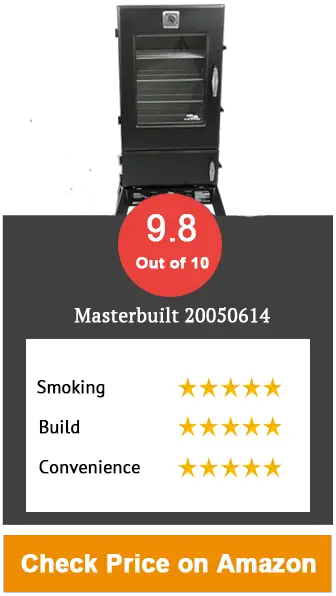 Masterbuilt has introduced one of the best propane smokers which can be used to heat and smoke meals for your entire family.
The Masterbuilt 20050614 44-inch Propane Smoker is a proper workhouse which provides users with sufficient room to smoke a variety of foods for your family and friends. It features a removable water pan which makes it easier to provide moisture and an easy-to-read thermostat on the front door of the smoker.
This large smoker comes with a viewing window that allows you to closely monitor your food and check if the smoke is fine or not without opening the door and letting the heat escape. This amazing propane smoker can be used at your home or you can tailgate it for a fun picnic with your friends or family to smoke your food wherever and whenever you feel like.
Wondering if this is the best product for you? With this article review, you will learn about all the features, pros, and cons of this smoker so that you can make an informed choice about whether this propane smoker is suitable for your purpose or not.
About the Company
Masterbuilt is one of the most famous brands for buying gas smokers as they are known to produce the best gas smokers in the market. Their gas smokers are not only useful for experienced BBQ smokers but for novice smokers as well which makes them one of the best brands to look out for.

Masterbuilt smokers come with a built-in thermometer, Bluetooth Smart technology, and many other useful features that makes them super convenient and easy to use.
They also include licenses wood chip loading systems at the side of the smokers which provides easy access to the users to add more wood chips when smoking their meat. If you are looking to slow-cook your ribs then you definitely need to purchase a Masterbuilt smoker for yourself.
Another great thing about this brand is that its design allows the users to use this smoker outdoors as well and makes it a favorite of the sports enthusiasts as well.
Their smokers are easy to understand and use and is the best product to kickstart your smoking experience and it's Masterbuilt 20050614 44-inch Propane Smoker is certainly the best gas smoker that you would find currently available in the market.
Overview
Masterbuilt 20050614 44-Inch Propane Smoker or more popularly known as MPS 250S XL Propane Smoker is a large capacity smoker that allows you to smoke whatever food you want in the desired quantity.
Yes, you can cook food for a large gathering in one go with the help of this propane smoker. It also includes three chrome-plated racks and two jerky racks to store your meat and smoke it and comes with a large viewing window to keep an eye on the smoker inside while not tampering with the temperature.
Its wheels and rear handle makes it highly portable and allows you to move it easily from place to place. You can also tailgate it to games or picnics and have an amazing lunch while enjoying the game with your friends.
As mentioned earlier, this propane smoker has a large capacity so one can easily fit chicken, ribs, turkey, etc. inside it to feed either a few people or an entire crowd.
Apart from its huge capacity and high portability, this propane smoker also includes easy-to-push ignition button and gas controls which makes the entire smoking process easier and simpler for the user.  So, you just need to push the ignition button and your smoker's burner lights up immediately and effortlessly.
The built-in temperature gauge of the MPS 250S XL is easy to read its stainless steel wood chip tray and the removable water pan make it easy to add both wood chips and water to the smoker. Its 2 drip trays catch all the grease and oil that drips from the meat and collects it together making it easy to clean and reuse the fat.
Overall, it is quite an efficient model and comes with numerous advantages which makes it one of the most popular propane smokers in the market.
7 Things You Will Love About the Smoker
Masterbuilt 20050614 Propane Smoker has some of the most amazing features which makes smoking a lot of fun for the users too.
Here are a few commendable features of this propane smoker which makes it a worthy investment for people who love BBQs:
Large Capacity
One of the best features of this Masterbuilt propane smoker is that it comes with a huge capacity of 2,000 sq. inches along with four cooking racks that allow you to prepare a meal for an entire gathering. Yes, you can host parties in your backyard now with the help of this masterpiece and can easily dazzle your guests with your BBQ and your smoking skills.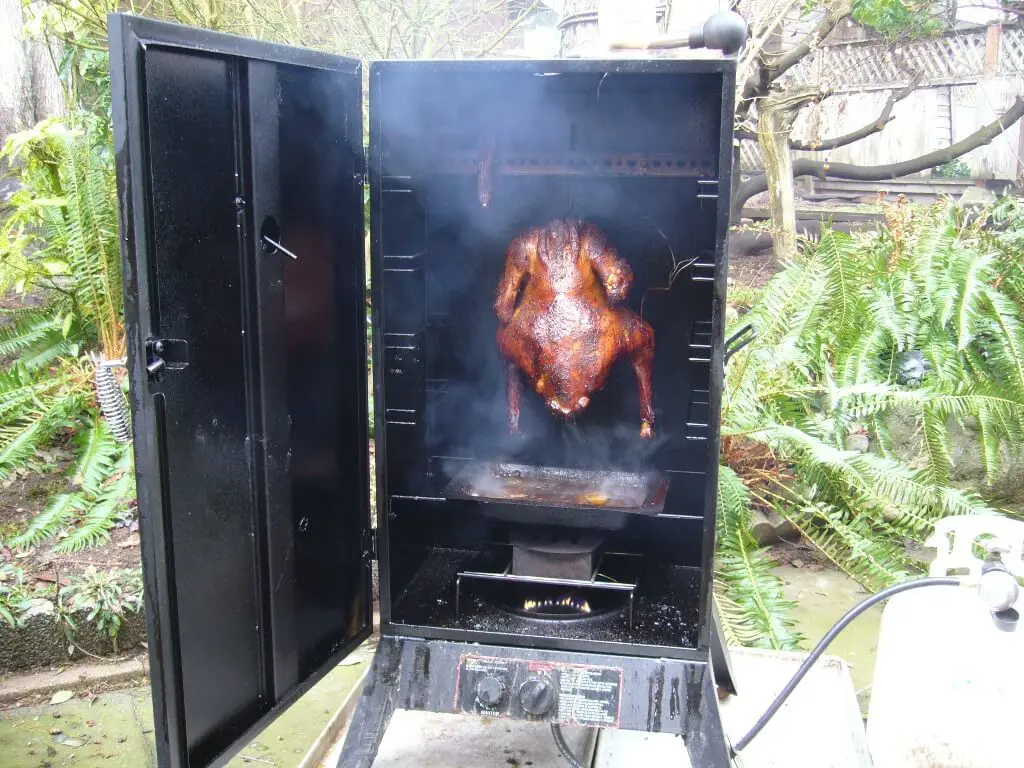 Since this propane smoker has a large capacity, it can usually fit around 6 turkeys, 20 chickens, 16 pork butts, and 8 racks of ribs at a time which makes for a perfect BBQ party.
Apart from that, you can also heat 56 burgers at a time and around 112 sausages together so your guests don't have to wait long to fill up again once you are done with the first batch of food.
This is the perfect smoker for people who love hosting parties and like to entertain a lot of people for dinner at their home.
Superior Design
Apart from its large capacity, this propane smoker is also popular for its superior design includes dual doors with a viewing window that makes it easy to monitor the smoke and ensure that you don't burn your food items. Its durable steel construction and its two 8,250 BTU burners, which are also constructed out of stainless steel, further adds to the strength and the charm of this design.
The complete smoker measures around 56.02×22.75×30.7 inches and weighs around 40.5 kgs but you don't have to worry about the unit being heavy to move around as it includes wheels that can be easily pushed to move forward.
Apart from its durable exterior, this smoker also includes 4 chrome-coated smoking racks and plenty of other easily manageable features and functions which makes this smoker a good choice for a novice user.
Push-Button Ignition
Its easy-to-push ignition button makes it easy to turn the burner on with just one push and makes it extremely easy to operate your smoker. It's gas controls are easy to handle and can be used by a beginner user as well.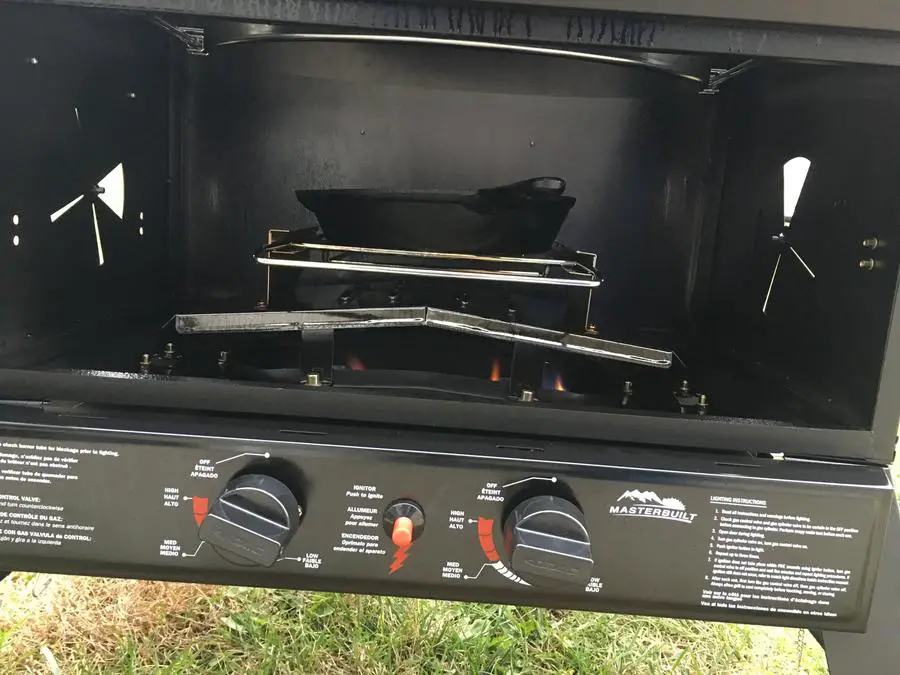 So, you don't have to sweat too much when using this propane smoker, just push a few self-explanatory buttons and get your smoker started in just a few seconds to prepare delicious meat for your awesome backyard parties.
Easy Access to Add Water and Wood Chips
What do most smokers lack in their structure? Easy access to wood chips tray. Yes, that's right! A lot of smokers don't have a side opening or a front opening to add more wood chips to the smoker and require you to open the smoker in order to add them. This results in escaping of heat and smoke and further adds cooking/smoking time for your meat.
Well, worry not because with the help of this Masterbuilt propane smoker you can easily add wood chips without losing any heat or smoker. How is that possible?
That's possible because this Masterbuilt propane smoker comes with a removable wood chip tray which allows users to add the wood chips of their desired flavor and variety in the middle of the smoking without tampering with the temperature.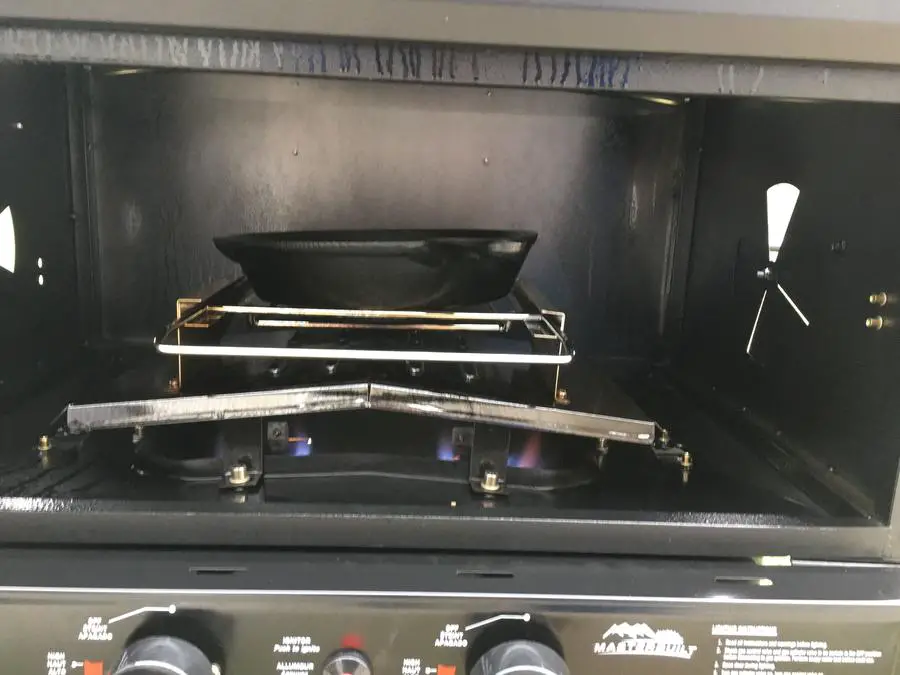 So, you can now easily add a mixture of woods to add the flavor that you want. If you are preparing smoking fish then alder would be a good choice while apple would pair well with pork and chicken.
Also, if you are planning to prepare beef then stick with mesquite wood as it has a strong smoke flavor. However, if you don't want to think too much then you can simply add hickory chips that have a mild flavor and work well with all types of meat.
Apart from its easy-to-remove wood chips tray, the propane smoker also features a removable water tray which can be re-filled during smoking to add the much-needed moisture to your smoker.
Easily Portable
Since this Masterbuilt propane smoker includes a rear handle and you can attach some wheels to the smoker unit to move it around easily.
Since the attached wheels make it easier to move it, you can easily transport it to your truck or your picnic bus whenever you are headed out to watch a game, an outdoor movie, picnic, and so on. So, you can easily load and unload your propane smoker once you attach the wheels and can smoke your meat outdoors as well.
This makes a nice change to BBQ your food somewhere apart from your house's backyard and you can enjoy the games while your food gets smoked. It sounds like a dream come true, right?
Ease of Cleanliness
Another great feature of Masterbuilt 20050614 is that it is super easy to clean and maintain. Its black coated steel exterior structure can be wiped down with a damp cloth after every use while the insides can be cleaned by a simple wiping too.
Since it comes with 2 drip trays to catch any grease, oil, or food bits that fall down from the meat when it is being smoked, you have an easy time to clean the grease off the racks.
You can also use the collected grease and fat to prepare sauces so basically the removable drip tray offers you two advantages.
Not planning to use the smoker anytime soon? Use a smoker to use a cover to keep away dust the dirt away so you can use it right away when need be.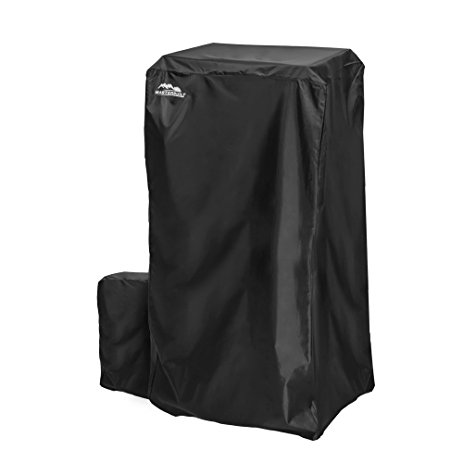 Easy to Use and Monitor
Masterbuilt 20050614 Propane Smoker is quite convenient and easy to use which makes it the perfect smoker for a beginning user.
It features an easy-to-push ignition button for a quick start, a variable thermostat control which allows you to set the desired temperature easily and a built-in thermometer that gives you the ability to monitor and maintain the required smoking temperature.
All the gas controls are extremely easy to use and can be operated by a child too and the viewing window on the dual door of this unit makes it easy for you to keep an eye on your smoking meat while not tampering too much with the temperature or the smoke.
Here are a few advantages and disadvantages of using this Masterbuilt Propane Smoker which will help you in deciding whether this is the right fit for you or not.
The Good, Bad and the Ugly
Pros
The propane smoker is easy to assemble and comes with detailed instructions in the manual about assembling it. You will also find many video tutorials online to help you out with the assembly of this unit.
The dual door design and the large viewing window makes it easy to monitor the smoker.
It is efficient and adds a great smokey flavor to your food.
It has a huge capacity and is perfect for large families or for party uses.
It doesn't require a lot of manual effort from your side to smoke food and allows you to rest while it does its job.
It is inexpensive in comparison to other smokers with similar features available in the market.
Its buttons and controls are easy to operate and understand.
There is a removable wood chips tray to add more wood without letting the heat or smoke escape.
The removable drip tray makes it easy to clean the propane smoker after every use.
The rear handle and the legs make it easy to move the smoker.
Cons
A lot of people complain that the temperature gauge is often incorrect but this can be easily fixed by adding an additional thermometer to the smoker.
The smoke can often leak out from the door but it is usually not a big issue for most users.
The wood chip box can often cause the wood to catch fire but if you place an iron skillet on it, the issue can be resolved.
Conclusion
Masterbuilt 20050614 44-inch Propane Smoker is a good and efficient unit for smoking and is perfect for both beginner and experienced users. It comes with an effective and simple design that allows the user to easily operate and monitor their smoker. Although it does have a few drawbacks associated with its design, most of these drawbacks can be easily fixed with a few tweaks.
Overall, this is a good propane smoker at this price and is definitely recommended for anyone who is looking for an easy-to-use and affordable gas smoker for themselves. Trust me, once you start using this propane smoker, you will be spoilt its smoked food and will finally realize what you have been missing out in your life all this while.