Find our propane smoker reviews, comparison charts and buying guides to help you buy the best propane smokers to treat your friends and families to amazing smoky dishes.
Just about everyone has a grill in their lawn or patio be it a barbecue grill, or the best charcoal grills etc. but not everyone has a smoker! Smoked meat and vegetables are seen more as a delicacy because not many people take the time to make them, but as soon as you decide to be one of the few, you're delicious foods are going to be in high demand.
Pretty soon all your neighbors (and maybe even friends who stop in from out of town) are going to be begging you to share some of your most recent smoked treats. Whether or not you actually decide to share is completely up to you. After all, you did do all the work! But the first step to getting to this place of coveted cookery is to find just the right smoker for you.
If you're new to the smoking world or are just ready to upgrade from your original smoking device, then you're in the right place. Here are the top 7 best propane smokers of 2017 to help you get past all the posers and find a smoker that will truly get the job done.
7 Top Propane Smokers to buy in 2017
Propane Smoker
Weight
Dimensions
(inches)
Affordability
Rating
Masterbuilt 20075315
73 pounds
25 x 20.1 x 40.1
Premium
9.8/10
Smoke Hollow 38202G
68 pounds
28 x 19 x 47
Premium
9.2/10
Camp Chef Smoker
63.5 pounds
30.2 x 18.8 x 17
Premium
8.7/10
Masterbuilt 20051311 GS30D
58.4 pounds
21.1 x 21.4 x 43.5
Premium
8.3/10
Dyna-Glo DGO1176BDC-D Vertical Offset
57 pounds
20.2 x 34.5 x 47
Premium
8.2/10
Char-Broil - The Big Easy TRU
58 pounds
24 x 18 x 36
Premium
8/10
Masterbuilt 20050116
22.2 pounds
15.9 x 23.6 x 23.1
Budget
7.2/10
---
We're back to Masterbuilt. We just couldn't stay away- they have so many great smoker options to choose from! The Masterbuilt 20075315 Front Controller Smoker with Viewing Window and RF Remote Control 40-Inch is another great choice and is ready for your consideration. While you might first mistake it as a mini-fridge due to its stainless steel exterior and preview window, don't be deceived. Delicious smokiness is just inside! Standing 40 inches off the ground, this is a nice size for any porch, patio, or backyard.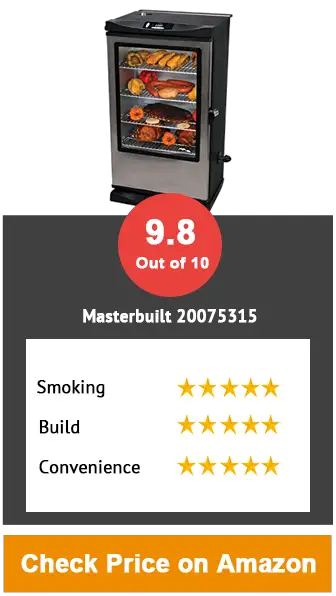 So picture this with me for a moment. You've just spent the morning preparing all your meats and vegetables to perfection, then placed them very strategically into your smoker in the backyard. Now that everything is in place you step back with a nod of approval and head back into the house to enjoy some entertainment while you wait for the wonderful smoked flavor to invade your upcoming meal.
You sit down in front of the TV with even more anticipation, because before you even taste your delicious food, your favorite team is playing! Play after play unfolds before your eyes, and you're getting really into the game. Now let's pause, and think for a second. What is the last thing you want to do at this moment? That's right: leave your game to go check on the smoker outside. That's what makes the Masterbuilt Front Controller Smoker a truly wonderful choice.
The remote control that comes with this smoker can not only adjust the temperature, time, and light from afar, it also monitors the smoker for you. So you can check on how the smoker is functioning just by looking at the remote control, and without ever leaving the excitement of the big game or the comfort of your favorite recliner. It doesn't get much better than that!
As with many cooking devices- grills, roasters, smokers, pots, pans- you're always going to have to consider the clean-up. The very thought of cleaning up after a lot of cooking often brings a groan to a cook's lips. That is what makes the Masterbuilt Front Controller Smoker such a breath of fresh air (or, scented smokey air?).
It's not going to be a huge hassle to clean everything up once you've extracted and enjoyed (or stored) your tasty smoked foods! The Masterbuilt Front Controller Smoker has a minimal amount of parts, and all are easily removed for quick and simple cleaning. Most of the removable parts can even be placed in the dishwasher for an extra rinse! Now that's about as easy as it gets.

---
With a 4.4 out of 5-star rating on Amazon, Smoke Hollow sure isn't doing too poorly in the popularity race amongst customers. Those who have made the choice to purchase this smoker over the other options available seem more than pleased with their decision.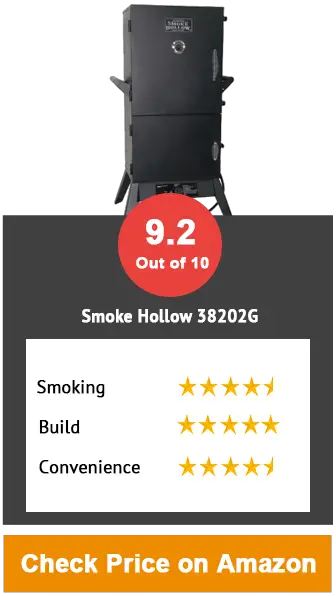 The Smoke Hollow 38202G 38-Inch 2-Door Propane Gas Smoker, in particular, has a whopping internal dimension of 38 inches tall, 20 inches wide, and 14 inches deep. On the outside it stands off the ground at 47 inches, making adding food items into the smoker, or adjusting what you already have in there an easy task.
The best feature- according to those who have already purchased and fallen in love with this smoker- is the size of the smoke box! It wouldn't be "smoked food" without that wonderful smokey essence that lifts off of the wood or wood chips as it cooks. But many smokers try to maintain a more compact frame at the expense of wood-box size. This means you'd have to continually check the wood box to see if the wood had burned down.
For most people, having to continually check on their cooking process defeats the purpose of these slow-cooker devices. Like a crock-pot, the beauty of a smoker is that you can turn it on and walk away, trusting it's doing its job while you're entertaining yourself elsewhere.
But if you have to come back and make sure the wood box is refilled constantly, then the process of smoking is going to get real time-consuming real quick. Happy customers have boasted of the size of this smoker's wood box so that won't be a concern you'll have to deal with if you make this your final choice.
The fact that the Smoke Hollow 38-Inch 2-Door Propane Gas Smoker stands so tall off the ground and has excellent front-loading access makes it another great option. Some smokers require you to lower your food into the chamber through the top, making it a little bit more of a precise process. But with the wide open space to load your food into the Smoke Hollow Smoker, you won't have to worry about taking your time just to make sure you don't drop your roast while you're putting it in place.

---
#3. Camp Chef Smoker 18-Inch Smoke Vault Large with Stainless Door and Adjustable Shelves – Jerky Champ
The Camp Chef Smoker 18-Inch Smoke Vault Large with Stainless Door and Adjustable Shelves is certainly named after its design. If anyone breaks into your yard, they'll probably think this is where you keep your most treasured items. It won't be until they crack it open (without a vault combination) that they'll discover…that it may actually be true; Deliciously smoked food certainly is a treasure of sorts.
(Although hopefully, it's not actually your chief treasure.) The design looks like a vault because of the secure feeling you'll have using it to successfully smoke flavor into your meals. You can even buy a classic-styled smoker cover for when your smoker is sitting unused out on your patio.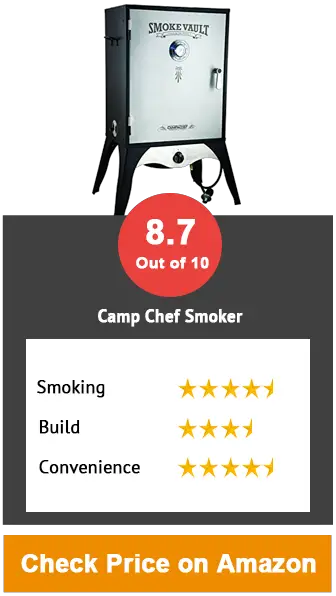 The top feature on this model might just be the specialized Jerky smoking rack. While many people love to smoke their vegetables or their Thanksgiving turkeys, or that fresh salmon they just caught, one of the best foods you could produce with a smoker is a good jerky. Jerky is one of the handiest foods after all. It's a hearty protein that you take with you everywhere, and it tastes amazing.
For hunters and fishermen especially this is an amazing benefit of having a smoker like the Camp Chef Smoker 18-Inch Smoke Vault. When you're out in the wilderness for hours on end, it can end up being quite the hassle to pack a lot of fresh food that needs to stay refrigerated. But if you have a lot of self-made jerky to snack on during your hunting trips, or those long hours of patient waiting on the lake, you'll never have to worry about being hungry or losing your energy in the middle of your favorite activity.
The one downside of this model is its small size. This might not be the preferred option if you're planning on consistently smoking large amounts of food for big crowds. But for anyone who simply wants to prepare food of 15 portions or less, you'll be good to go.
Overall the Camp Chef Smoker 18-Inch Smoke Vault Large with Stainless Door and Adjustable Shelves is well-loved by consumers who want a good smoker that is simple to use and that can be left to work its magic on its own without constant supervision. If this sounds like what you're looking for, then you're on the right track. If you're looking for a smoker that cooks a larger quantity and accommodate larger gatherings, fast forward to number 7!

---
#4. Masterbuilt 20051311 GS30D – Prime Durability
We're nearing the end of our top 7 countdown, but we're not quite finished! Masterbuilt sneaks into the running again with their Masterbuilt 20051311 GS30D 2-Door Propane Smoker.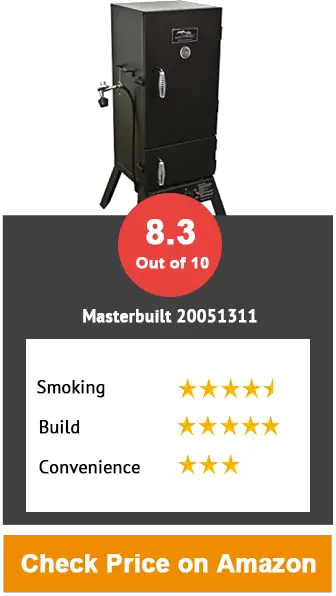 One door offers access to the smoking chamber complete with four chrome cooking racks, and the bottom door gives you easy accessibility to the wood chip box and water pan. Both of these are removable for easy clean-up when the whole process is said and done. This smoker is really cut and dry, and it won't take long at all for you to get the hang of it and get smoking.
So what's the highlight of this smoker? The durability comes up at the top of the list. Made out of strong steel, you won't have to replace this smoker for a good long time. If you find one spot to keep it safe and out of the elements, then it's life span will increase even more.
While this is an excellent option and can be bought for around just $165, there are a couple additions that previous buyers have suggested for optimal satisfaction. This can be seen as a downside because clearly Masterbuilt could be paying attention and simply creating a model that already has these modifications so their consumers don't have to make them themselves.
First of all, this smoker- or any of these smokers- aren't easily moveable. None of them have wheels. So wherever you put it is probably where it is going to live for awhile, unless you get someone to help you move it. That is unless you do what many of the buyers of this model have done, and buy a few casters from Home Depot to attach to the bottom of each leg.
According to them, it's not a hard change to make. Another helpful suggestion was to fill the flame disc bowl with a seven-pound bag of Lava Rock before adding wood above it. And finally, to buy a couple of Weber 7.1 x 11 inch (2 in deep) drip pans and place them in the original opening for the water/drip pan. This allows for more water capacity and easier cleanup!

---
Last but not least we have the Dyna-Glo DGO1176BDC-D Vertical Offset Charcoal Smoker. If you are one to cook for the masses, this is probably the best bet out of all of the smokers we've previewed on this list today. Unlike the previous smokers, this is also the only one listed with a smokestack, which adds additional temperature and flavor control to your smoking experience.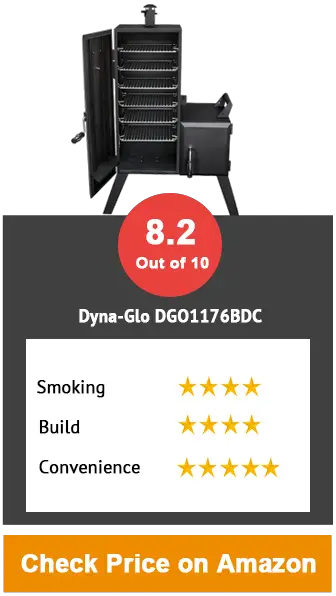 The Dyna-Glo Vertical Offset Charcoal Smoker has an incredible 1,176 square inches of total cook space, boasting not two, not four, but six chrome racks for ready-to-smoke foods. Each cooking grate can hold up to 25 pounds of smoking food, which makes a grand total of 150 pounds of smoked potential in one go! Now you'll be ready for that family reunion, or the legendary barbecue you throw for the neighborhood every year. With the Dyna-Glo Vertical Offset Charcoal Smoker, you'll have plenty of space to make everyone in the yard beam happily with their plate full of masterfully smoked savory foods.
The built-in charcoal and ash management system allows for ash to be collected in a removable steel ash pan and holds larger amounts of ash so you can let the smoker work for hours without having to tend to dumping and cleaning along the way. For best storage and care, this model also has a cover available for purchase, so you can keep it out on your patio without dust, dirt, and rain tarnishing its wonderful capabilities.
Now the next time your friends suggest a barbecue, you can proudly accept the challenge of hosting, knowing that everyone who arrives with their drinks and sides will ultimately bow to the prowess of your perfectly smoked offerings. Summer just got a whole lot tastier.

---
#6. Char-Broil The Big Easy TRU-Infrared Smoker Roaster & Grill
First on the list, and our personal favorite- is the Char-Broil The Big Easy TRU-Infrared Smoker Roaster & Grill. Char-Broil is well known for their variety and quality of outdoor cooking equipment, and this is just another example of their genius. Why buy a grill, and a smoker when you can get two in one? It just makes sense.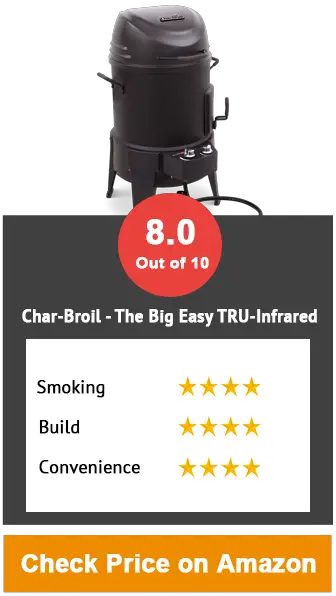 The two-in-one factor in this device has to be the best feature about it. Just imagine going on your next camping trip and loading up your RV or pickup truck. You already have your boat, your fishing gear, your hammock, your hunting gear, your lawn chairs…you get the picture.
Things are starting to pile up! Your simple and relaxing vacation is quickly turning into a stockpiled fiasco. But you don't want to miss out on delicious outdoor-cooked foods simply because you run out of space. One of the best things about going on these trips at all is sitting amidst the cool night air and the soothing sound of crickets, while you enjoy a delicious meal that was crafted by your own effort and expertise.
What better way to make this happen than bringing along your two-in-one grill and smoker! One night you can be grilling steaks or burgers, and the next you can be smoking up a nice turkey or smoked salmon. The possibilities are endless!
But the greatness of the Char-Broil The Big Easy TRU-Infrared Smoker Roaster & Grill doesn't stop with its duality. The infrared technology in this smoker makes for a truly succulent piece of meat when everything is said and done. While most smokers use hot air to cook the meat inside, the Big-Easy Tru-Infrared Smoker uses radiant heat that penetrates the meat and cooks it fully and evenly.
Why is this so important? Well aside from cooking the meat, hot air also steals away much of its precious moisture, leaving the meat dryer. The juicy flavor of the meat is one of the best parts of any roast, making this moisture-retaining feature even more beneficial to a mouth-watering final product.
All of this, and it's propane-powered, meaning you won't be tethered to a wall socket. You can take your Char-Broil The Big Easy TRU-Infrared Smoker Roaster & Grill anywhere with you. Your family reunion, your camping trip, your back yard. (Just maybe not into the movie theater with you…as tempting as that might be.) Holding up to 25 lbs of food in its smoker base, and with 180 square inches of cooking surface to grill, this roaster can be found for just around $150. Now you see why it's in the top 7.

---
Okay so maybe you've already invested in a fancy grill and you're not interested in tarnishing that investment by also purchasing a grill-smoker combo. Maybe you're also on a budget, and you don't care about getting something with a bunch of frills and gadgets attached to take care of. We've got you covered.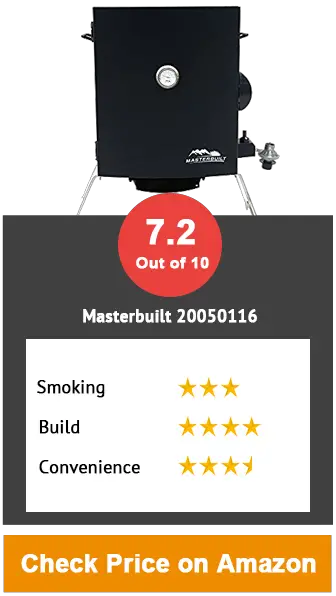 The Masterbuilt 20050116 Portable Gas Smoker is our budget recommendation for those of you who just want a basic smoker to take out with you for those tailgate parties or small backyard cookouts. Masterbuilt has grills too, but they really seem to specialize in their smokers. They even have a tailgate "Hitch-Haul" you can buy to really get your tailgate gathering set up right.
Of course, the best part about the Masterbuilt 20050116 Portable Gas Smoker is its incredible price. For a device that turns a plain old hunk of meat into a delectable meal, this is a near steal. You can find it for around $70, and it has all the essential features for the perfect smoked meal. The 5,000 BTU stainless steel burner generates the heat for smoking, and a removable wood chip tray holds the wood that brings out that tasty smoky flavor we all love.
Another fabulous thing about this model is its compact size. While many smokers are double, triple, quadruple deckers, this one has just enough space for the meal of the moment; not meals to last the ages. The benefit of this is it's easy to transport! Getting a quad-decker top-heavy smoking device to another location will be a bit of an ordeal and will need a few bodies to help with the lifting and transportation. But this little guy can easily be lifted and set up by one person. In moments it's ready to go.
The downside of this model is the small propane tank that comes along with it. Many smoked meals take a few hours to finish, and with just the 1 lb. propane cylinder you probably won't get that far. You'll have to fill up a couple times just to get through one smoking session.
Many people have easily remedied this situation by purchasing a larger cylinder to go with their Masterbuilt Portable Gas Smoker, but that's something to keep in mind. If you don't want to spend the extra money for a larger propane cylinder, you'll simply have to keep an eye on the temperature gauge and refill your 1 lb, cylinder whenever you notice the heat is starting to ebb.

---
Top propane smokers to buy in 2017
Masterbuilt 20075315

Smoke Hollow 38202G

Camp Chef Smoker

Masterbuilt 20051311 GS30D

Dyna-Glo DGO1176BDC-D Vertical Offset

Char-Broil - The Big Easy TRU

Masterbuilt 20050116
Summary
The Masterbuilt 20075315 is our top pick for 2017 and one the reasons for that is its unmatched convenience.Not only are the removable parts dishwasher safe but it an also be controlled with a remote controller.
However, if you're on a budget and don't need any fancy frills but just a durable and simple to use propane smoker we'd recommend the Masterbuilt 20050116. It's compact size makes it easy to move and it performs quite efficiently.