Find our propane smoker reviews, comparison charts and buying guides to help you buy the best propane smoker to treat your friends to amazing smoky dishes.
Best Propane Smoker for Pros
Masterbuilt 20050614: If you're looking for a top of the line propane smoker out there then Masterbuilt 20050614 is the one you need. It brings you a great smoking experience with plenty of room inside and a long lasting built.
Best Propane Smoker for Beginners
Cuisinart COS-244 Vertical Smoker: If you're just starting out and need something that fits the budget but still delivers on quality smoking then Cuisinart COS-244 is the best value for money propane smoker you can buy.
 Best Propane Smoker Reviews 2020
In-Depth Propane Smoker Reviews
If budget isn't a concern and you need the absolute best, the Masterbuilt 20050614 is exactly what you're looking for.
With it's 44" cooking space and fancy frills, it is the grill you have always craved for that 4th of July bash.
Want to get the flavors to bang on without keeping your mates waiting too long? The 20050614 has got you covered. Its individually controlled dual burners provide a wide range of temperatures ensuring quick and perfect cooking.
Further, the airtight latches and the thick insulated steel build ensure an even temperature distribution and prevent smoke leaks but that's not all.
Another exceptional feature of the Masterbuilt 20050614 is its unmatched durability. With its high-grade steel build, you won't have to replace this smoker for a really long time. Find the right storage space and it will last you 8-10 years.
Also, with the built-in temperature gauge, you'd never be left guessing the inside temperature (key to the perfect sizzle and flavor) while the tempered viewing glass helps you keep a close eye on the cook.
Secondly, the push-button ignition gets the smoker up and running within seconds unlike in other smokers.
The large wood chips and water pans eliminate the need for constant refilling allowing you to relax and enjoy a couple of beers with your mates.
Finally, the ash-free combustion teamed together with the black exterior and stainless steel racks make an otherwise dreaded clean-up job a whole lot simpler and faster.
Overall this smoker has gained the reputation of the set it, forget it, smoker, amongst all of us at KitchenGuyd.
With a 4.4 out of 5-star rating on Amazon, Smoke Hollow sure is doing amazingly well in the popularity race amongst customers and is the ideal buy for customers looking for a small smoker without compromising on any of the frills. Those who have made the choice to purchase this smoker over the other options available seem more than pleased with their decision.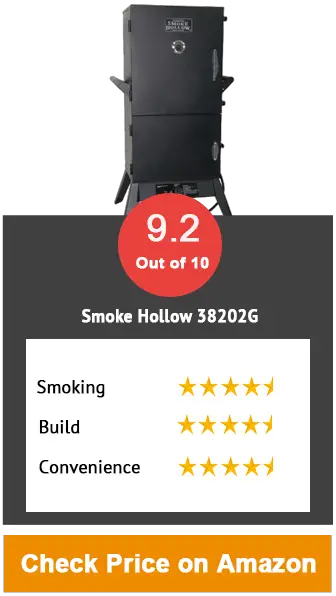 The Smoke Hollow 38202G 38-Inch 2-Door Propane Gas Smoker, in particular, has a whopping internal dimension of 38 inches tall, 20 inches wide, and 14 inches deep. On the outside it stands off the ground at 47 inches, making adding food items into the smoker, or adjusting what you already have in there an easy task.
The best feature- according to those who have already purchased and fallen in love with this smoker- is the size of the smokebox! It wouldn't be "smoked food" without that wonderful smokey essence that lifts off of the wood or wood chips as it cooks.
But many smokers try to maintain a more compact frame at the expense of wood-box size. This means you'd have to continually check the wood box to see if the wood had burned down.
For most people, having to continually check on their cooking process defeats the purpose of these slow-cooker devices. Like a crock-pot, the beauty of a smoker is that you can turn it on and walk away, trusting it's doing its job while you're entertaining yourself elsewhere.
But if you have to come back and make sure the wood box is refilled constantly, then the process of smoking is going to get real time-consuming real quick. Happy customers have boasted of the size of this smoker's wood box so that won't be a concern you'll have to deal with if you make this your final choice.
The fact that the Smoke Hollow 38-Inch 2-Door Propane Gas Smoker stands so tall off the ground and has excellent front-loading access makes it another great option. Some smokers require you to lower your food into the chamber through the top, making it a little bit more of a precise process.
But with the wide open space to load your food into the Smoke Hollow Smoker, you won't have to worry about taking your time just to make sure you don't drop your roast while you're putting it in place.
Okay so maybe you've already invested in a fancy grill and you're not interested in tarnishing that investment by also purchasing a grill-smoker combo. Maybe you're also on a budget, and you don't care about getting something with a bunch of frills and gadgets attached to take care of. We've got you covered.
The Cuisinart COS-244 Vertical smoker is our budget recommendation for those of you who just want a basic smoker to take out with you for those small backyard cookouts.
Cuisinart is a home and kitchen appliance brand well-known for its Panini presses, sandwich makers, and griddles but they really seem to specialize in their smokers as well.
Of course, the best part about the Cuisinart COS-244 Vertical smoker is its incredible price. For a device that turns a plain old hunk of meat into a delectable meal, this is a near steal. You can find it for less than $150, it has all the essential features of the perfectly smoked meat.
Another fabulous thing about this model is its relatively compact size. While many smokers are double, triple, quadruple decker, this one has just enough space for the meal of the moment and ideal for smaller backyards or patios and though compact it boasts of 5.45 square feet of interior cooking space ideal to cook a variety of meats and plenty of vegetable trays to keep the food rolling out.
Further, the steel build not only makes it a durable smoker but also helps retain heat thus enabling the smoker to reach temperatures of 450 degrees making the smoking process faster and efficient, helping you get out the best flavors from the fresh meat and veggies.
While the steel build adds to the durability it also makes the smoker heavier as compared to some of the other smokers on the list and thus is difficult to move around if need be.
Also, the in-built temperature gauge isn't the most accurate. So if you're a beginner and need accurate reading we'd recommend getting an additional thermometer like the Silipower Meat thermometer.
Secondly, the small water and wood chip tray require constant refilling but considering and its durability, heat control, and low price it's worth the little trouble you'll have to face.
Dyna-Glo has been a mainstay in the grill industry producing affordable yet easy to use and spacious smoker and grills for years and the Dyna-Glo DGW1235BDP-D 36″ Gas Smoker is just another example of it.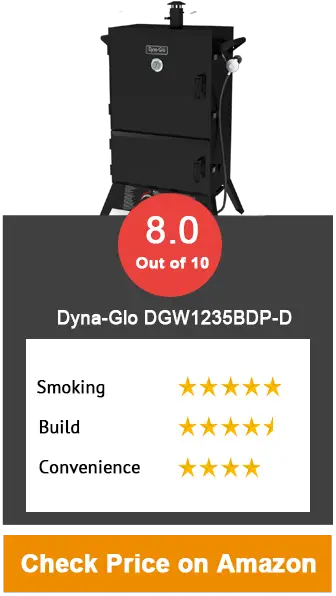 The Dyna-Glo DGW1235BDP-D 36 inch smoker has an incredible 1,235 square inches of total cook space, boasting not two, not three, but four removable chrome racks and pre-installed sausage hooks and removable rib rack for ready-to-smoke foods. Each cooking grate can hold up to 25 pounds of smoking food, which makes a grand total of 150 pounds of smoked potential in one go!
Now you'll be ready for that family reunion, or the legendary barbecue you throw for the neighborhood every year. With the Dyna-Glo DGW1235BDP-D 36 inch smoker, you'll have plenty of space to make everyone in the yard beam happily with their plate full of masterfully smoked savory foods.
The double door system makes for easy adding of water and wood chips without letting out any of the heat or smoke making it easier to maintain the temperature so you'd nail the flavors in each cook. For best storage and care, this model also has a cover available for purchase, so you can keep it out on your patio without dust, dirt, and rain tarnishing its wonderful capabilities.
Now the next time your friends suggest a barbecue, you can proudly accept the challenge of hosting, knowing that everyone who arrives with their drinks and sides will ultimately bow to the prowess of your perfectly smoked offerings. Summer just got a whole lot tastier.
We're nearing the end of our top 7 countdowns, but we're not quite finished! At 5 comes in a Char-Broil smoker and while Char-Broil is better known for its charcoal grills, its Vertical Gas Smoker is worth a mention mainly because of its easy portability and mid-range price tag.
The char-broil vertical smoker is one of the lightest smokers on the market and is easy to move around making it the perfect smoker for users with a constant need to move the appliance from one place to another.
Another unique feature of the smoker is the topmost grate which helps keep the sauces and marinades hot and ready to be served along with the lamb racks and veggies.
The push-button ignition gets the smoker started within seconds. Also, with the dual stainless steel burners, the smoker can reach temperatures as high as 350 degrees so your favorite meats and veggies are smoked to perfection each time.
On the downside, as with low costing smokers, the built-in temperature gauge of the char-broil vertical smoker isn't accurate and requires an additional thermometer purchase in case you're reliant on the temperature readings to get the cook right.
Furthermore, because of the small water and wood chip trays you're likely to miss out on some quality time with your loved ones as the trays require refilling at regular intervals.
Smoke Hollow sneaks into the running again with their Smoke Hollow 44241G 44-inch smoker. In terms of space, it is similar to our top pick, but there are some major drawbacks, which push it down the pecking order.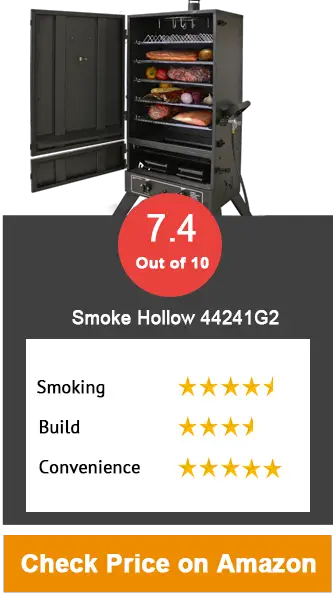 Firstly, unlike the Masterbuilt 20050614, the smoker hollow 44241G isn't as durable due to the use of low-grade steel. So if you are looking for something that will last years, we won't be recommending this.
Secondly, it lacks a viewing window and thus requires you to open the door to keep tabs on the cook, in turn, letting out heat and smoke.
On the upside, the Smoke hollow too has 44-inches of cooking space and with the removable grates, you can fit in meats of all shapes and sizes.
Also, the airtight latches combined together with the insulated build makes maintaining temperature an easy job while the built-in thermometer provides accurate temperature readings.
The push-button ignition makes for easy start-up and with the dual burners, the smoker can reach up to 400-500 degrees so the meat and veggies have the perfect sear each time.
Finally, adding to the comfort are the dual wooden chip trays and large water tray so you never miss out on the fun moments or the memorable photographs.
With the price similar to Master Built, we will clearly pick the latter because of its' build quality. You would want something that is able to stand the test of time, and the Smoke Hollow 44231G won't be able to do that.
So unless you have a special preference for Smoke Hollow smokers, we won't recommend this over the Masterbuilt.
In search of a reasonable costing smoker with a large cooking space and simple operation? The Weston 30-Inch smoker is a decent buy and here's why.
With 30″ of smoking space and 3 adjustable chrome racks, you can fit in a whole turkey or rib rack with ease.
The rotary igniter gets the smoker started within a few seconds and with an accurate built-in temperature gauge, you'll always have a clear idea of the inside temperature which can be adjusted using the 3 dampers. This provides you with greater flexibility to tweak the entire cooking process as per your taste and cooking style.
Lastly, the black powder-coated exterior and chrome racks make for an easy clean-up task so you'd have it easy post any party.
On the downside, the single door design means refilling water and wood chips results in loss of heat and smoke making it difficult to maintain a constant temperature.
On a cold or windy day, you'll have trouble cooking if you're aiming to reach temperatures higher than 200 degrees as it's only a single burner smoker and lacks insulation that high-end models come with.
All things considered, if you're in the market for a mid-range yet large gas smoker the Weston 30-Inch Smoker is a dependable choice and with a little care and expertise, you'd soon be cooking the perfect lamb racks and turkeys.