Disclosure: Some of the links below are affiliate links. This means that, at zero cost to you, I will earn an affiliate commission if you click through the link and finalize a purchase.
Find our electric griddle reviews, comparison charts and buying guides to help you buy the best electric griddle for home and commercial use.
Best Electric Griddle for Home Use
Cuisinart GR 300WS: Need a top-notch electric griddle? The Cuisinart GR300WS is just that. With a total of 6 cooking functions, removable/reversible plates, dual temperature zones, searing bursts, etc. it's everything you could have asked an electric griddle to be but keep in mind, these features come at a premium, a premium worth paying.
Cuisinart GR-4N: However, if you're looking for something on the cheap the Cuisinart GR-4N Griddler in out top value for money pick. While it still offers the multi-functionality and other top features of any higher model like temperature control etc. it lacks durability and requires regular maintenance or optimal functioning.
Quick Navigation
When you want to cook food quickly, you want a griddle. Griddles are essentially large, temperature controlled pans, which make it easier to cook food in a consistent and restaurant-quality way. There are many smaller electric griddles available in addition to premium flat top surfaces. Here are some of the best options to choose from.
Best Electric Griddle for
Product
Details

Our #1 Pick

Cuisinart GR 300WS Griddler Elite Grill

With dual digital temperature controls for reversible top and bottom plates, the Cuisinart GR-300WS Griddler Elite Grill offers a versatile solution for your indoor grilling needs.

---

Locking Adjustable Height
Reversible Flat/Ribbed Plates
6 Cooking Options

T-Fal GC702 OptiGrill/Griddle

Ideal for less experienced or just plain busy grillers, the T-Fal GC702 OptiGrill/Griddle features innovative Automatic Sensor Cooking to customize and alert you when your food is perfectly grilled to the desired temperature.

---

Automatic Thickness Measurement
Removable DW-Safe Plates
6 Presets for Grilling Different Foods

Value for Money Pick

Cuisinart GR-4N 5-in-1 Griddler

With easy-to-use knob selector controls, the Cuisinart GR-4N 5-in-1 Griddler includes gourmet recipes and scraping tool to simplify your indoor grilling and griddle solution.

---

Floating Cover Self-Adjusts
Reversible DW-Safe Plates
Opens Flat for Large Surface

Auto Amazon Links: No products found.

George Foreman GRP4800R Multi-Plate Evolve Grill/Griddle

The versatile George Foreman GRP4800R Multi-Plate Evolve Grill/Griddle features digital time & temperature controls with handy muffin and bake pans to simplify your cooking routine.

---

Adjustable Cooking Angle
Ribbed Ceramic Plates Plus Muffin & Bake Pans
500 Deg Searing Burst

Auto Amazon Links: No products found.

George Foreman GRP4842MB Multi-Plate Grill

The updated George Foreman GRP4842MB Multi-Plate Evolve Grill features top surface digital controls and dishwasher safe removable plates, with additional plate options sold separately to offer versatile cooking solutions.

---

Adjustable Cooking Angle
Ribbed Ceramic & Waffle Plates
500 Deg Searing Burst
In-Depth Electric Griddle Reviews
The Cuisinart GR 300 WS Griddler is the one-stop solution for all your grilled food cravings. It's the best in its class and excels at pretty much every factor we've used for comparison. It's multiple cooking options, stainless steel finish, and sleek design will make this griddle a mainstay countertop appliance in your kitchen.
Searing burst for quality cooking
Tired of paying the heavy restaurant bills for your favorite grilled meats? With a searing power for 500 degrees for 2 minutes GR300 WS Griddler keeps intact the amazing flavors and produces the perfect charred marks thus allowing you to enjoy the same food from the comfort of your home at half the price.
A multi-purpose grill
The GR300 WS is more than just a grill, so whether you were looking for a panini press, a contact grill, a full grill, half grill/half griddle or a simple top melt this Cuisinart griddle has got you covered.
Secondly, the dual temperature controls and digital display making using the griddle a no-brainer thus perfect for even first time users.
Hassle-free cleaning
Finally, with the GR300 WS cleaning the grill is hassle-free. The removable nonstick grill/griddle plates are dishwasher safe and take about a minute to get cleaned up leaving little to no cleanup work.
T-Fal isn't the kind of grill producer that you hear a lot about most of the time. However, we've found that they quietly produce some pretty awesome grills. In fact, one of their best grills made our list of the most desirable grills produced in 2018. Here's why this grill is one that you should definitely consider.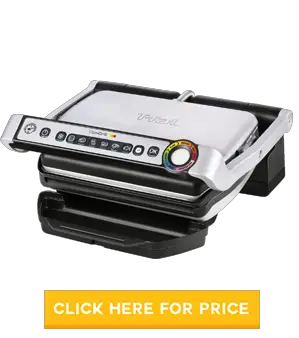 Automatic Sensor Cooking
Grilling can take a lengthy time, meaning that some people may either end up wandering away or getting bored in the process. This mistake can cause their food to end up burned or seriously damaged. Thankfully, that situation can be avoided with this grill by using its Automatic Sensor Cooking abilities properly.
This sensor will detect the number of food items on your grill, the type of food being cooked, and will adjust the heat level to ensure that it produces a reliable cooking temperature. As a result, you can select rare, medium, and well-done options to get your meat cooked the way you love it.
Automatic Thickness Adjustment
When you insert your meat or other foods into this grill, it will automatically detect its thickness. Once it has decided on this aspect of your food, it will adjust the amount of heat needed to cook it. Those levels will go up and down, depending on the type of meat or food you use, but will be pretty consistent from one type to the next.
This option is great because it helps avoid the kind of over or under-cooking that can plague many grills. Combined with the Automatic Sensor Cooking abilities of this grill, you get very well-cooked meat that won't be too difficult to eat.
Final Thoughts
With a variety of useful amenities, such as six cooking programs and two cooking modes, this grill is kind of the dark horse of our list. It kind of came out of nowhere to become one of our favorite grills being produced in 2018. Try it out and you'll see it offers you many quality benefits.
Sometimes you just want a simple appliance that can do absolutely everything — and when that time comes, you want the Cuisinart 5-in-1 Griddler. This griddle is available at a reasonable price and has 4.5 stars over 7,405 reviews on Amazon.
A Griddle with Utility
This appliance can be used as a contact grill, as a full grill, as a griddle, as a half griddle and half grill, or as a panini press. That means that no matter what type of cooking you want to do, there's a setting for that — greatly reducing the number of appliances you need and the amount of clutter in your kitchen.
Recipes and a Special Tool Included
When you're griddling, it's usually not only for a high-quality meal but also to save time. The Cuisinart 5-in-1 Griddler also comes with recipes, so that you can easily make a variety of restaurant-style foods without having to look up your own directions.
Adjustable Temperature Controls
The fully adjustable temperature controls range across three dials so that you can control each area separately and so you can make sure that everything cooks appropriately. When used with the griddle, this means that you can cook different types of food without having to worry about temperature fluctuations.
Though this may not have the power of the features of a restaurant-class model, it makes up for it in utility. It may not be the best griddle, but it's by far one of the most diverse and versatile appliances available for the home kitchen.
Electric griddles are a great way to make cooking fun, fast, and simple. There are many griddles available from the most affordable to the most expensive, ranging from tabletop griddles to full restaurant-style griddles. The best options depend on what you want to cook most.
Get everything cooked right with this classic George Forman GRP4800R Multi-Plate Evolve Grill. This George Foreman is more than just a griddle; it can be used as a grill, panini press, muffin pan, and bake dish. And, of course, it can also be used for griddling.
Get Four Plates With a Single Grill
This George Foreman Grill comes with a classic grilling plate that can be used for oil-free grilling. In addition to this, however, it has a special bake dish. This baking dish can be used to bake as well as to grill, as it provides a flat surface on which cooking can be done. As a bonus, you can also make sandwiches and muffins.
Adjustable Cooking Angle 
By being able to adjust the cooking angle,  you can cook different foods perfectly each time. You can lay it flat if you're griddling or you can set it on a slope if you're draining fat from meat. The slope is adjusted easily through a knob that's positioned in the back.
Makes up to Five Servings at a Time
Griddling is useful because you can control the amount of food you make. Unlike using pans, you don't have to worry about clean up at the end. The griddle plate included this George Foreman can handle up to five servings of food at a time, so you can cook multiple things for multiple people.
This all-in-one grill and griddle system is a perfect appliance for those who are looking to consolidate their tools. As an additional bonus, it's available at a reasonable price.
If you want a premium George Foreman grill, then you're looking for the George Foreman GRP4842MP. Not only does this include grilling and griddling plates, but there are also waffle plates included for crispy, deep-pocketed waffles.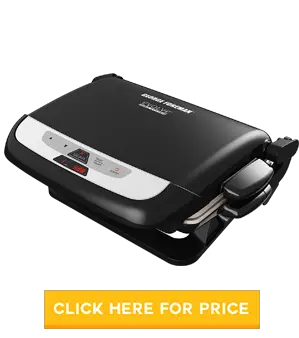 500 Heat Searing Burst 
This grill is able to sear at 500 degrees for 90 seconds, which produces restaurant-quality results in the home. This is particularly useful when searing meats in order to lock in their flavor; it can be used after the meat has been cooked to produce a char on the exterior.
Perfect Temperature Control
Grilling is all about controlling the temperature. The digital cooking display can display temperatures between 325 degrees to 450 degrees, depending on what you're cooking and for how long. You can fine-tune the temperature of eggs, meat, vegetables, and more.
Removable Plates for easy cleaning
The George Foreman doesn't just gain utility through its set of removable plates — it also improves ease of cleaning. The plates in the George Foreman can be removed and thrown into the dishwasher, so there are very few things that you need to clean after you're done.
This is primarily a grill rather than a griddle, with waffle plates included rather than the deep-dish baking tray. Nevertheless, its high-powered searing burst and digital control panel make it perfect for electric grilling, waffles, and paninis.
Black+Decker has been known to manufacture durable yet feature-rich products at affordable prices and their BLACK+DECKER GD2011B lives up to the reputation of offering anybody on a tight budget the ideal griddle. It's a best seller and not just because of its low price, there's more.
Convenient cooking surface
Remember the days when you'd have food stuck to your pans and grills? Well, not anymore. The Black + Decker GD2011B comes with a non-stick surface so nothing ever gets stuck to the surface and cleaning remains hassle-free.
Secondly. with the probe removed the entire griddle is immersible and can be washed in the sink
Can cook for the entire family
Got a large family? The GD2011B boasts of a 20"x11" cooking surface that can prep up to 8 servings at a time. The non-stick cooking surface maintains heat consistently while the easy temperature control makes cooking convenient and faster so you never miss out on a meal with your loved ones.
Great Performance, low durability
With the variable temperature controls the Black+Decker GD2011B can reach up to 400 degrees Fahrenheit so your food is perfectly cooked and you always get those eye-catching char marks.
Secondly, it gives you the freedom to cook a variety of foods without having to worry about temperature changes that may occur on a stovetop or other cheap grills.
But while it performs really well, the GD2011B comes with plastic components that reduce the durability and in the long run, are prone to wear and tear thus adding to the repair and maintenance cost.
Cheap, safe, small, and above all apartment friendly, the Presto 07047 Cool Touch Electric Griddle provides a small and easy griddling surface for anywhere. Whether you're in a dorm room or you're staying in a hotel, the Presto 07047 can easily fit in.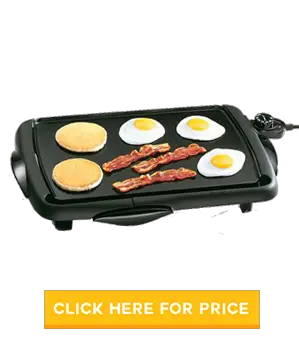 Low Profile Design increases portability
The Presto Cool Touch can be used anywhere, from on a kitchen counter to a dining room table. In fact, it can even be used on a desk. The low profile design means that it's only a few inches tall, so it can be comfortably used in even the smallest of kitchens.
Slide Out Tray Makes Cleaning Easy
When you're griddling, you probably just want to get your meal done fast and easy. The Presto Cool Touch has a slide-out tray that can catch grease — so that the unit can be cleaned easily. The surface of the griddle can be wiped off with a damp washcloth and you're already done.
Large Cooking Surface
You can cook just for yourself or for multiple people on the Presto Cool Touch, which comes with a large 16-inch wide cooking surface. The cooking surface is large enough to cook breakfast, lunch, and dinner foods all at once, so you don't need to use multiple plans and implements.
Available at an extremely affordable price, the Presto Cool Touch is a perfect entry-level griddle for those who just want an easy, flat cooking surface that can be used anywhere. Though it doesn't have many advanced features, it's one of the cheapest options available.