Disclosure: Some of the links below are affiliate links. This means that, at zero cost to you, I will earn an affiliate commission if you click through the link and finalize a purchase.
Amateur and professional chefs who love to chop, puree, and blend may find themselves in need of a food mill substitute when their favorite grater and hand mixer is unavailable to make homemade mashed potatoes or their favorite tomato puree.
There are a few go-to options that can help cooks achieve the desired result when they can't use a food mill for chopping and grinding fruits and vegetables or foods like potatoes and tomatoes. The best food mill substitutes include handy kitchen tools like a food processor, blender, potato ricers, or a cheese grater with a sieve or fine-mesh strainer. Seasoned chefs can even use a wooden spoon and strainer in a pinch!
Read on to learn more about food mills and what to cook with them.
Later, we talk about the best food mill substitutes and what you can use instead.
What is a Food Mill?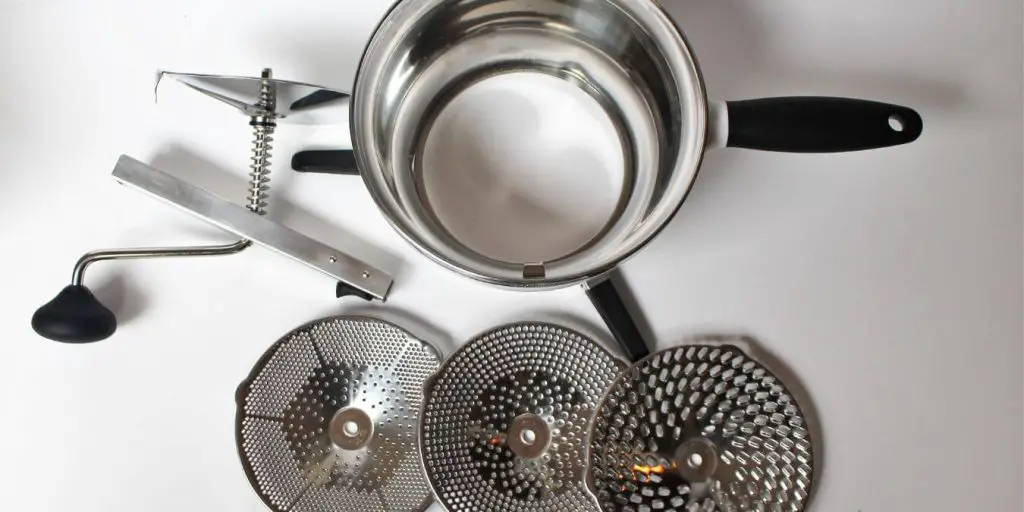 A food mill is a kitchen tool that acts as a food processor and sieve, potato ricer, and cheese grater all in one.
We sometimes call it a "rotary food mill".
It is a hand-powered kitchen tool used for grinding food. These handy kitchen utensils are used to chop or grind vegetables, meat, cheese, and other ingredients.
It has a cylindrical grater that revolves around a fixed axle. The food you wish to process goes into the mill through one end. The processed food comes out the other end.
This time-saving kitchen tool can help prepare a wide variety of processed foods, including mashed potatoes, chopped vegetables, and pureed fruits like tomatoes. Mashing boiled potatoes and similar soft foods can be much easier with a food mill.
People who use food mills appreciate the texture of fruits and vegetables and they do not have to worry about the seeds, thanks to the built-in sieve.
Satisfied food mill users say they make less mess, take care of the seeds, and result in faster cooking times than using food mill substitutes like a food processor and sieve or a cheese grater.
Food Mill Construction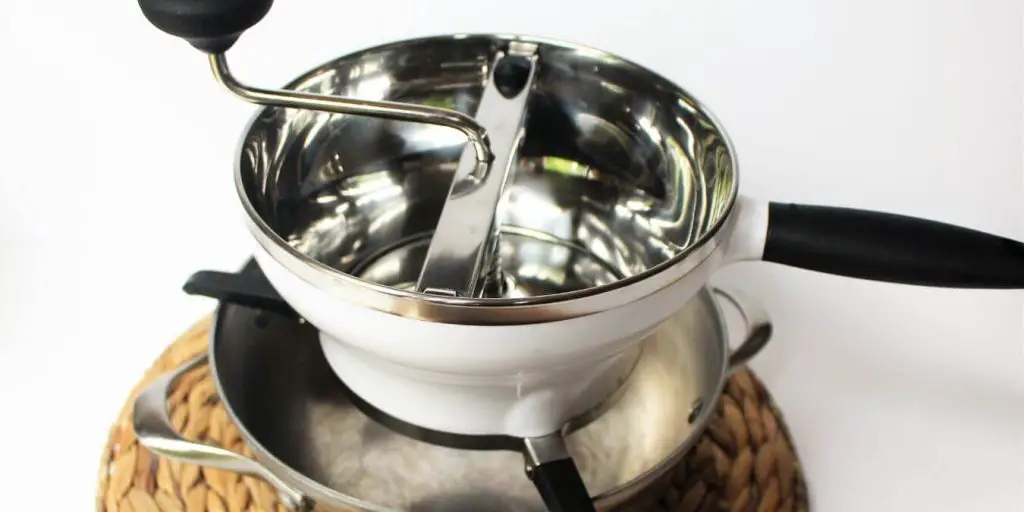 Most food mills resemble large, cone-shaped machines with at least one sharp blade or multiple sharp cutting blades inside. They are typically mounted on a stand or can rest on top of a bowl. This allows you easily move it around the kitchen to process different foods.
Rotary Food Mill Uses
Rotary food mills are very versatile. Some people use food mills for grinding grains, legumes, and nuts. Others prefer to process soft foods.
There is no one "best" food mill for preparing cooked foods. Different models are better for different grinding and there isn't a single model that's perfect for all tasks. Some people prefer electric mills because they're easier to use, but manual mills can be just as effective if you have the patience to learn how to use them.
What Foods Can I Make with a Rotary Food Mill?
With a rotary food mill, you can grind dried spices, coffee beans, nuts, and other coarse dietary ingredients. The mill also lets you make flour, pasta, and other foods from their ground substance.
To operate a rotary food mill, place the desired ingredients into the bowl or container on one side of the wheel. Turn the wheel to grind them up while they are still in contact with the blades on either side of the machine.
To release your finished product, simply turn off the machine by pressing a button or pulling on a lever near its handle. Or if you are using a manual one, just process the food right into a bowl or pot.
Food Mill Benefits
The main advantage of using a food mill is that it easily prepares fine ingredients for cooking without a hassle.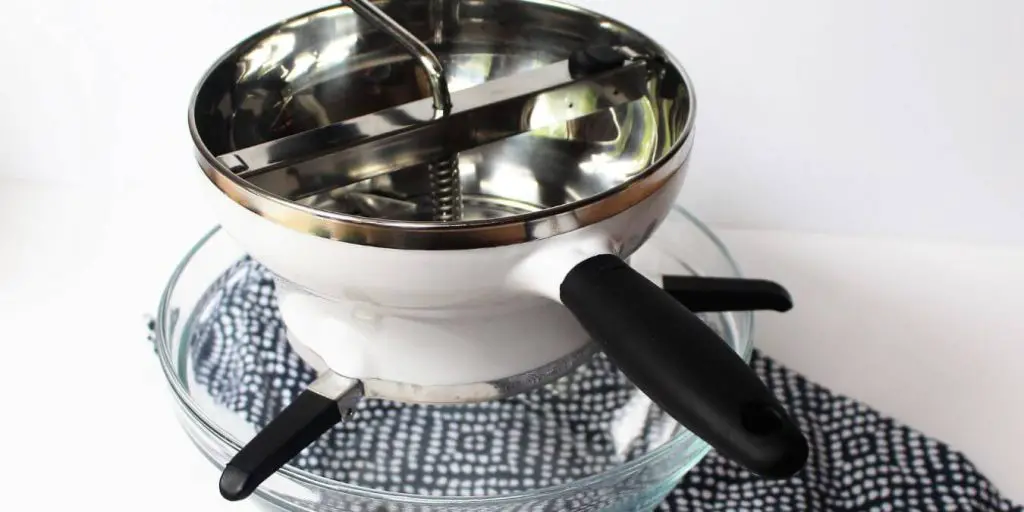 Food mills also reduce the amount of cleanup required compared to other methods, such as blenders or electronic kitchen aid choppers.
Foods processed by a food mill cook faster because of their multiple blades, which break down larger chunks into smaller ones, resulting in a more even distribution of heat and improved flavor when cooking.
The Best Food Mill Substitutes
The best substitutes for a food mill include the following options:
Blender
Potato ricer
Chopper
Food processor
Spice grinder
Potato masher
Wooden spoon and bowl
Cheese grater
Sieve
Is a Food Mill The Same as a Food Processor?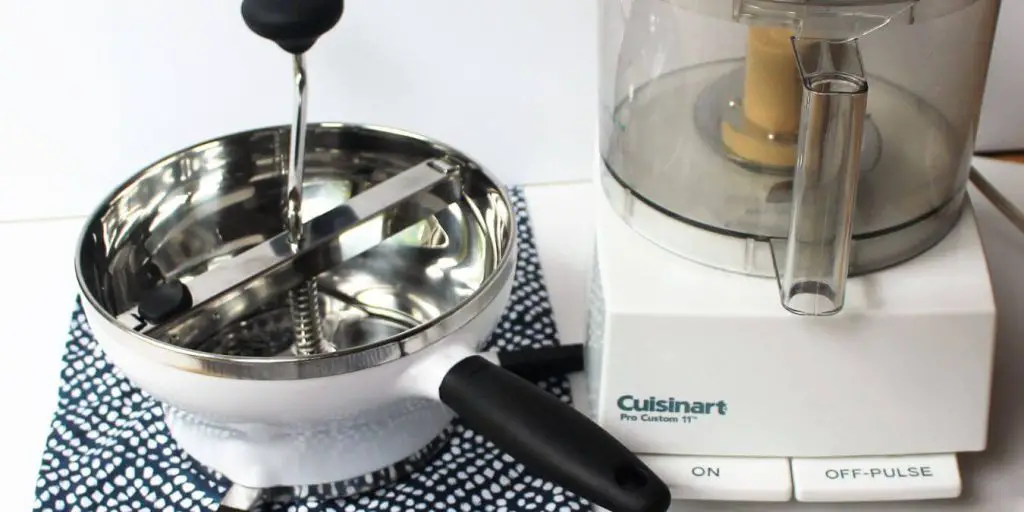 Although a food mill acts as a hand mixer, cheese grater, and hand food processor, it is not the same as a food processor. A food processor is a type of kitchen appliance used to chop, grind, and mix ingredients. It typically has more blades than a food mill and can stand in place of a stand-alone grinder or hand mixer.
A hand-powered food mill produces vegetables and fruits that get processed through a fine-mesh strainer that creates the desired texture without having to remove the seeds.
The primary difference between a food mill and using a food processor is that you need to peel foods and press them into the mill with stainless steel or a wooden spoon before grinding them to the desired texture.
You don't have to separate the seeds when using a food mill, as the strainer collects these.
Using a food processor in place of a food mill
If you would like to use a food processor as a food mill substitute, it's definitely possible. But you may need to use a strainer and spoon to separate seeds and peels.
Here are a few steps to follow:
Remove any peels and seeds that you can prior to placing in the food processor
Pulse the food to desired consistency
If any seeds or peels still exist, use a strainer and spoon to strain the food into a bowl or pot.
WARNING: Stay away from using a food processor for mashed potatoes. I speak from experience. The last time I tried to put peeled, cooked potatoes into a food processor, I ended up with a gummy mess. In other words, the texture becomes undesirable.
Can a Blender Be Used as a Food Mill?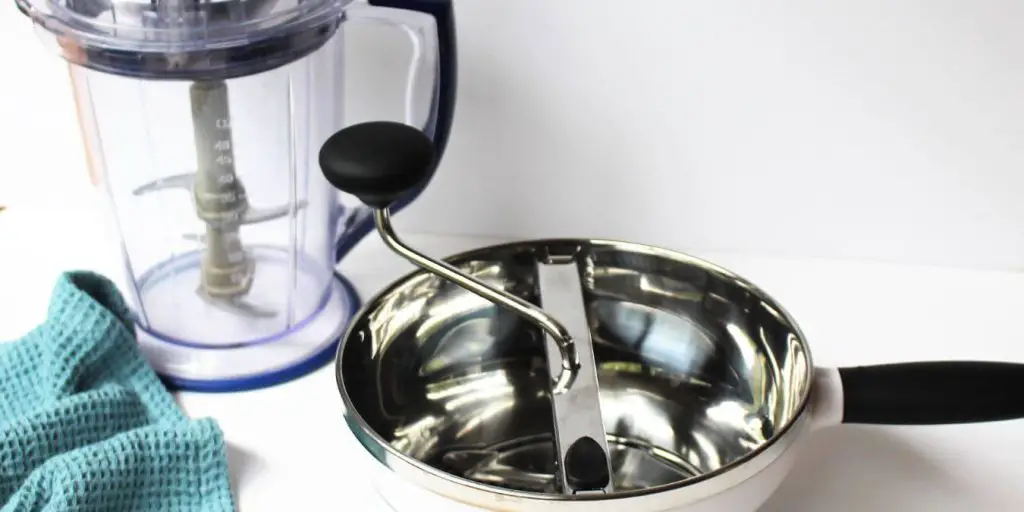 A blender can take the place of a food mill to prepare foods like soups, sauces, and soft foods you would normally puree.
This household appliance helps to mix different ingredients for cooking. It typically has two or more blade attachments that chop, blend, and puree food concoctions.
Blenders are often used to make smoothies, soups, sauces, and other dishes. They can be handheld (immersion blender) or standing mixer-style appliances.
Keep in mind, as with the use of a food processor, you may need to use a sieve or strainer to get the desired consistency.
The process of using a blender as a food mill substitute is the same as the steps above for using a food process.
Also, be careful using a blender for mashed potatoes. It is easy to over-process them and end up with gummy, sticky potato mash. Start slow and with a small amount to see how it goes!
Is a Potato Ricer the Same as a Food Mill?
A potato ricer is a handy kitchen utensil that falls into the category of the best food mill substitutes for preparing soft foods like boiled potatoes and mashed foods. This kitchen tool helps to mash potatoes easily and quickly.
It has a horizontal wheel with ridges on it that spaces out the potatoes as you mash them. This allows them to be cooked evenly, avoiding lumpiness. This makes potato ricers an ideal choice for those who want fluffy, creamy mashed potatoes with no added complications or mess.
Food mills vs. Spice Grinders
A few key things differentiate food mills and spice grinders.
First, spice grinders usually have one blade that pulses spices and chops them up. Whereas, food mills have a grater-like plate which more evenly processes ingredients
Also, spice grinders are meant for small jobs. For example, you wouldn't be able to process a batch of tomatoes using a spice grinder.
I suggest spice grinders be used mainly for spices or processing a small amount of dried ingredients.
Foods you Can Make with a Food Mill Substitute
Soups and stews
Use a blender on pulse or a wooden spoon and strainer to puree the ingredients to add to homemade soups and stews when your food mill is unavailable. This will make the soup or stew smoother, more flavorful, and less lumpy.
You can also use a food processor to chop the vegetables into small pieces before adding them to the pot. This will help reduce their time cooking in the stew or soup and also increase their flavor.
Pasta sauces
Make pasta sauce in your blender by roughly chopping your ingredients into small pieces. You may want to remove the skins from tomatoes before placing them in the blender.
Mashed Food
Potatoes, baby food, tomatoes… Mashing is a common need in the kitchen. Using simple tools like a potato masher or a spoon can be a simple substitute for your needs.
But if you need a little more power, kitchen equipment like blenders and food processors can help with this process.
How to Make Tomato Sauce without a Food Mill
Wondering how do you make tomato sauce without a food mill?
You can make tomato sauce in a blender instead of a food mill, but it will be less smooth and may have more chunks.
Keep in mind you can also use an immersion blender for this task for less cleanup! Just mix the ingredients in a bowl and process. Or blend it up right in the pot if you are using stainless steel pots (you wouldn't want to run an immersion blender in a non-stick pot).
Easy Tomato Sauce Recipe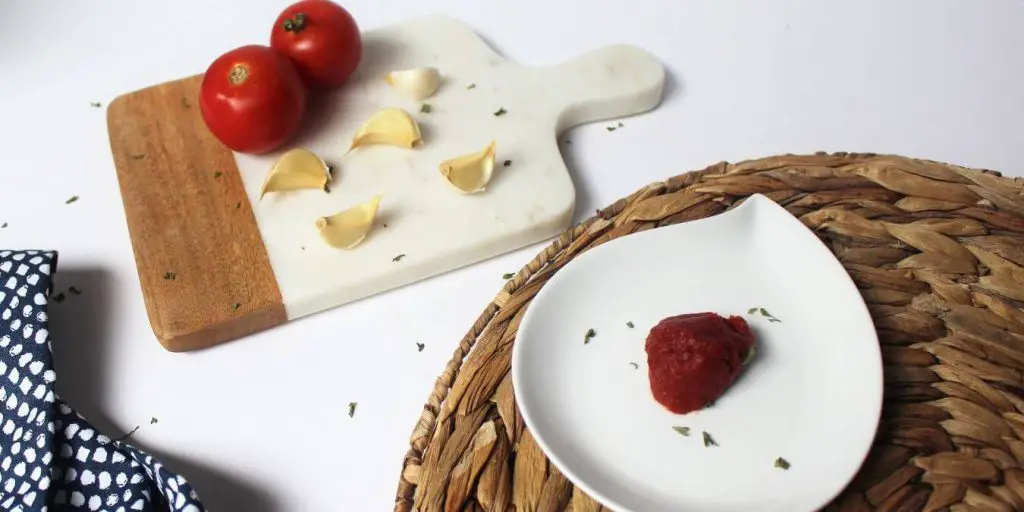 Use the ingredients and follow the instructions below to make this easy tomato sauce recipe.
Ingredients
1 can diced tomatoes, undrained
3 tablespoons tomato paste
Salt and pepper to taste
2-3 cloves garlic, minced
1/2 cup chicken broth or stock (homemade is best)
Instructions
In a medium bowl, combine the diced tomatoes, tomato paste, salt, and pepper.
Pour the mixture into a blender and pulse to your desired consistency.
Place the mixture into a medium saucepan and heat to boiling, then lower to simmer.
If the sauce is too thick, add small amounts of the broth or stock until it is to the right consistency.
Add the minced garlic and continue to simmer for 20-30 minutes with the lid on.
How to Make Applesauce with a Food Processor
Though a food mill produces the absolute best applesauce, using a food processor instead of a food mill works well too! Here's a recipe to get you started.
Simple Food Processor Applesauce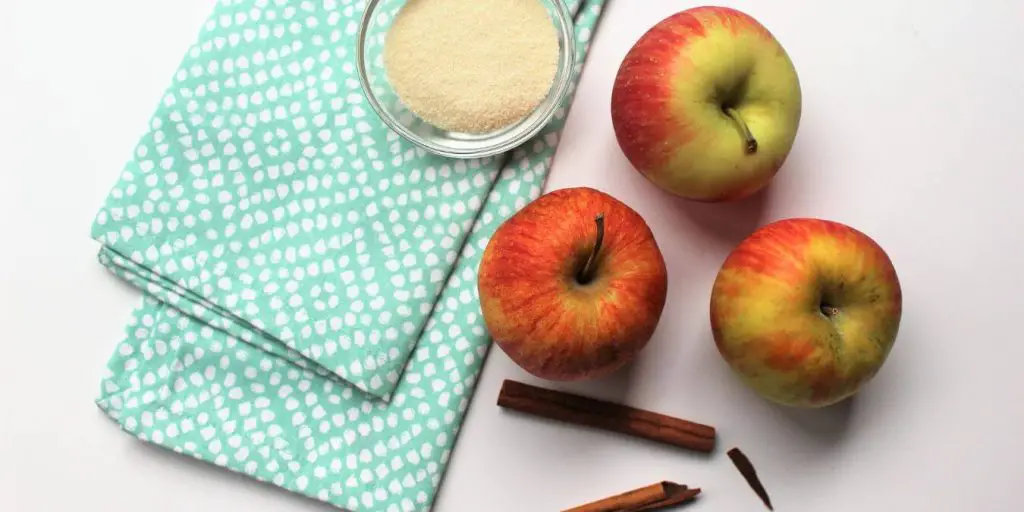 Follow the instructions below to make applesauce with a food processor.
Ingredients
6–8 apples, peeled and cubed
1/4 cup sugar
Cinnamon (to taste)
Instructions
Core the apples and cut them into small, even pieces.
Place the apples in a food processor bowl and pulse until they reach the desired consistency (chunks or puree).
In a large saucepan, combine the apples and sugar. If you wish to use another type of sugar, like coconut sugar, feel free to make that substitution.
Bring the mixture to a boil over high heat, then reduce the heat to low and simmer for 25 minutes or until the apples are very soft.
Remove from heat. Add powdered cinnamon to taste, if desired. Serve warm or chilled!
How to Make Baby Food with a Blender
First of all, if you make homemade baby food, I admire your efforts. It's not easy balancing caring for kids and making food from scratch.
But if you haven't picked up a food mill yet for baby food, you should really consider one! But that's not what we're here for. We're here to discuss substitutes! So let's take a look at how you might make baby food using a blender.
Sweet Potato and Veggie Baby Food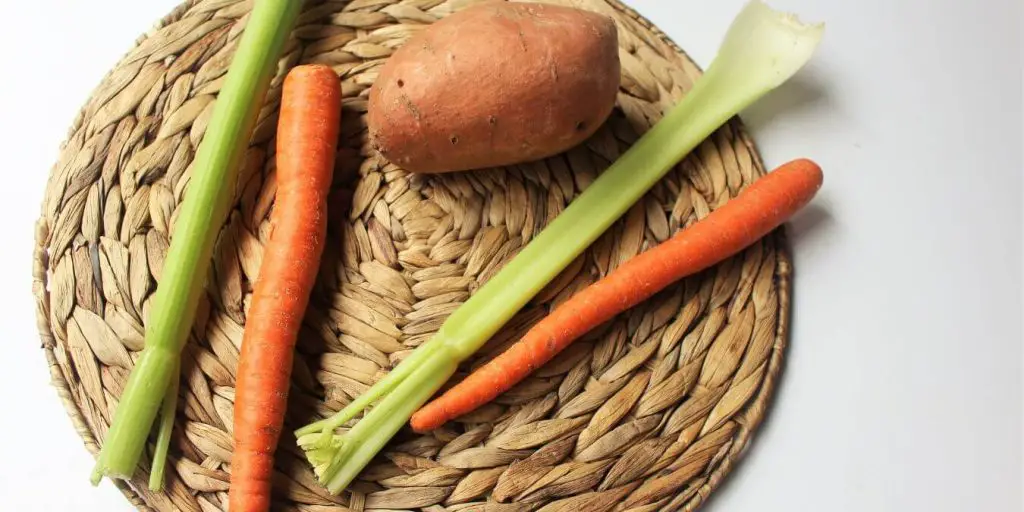 Use the ingredients below or choose your baby's favorite to make baby food with a blender.
Ingredients
Sweet Potatoes – 1 large or 2 smaller, peeled and cubed
Celery – 1 stalk, diced small
Carrots – 2 medium-sized carrots, peeled and grated (or 1 cup baby food carrot puree)
Water as needed (up to 4 cups if using all the vegetables)
Instructions
Place raw prepared ingredients into a medium saucepan.
Pour a small amount of water (appx. 1/2 cup) into the mixture to prevent searing.
Bring mixture to a simmer and cover for 5-10 minutes
Check ingredients with a fork to ensure it is soft. If not, keep on heat for another couple minutes, checking periodically for doneness.
Once the ingredients are soft, remove from heat and transfer to a blender (or process using an immersion blender).
Pulse and blend the mixture to a puree.
Once cooled to room temperature, it is ready to serve!