Disclosure: Some of the links below are affiliate links. This means that, at zero cost to you, I will earn an affiliate commission if you click through the link and finalize a purchase.
My family loves banana bread. What's not to love? It's sweet, dense and even provides a little extra fruit! But finding an easy vegan allergy-friendly banana bread recipe that everyone in the house loves took a bit of trial and error.
This recipe is nut-free, dairy-free, egg-free and optionally gluten-free! Our family is accustomed to modifying just about every recipe we find to make it safe for our son to eat. But my hope is that you'll find this is a recipe you don't have to modify too much to suit your needs.
Today, I want to share my family's favorite recipe with you. Now you too can experience the amazing flavor and texture that we love, without worrying too much about making substitutions for food allergies.
What's Special About This Banana Bread?
My son has 10 food allergies. When he was a baby/toddler, it was very difficult finding things he liked and could eat safely. Given the fact that the majority of processed and pre-packaged food contains at least one allergen for him, we have developed a pretty deep catalog of recipes that he likes so we can keep him safe and well fed.
Banana bread is commonly made with nuts, dairy, and eggs. All things that we can't share with my son. So we set out to make the very best vegan allergy-friendly banana bread that wouldn't be too time-intensive to make. Out of that effort came this recipe. From our family to yours.
If you are looking for interesting ways to use the banana bread you make in this recipe, give our vegan banana bread french toast a try. It is simple and really delicious!
How To Make Easy Vegan Allergy-Friendly Banana Bread
The very first thing you'll need is 3 ripe bananas. They are best when they have lots of brown speckles on them or even fully brown. Just make sure to use them before they go bad. Once you have all your ingredients together, this is what you should have.
Mix The Wet Ingredients With Sugar and Salt
First, take the vegan butter and cream it together with the coconut sugar and maple syrup in the mixing bowl. This works best when the butter is at room temperature as it allows the ingredients to mix well together. You can use a wooden spoon for this.
After creaming the butter and sugars, stir in the applesauce, vanilla and salt. Combine these ingredients until everything is mixed well, but may appear separated and lumpy.
Sift In The Dry Ingredients
Take a sifter and over the mixing bowl and begin to sift the flour, baking powder, baking soda and the optional spices. Doing this helps prevent lumps in the batter.
Mash The Bananas
Then, take the ripe, peeled bananas and place them in a small mixing bowl. Proceed to mash the bananas with a fork until they resemble a puree. It's okay to have a small chunk of banana here and there. However, you'll want to have it mostly smoothed out for this recipe.
Fold In The Batter
Take the mashed bananas and add into the mixing bowl with the remaining ingredients. Once all the ingredients are in the mixing bowl, begin to fold everything together. Using the wooden spoon, be sure to fold in from bottom to top. Here is where you want to be careful not to over-mix. Mix ingredients until just combined and no dry ingredients remain visible.
Prepare The Pan
Take your 9×5 loaf pan and grease lightly with coconut oil or vegan butter. After you've greased it, take a small amount of flour in your hand and sprinkle it evenly in the bottom and sides of the pan. Give it a little shake to disperse the loose flour and discard back in to the bag of flour or over the sink so you don't have chunks of flour in the bread. This keeps the bread from sticking to the loaf pan.
Move Batter To Pan & Bake
Finally, grab your prepared loaf pan and proceed to place the batter into the pan. Give it a small horizontal shake to flatten out the batter. Place in the oven
After 55-60 minutes in the oven, remove the loaf pan and test for doneness. Using your finger, press gently on the top of the loaf. It should have a nicely set top crust and should have a slight spongy give when pressing down gently. You should also use a toothpick placed and removed in the center of the loaf to check for uncooked batter.
If not done, place back in the oven for intervals of 2-3 minutes at a time until done. Otherwise, remove from oven and begin to let cool. Let it set in the pan for about 5 minutes, then gently work the loaf out of the pan and onto a cooling rack.
Once fully cooled, it's time to cut slices and enjoy! The cooling process will take anywhere from 1 to 3 hours. You can either store the full bread in a storage bag or container on the counter. Or, what we love to do is slice it up and place the slices in containers in the freezer. That way we can just place a few slices in the toaster oven for a few minutes whenever we are in the mood for our allergy-free banana bread!
Frequently Asked Questions
Got a question about this recipe, please leave a comment or contact me. I'd be happy to help. But here are a couple questions we've received that may help you out.
Can this recipe be made gluten-free?
Absolutely! We have tested this recipe out using King Arthur gluten free 1:1 flour. Instead of using whole wheat and white flour combined, just use 1.5 cups of gluten free flour. Also keep in mind that with gluten free flour, the bake time may need to be adjusted. In our case, we needed to bake an extra 5 minutes for the gluten free version.
Can I use parchment at the bottom of the pan instead of greasing/flouring?
If you prefer to line your baking loaf with parchment prior to baking, that should work just fine! We prefer using coconut oil and flour because the crust of the bread gets a satisfying slight crunch toward the end of baking that we've found isn't as pronounced when using the parchment lining. But that's not to say you should avoid using parchment to prevent sticking.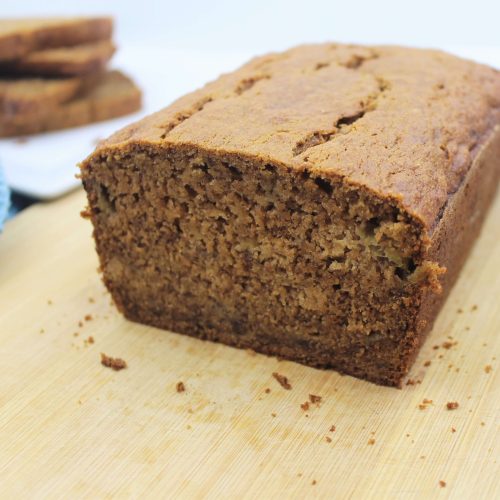 Easy Vegan Allergy-Friendly Banana Bread
This delicious and simple banana bread is perfect for those with egg and dairy allergies.
Equipment
1 Medium Mixing Bowl

1 Small Mixing Bowl

1 Fork

1 Wood Mixing Spoon

1 Sifter
Ingredients  
½

C

Vegan Butter

We like organic Earth Balance vegan butter

½

C

Coconut Sugar

½

C

Maple Syrup

½

C

Unsweetened Applesauce

Egg Replacement. Can also substitute with 2 flax eggs.

1

tsp

vanilla extract

1

C

All-Purpose Flour

½

C

Whole Wheat Flour

1

tsp

Baking Soda

1

tsp

Baking Powder

½

tsp

Salt

3

Ripe Bananas

Bananas should be mostly brown and soft to the touch

1¼

tsp

Cinnamon

optional

1

pinch

Nutmeg

optional

¼

tsp

Ground Ginger

optional
Instructions 
In the large mixing bowl, mix the room temperature vegan butter, coconut sugar and maple syrup together.

½ C Vegan Butter,

½ C Maple Syrup,

½ C Coconut Sugar

Add to the large mixing bowl the applesauce, vanilla and salt. Stir together to mix the ingredients well.

½ C Unsweetened Applesauce,

1 tsp vanilla extract,

½ tsp Salt

Sift in the dry ingredients, including the flour, baking soda, baking powder and optional spices.

1 C All-Purpose Flour,

½ C Whole Wheat Flour,

1 tsp Baking Soda,

1 tsp Baking Powder,

1¼ tsp Cinnamon,

1 pinch Nutmeg,

¼ tsp Ground Ginger

Place peeled, ripe bananas in a separate small bowl. Mash with a fork until it is the consistency of a puree. Add the puree to the large mixing bowl.

Fold the ingredients together, working from the bottom up using a wooden spoon. Be careful not to over-stir. The idea here is to just incorporate the ingredients enough so there are not dry spots in the batter.

Grease a 9×5 in. loaf pan with coconut oil, vegan butter or an oil of your choice. Then sprinkle flour over the greased pan, dispersing it all around. Shake out any loose flour remaining. Set aside.

Pour batter into prepared loaf pan.

Place loaf pan in oven for 60 minutes or until a toothpick inserted comes out clean.

Once done, remove loaf from oven and let cool in pan for 5 minutes. Then gently transfer loaf to cooling rack to completely cool before cutting.