Disclosure: Some of the links below are affiliate links. This means that, at zero cost to you, I will earn an affiliate commission if you click through the link and finalize a purchase.
Whether you're a barista in need of a coffee maker or a coffee addict craving barista like coffee at home, with our commercial espresso machine reviews, we've got you all covered.
Best Commercial Espresso Machines
De'Longhi ECAM28465B: Need a top-notch espresso machine for your Barista, Cafe, Office etc. then the De'Longhi ECAM28465B is just the espresso machine you've been praying for. With the memory setting your early morning cup of joe is just a touch away while the huge 2-liter water tank allows you keep your friends/customers entertained with an array of drinks, all prepped within minutes.
Gaggia 1003380: Looking for something less expensive for your newly set up coffee shop? The Gaggia 1003380 offers the best bang for your buck. With a ceramic burr grinder, worrying about metal or plastic will be a thing of the past whereas the adjustable dispenser makes it a highly versatile unit. It can prep up to 7-10 cups at a time.
Quick Navigation:
For any barista, cafe etc. serving the best coffee is a game changer thus only the best commercial espresso machine will do. So we put to test 10 espresso machines and give you in-depth reviews of our top 5 picks.
Top-Rated Commercial Espresso Machines
De'Longhi ECAM28465B Prima Donna

The De'Longhi ECAM28465B Prima Donna has a compact and elegantly designed, with all the features of a full sized super automatic espresso machine, the sleek construction will be a welcome addition to your kitchen counter.

---

Counter-top space-friendly design
Memory Function
2 Liter removable water tank

Breville BES980XL Oracle Espresso Machine

The Oracle has automatic grinding, dosing, tamping and milk texturing, automating the two most difficult parts of manual espresso

---

Auto grind and tamp
Micro-foam milk texturing
Flexible shot control

Gaggia 1003380 Accademia Espresso Machine

The Gaggia Accademia can make custom specialty drinks with the push of a button and the carafe, or on your own with the manual wand.

---

Stainless accents
One-touch cappuccino
Tall spouts

Profitec Pro 700 Dual Boiler Espresso Machine

The Profitec Pro 700 Dual Boiler Espresso Machine has a 0.75 liter boiler dedicated exclusively to brewing and a 2 liter boiler dedicated to steaming

---

Highly modular internal design
Insulated steam wand with a four-hole steam tip
Manual three way valve

Magister Stella Professional E61 Espresso Machine

The E61 manages to strike an air of sophistication with its own unique flare while remaining elegantly simple to use for a semi-auto espresso machine

---

Copper boiler capacity 1.5 liters
Water tank capacity 2.0 liters
High clearance underneath
In-Depth Commercial Espresso Maker Reviews
#1: De'Longhi ECAM28465B Prima Donna(Best Super-Automatic Espresso Machine)
De'Longhi is a highly versatile company with a broad range of capabilities that makes and sells small appliances covering specialty coffee drink makers, kitchen appliances, heating and air conditioning machines for your home and much more.
They also make, sell, and service a staggeringly wide range of coffee machines and related devices, but what's best about buying from them is they both specialize in high-end coffee makers and they have an impressively diverse range of products.
That means that if your purchase ever needs to be repaired, you will have a much better chance that the company will still be in business when you call on them- unlike other manufacturers who are betting their entire business model on the manufacture and sale of one of a kind coffee machines.
Single Touch Serve
As a fully automatic latte and espresso maker, the Prima Donna, with just a little bit of setup, will dispense your beverage of choice with just the touch of a single button. This is ideal for espresso lovers who want their drink ready to go as they head out the door.
Versatile Memory Function
After you've found a setting that you like, you'll never have to never bother with resetting your drink parameters again with the specialty drink memory function. It's great for when you're in a hurry to get to work and you really want it the way you like it right away!
Variable Functionality
With its massive 2-liter removable water tank, you will be able to entertain all your friends and make delicious drinks for everyone- however, varied their tastes. And you can also make tea or hot chocolate with the Prima Donna's unique hot water spout.
Conclusion
With its great-looking stainless steel casing, digital LED-backlit display, and its very counter-top space-friendly design- the Prima Donna is ideal to fill just about any coffee drink niche that you want to be filled in your home, office, business, cafeteria, or what have you making the best in the market.
And before we forget, the De'Longhi small kitchen appliance company has a specialized call center set up specifically to help walk you through the setup of your espresso machine after you buy. With all this functionality, versatility, and great customer service- this coffee machine is worth every penny.
#2: Breville BES980XL Oracle Espresso Machine (Best Semi-Auto Espresso Machine)
The Breville small kitchen appliance company is based in Australia, where they have single-handedly revolutionized the production of high-quality coffee-based beverage machines. Breville was incorporated in 1932, almost 85 years from now in the beautiful and rustic city of Melbourne, Australia.
They are famous all around the world for having created the first mass-production sandwich toaster at the height of the late industrial revolution. In recent years, the Breville company has turned its focus toward high the production of end espresso machines for home use and business. This fully automatic espresso machine is one of their finest and most recent products.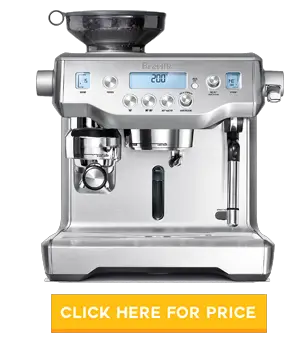 Fully Automated
The Oracle Espresso Machine grinds your beans, as well as tamps and doses all of your coffee drinks automatically for a no-mess very near "barista-quality" espresso. It is fully programmable and features an automated purge function to help ensure the machine keeps turning out fresh and delicious beverages.
Double Barrel
The dual stainless steel boilers are able to churn out two drinks at the same time so that you never have to drink your coffee drinks alone.
One-Touch Service
With the proper staging and set up, the Oracle Espresso Machine will make and serve your espresso drinks from start to finish with just the push of a single button.
As one of the most advanced products in the fully automatic espresso machine category, the Oracle Espresso Machine has a lot of outstanding features going for it. It is extremely small considering all of its diverse capabilities and it is also very well made as evidenced by its beautiful, fully chromed exterior.
Conclusion
While it may be a bit too light on features for mainline commercial use, for home use it is more than ideal for anyone who is willing to invest heavily in a fully automated espresso machine. It could also be a great compliment to any food service establishment that already has most of everything else it needs.
#3: Gaggia 1003380 Accademia Espresso Machine (Value for Money Pick)
Gaggia is an Italy-based company that knows exactly what it takes to make a great tasting espresso or latte. They make the finest quality coffee machines, espresso machines, and cappuccino machines in addition to producing a wide variety of small kitchen appliances for use at home or for commercial foodservice purposes.
The Gaggia company makes a wide range of devices for the production of Italian delicacy items such as gelato, espresso, lattes and more. In fact, they invented the world's 1st steamless coffee machine in 1938, a distinction that set them on their way to becoming a global leader in the production of the finest coffee and specialty caffeinated beverage machines globally ever since.
Adjustable Dispenser
Make your coffee drinks in a wide range of sizes with the telescopically adjustable dispenser with a maximum clearance of 6 & ½ inches. This feature alone tells you that this machine can create a wide range of beverages.
Ceramic Burr Grinder
If you're sensitive to the taste of metal or plastic, there's no problem with the ceramic burr grinder and integrated hopper which ensures your beans retain all their full and rich flavor with no contamination. A real plus for health food fans who still love their coffee.
Fully Programmable
Preset your machine to several selectable modes to suit everyone in your home or establishment with the pre-programmable 7 to 10 cup drink-making capability.
This fully automatic espresso beverage maker falls well into the low end of the price range for this type of device without sacrificing flavor or function- and it delivers a terrific range of drink types- ensuring you'll always have a place for it in your heart.
Conclusion
After you set it up, you're ready to serve and enjoy delicious coffee drinks at your leisure. You'll also appreciate the beautiful full chromed body casing and very small counter space needed to use and display this highly refined culinary device from the Italian company that knows espresso machines better than anyone else, Gaggia!
#4: Profitec Pro 700 Dual Boiler Espresso Machine
Founded in 1985, the Profitec small kitchen appliance company specializes in the manufacture and sale of specialty Italian espresso machines. They have set and maintained the standard for greatness in the world of premium coffee-based drinks. All of the machines they produce are handmade, designed for use by trained, expert baristas who understand exactly what goes into a great espresso drink.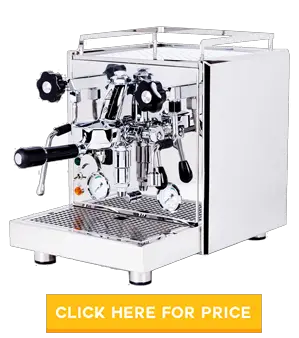 For the Experts
This high-quality semi-automatic espresso machine is just about as hands-on as it gets. You will have to do everything, which means you will also have full control of the way your espressos and lattes turn out. If you want the best there is, there's a learning curve that must be reckoned with, but here it is!
Hand Made to Perfection
Profitec gets its name from the company's dedication to making each part by hand in order to achieve absolute perfection in their final products. You can tell from the price- but if you want the best, you've found it.
If you're looking for one of the finest espresso machines on the market, and are willing to pay for the top of the line, look no further. The Pro 700 Dual Boiler Espresso Machine is the machine of choice for high-class coffee beverage shops, fine dining establishments, and anyone who cannot bring themselves to settle for second best.
Compact Design
But, what might be the most extraordinary thing about the Pro 700 is that not only does it make some of the finest espressos and lattes in the world, but it does it while taking up a very small amount of counter space. If you want it serviced, you will absolutely have to go to the manufacturer, as every component is specially made, a small price to pay for the top of the line.
#5: Magister Stella Professional E61 Espresso Machine
The elusive Magister Stella Professional specialty company is based, (presumably), in France, judging by the logo on the front of their E61 espresso machine. While you may not be able to find their website without visiting the WayBackMachine, Magister Stella Professional coffee-based beverage products are carried by just about every serious online coffee product and coffee-related device retailer.
Magister (which means 'master' in Latin), has the distinction of having mastered the art of making deliciously intricate, shiny, and palpably beautiful specialty coffee drink making machines entirely by hand. Not only do they make some of the finest products in this category to be found in the world, but they do it for less than half the price of many comparable top quality products, (we're looking at you, Profitec).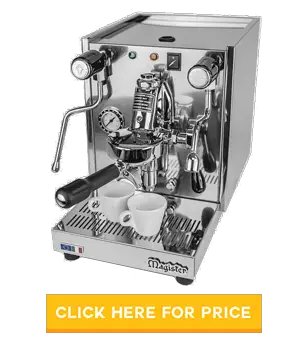 Powerful
The Magister E61 has one of the most powerful vibratory internal water pumps available in the industry- and it is certainly the most powerful pump of its kind within its price range.
Since making good espressos means you must blast the coffee beans with pressurized water, the E61 is guaranteed to give you a stronger, richer, bolder, and more serious espresso than you could hope to get anywhere else!
Strikingly Beautiful Design
The handcrafted serpentine curves of the forward control elements on the face of the E61 make it look like a work of art with an antique sensibility- a sure-fire hit with steampunk fans!
The E61 manages to strike an air of sophistication with its own unique flair while remaining elegantly simple to use- for a semi-auto espresso machine.
Simplicity in Design
The deceptively simple construction and semi-automatic nature of this unique espresso machine mean that even though it looks like a work of art, it comes apart easily. That means it cleans up very well which ensures you will not have to worry about having the taste of your drinks spoiled by scaling and built up grounds deposits.
Conclusion
The E61 is becoming increasingly rare, and with the furtiveness of the Magister company- if you want one, you'd better jump at the opportunity now. It has an all chrome exterior and fits easily on any countertop. Plus the high clearance underneath ensures that spills will not damage the E61. This is one small appliance that will raise the appeal of a kitchen or food service area where it is displayed.
Semi vs Super Automatic Espresso Machine
Whether you are interested in the best commercial espresso machine for use at home, as a complement to your business, or if you're just looking to class up the lunchroom at the office, there are a lot of options to consider and a few things you should know. First of all, espresso machines come in two basic types, the super-automatic, and the semi-automatic variety.
The super-automatic machine does everything automatically and requires little skill to use. These are great for home use or in an office break room, and they will create consistently good specialty coffee beverages. The semi-auto requires more effort and a fair degree of skill to use correctly, but if you know what you're doing, you will be able to produce superior espressos and lattes.
A good way to think of it is, with a full-auto machine, it is the barista- but with the semi-auto, you are the barista.
Let there be no doubt, these are some of the finest machines available in a market that is saturated in sub-par espresso machines. While any of these could easily have a place in a high-quality coffee shop, or fine dining establishment, they cover a range of capabilities and features.