If you're looking for a dip to go along with your crunchies the Hot Jambalaya Dip is just what you're looking for.
But the dip isn't just limited to football munchies, it's my all time favorite and goes along with pretty much everything else too 😉 .
Here's the full recipe along with pictures.
| Course: | Cooking Time: | Prep Time: | Serves: |
| --- | --- | --- | --- |
| Snacks | 20 Mins | 20 Mins | 5-6 People |
Ingredients
check1 Tbsp Olive Oil
check12 oz Shrimp, peeled, cleaned and chopped into ½ inch pieces (use mini shrimp to keep them whole)
check8 oz Fully Cooked Smoked Sausage, (Sliced ⅛-1/4-inch Thick)
check1 Onion, (Chopped)
check1 Red/Green Bell Pepper (Chopped)
check2 Ribs Celery (Chopped)
check2 Tsp Tabasco Original Red sauce
check12 oz Cream Cheese (Cubed)
check8 oz Colby-Jack Cheese (Grated)
check1 Tsp Salt
check½ Tsp Ground Pepper
check1 Tsp Thyme
check⅓ Cup Pickled Okra, (Sliced ½ inch thick)
check1 Tsp Dried Parsley (Garnish)
Directions
In a large skillet, heat olive oil over medium-high heat.
Cook onion, pepper, and celery until softened.
Add shrimp and cook another few minutes until it is pink.
Add the smoked sausage and Tabasco Original Red sauce and heat through.
Turn off heat.
Add the cheeses, seasoning, and okra.
Toss to distribute ingredients evenly.
Transfer to an ovenproof casserole dish or cast iron skillet.
Sprinkle with parsley and bake for 20 minutes in a preheated 400-degree oven
Serve warm with chips, crackers or slices of baguette.
Recipe Notes to Keep in Mind:
I used local Florida shrimp, so I ended up chopping them.  If you want whole shrimp in your dip, use the mini size
I also used a gluten/soy free smoked chicken apple sausage, feel free to use whatever brand/kind you prefer.
I used Greek cream cheese that has much less fat than normal, but regular cream cheese will work.
Finally, if you want even more kick to your dip, increase the Tabasco sauce to 1 Tbsp or more.
The Story Behind it…….
A delicious party food, this hearty hot dip with shrimp, smoked sausage, Tabasco Original Red Sauce and lots of cheese will make any holiday gathering one to remember.
I am hosting numerous holiday gatherings this year including one leg of an annual progressive dinner for the ladies of my church and obviously, my husband's weekend football thirsty gang's coming over.
My house will be decorated to the nines as soon as the turkey is cleared and the dishes are washed on Thanksgiving.
The #SeasonedGreetings food will be awesome because the women of the South have a knack for holiday party recipes that is unrivalled in my experience as a well-traveled American.
As a transplant to the South, I have dived right in, enjoying the flavors that are native to this area.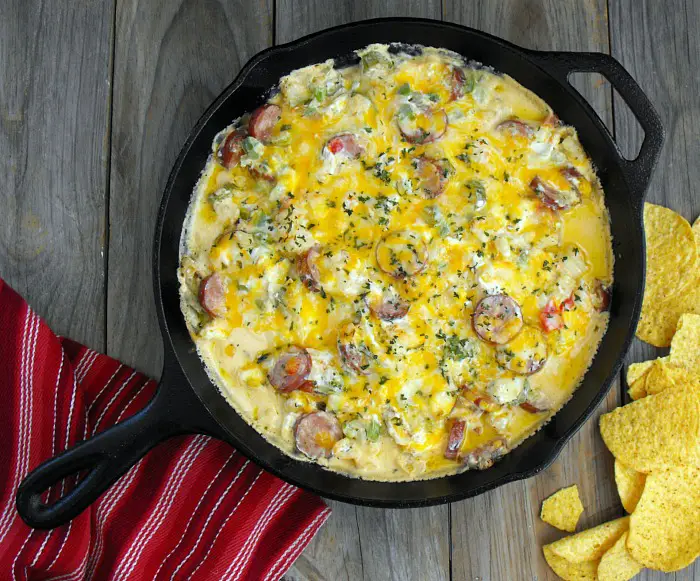 My own cooking has already been influenced by my experience here, especially by the hot sauce.
Tabasco brand hot sauce has been in my refrigerator door from the time I first set up a kitchen as an adult.
I grew up with the Original Red sauce and its one I trust. I use it in pizza sauce, casseroles, and many other dishes.
My local Walmart helps me keep up my supply of Tabasco Original Red, Green Jalapeño Pepper, and Chipotle flavored sauces.
During the holidays, I think warm dips are so much fun to serve at parties. They seem so much more decadent because of the hearty ingredients.
Who can resist all of that cheese mixed with the flavors of a favorite meal?
I came up with Hot Jambalaya Dip as an expression of my love for Southern food.
Tabasco Original Red Sauce was a key ingredient, giving it just the right amount of kick.