Disclosure: Some of the links below are affiliate links. This means that, at zero cost to you, I will earn an affiliate commission if you click through the link and finalize a purchase.
Find our french press reviews, comparison charts and buying guides to help you buy the best french press for the perfect cup of morning joe.
Best French Press of Coffee Addicts
Frieling USA Double Wall: With a double wall build that will keep your coffee hot for long and stainless steel finish bound to catch anyone's eye, the Frieling USA is the perfect blend of good looks and excellent coffee. Also, it's dishwasher safe thus making cleaning hassle-free.
Budget French Press
Sterling Pro French Press: The Sterling Pro is a best seller and it's not just the low price point that makes it so. It brews about a liter of smooth and flavorsome coffee. The heat-resistant borosilicate glass and stainless steel build make it highly durable too.
Quick Navigation
If you are on the hunt for a new French Press Coffeemaker, it's time to do some research in order to buy the one designed to deliver the perfect cup every single day while avoiding some of the pitfalls found in some bargain basement products.
We've brought together some of the best performers on the market and completed thorough product reviews so that you can find the best French Press Coffee Maker that is attractive, durable, easy-to-use and most of all, will brew cup after cup of the most divine caffeine-loaded coffee.
Read on to find the press that is able to brew coffee for all your friends, or just for you while you run out the door on another hectic morning.
Best French Press Reviews
Product
Details
 
 

Our #1 Pick

Frieling USA Double Wall Stainless Steel French Press Coffee Maker

While the double-wall design keeps coffee hot 4x longer, the Frieling USA Double Wall Stainless Steel French Press Coffee Maker also features a 2-stage filter system for zero sediment in your cup.

---

Full Length Comfort Handle
Double Wall Stainless Steel
36 Oz Capacity

Bodum 11195-16 EILEEN Kaffeebereiter 1.0L

Both beautiful and practical, the Bodum 11195-16 EILEEN Kaffeebereiter 1.0L features borosilicate glass in a classically designed system for a fresh pot in 4 minutes.

---

Round Grip Handle
Stainless Steel Frame w/ Glass Beaker
34 Oz Capacity

SterlingPro French Press Coffee Maker (1.5L)-Double Walled Large Coffee Press with 2 Free Filters

High quality at an excellent price point. 

---

2 screen system to eliminate coffee granules
Double-walled stainless steel design
1.5 Liter capacity

KONA French Press Coffee Tea Espresso Maker

With a uniquely designed protective frame, the KONA French Press Coffee Tea Espresso Maker features a borosilica glass beaker and stainless steel press and filter system for perfect coffee or tea.

---

Comfortable Handle
Contemporary BPA-Free Frame
34 Oz Capacity

Bodum Travel Tea and Coffee Press

With the Bodum Travel Tea and Coffee Press, you'll brew your coffee right in your insulated travel mug with spill-resistant lid and non-slip grip.

---

Built-In Plunger Press
Double Wall Stainless Steel
15 Oz Capacity
In-Depth French Press Reviews
The Frieling French Press has quickly become a favorite among coffee enthusiasts, winning the 2017 Housewares Design Award for its superior function, style, and performance.
Its simple appearance recalls the first French presses with its slim lines and minimal design on the handle but has improved over the older models with its use of contemporary materials.
This handsome carafe will blend in perfectly with your other stainless steel appliances while answering all your needs for those morning cups of delicious coffee.
Its standout feature is that it allows this press to stand above the others is its double-wall insulated construction.  Coffee can remain hot for up to four hours, keeping your cup full and hot all morning long.  Many other presses on the market are made out of glass, which performs well but has been left in the dust by the Frieling.
Also, this press is ready to be quickly disassembled and able to be popped right into the dishwasher.  You won't have to spend any extra time rinsing out screens and the pots between brews.  Because it's made out of stainless steel, it also resists dings, dents, scratches and won't shatter into pieces when you drop it. The double screens also work to keep any loose grounds out of your mug.
If there are any drawbacks, it is its higher price than many other presses, but when you enjoy a perfect cup of joe one after another, it is truly a small price to pay for perfection. This large, reliable French Press sits at the top of our Best French Press Coffee Maker list.
After delivering the portable wonder, expectations are high from the Kaffeebereiter. This beautiful press appears much like a work of art and holds one liter of freshly brewed coffee.
It is truly a press that you could use with a china coffee service when serving guests, supporting Bodum's reputation as a quality press manufacturer.
The brewing carafe is created out of borosilicate glass, which offers superior thermal absorption. Combined with the steel outer holder, some users report that their second cup is actually hotter than their first.
It holds up to one liter of brewed coffee, which can allow for 8 servings of intense, dark coffee served in small demitasse cups, or you can simply fill up your regular travel size mug twice.
One negative that you may encounter is that the glass carafe is not secured to its outer metal sleeve, such that it is a common occurrence that the carafe slips out and breaks during cleaning.  You can replace the carafe, but when you spend such a large amount on a beautiful product, that can be very disappointing.
Sterling Pro is well-known for its quality fresh coffees sold around the world.  Now they are offering quality French presses designed to help you create the perfect cup of coffee in your home for an affordable price. Grosche left the predictable stainless steel behind and opted for a refreshing chrome holder with a minimalistic design.
With a healthy 34-ounce size, this press is able to produce four American-sized cups of coffee or eight espresso sized shots.
With its chrome housing, it has a contemporary appearance while the two-filter system delivers coffee without any annoying grounds at the bottom. Remove the lid and filters and you only have to pop the German-manufactured glass carafe into the dishwasher.
Now, you might be wondering why this product is so much less expensive than the best presses on the market?
Well,  Grosche has replaced a metal lid and spout with plastic, which for many coffee connoisseurs can negatively affect the flavor by reacting with the aromatic oils present in top-quality coffee. It's a great bargain if you only offer pressed coffee on a random occasion or if you are looking for a nice loose leaf tea press.
KONA brings an economical and very popular press to the premium coffee maker game. Its tarnished bronze exterior with an elegant handle will certainly look beautiful on your kitchen counter or coffee table, but those who enjoy coffee every day might be ultimately disappointed.
If you only brew a special pot of coffee once in a while, the plastic lid and thin plunger springs will probably deliver the performance you desire.  The unit is easily cleaned by popping the whole thing in the dishwasher.
However, when you compare the screens and materials of the plunger to more expensive machines, it soon becomes clear that the KONA is not ready to stand up to any serious abuse.
Also, should the glass carafe break, you must replace the entire unit as the carafe is glued into the insulated black plastic pitcher. At least with other carafe and pitcher combinations, you are able to order replacement parts instead of giving up on the whole unit.
In the end, the KONA is striking in its unique design and will work perfectly well for the occasional dinner party.  If you make a habit of pressing a pot of coffee every morning, it may not stand up to your expectations.
Not everybody has the time to brew a perfect pot of coffee at home, which makes this unique travel-size coffee press the perfect option for the coffee connoisseur on the run. Bodum worked tirelessly to craft an insulated mug with a no-spill lid combined with a small press such that you can brew your own coffee while sitting at the afternoon meeting, instead of waiting in line for the barista to make one for you.
For the price of five cups crafted by your favorite coffee shop, you can purchase your own portable press. There's no need to sacrifice the enjoyment of your favorite blend when at work or running errands when you just need to add some fresh ground coffee and hot water, then seal the lid and be on your way.  In just four short minutes, you are sipping a 15-ounce cup of caffeine heaven.
The Bodum Travel Press comes in a variety of bright colors, making it easy to keep track of your special mug from the avalanche of silver and black mugs that often crowd the lunchroom counter.
With an easy rinse of the filter and mug, you can switch it up and enjoy a hot cup of tea or even load up the mug with an icy beverage, and the double-wall construction will keep your drink at the perfect temperature for hours.
If there is a negative to the Bodum Travel Tea and Coffee Press, it is that you aren't able to stir in your cream and sugar without removing the press/lid.  However, users recommend adding extra ingredients after the coffee steeped and before pressing.  A perfect solution to a near-perfect product.
American-made Secura broke into the French Press scene with its 34-ounce model. While the manufacturer is not as familiar to coffee-nuts as Bodum or Frieling, this pot offers many of the same features as the premium presses while saving you a few dollars along the way. Very well received by users, it might be time to try out something new.
Secura followed the slim and contemporary appeal of the pricier presses while upping the game.  They introduced a third screen–two in the press mechanism and a third in the pour spout–to further reduce the chance of any grounds slipping into your cup.
Its handsome stainless steel finish gleams under your task lighting, which sets this apart from so many brushed -finishes that you find in the marketplace today.  It is fully dishwasher safe, so it fits in with your busy lifestyle instead of requiring you to take special care of your coffee press.
Its handle and press knob both resist heat build-up allowing you to serve without scalding your hands. If you desire a darker and more intense brew, the Secura is designed to be able to stack two screens together without hindering the operation of the plunger.
What makes the Secura stand out maybe its one major drawback. The bright stainless steel finish is not likely to match your appliances, until fashion changes and this throwback look returns in the future.
Bodum also offers a mid-size press designed for the one or two-person household with its stainless steel half-liter model.  As usual, Bodum focuses on function over tradition, while delivering a modern unit that will blend right in with your black and stainless steel appliances.
This smaller press stands out from its competition with a pot-bellied design perfectly sized for brewing enough coffee for two.  It is entirely dishwasher safe and has no glass that can crack or shatter.
If you adore the design of the Columbia but wish to serve fresh pressed coffee to all your friends, they also offer the model in a variety of sizes up to 51 ounces. The double-wall construction help to keep coffee or tea hot for up to two hours, plenty of time to enjoy a hot cup at home or the office.
While this model is among the most popular out there, it can still crack inside if dropped, allowing the coffee to leak between the insulating walls.  You may not be able to detect when it is broken and you can't buy a replacement carafe like the glass models that are available.
How Do I Buy the Right French Press
Now, if you are thinking to purchase a french press for yourself then you need to be really careful about it and pay attention to a few tips to get the best french press model for yourself. We understand that buying a good French Press is difficult which is why we have mentioned a few important points to consider when making the purchase.
Consider the Buying Price
There are a lot of different French Press models available in the market, both in small and large sizes. So, you can easily find a desirable French Press in your budget range which will provide you with most of the coffee brewing features that you are looking for.
However, make sure that you don't choose a cheap unit as they can break easily and won't work for a long time and can end up getting damaged quite quickly.
This doesn't mean that you have to buy the most expensive French Press in the market, instead, try opting for a middle range French Press as they offer you an amazing coffee without creating a huge hole in your pocket.
Remember that a small sized French Press will cost you less than a large-sized French Press and a stainless steel French Press will easily cost you around $100. However, they will work for a long time too so it is a good investment. There are many factors that affect the price of your French Press so consider these all before selecting the perfect French Press for yourself.
Choose the Right Body Material
One of the most important things to consider when purchasing a French Press is the material that is used for the construction of the French Press body. You will find different French Press units made out of stainless steel, glass, polycarbonate plastic, etc. so you will need to consider both the aesthetics and usability to make the right choice.
Although a glass French Press is much easier and simpler to clean than a stainless steel French Press, there is actually no noticeable difference in the coffee flavor produced by the two French Presses. However, if you are worried about the flavor then there is a simple way to determine this.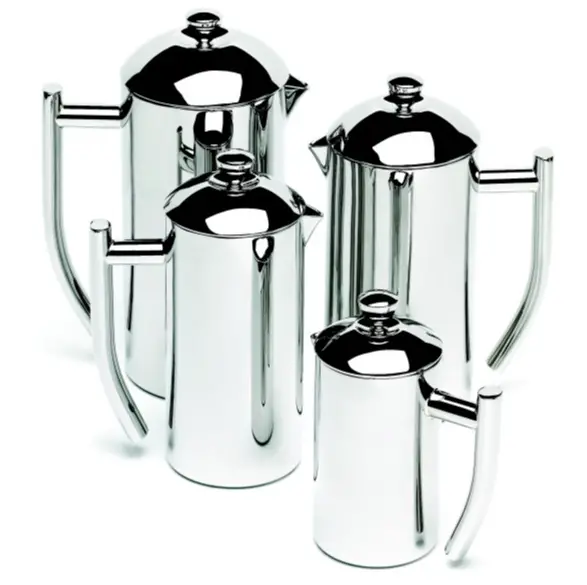 Just borrow a glass French Press and a stainless steel French Press to make two cups of coffee and drink both of those while blindfolding yourself. This will help you in determining whether you can differentiate between the taste or not. If not, then you can choose either material.
However, if you aren't satisfied with both the materials, then you can check out polycarbonate plastic. Thermoplastic carafes are almost unbreakable and extremely lightweight and are the perfect choice for camping and hiking.
Check the Insulation Properties
Once you have decided on the material, you need to determine the thermal properties of your carafe before you purchase the French Press. The thermal properties of a French press depend on not only the material used for construction but also depends on the thickness and the construction of the coffee brewer. If a French Press has been specially designed to keep the coffee warm, then you will find this information listed on the product.
Make sure that you choose a thickly walled carafe as it will keep your coffee warm for a longer period of time but make sure you don't keep your coffee in the carafe for too long, or it might turn bitter.
Capacity
Another important thing to consider is the quantity of coffee that can be prepared in the carafe every time. A lot of manufacturers measure the coffee quantity in terms of cups which can help you in determining your desired cup size and carafe capacity.
An average coffee capacity would be eight-cup French Press but a lot of people purchase three-cup, four-cup, etc. French Presses too.
The cup size represents the coffee amount that a user drinks in a single setting so if you are purchasing a French Press for your entire family then it might be wise to purchase a model that offers you different cup sizes.
Easy to Clean
Another important thing to consider is the cleanliness of the French Press. Glass French Presses are easier to clean as you can see the dirt and the coffee residue inside the carafe but the same cannot be said for stainless steel French Press.
If your French Press features a removable carafe then it will be easier to clean your French Press but in the case of glass carafes, you need to be careful as it can break quite easily. Another thing you can check is if the French Press can be washed in a dishwasher or not. If yes, then washing your coffee brewer will become infinitely easier and simpler for you which would make the unit even more appealing to you.
Consider the Design
You will find numerous designs in French Press so it is important that you choose the right design for yourself. If you will be using your French Press to serve our guests frequently then you might want to look at a pleasant and sophisticated design. However, if you are looking for a French Press for personal use then you can select any design, it doesn't really matter.
Also, make sure that the lid of your carafe fits tightly on the carafe top and won't cause any leakages. This is important because if the coffee ends up leaking from the carafe, then you might have a lot of mess around you to clean up.
Check for Durability
This is yet another important factor to consider when looking out for the perfect French Press for yourself. As we mentioned earlier, the material of your French Press body plays a huge rule in its thermal properties and is also responsible for the durability of the unit.
Most glass French Presses are easy to break and are not highly durable, it doesn't matter if they have thick-walled glass construction or thin-walled glass construction. In terms of durability, stainless steel fares very well and is the perfect choice for people who tend to be a little clumsy.