Disclosure: Some of the links below are affiliate links. This means that, at zero cost to you, I will earn an affiliate commission if you click through the link and finalize a purchase.
In need of the best coffee grinder? Our detailed coffee grinder reviews will help make the right pick for the perfectly ground beans each time.
Best Coffee Grinder for Coffee Addicts
Baratza Virtuoso: For a coffee fanatic the perfect early morning cup of joe is a priority and Baratza Virtuoso has been designed keeping that in mind. With a total of 40 grind settings, a 450 RPM motor, 60-second timer, and other high-end features you'll have your coffee ready in minutes. At KitchenGuyd we call it the lazy people's Coffee Grinder
Best Coffee Grinder for Travelers
JavaPresse Manual Grinder: The JavaPresse Manual Grinder is our top Value of money pick. While it lacks the fancy frills and thrills of the premium electric grinders, if you're looking to get the perfect ground coffee while on your hikes or travels its compact design, lightweight and 18 click settings are just what you need.
Coffee Grinder by Type:
There's only one way to ensure a good cup of coffee — by grinding it fresh from whole roasted beans. But that means that you need to find a good coffee grinder, too. When it comes to coffee grinders, you need something that's versatile, easy to use, and likely to last. The best coffee grinders will have multiple settings, will grind quickly, and will offer up a consistently ground end product. With that in mind, here's our selection for the best-of-the-best.
Best Coffee Grinder
Product
Details
 
 

Our #1 Pick

Baratza Virtuoso Conical Burr Coffee Grinder

With 40 precision grind settings, the Baratza Virtuoso Conical Burr Coffee Grinder delivers accurate grinding for years to come thanks to its quality high-carbon steel burrs.

---

Sculptured Metal Design
Small Footprint
40 mm Grinding Burrs

Rancilio HSD-ROC-SD Rocky Espresso Coffee Grinder

Built with commercial grade components, the Rancilio HSD-ROC-SD Rocky Espresso Coffee Grinder delivers a reliable, consistent grind from coarse to powder in seconds, and grinds directly into a portafilter for convenience.

---

0.65 lb Capacity
Commercial Grade
50 mm Grinding Burrs

Our #1 Pick For Travelers

JavaPresse Manual Coffee Grinder

With its slim profile and no need for electricity, the JavaPresse Manual Coffee Grinder is your perfect travel companion for fresh-ground coffee, even at the office as no motor means quiet operation!

---

Manual Crank Grinder
18 Grind Settings
Ceramic Combo Burrs

Breville BCG820BSSXL Smart Grinder Pro Coffee Bean Grinder

With a clear and concise LCD display, the Breville BCG820BSSXL Smart Grinder Pro Coffee Bean Grinder lets you customize your perfect grind with ease, from fine espresso to coarse French press.

---

Grinds Directly Into Any Filter
60 Precision Grind Settings
Stainless Steel Conical Burrs

Capresso 560.01 Infinity Burr Grinder

With a multi-gear motor, the Capresso 560.01 Infinity Burr Grinder produces a slow precision grind for less heat build-up to protect maximum flavor of your beans.

---

16 Grind Settings
Commercial Grade
Stainless Steel Conical Burrs
In-Depth Coffee Grinder Reviews
Baratza has been providing best-in-class coffee grinders since 1999, both for consumer and commercial markets. The Baratza Virtuoso Conical Burr Coffee Grinder is the flagship product of Baratza's home line, perfect for any fan of home-brewed coffee. Though it has a bit of a hefty price tag, it's built to last; the Virtuoso is about as close to a professional coffee grinder that a home enthusiast is likely to get.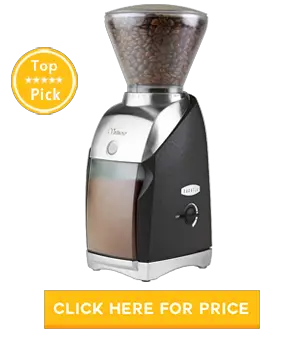 Professional-Grade 40mm Conical Burrs
Want a smooth grind? Then you can't do better than the Virtuoso's professional-grade 40mm conical burrs, which provide a consistent grind for everything from a French press to espresso.
These burrs can be fine-tuned to any custom speed, making them easy to control and versatile. The burrs themselves are specially designed to be able to grind coffee without adversely affecting its taste, providing a bold cup of coffee every time.
Front-Mounted Pulse Button and Timer
In addition to the Virtuoso's professional-grade equipment, it also provides convenient controls that are easy to use… especially when half asleep. The Virtuoso can be set to run for 60-seconds or simply pulsed, making it easy to control exactly how finely ground the beans are, and thus how well-suited they are to each type of coffee.
An Elegant, Modern Design
And when it comes to your kitchen, you want a high-quality product with a solid appearance. The Baratza Virtuoso has a unique design that melds classic kitchen appliances with a modern flair.
Though the Baratza is fairly expensive for a home grinder, it's definitely worth the money — for those who want something similar to a commercial device. Those who would rather have some additional tech features (and a lower price tag) might want to consider the next grinder instead.
Let's go commercial with the Rancilio Rocky Espresso Coffee Grinder, a coffee grinder for those who take their coffee really seriously. This sleek, simple machine is designed for one purpose: grinding your beans to exactly the consistency you want it.
50mm Commercial Grade Grinding Burrs
The boasts strong 50mm commercial grinding burrs, which grind directly into a filter for ease of use. This grinder is able to produce grinds comparable to entry-level commercial grinders, and it can grind up to nearly eight pounds of grounds an hour. The grind setting also has a very simple lever control, ranging from fine to coarse, making this device both intuitive and easy to use.
1/2 Pound Tinted Bean Hopper to Grind On-Demand
You want to spend your time drinking your coffee, not prepping your machines. The 1/2 pound tinted bean hopper in the Rancilio will hold a large volume of beans, so you don't have to fill it as often. Even better, the tinted bean hopper lets you see exactly how much is in there while not subjecting your beans to the light.
The Rancilio is designed to go with the Rancilio espresso machine, but naturally, it's also a superb standalone product. Of course, it's also one of the more expensive grinders out there. Next, we have a few brands that are targeted to a bit of a lower budget, such as the Capresso 560.01 Infinity Burr Grinder.
Sometimes it's better to just do it yourself. The JavaPresse Manual Coffee Grinder puts you in complete control of your coffee grounds, through the use of a removable hand crank mechanism. Affordable, attractive, and versatile, this JavaPresse Manual Coffee Grinder will be usable for years to come.
No Batteries, Power, or Cords Required
As a hand-cranked coffee grinder, the JavaPresse doesn't require any batteries or power. And without a motor, that means that the JavaPresse is going to last a long time — it only requires mechanical parts. The hand crank of the JavaPresse is far quieter than the loud motors in most electric coffee grinders, and the coffee grinder can be taken anywhere.
Built-In Adjustable Grind Selector
The JavaPresse Manual Coffee Grinder comes with 18 settings, including French Press, Cold Brew, Turkish, and Espresso. Once you've set the grinder appropriately, you can simply turn the removable hand crank until you've achieved the right density and a consistent grind. That will ensure that you get the right grind every single time.
Ceramic Combo Burrs Designed to Last
Not only will the JavaPresse Manual Coffee Grinder last longer due to its motor-less construction, but it's also designed to have its burrs last longer as well. The JavaPresse Manual Coffee Grinder has special ceramic combo burrs, which are designed to last five times longer than stainless steel — and that means that your grinder is going to be able to operate well for years.
Whether you're going camping or simply want a fast, simple grinder for your kitchen, the JavaPresse offers freedom and control in anyone's budget — and it provides some great grinds as well.
Packed with convenient tech features and clean, space-age design, the Breville Smart Grinder Pro likely offers the most "bang for your buck" in the world of near-commercial coffee bean grinders. Grind as much or as little as you need for everything from the finest to coarsest grinds with this heavy-duty appliance.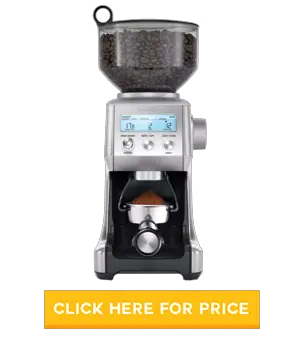 Precision Electronic Timer 
When it comes to grinding your coffee, it isn't just about the mechanics — it's also about the timing. The precision electronic timer of the Breville Smart Grinder Pro lets you really narrow in on the exact amount of time you want to take on your coffee grounds. At 0.2 second increments, you'll be able to get your grind as consistent as you want it.
16 Ounce Bean Capacity 
Does your home really like coffee? Then the Breville is right for you. The Breville Smart Grinder Pro has an incredible 16-ounce bean capacity, with a locking container that makes it even easier to store, transfer, and remove beans from the hopper. All of this will make your mornings much easier as the machine does all the work for you.
With an incredible total of 60 precise grind settings, the Breville Smart Grinder Pro is one of the most fully-featured grinders on the market — and it's sure to get you exactly what you want each time.
If you want simple and easy, Capresso Infinity Burr Grinder is the right choice for you. With over 3,936 reviews on Amazon, the Capresso is one of the most popular coffee grinders out there — and it's no wonder. In three attractive colors and priced very economically, the Capresso is an excellent all-around coffee grinder.
16 Grind Settings 
The Capresso may very well be one of the most affordable coffee grinders that comes with commercial grade burrs and it also has the advantage of 16 grind settings, enough to provide a good grind for nearly any coffee aficionado. This grinder is powered by a powerful, 100-watt motor, which provides a consistent grind fast.
5 to 60 Second Timer Precision Grinding
A 5 to 60-second timer makes getting the most consistent grounds a breeze. At the slowest grinding speed and the longest grinding time, the Capresso is able to preserve both the aroma and flavor of the beans.
Up to four ounces of coffee can be ground at once, with a container that holds over 8 ounces of beans at a time — making it easy to grind beans for any situation.
With a 1-year limited warranty, this Capresso is an excellent solution for those who want an all-around grinder without breaking their appliance budget. But those who want something even simpler still have some options, such as the Mr. Coffee 12 Cup Electric Coffee Grinder.
Do you want your coffee grinder to be smart? You can have it all with the OXO On Conical Burr Coffee Grinder, which features multiple sensors and intelligent features… all housed in a durable casing.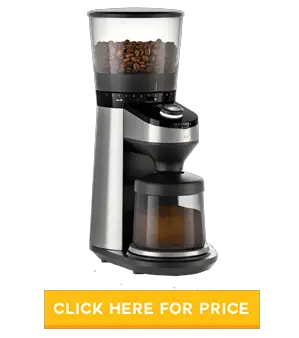 An Intelligent Coffee Grinder 
The OXO has a wide inventory of tech features. The no-bean detector prevents the grinder from activating on an empty hopper, reducing wear, while the built-in overheating detection is designed to protect the motor from damage.
An automatic shut off can be programmed so that the exact amount of grounds necessary is produced, while the built-in scale can measure grounds by weight. The machine can do all the thinking for you!
38 Different Coffee Settings 
Similar to the Baratza, the OXO has 40 mm stainless steel conical burrs, which are designed to gently grind coffee beans without sacrificing their favorite essential oils. These durable conical burrs are designed to last for a long time.
The OXO On Conical Burr Coffee Grinder is similar in price point to the Breville Smart Grinder Pro and has some additional tech features — that being said, the Breville Smart Grinder Pro has over 20 additional grind settings. If you want a very precise brew, you might want to consider the Breville. If you want an easy brew, the OXO may be ideal.
Mr. Coffee may not seem like the most sophisticated of coffee grinders, but the 1,459 customer reviews on Amazon can't be wrong. The Mr. Coffee 12 Cup Electric Coffee Grinder is one of the cheapest coffee grinders on the market, but that doesn't mean that it can't get the job done. With a surprising array of features, simple operation, and a rather elegant appearance, the Mr. Coffee grinder is perfect for those who are just getting into their homebrews.
Precisely Ground Coffee from 4 to 12 Cups
Whether you're making four cups or a dozen, the Mr. Coffee electric coffee grinder will be able to grind precisely the right amounts of coffee. This reduces waste and ensures fresh grounds each time. Mr. Coffee grinder comes with three settings: coarse, medium, or fine. These settings can be used for any type of coffee, including espresso.
Easy Filling, Dispensing, and Cleaning
As a simple product, the principal advantage of the Mr. Coffee is that it's so easy to use. Its special Press N' Pour lid makes it easy to fill the machine with coffee beans and remove the coffee grounds. When being cleaned, the Chamber Maid Cleaning System makes it easy to get the grounds out — and this exclusive cleaning system will ensure that the coffee tastes fresh each time.
Though it may come at a low price point, the Mr. Coffee Electric Coffee Grinder also comes with a 1-year limited warranty. If you're looking for something simple, easy, and with a fast clean up, the Mr. Coffee suits the bill — and more. On the other hand, if you're looking for something a little more sleek and elegant, you might want to give this next grinder a try.