Are you looking for the best 2 slice toaster? Well, then you're in the right place. with our reviews, you'll have the perfect toast each morning.
Most Efficient 2 Slice Toaster for Home Use
KitchenAid KMT2203CA: This toaster's eye-popping 50's retro look and high-tech functionality make it a great addition to any kitchen. Yes, it comes at a premium but its automatic mechanical lift mechanism and a heavy-duty cast aluminum make it the ideal combination of durability and functionality making it our top pick for 2020.
Budget 2 Slice Toaster
KRUPS KH732D: If you're looking for a toaster on the cheap but don't want to skimp on value and features, the KRUPS KH732D is the ideal pick. While it lacks the fancy frill of the top picks, its compact design, brushed stainless-steel housing, a shade dial, extra-wide toasting slots, multiple functionalities and easy to clean dual removable crumb tray make it an attractive buy.
Quick Navigation:
In this roundup, we tested 25 toasters and pick seven of the best performing 2-Slice toasters on the market. We know you like your perfectly toasted slices of bread to go along with coffee or tea in the morning, and two is often the ideal number of slices. So whether you're on a budget or got big bucks to spend for a premium toaster, we've got you covered. We also have reviews on 4 slice toasters if you are looking for something larger.
The 5 Top-Rated 2 Slice Toasters in 2020
Product
Details

Top pick

KitchenAid KMT2203CA

The KitchenAid KMT2203CA is a beautifully designed toaster with an aesthetic that will leave any home decorator speechless.

---

Aluminum
Auto Keep Warm
Automatic lift and lower function

Dualit 27441 NewGen

The Dualit 27441 NewGen's quality design and workmanship make this one of the best selling and most desirable toasters on the market.

---

Insulated Steel Body
Efficient Toasting
Retro-styled

Value for Money Pick

KRUPS KH732D Toaster

The KRUPS KH732D Toaster is a budget 2-slice toaster that's about one-tenth the price of our top pick.

---

Stainless Steel
5 Functions
Reheat mode

Smeg 2-Slice Toaster

The Smeg 2-Slice Toaster has a beautiful 1950's Italian retro design without the hefty price tag of the KitchenAid and Dualit models we also review in this roundup.

---

Powder-Coated Steel
6 Browning Levels
3 pre-set programs, 6 browning levels

KitchenAid KMT223

The KitchenAid KMT223 comes equipped with a programmable multifunction mode so you can have your toast customized to your liking.

---

Metal
Extra-wide Slots
Easy to clean
---
In-Depth 2 Slice Toaster Reviews
This is a beautifully designed toaster with an aesthetic that will leave any home decorator speechless. It's the most expensive toaster in the roundup, and if what you're looking for is the glossy, stylish Ferrari of 2-slice toasters, then this is the appliance you want to buy.
It's our top pick, but not only because of its appearance. It has high-end features like an automatic mechanical lift mechanism, a heavy-duty cast aluminum frame, 1-1/8 inch thick slot for slices, and automatic reheating to keep your toast warm if you don't take your slices out in a set time.
The KitchenAid KMTT2203CA Pro Line Toaster is lacquered in a beautiful candy apple red finish that would feel right at home in an American Diner from the 1950s. It's also available in other attractive retro shades: sugar pearl silver, onyx black, and frosted pearl white. The durable and sturdy aluminum die-cast body is finished off with premium chrome accents and it's easily cleaned with a damp rag.
The toaster includes four toasting functions with easy to access front-mounted pushbuttons for a bagel, frozen, "a little longer" and plain toast. The front panel also has a shade selector so you can precisely select how dark or light you want your toast, in your choice of seven different shade settings.
So, this lets you customize your toasting experience to fit anything from specialty bread to rolls, bagels, muffins… regardless of whether it's fresh, days-old or gotten out of your freezer.
The automatic lift and lower function work like an old-fashioned elevator, including the ding at the end of the ride. It uses self-centering racks to lower the bread when it senses that it's been put in the slot. The mechanism then lifts the bread out when the selected shade of the bread has been reached.
If you don't pick up the bread within forty-five seconds, the Auto Keep Warm function takes over and automatically lowers it into the slot to cycle it on warm for up to three minutes.
Even if you do a lot of toasting with this unit or continually use the keep warm function, the toaster will keep cool on the outside. The unit has a removable crumb tray to make cleanup a snap, as well a manual lever, or you can hit cancel anytime on the front panel to get your slices popped out.
All in all, this KitchenAid toaster is classy, convenient and powerful. It's a quality device and is backed by a limited five-year manufacturer's warranty, the longest of any of the toasters in the roundup. A bigger, 4-slice version of this toaster is also available from KitchenAid.
Specs and interesting facts:
Dimensions: 16 x 11.5 x 9.4 inches
Weight: 10 pounds
Material Type: Aluminum
Number of shade settings: 7
Power rating: 1,500-watts
Warranty: 5-year manufacturer's warranty
This beautiful, retro-styled, high-end 2-Slice toaster from Dualit is hand-assembled in Great Britain. Its quality design and workmanship make this one of the best selling and most desirable toasters on the market.
It comes with a mechanical timer and ejector lever, and convenient functions such as defrost and bagel settings, extra-wide slots, built-in drip tray, and more. It has a stainless steel body with an automatic shutoff and variable controls and can even accommodate a sandwich case. It's also available in a number of additional colors besides the classy brass finish.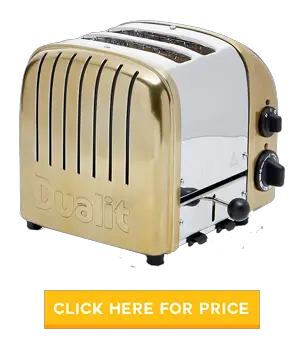 The iconic award-winning toaster's design hearkens back to 1946. It doesn't include planned obsolescence among its design or production criteria, with its environmentally responsible fully replaceable or repairable parts, it's meant to last a lifetime. In fact, the name of the factory craftsman than hand-made each toaster can be found right on the base plate.
Among the toaster's main features are it's unique, practically unbreakable 'ProHeat' heating elements that include a protective armor-plated layer covering the filament, wide 20mm slots that can accommodate thick slices and bagels, an energy-efficient slot selector that lets you toast only what you need, and a manually-operated ejector lever so you check your bread out while it's toasting.
Because of its durable and solid engineering quality, the Dualit NewGen is often used in commercial kitchens. It comes with such professional-grade design elements as a mechanical timer to set browning preferences, variable settings, including bagel for just heating on one side, defrost to slowly heat up frozen bread prior to toasting. An adjustable rear foot lets you balance the unit on uneven surfaces, and a high-lift mechanism lets you take small items out easily.
This is a costly high-end toaster that's recently won an Excellence in Housekeeping award, and it's probably worth every penny if money is no object. Besides brass, you can also purchase it in chili pink, porcelain, feather, shadow, powder, polished, black, utility cream, white, metallic charcoal, apple candy red, lavender-blue, canvas white, petal pink, mint green, glacier blue, metallic silver, clay, cobble grey, and copper spray.
Specs and interesting facts:
Dimensions: 10 x 9 x 8 inches
Weight: 7.7 pounds
Material Type: Nonstick/insulated steel body
Wide 28mm slots
Power rating: 1,200-watts
Warranty: 1-year on body and components, 2-years on ProHeat elements
The KRUPS KH732D is a budget 2-slice toaster that's about one-tenth the price of our top pick. It's a feature-full modern toaster that will make any toaster aficionado's day, except, perhaps for the looks department. Although some may prefer the sleek chrome stainless-steel look of this toaster to the much pricier retro look of the KitchenAid or Dualit models in the roundup.
KRUPS is a brand with history and has been a top maker of small kitchen appliances since 1846. This toaster's high lift lever, six browning settings, four pre-programmed functions, extra-wide self-centering slots, low price, and overall robustness, make it our top pick for budget-conscious buyers.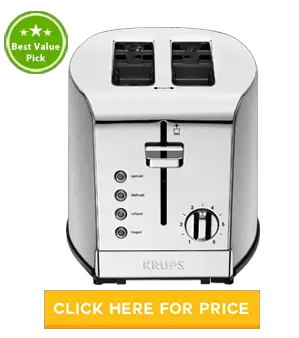 This unit's 1-1/2-inch wide self-centering slots are wider than any of the toasters we've seen and made it easy to toast extra-thick hand-cut artisanal bread slices, bagels, English muffins… You can choose from four functions on the handy front-panel push-buttons, including a bagel function that will brown only on the cut side of the bagels.
Reheat mode will lightly heat a piece of toast that's been left on the slot without browning it further, and the defrost function will thaw out frozen waffles, bread, hash browns or pastries, and then toast them.
You can use the front-mounted dial knob to set any of the six browning levels. The toaster does a great job of evenly browning your slices and gives you a lot of choice as to how intensely toasted your slice will end up.
The toaster's high lift lever lets you manually maneuver your slices in case a smaller piece of bread gets stuck in one of the slots, so you don't have to fiddle around and risk burning your fingers.
The toaster also comes with two convenient removable crumb trays, and the toaster body can be easily cleaned with a damp sponge with detergent. Its bright blue LED indicators in the front give it a snazzy industrial air, and a two-year worldwide manufacturer's warranty is proof of KRUPS' commitment to the toaster.
Specs and interesting facts:
Dimensions: 13.2 x 8.5 x 8.6 inches
Weight: 3.27 pounds
Material Type: Stainless steel
Power rating: 1,000-watts
Shade settings: 6
Control settings: 4 – Reheat, defrost and bagel controls
Warranty: 2-year worldwide warranty
This pastel green 2-slice toaster from Smeg has a beautiful 1950's Italian retro design without the hefty price tag of the KitchenAid and Dualit models we also review in this roundup.
It's still a bit on the costly side, but besides its great design it makes excellent toast, is convenient and versatile, and also packs a lot of useful high-end features like a powder-coated steel body, a backlit chrome knob, and a stainless steel ball lever knob. The toaster gives you plenty of customizability with among other features, three pre-set programs, six browning levels, mounted on wide slots with self-centering slots.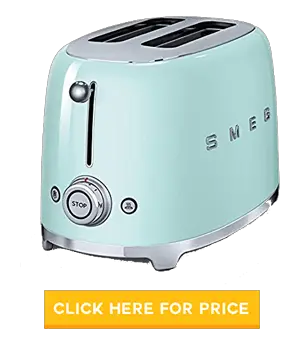 It's a great choice for toast lovers who want great design but don't want to spend lots of money on it. At the same time, you won't be disappointed with its convenience and functionality.
It will sit really nicely on any kitchen counter with its built-in cord wrap and anti-slip feet. It cleans up nicely thanks to a removable stainless-steel crumb tray, and you can optionally fit the toaster with sandwich rack and bun warmer accessories.
Some of the more salient technical characteristics of the toaster are the two extra-wide, 36mm slots that will let you fit thick-sliced bread or bagels with convenient self-centering racks.
This 2-slice toaster has won multiple prestigious design awards worldwide, from the Chicago Athenaeum's Museum of Architecture and Design, iF (International Forum) and Red Dot.
If for some reason you don't like the pastel green powder-steel coating, the Smeg is also available in pastel blue, black, chrome, pink and red coatings. The toaster is heavy duty and sturdy, toasts very evenly on both sides and makes for a wonderfully thoughtful gift for anyone looking to purchase the best 2 slice toaster for their home
Specs and interesting facts:
Dimensions: 15.5 x 8.2 x 8.5 inches
Weight: 7.7 pounds
Material type: Powder-coated steel body with stainless and chrome highlights
Power rating: 950-watts
Browning levels: 6
Pre‐set programs: 3
This 2-slice toaster from prestigious small kitchen appliance manufacturer KitchenAid could be thought of as the KitchenAid for the rest of us. Unlike our top toaster pick from the same maker, this model doesn't cost an arm and a leg, and while it can definitely be considered a budget model, it's classy and highly functional. It doesn't have to look retro, so it makes use of a big front-mounted digital LCD display, digital push-button controls, as well as other features that you'd expect to see in a high-end model.
The KMT223 comes equipped with a programmable multifunction mode so you can have your toast customized to your liking. It has four push-buttons for defrosting, reheating, keep warm and crumpet modes (for heating bagels and such on only one side), as well as a temperature control knob. The frontal LED digital display shows the shading function and has a countdown bar so you'll know how much time's left for your toast to be ready.
A convenient one-touch control button lets you interrupt a toast cycle at any time by directly ejecting the slice. The lift is motorized, with a nifty elevator effect. The machine emits a loud beep once when you start toasting and three times when it's done.
It's easy to clean thanks to a removable crumb tray and has a wrapping area underneath the unit to roll up the power cord so it won't take up space on your counter.
If the contour silver finish doesn't do it for you, you can also get this toaster in four other colors: empire red, stainless steel, almond clam and onyx black. The body is of sturdy metal construction, it's light and compact, weighing in at just 2.2-kg. Finally, KitchenAid stands solidly behind this product with a 2-year manufacturer's parts and labor warranty that includes replacement of the appliance.
Specs and interesting facts:
Dimensions: 11.5 x 7.8 x 8.3 inches
Weight: 4.85 pounds
Material Type: Metal
Power rating: 750-900-watts
Removable crumb tray
Warranty: 2-years replacement warranty on parts and labor against manufacturer's faults
Breville's 2-slice toaster is minimalist in its design with its 1-touch auto lowering automation, extra-wide slots, classy brushed aluminum trim, and removable crumb tray. It's also a modern state of the art machine as evidenced by the LED panel that shows the selected browning level, set with slider control, and multiple programmable push-button settings. It's a mid-range toaster with enough design flair and features to recommend it to the most demanding buyers.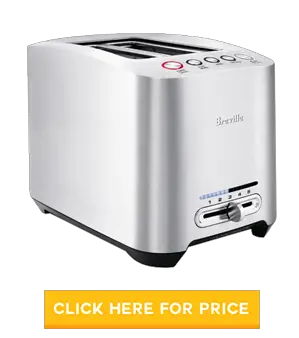 The auto-lowering function is controlled by a smart chip that lowers the bread into the slots and serves to regulate toasting times. You can touch the lever to interrupt a toasting cycle, which activates the motorized lifting and lowering mechanism, and monitor how the slice is doing.
Touching again lowers the toast right back and doesn't cancel or reset the cycle. The preset cycles can be selected from digital push-button controls and include defrost, bagel, reheat and cancel functions.
You're always kept informed of the toast cycle's progress by the LED panel, which graphically illuminates showing the five browning control levels setting and also counts down, with how long is left until your toast cycle is done, and it beeps when the toast is done.
The Breville BTA820XL has a powerful 900-watt heating element and is made to last from sturdy brushed die-cast metal, is easily cleaned up with a soft cloth, and has a removable crumb tray to help with the waste cleanup. It has two extra-wide 1.2-inch wide slots that will accommodate wide-cut bread, bagels, and waffles.
Specs and interesting facts:
Dimensions: 13.2 x 8.2 x 9 inches
Weight: 2.65 pounds
Power rating: 900-watts
Material Type: Metal
Toasting progress LED indicator
Warranty: 1 year
If you want a stylish British retro-look 2-slice toaster at a decidedly bargain price then you need to check out this Russell Hobbs model. It's straight out of the manufacturer's 'Retro Style' collection and mixes modern sophistication with classic style.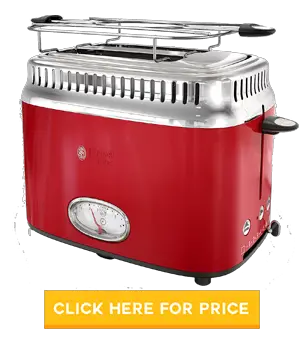 But don't let the classic old-timey look fool you, the TR9150RDR is chock-full of convenience features like a countdown timer, a removable warming rack, three-function push-buttons, extra-wide toast slots, variable browning control, and a removable crumb tray. It's a beautiful and feature-rich machine at about half the price of comparable toasters we've seen on this roundup.
Among the most salient tech features is the countdown toasting timer which graphically displays the time until the toast reaches the selected browning level. The removable warming rack goes on top of the toaster, and when not using the slots to toast, you can warm up cookies, pastries, rolls, and buns.
You can manually interrupt a toasting cycle by activating the lift and look button, take a look at the toast, and replace it without canceling the cycle. The preset functions include a bagel setting, which will only toast half of the bagel with the cut while only warming up the other side. A setting for frozen bread, muffins, and other items thaws them out and leaves them as if they were freshly baked, and a cancel function shuts the cycles down.
Of course, this toaster is beautifully designed and sits really well on any kitchen counter. It's a gorgeous bright red with chrome trim that not only makes great toast but is an excellent conversation piece. The look and functionality, not to mention the price, can make this a great addition to your kitchen.
Specs and interesting facts:
Dimensions: 6.7 x 9.8 x 7.9 inches
Weight: 3.7 pounds
Material: Stainless Steel
Power rating: 800-watts
Functions: 3
Warranty: 2-year limited warranty
The Cuisinart CPT-122 is another inexpensive 2-slice toaster that an order of magnitude cheaper than our top pick. It's the toaster to get if you're on a tight budget but don't want to skimp on value and features. Its rectilinear plastic finish is not going to win it any design awards, but it's not an ugly appliance, and it's very functional.
The CPT-122's compact design has some stylish stainless-steel touches and accents, it has a shade dial, big 1-1/2-inch extra-wide toasting slots, and an easy to clean slide-out, removable crumb tray. The features are in keeping with those of much more expensive toasters, so you can't go wrong if you opt for this straight-up appliance if you're hard up for cash.
Cuisinart's reputation and trustworthiness precede it and even though this is an ultra low-end model, its simplicity and understated elegance is also a virtue. It's a decidedly contemporary design that takes up very little room on your counter. Its convenient cord wrap underneath the unit contributes to it taking up less space.
It toasts consistently from batch to batch thanks in no small part to the dial-up customized 7-shade setting control, three additional toasting functions besides normal bread toasting: bagel, one-sided toasting, defrost frozen slices, and reheat, that lets you keep bread heated after toasting without further browning or burning your slices. There's also a cancel button for stopping all toasting that's going on.
In fact, the defrost setting can be fine-tuned further, with settings for refrigerated bread or thinner items like pancakes, another setting for toaster pastries, thin French toast, frozen waffles, and thin bagels, and finally a setting for thick items like hand-cut bread, thicker bagels, and thick French toast.
Although the toaster automatically lifts the slices when it's done toasting, the manual high-lift lever can be used to manually eject the slice when it's very thick and it gets stuck in the slot, letting you easily remove it using your fingers. Don't be fooled by this toaster's low price. It's a quality appliance as is evidenced by its robustness and features as well as by the manufacturer's limited 3-year warranty.
Specs and interesting facts:
Dimensions: 6.5 x 11 x 7 inches
Weight: 2.6 pounds
Material Type: Plastic/stainless steel accents
Power rating: 900-watts
Shade settings: 7
Control settings: 4 – Reheat, defrost and bagel controls
Warranty: 3-year limited warranty
2 Slice Toasters Buying Guide
You may think it would be a trivial thing deciding which toaster to buy, and you wouldn't be far off in thinking that way. Toast is something we all take for granted, but to many of us, it's an important factor in determining how our day will go. It's a bit like setting a tone for the day since it will often be the first bite you take, and if it's not perfect, chances are your day is that much more (or little) removed from perfection.
Toasting bread heightens and highlights its flavor, makes it crunchy, and leaves it wanting you to spread some butter, jam or whatever suits you. The variety of toast and its accouterments are endless, especially when you take into account the types of bread available, with its varied grain types, consistencies, textures, and let's not forget bagels, muffins…
2-slicers are by far the most popular kind when you think of these small appliances. If you have a large family, you'll probably opt for a 4 slice toaster, of course, but even then the quickness with which these little machines toast your bread means that even limited to two slices at a time, you'll be popping out toast slices as fast as you and your toast buddies are likely to consume them.
Toasters work by using a powerful electric heat source, typically 800-1,600-watts, that conducts this energy through a resistive nichrome wire coil. The heat will get rid of the bread's natural water content of 30-40% by weight, leaving it light and crunchy, with a sweet, caramelized exterior surface. Heating the bread breaks down surface starch molecules, and through a chemical reaction, turns them into sugar.
Functionality
The first thing to take into consideration when buying a 2-slice toaster is the number and type of functions and options that it comes equipped with. Besides straight-out toasting, many appliances feature things like the ability to toast bagels only on the cut side, or defrosting of frozen bread slices and then toasting. Another useful feature is a reheating function, which will take the toast you've already toasted and has cooled down and make it palatable once more without burning it.
Space Required
You should try to determine how much counter space you can devote to your toaster. Most 2-slice toasters have a pop-up mechanism and don't take up a lot of room. Certainly a lot less than a bulky 4-slice toaster does. However, some of the stylish retro toasters we review here are a bit bigger than the more modern, functional styles. The materials they're made using range from sturdy, tough, brushed stainless steel, that can also be painted with 1950's style motifs to heat-resistant plastics with modern looks.
Other Features
Other common features in 2-slice toaster are bottom trays that pick up crumbs and can be removed for easy cleanup, wide slots for sticking in variable-sized bread slices or other things like bagels, retractable power cords that will help to unclutter your countertop, easy-to-read digital displays, automatic, programmable functions for specialty products like a bagel, and countdown timers for bread types that need to be heated for longer or shorter periods of time.