Disclosure: Some of the links below are affiliate links. This means that, at zero cost to you, I will earn an affiliate commission if you click through the link and finalize a purchase.
Find our Power Pressure Cooker XL reviews, comparison charts and buying guides to help you buy the best power pressure cooker for quick yet flavorsome food.
Tristar Products Inc. has been known to manufacture innovative and easy to use kitchen products making it one of the mainstay brands in the kitchen appliance industry.
From the makers of the copper pan, etc. now comes the Power Pressure Cooker XL.
If you're glued to your TV set, we are sure you've come across ads describing it as the next best thing in the pressure cooker market.
But is it really that efficient and fast? We decided to put the cooker to the grind and here's what we found out.
Best Cooker for Professional Use
Power Pressure Cooker XL 10-Quart: If you're running a small cafeteria or in-house catering business and need to prep dishes like soup, stews etc. in large quantities you'd need a workhorse, making the 10-Quart pressure cooker the perfect fit. It's compact, quick and also easy to clean and maintain.
Best Cooker for Home Use
Power Pressure Cooker XL 6-Quart: If you're on a budget or need to prep small quantities of food on a daily basis then the 6-Quart pressure cooker's the ideal pick. It's quick, comes with a Keep Warm feature and is also easy to store and clean up.
Power Pressure Cooker XL 8-Quart: Need to cook slightly larger quantities of food? The 8-quart pressure cooker is just what you need. It's the perfect mid-range pressure cookers and comes packed with features that make cooking seem like a breeze.
Why does the Power Pressure Cooker Stand out?
Most instant pots and pressure cookers let out steam so your cooks are longer and meat loses flavor and nutrients. So what's different about the Power Pressure Cooker XL? Flavor Infusion technology of the Power Pressure Cooker XL, essentially, a custom designed air-tight lid locks in the steam allowing liquids to enter the food.
It's the Flavor Infusion technology, essentially, a custom designed air-tight lid locks that in the steam allowing liquids and moisture to enter the food.
This keeps the meat and veggies tender and the nutrients intact.
And since it does it all in quick time you'll be saving plenty of time for that book you've been wanting to read or the TV show you so love.
5 features we love about the cooker (and you'll too)
There's quite a bit to like about the Power Pressure cooker XL so let's cut to the chase.
The all in one appliance
If there's one thing we hate about the kitchen it's having to clean up a pile of utensils post any cook, isn't it?
Well, that's where the PPC XL comes in handy. With its top of the line features and easy operation, you'll no longer need your slow cooker, instant pot, rice cooker, saucepan or even your convection microwave oven for cooking.
Also, with the manual pressure valve even browning or sautéing food is easy peasy (so you're in charge of the cook)
Built to last
Worried even the PPC XL might catch rust or corrode like your previous pressure cooker?
The stainless steel build of the cooker ensures rust or corrosion don't come in between you and your favorite meatballs or pasta (cooked without boiling water, how awesome, right?)
Cooks food on the go
One of the main selling points of the PPC XL is its cooking speed.
And while we can't confirm its claims to be 70% faster than regular pressure cookers, it's definitely quick, energy efficient and yet produces scrumptious food.
So you can now cook amazing foods and yet have time to enjoy it with your loved ones.
Perfect for the fitness geeks
For any fitness geek nutritious, healthy meals throughout the day is a dream come true and that's what the PPC XL is all about.
With the air-tight lid, your chicken soups or stews are always packed with nutrients and yet flavorsome (flavorsome food, yet healthy, that's food hard to turn down).
Also, it's an efficient canner so your leftover stocks and soups remain fresh, aromatic and healthy (so there's always extra on hand).
Simpler Operation
Whether you're a pro or a newbie we're sure you'd love the cook to be smooth and easy, right?
With the one-touch control and LED display of the PPC X learning to use it is a cakewalk.
Just the cooking mode, hit the start button and you're good to go.
And if you're not sure what to cook, the recipe book in the package is just the perfect guide to get you started.
What we don't like about it
One major drawback is the pressure build-up time which adds to the cooking time so recipes usually take 5-10 minutes more than mentioned in the book.
Relax, it's still quicker than your old pressure cookers.
Yes, it's true you can find cheaper pressure cookers too.
But for those individuals or parents with little to no time to prep tasty and healthy food for the kids, this one's a bargain.
What to look for in the package?
Power Pressure Cooker XL
Power Cooking Recipe Book
Canning Guide
Power Chopper
What is the size of the Power Pressure Cooker XL?
Looking for a power pressure cooker XL on a budget? Then it's just the size you need. With this pressure cooker, you'll always have food ready on the go for 4-5 people (the perfect pick for nuclear families).
If budget isn't an issue and you need a slightly bigger pressure cooker we'd recommend the 8-quart model. It's perfect for an 8-10 member family or for small parties (so go on, invite your friends over).
Want to take your food business to next level? The 10-quart model is just what you need. With it, you'll be able to prep soups, stews, curries etc. in bulk in quick time
And hey, you'll always a cleaner, clutter-free kitchen as you can get rid of the slow cooker, instant pot, rice cooker etc.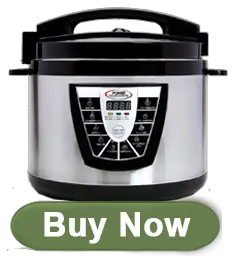 Should you buy the Power Pressure cooker XL?
Whether buying the cooker or not is a good decision comes down to your needs and budget.
If you've got a hectic schedule with no time for meal prep then yes, the PPC XL suits your needs.
You can opt for either 6-quart, 8-Quart or a 10 Quart cooker depending on your family size or holidays plans (there's one for everyone).
But if you're looking for cheaper options and don't need any of the fancy frills then the PPC XL isn't the ideal pressure cooker for you.