Have you recently purchased a gun safe for your firearms? Wondering where to put it? We'll help you figure out the perfect concealed spot in your home.
Well, now that you have finally gone ahead and made up your mind to buy a gun safe to keep your firearms protected, you also need to choose a safe location for it to ensure complete security.
A lot of people think that the location of the gun safe is not as essential as the quality of the gun safe but this is in fact untrue. The location matters a lot and it would do you better to not neglect it.
A secure and hidden location of your gun safe will provide you with additional security which can compromise for the inferior quality of your gun safe.
Yes, you heard that right. The location of the gun safe determines how safe your firearms will actually be which is why one should choose a well-thought-out location for their gun safe.
In this article, we have discussed some possible locations to store your gun safe which will not only match the décor but will also keep your guns extremely safe.
List down Possible locations for the Gun Safe
The first step is to make a list of all the possible locations where you can store your safe securely. You need to think of a place where the gun safe will be properly hidden but will still be easily accessible to you.
For this reason, keeping your gun safe in the living room or the guest room is dangerous as it might grab the eye of strangers and unwanted guests. On the other hand, you can't keep it in your garage or basement as it would be difficult to move it and it won't be quickly accessible to you.
Most users tend to keep their gun safe in their bedroom as it stays easily accessible to them and is kept away from the prying eyes of strangers and other visitors. You can also put your gun safe in your office but only do this if you own a personal cabin whose lock is hard to break.
Look for Unconventional Locations
It is not necessary to keep your gun safe only on the floors. In fact, there are many better places where you can easily store your gun safe for added security and convenience.
A few gun safes are also created inside a wall or a cupboard so that the gun safe has more protection and won't be easily visible to anyone who enters your room.If you purchased a small handgun safe or cabinet then you can easily store it in your drawers and cupboard chests.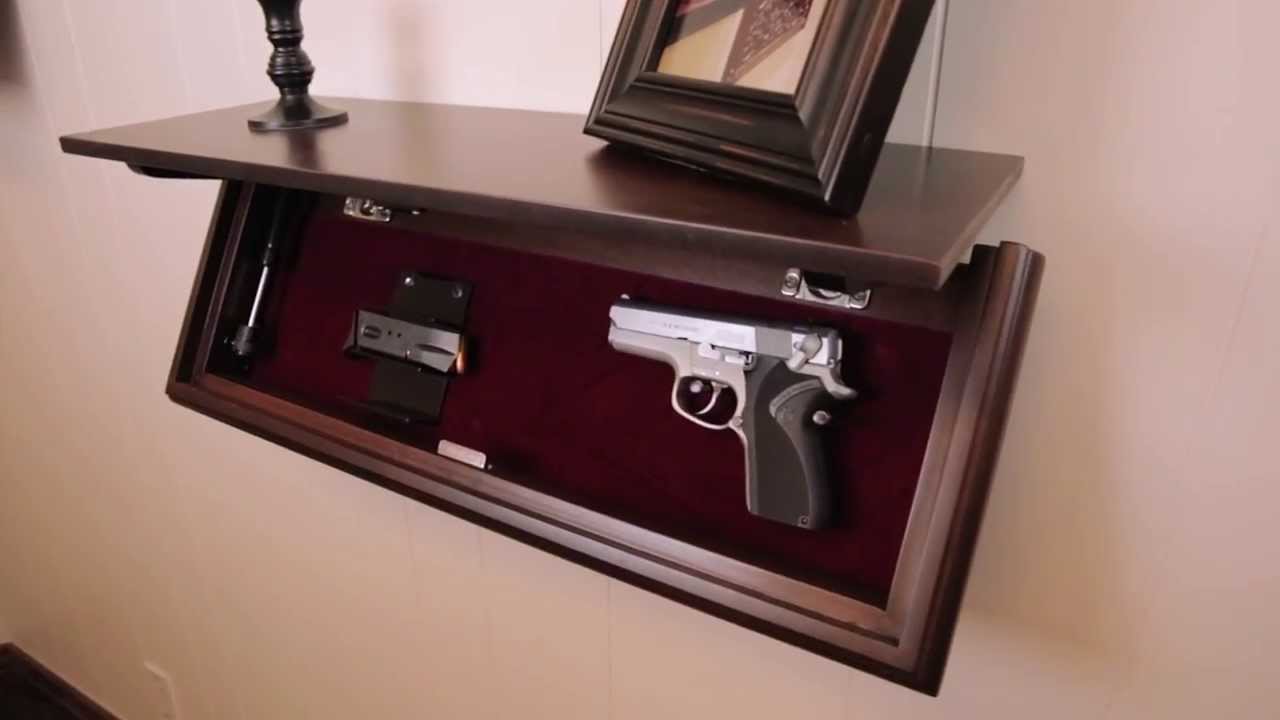 A lot of people also install their gun safe in their vehicle so that they can quickly access it. Such kind of gun safes can blend better with their environment and make it harder for strangers to know about them than the conventional gun safes.
What are the risks with the location
Once you have decided on a particular location for your gun safe, you need to list down the pros and cons of that location and understand the different risks that are involved with it. The first thing to keep in mind is that the gun safe should not be accessible to your children and family members.
This is important because accidents can occur at home and your family members might get injured if the safe is easily accessible to them. The next important thing to consider is that the gun safe should keep your guns safe from burglars and other kinds of accidents.
However, this is not all. You have to ensure that the location will protect your gun safe from natural disasters which include fire, water, and so on.
Make sure that you understand all the below-mentioned risks before choosing a location that will protect your gun safe from all these risks.
Humidity
Although gun safes provide a firm air-lock feature, many gun safes have proper air circulation which can be problematic if you stay in a humid or tropical region.
The temperature change outside the gun safe will also affect the temperature inside the safe which is why humidity can be a serious problem for your guns. If your guns are exposed to humid temperature then they are likely to grow mold inside it which will render your guns utterly useless.
So, choose a location which will protect your gun safe from humidity and would safeguard your guns from any temperature damage. You will find that garden sheds, basements, garages, etc. are usually cool and damp while the top floors are prone to a high temperature so you need a location which will maintain a single temperature.
Burglary
One of the most obvious places for burglars to break into are the bedrooms, offices, and living rooms as most of the safes are stored in these locations.
This is why it is important that you don't store your safe in one of these locations and keep it hidden away where strangers cannot come upon it accidentally. Also, make sure that your gun safe is stored in an unconventional place and is not directly visible from a window.
Fire, Floods, and Other Natural Disasters
Another important risk to consider is accidental fires and floods which can often damage your houses. Although a lot of gun safes are fire resistant, it won't harm you if you kept a sprinkler attached to your gun safe so that you can extinguish the fire quickly.
This is the best fire safety hack for people who cannot afford expensive cabinets and fire extinguishers for themselves. Also, try to store your gun safe away from fire-prone areas like the kitchen.
Apart from keeping your gun safe protected from fire, you also need to keep it safe from accidental floods which might occur. So, keep your gun safe at an elevated position where it would stay safe from any flooding or water leaks.
More on Gun Safes: BUSTED: 10 Myths About Gun Safe Theft Protection
Opt for Levelled Ground
Make sure that you install your gun safe on an evenly leveled flooring as this will make it easier to keep your gun safe locked and protected from thieves.
If you install your gun safe on an uneven flooring then the locking mechanism of your gun safe will get affected and the locks and bolts of your gun cabinet won't work as they are supposed to. This can result in unexpected shutting and opening of the gun safe door and could also injure you or your family in the process.
If a gun safe is installed on an uneven flooring then it also becomes easily accessible to thieves and burglars. So, you need to find a locksmith to resolve this issue. Another thing to keep in mind is that shims are better for anchoring than bolts and will provide better stability and durability to your gun safe.
Install the Gun Safe
Once you have decided on a location, you need to install your gun safe over the determined location and need to firmly fix it to the ground.
Purchasing a heavy and thickly constructed gun safe won't provide your firearms with ultimate protection as experienced criminals can still break open the safe with the help of a saw or a sledgehammer. This is why it is important to fix your gun safe firmly to the ground so that it is difficult to move it or break it.
If you install your gun safe properly and anchor it tightly to the ground then you can add strength to your gun safe and make it impossible for thieves to steal your guns.
Also, opt for a small and compact gun safe which will be easy to move around and don't hesitate to hire professional for installing your gun safe securely if you find yourself needing some help with it.
How to bolt the gun safe to the floor
Check the Flooring
An important thing to consider when you are anchoring your gun safe to the ground is the type of flooring that you have. You will find that high-quality solid hardwood flooring makes it easier to anchor your gun safe than tiled or marble flooring.
Also, opt for sturdy concrete floors and stay away from the carpeted area for anchoring as carpets become an obstruction to the installing and anchoring process.
Another important thing to remember is to choose a safe whose weight the floor will easily be able to handle. If you are planning to install your gun safe on the first floor, then choose a gun safe that weighs under 1000lbs only.
To ensure that the floor can handle your safe and your chosen location can easily accommodate the safe, you need to consult a carpenter and get the dimensions of both the safe and location. Remember to check the wiring connections and the plumbing lines before you start anchoring your gun safe.
Tips for Storing Small Gun Safes
It is no surprise that small gun safes are easier to steal than a large gun safe as the smaller safes can be easily moved and don't weigh too much. However, this doesn't mean that you cannot ensure safety and security of your gun safes. Here are some tips that you can use to install your small gun safes securely at a location:
Store it at an elevated level where it won't be easily accessible to your children and won't lead to any accidental injuries at home.
Make sure that you anchor and bolt your gun safe properly and hire professionals to do it for you. Check the strength and the stability of the anchor before you start storing your firearms in the gun safe.
Also, block the additional mounting holes which will be present in your safe.
Conclusion
Storing your gun safe smartly is important which is why the location of your gun safe is of extreme importance. Apart from providing your guns with security, gun safes also add beauty to your house and come in different designs and colors which makes it easier to blend it in with other furniture.
However, the location of your gun safe should address both convenience and accessibility so go to a place which will keep your safe hidden and won't gather any unnecessary attention.